This tin can mug vase is the perfect DIY craft for any flower lover! With just a few simple steps, you can have a beautiful and unique vase to show off your favorite flowers. Whether you're looking for a new home decor piece or just a fun craft project, this tin can mug vase is sure to be a hit! Only 6 items are needed, all of which you may already have on hand!
Tin Can Mug Vase
You already know that we love making upcycled crafts. This one is just a great idea that uses items you already have on hand and is super fun. It's a great unique way to display fresh or fake flowers, but can be used for all kinds of other purposes! Tin can mug vases are a great way to add a touch of rustic charm to any room. Plus, they're eco-friendly and budget-friendly!
If you like making repurposed projects or an easy tin can craft, you might also like our little DIY tin can lanterns or even this cute little rustic burlap lace-covered tin can pencil holder. They are also great projects that can use those extra cans you have on hand!
What Paint is Best for Tin Cans?
I always keep a number of types of paint on hand for crafting, but for tin cans, I tend to reach for spray paint for even coverage. Plus, it's super easy to use and means you can paint the whole thing evenly in just a minute or two.
The other option that works great is a good acrylic craft paint. They come in every color of the rainbow and you probably already have them on hand. Plus, you can get pretty detailed if wanted with a small paintbrush while using a foam brush for larger area coverage.
What Can I Use For the Handle?
There are a few ideas you can use for the handle, but I love the idea of using an actual door handle or drawer pull for this. It's something you may not have on hand but is fairly cheap at your local hardware store. Below are some other ideas that are great for this.
The floral wire that you have folded and curved into a handle shape and covered in washi tape.
Clay that has been formed and added is then allowed to dry and painted a preferred color.
A broken spoon or fork that has been bent into a curve and secured to the side of the can.
There are other ideas out there, depending upon what you have on hand. Just get creative and make it a nice curved item that will work well for a handle.
What All Can This Be Used For?
When I made my first tin can mug vase, I made it to be for flowers. With spring coming this is a great way to display fresh cut flowers. You can add the water and leave it as is, or glue chicken wire inside to help give the flowers some support. Since the tin case is sealed, it will hold water with ease. Below are a few other ideas that are excellent for this!
Turn it into a pencil holder for your desk. It easily holds pencils, pens, markers, or even crayons for a kid's room.
Hold office supplies like scissors, a ruler, or a box cutter.
Place on the back of the stove to hold spatulas, wooden spoons, or knives.
Add to a picnic table to hold plastic utensils for your weekend barbecue.
In the bathroom to hold brushes and combs.
Mount this on the wall with an LED candle inside to create a fake lamp or lantern on the wall.
Ways to Customize a Tin Can Mug Vase
With this, like most of our projects here, there are lots of ways you can make this unique to fit into your home. Below are some great ideas that can make this upcycled tin can look unique.
Change the colors of paint and ribbons to match your own home decor or style preferences.
Paint detailed designs or messages onto the tin can using a stencil.
Use your Cricut to cut out a message or decal to add to the side of the tin can.
Spray on glitter or even use glitter glue to create a message or edge around the top and bottom of the can.
Glue on sequins, rhinestones, or even beads.
Choose different ribbons or fabrics to go around the edges. Lace ribbon, burlap, beaded ribbon, or grosgrain ribbon can all work on this project.
There is no end to what you can do with this tin can mug vase. Dress it up, keep it minimalistic and no matter what you do, it is going to look fabulous.
Supplies Needed
How to Make a Tin Can Mug Vase
In a well-ventilated space, cover the work area with newspaper or paper towels. Then, spray the can on all sides with your chosen color of paint. You can leave the bottom and interior as is, or paint if you desire, but make sure you leave an area unpainted that you can let the can sit on to dry.
Once the can is dried completely, after 30 minutes to 1 hour, glue a strip of ribbon along the bottom edge of the can.
Then glue another strip around the top edge of the can.
Next, add a bit of glue on both ends of the drawer pull or handle and attach it to the side of the can/mug.
If desired, add other embellishments or decorations, then fill with flowers.
This is great for gifting but can also be used just as home decor for yourself.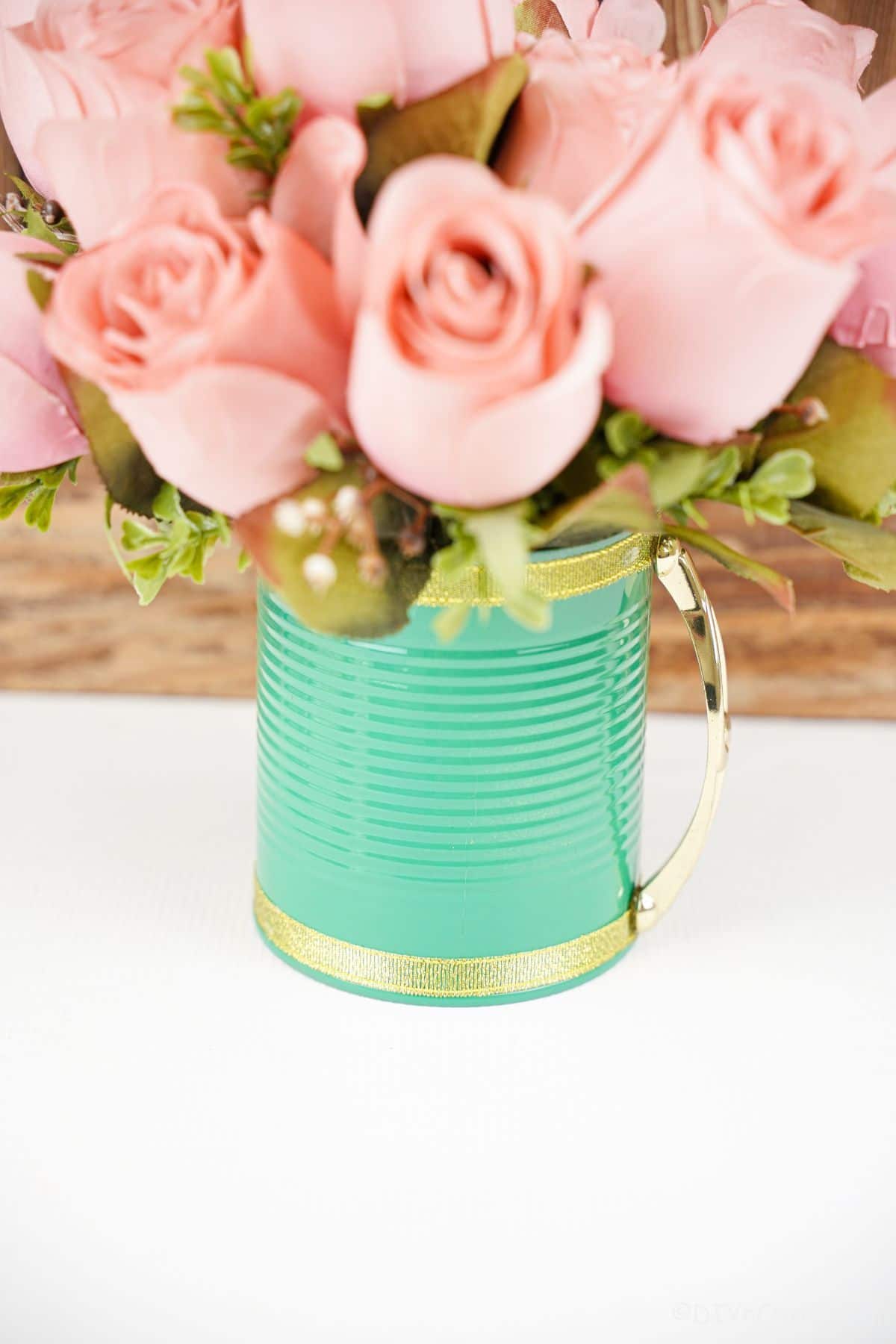 More Easy Tin Can Crafts
If you want more fun ideas for using up empty tin cans, we have plenty. Below are a few more ideas that are super easy to make and create great additions to your home decor or to be used as gifts. Make sure that you bookmark these ideas, print out the tutorials, or even pin them to your crafting boards on Pinterest to make soon!
Yield: 1
Adorable Upcycled Tin Can Mug Vase
This adorable upcycled tin can mug vase is such a versatile and simple craft. A great decor item or a fun gift!
Additional Time
30 minutes
Instructions
Spray paint the tin can green and then set it aside to dry.
Once dry, glue a length of gold ribbon around the bottom of the can.
Then glue a length of ribbon around the top edge of the can.
Now, glue the door handle on the side of the can to create the "mug" look.
Add any additional embellishments or designs as desired before gifting or using.
Notes
Paint your mug any color and add additional embellishments or sayings on the edge in vinyl as desired!
Recommended Products
As an Amazon Associate and member of other affiliate programs, I earn from qualifying purchases.
Finished Project Gallery
Use glitter paint to make your tin can mug sparkle.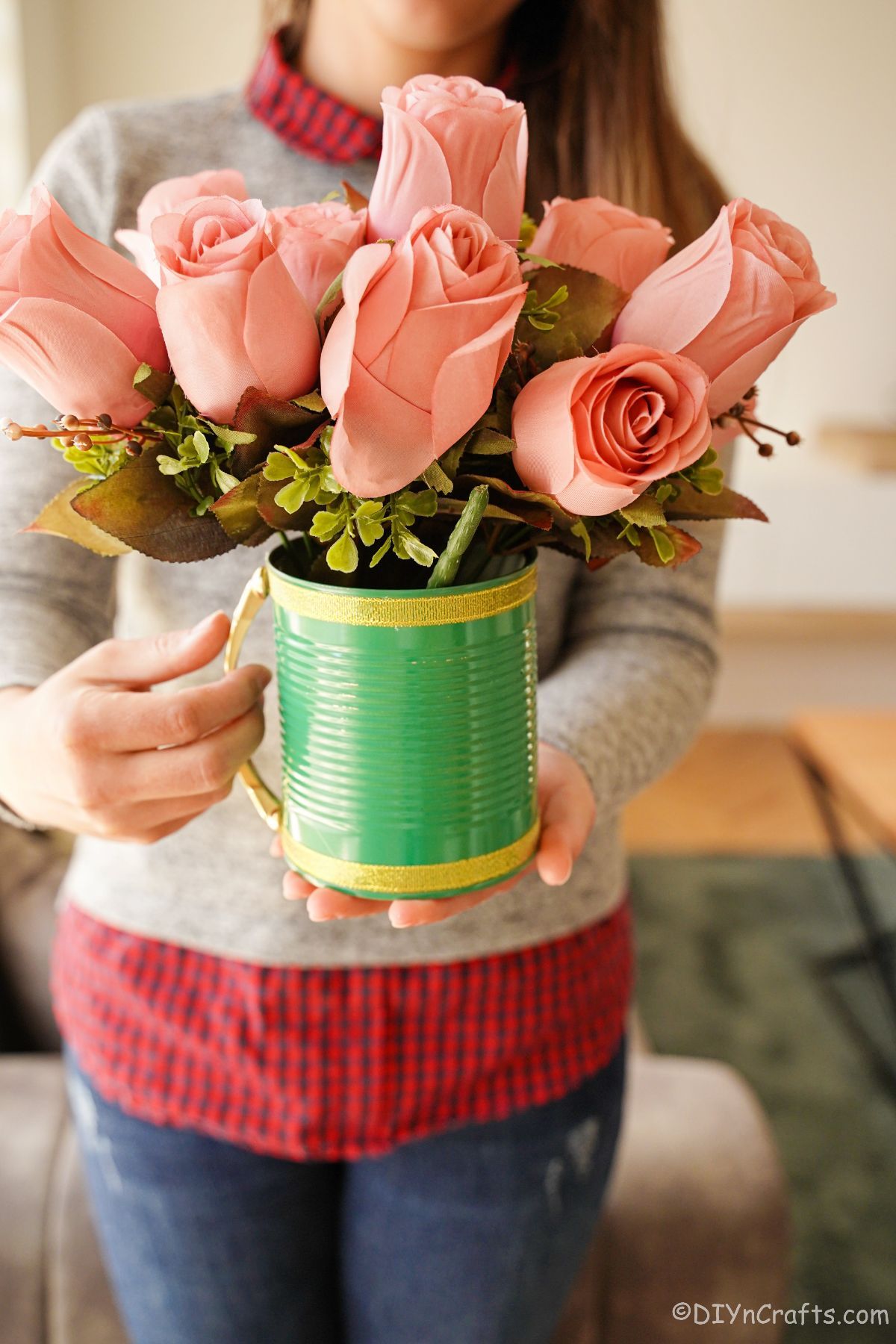 Fill with flowers, pencils, utensils, or anything you want to keep on hand and organized.