I am always trying to find something fun and new to do with empty tin cans. This upcycled tin can watering can idea is an adorable garden decoration! It's a fun, easy craft that uses items you already have on hand to add a decorative addition to your home, mantle, or your garden space. It's even a perfect gift to give to your gardener friends!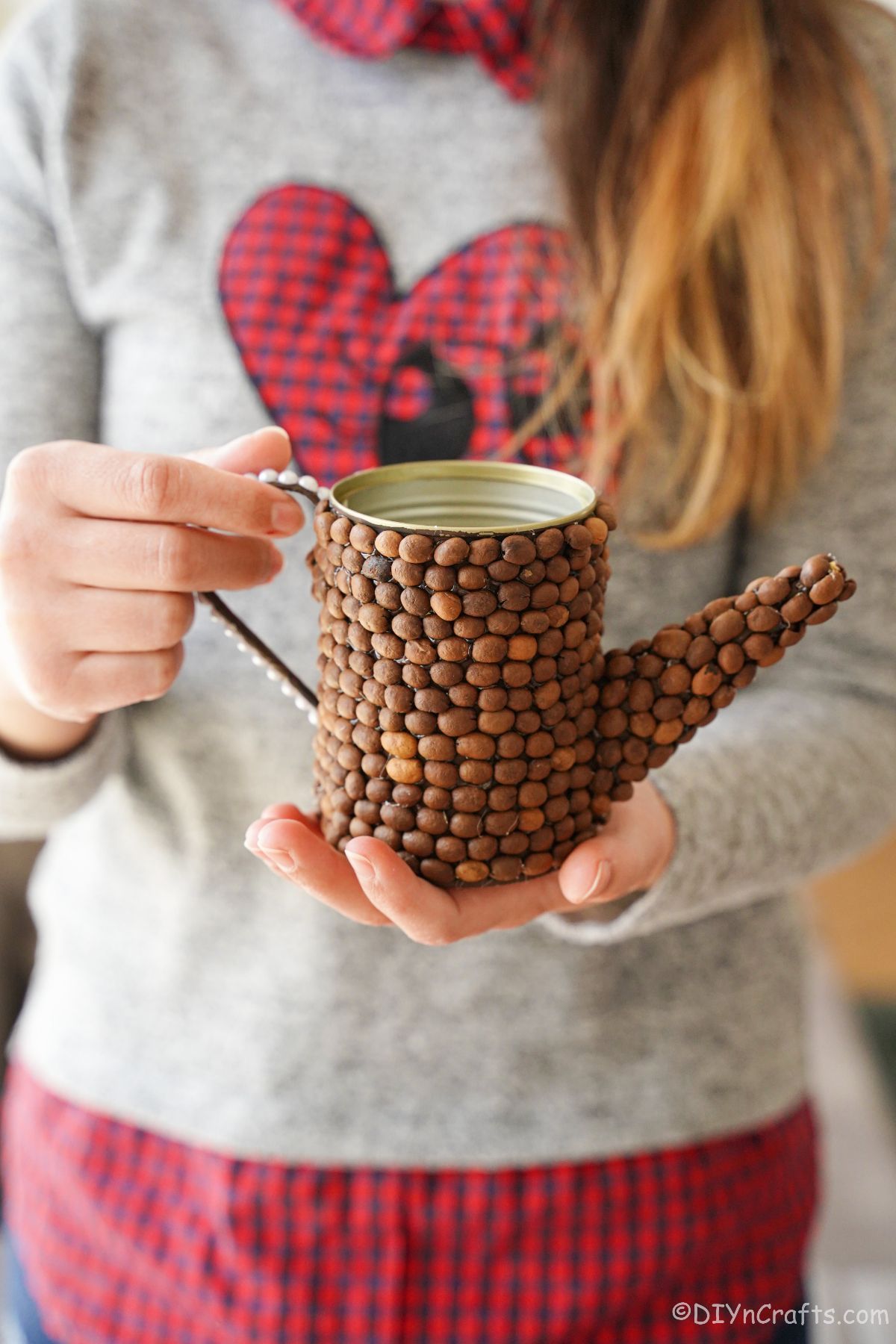 Upcycled Tin Can Watering Can
I love any craft that helps me save things from going in the trash. Even better when I can use them as adorable decorations or can give them away as gifts. This is just that kind of craft. When people hear what you made this tin can water can craft from, they will be blown away.
If you like garden decorations, then you are in for a treat! I love adding fun things to my garden as decorations, and this goes great right alongside this DIY ball lawn and garden ornament. You can even place this near this little cute upcycled flower pot frog! Such a fun way to add some fun to your garden! Using this as a feature in your garden adds more rustic and whimsy to your outdoor spaces.
Can This Be Used to Actually Water Plants?
Sadly, no. This tin can watering can is only for decoration. While you can add water to the can, the spout is not functional. This is intended just to be a decoration and not a functional watering can.
What Can I Use to Make the Handle?
I used floral wire when I was making my handle. To form the handle, I just folded and covered twisted floral wire. You can wrap it with washi tape or floral wrap to hold it in place and then paint it to match the rest of the can. The key is to form the shape and then make it look pretty with the decorative tape or beads after it is attached and painted.
What Can I Use to Make the Spout?
I am using rolled paper to make the spout. Cardstock, scrapbook paper, thin cardboard, plastic, or even foam paper can all easily be cut and formed into a spout shape. You basically roll it into a triangular tube and glue then snip the end so it is even to fit against the can and even on the end as if you could pour water from the can.
What Other Items Can I Cover The Watering Can With?
This garden decoration has a natural feel to it. I like to use things that keep that natural and rustic feel, like the coffee beans I am using in my example. I feel like it resembles stones or seeds. Twine or even burlap would look good too.
You can use just about anything that fits on the cans. If you are keeping with the rustic and natural theme, you can use stone or bark. If you want to a bit more glam to the water can, you can use beads or gemstones. You can also use sequins. There are so many ways to decorate this watering can. You can make it one way today and make it another tomorrow. This makes great gifts for the gardeners in your life.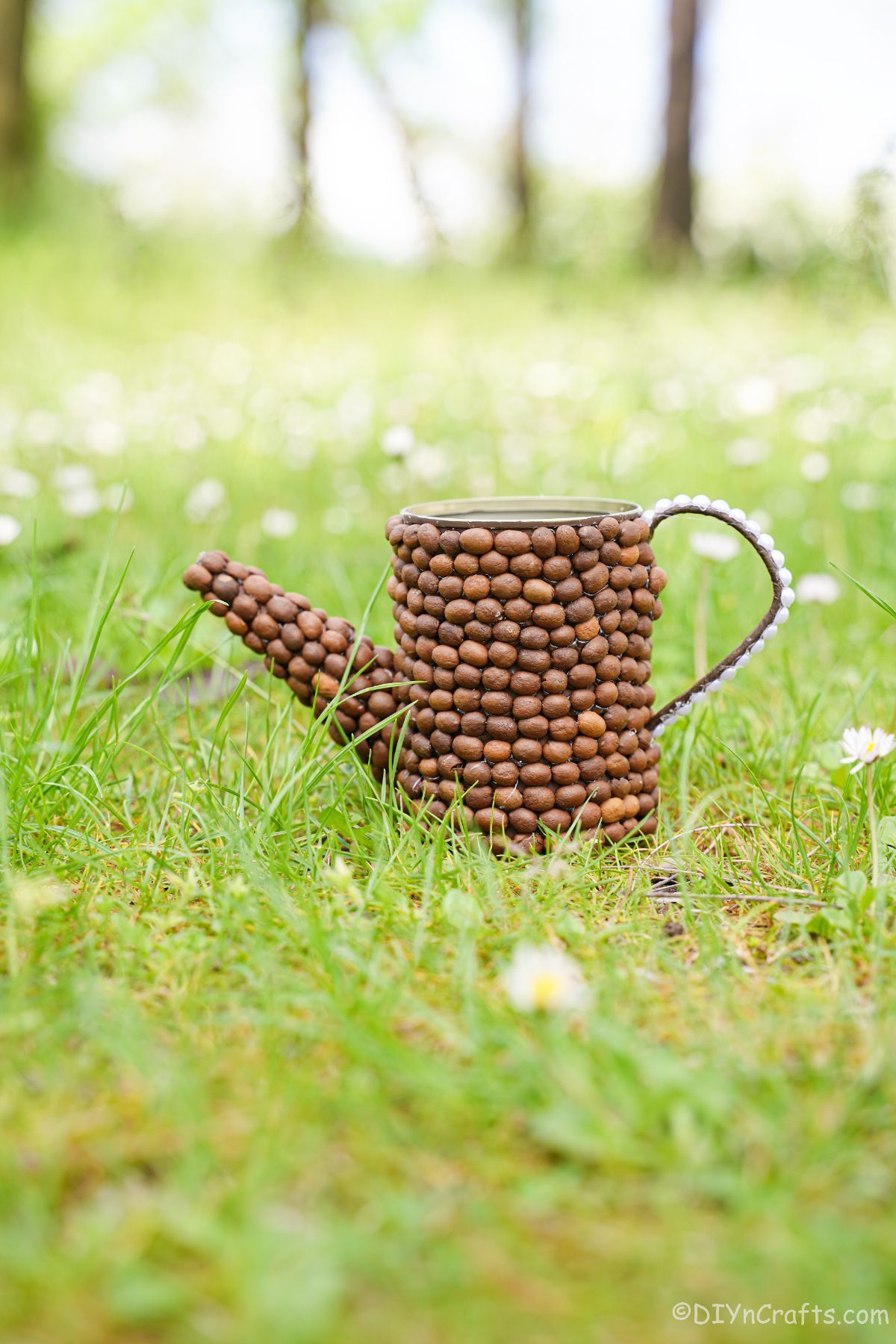 How Can I Protect The Outside?
I like to spray any garden decor like this with a sealant. Using the spray is quicker and faster and it lets you cover a larger area at a time with the sealer. Mod Podge is another option. There are different varieties but you can easily brush it over the entire can to coat then let dry. I do like it for smaller items and to get into all of the areas to make sure everything is covered well.
The can doesn't have to be coated, but if you plan to leave it outside for any real length of time, it is a good idea to cover it so it will last a bit longer. Otherwise, you may prefer to use this only indoors to make for a whimsical centerpiece that can hold flowers or even sit on a desk to hold pens and pencils.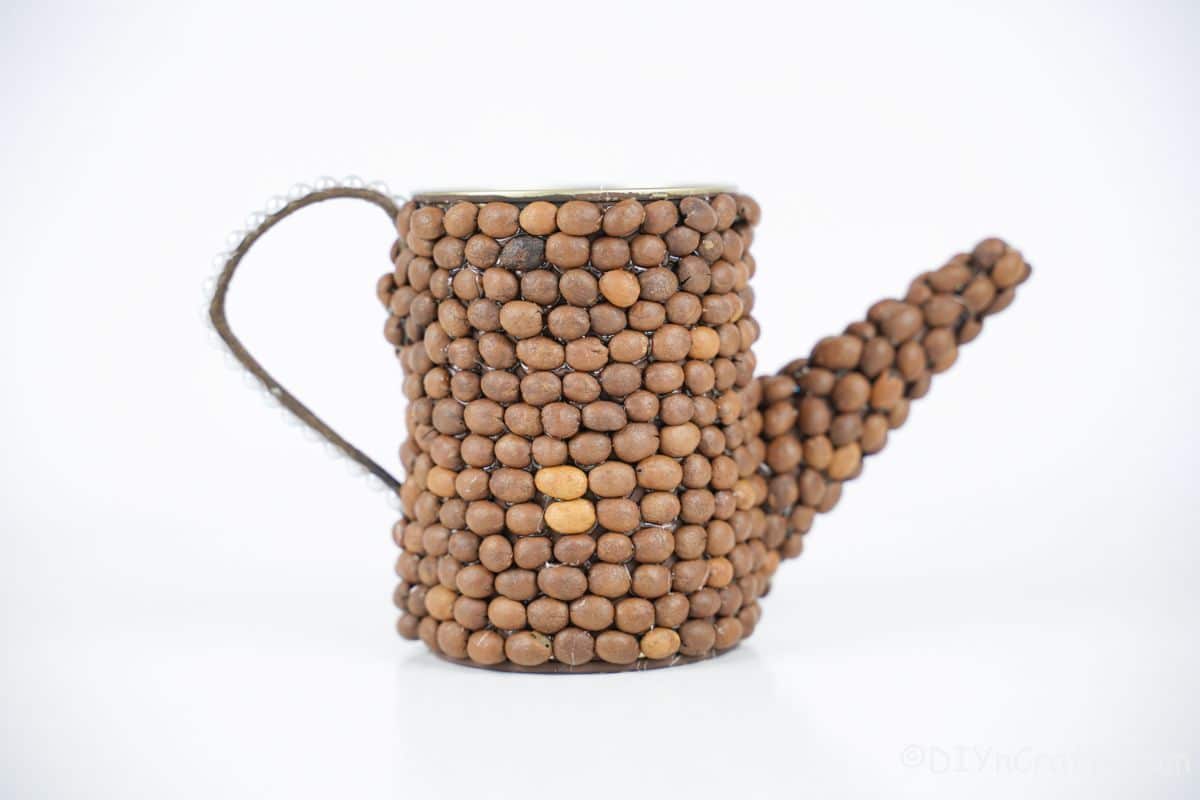 Supplies Needed
How to Turn a Tin Can Into a Fake Watering Can
Start by taking a length of floral wire that is around 12" and fold in half.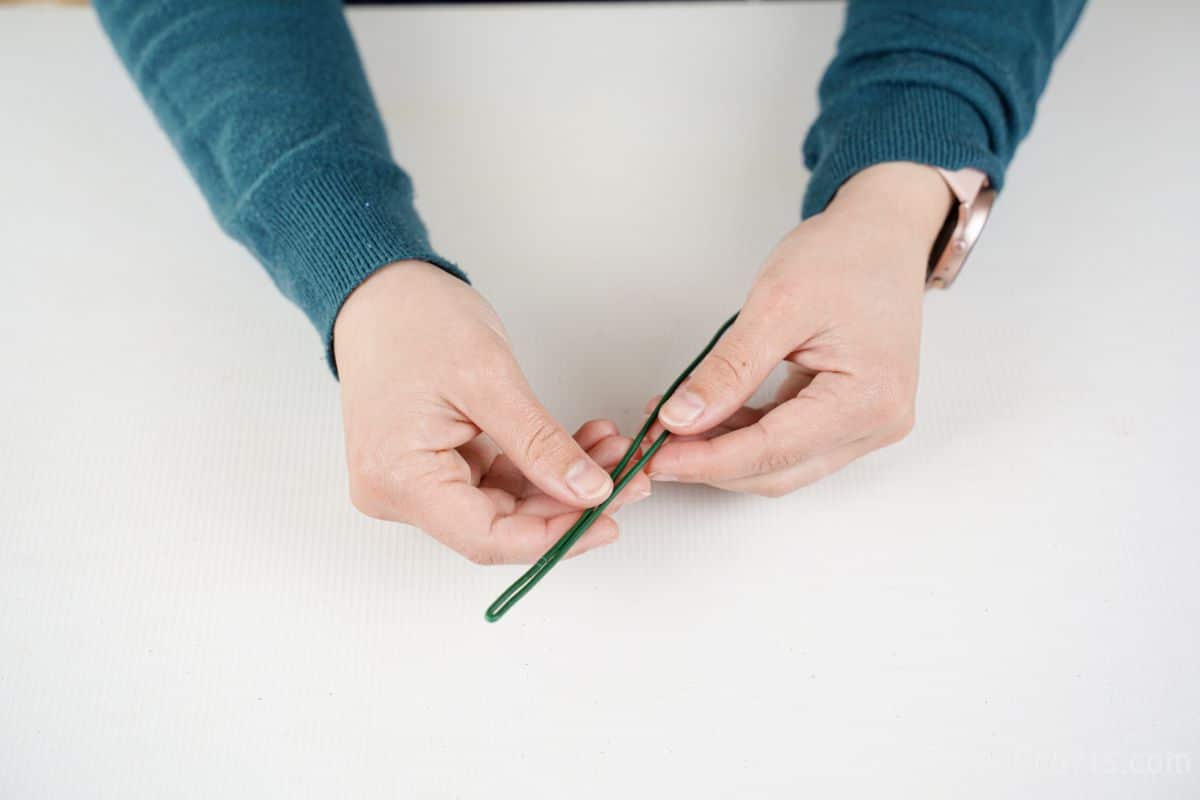 Then, use a floral wrap or washi tape to wrap around the folded floral wire to hold it together.
Once wrapped, bend the ends so you create a handle shape for your watering can.
Glue the handle onto the side of the tin can then set it aside.
Cut a piece of cardstock or thick paper into a square or rectangle and then roll it into a tube with one end wider than the other to form a spout. Glue along the edges to secure.
Trim the ends of the spout to make them even, then glue the widest end onto the tin can opposite the handle.
Now, paint the can, handle, and spout brown and set it aside to dry completely. This usually takes 30 minutes to 1 hour.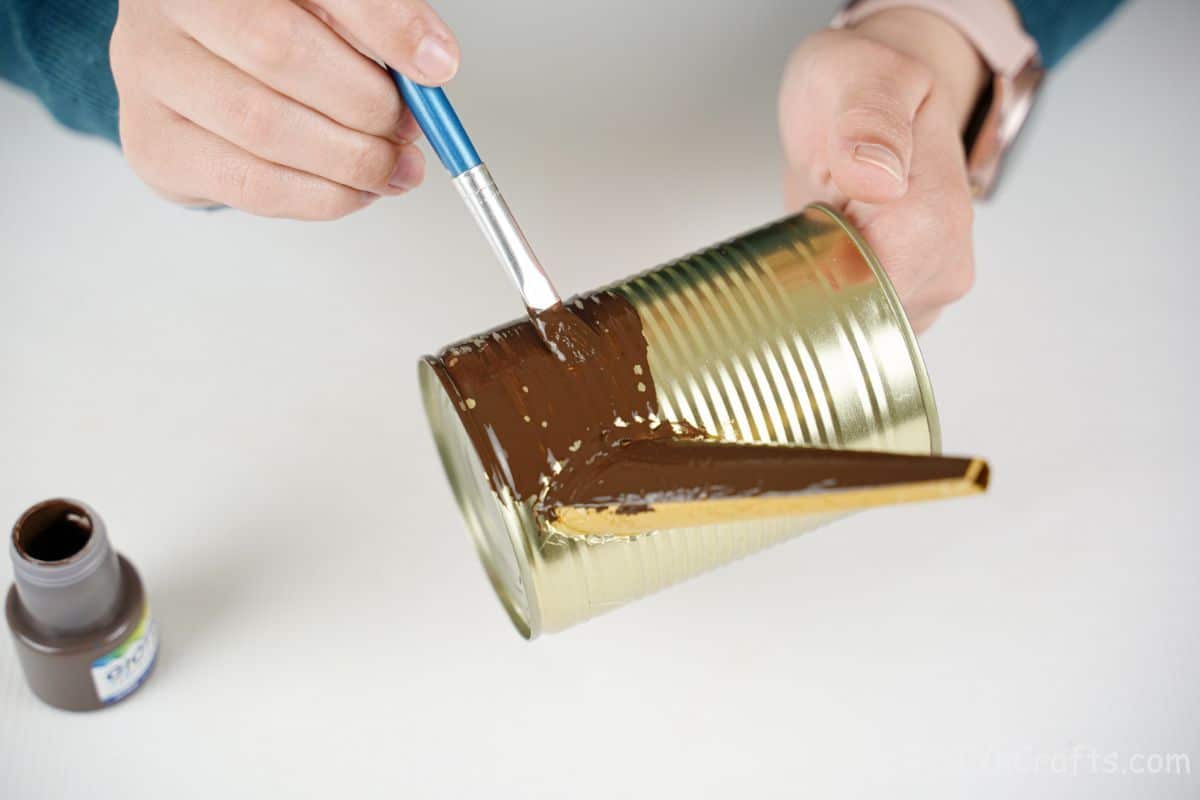 Once the paint on the tin can has dried completely, you will begin adding the coffee beans.
Start at the bottom of the can and glue them around the outside and upward until the whole can is covered.
Then, glue more beans along the spout, going around it until it is covered.
Next, add pearl beads along the outside of the handle.
Once done with embellishments, you can use this in your garden or as a centerpiece!
More Tin Can Craft Ideas
If you have tin cans lying around, put them to good use with some of these crafts. Below are some of my favorite ideas that use a tin can as the base. Make sure that you bookmark these ideas, print out the tutorials, or pin them to your favorite crafting Pinterest board.
Yield: 1
Rustic Coffee Decorated Tin Can Watering Can
The upcycled tin can rustic watering can garden decoration is a fun and practically free decoration that is perfect for spring!
Additional Time
30 minutes
Materials
Instructions
Fold a piece of floral wire in half.
Then, wrap with washi tape or floral wrap until completely coated.
Bend the wire into a handle shape.
Glue the handle onto the side of the tin can.
Roll a piece of card stock into a spout shape and glue it to secure along the edge.
Then, glue the spout onto the opposite side of the can from the handle.
Once in place, paint the can, spout, and handle brown and set it aside for 30 minutes to 1 hour until it has completely dried.
After the can has dried, begin gluing the coffee beans around the can, starting at the bottom and working your way up.
Then, add coffee beans to the spout of the can until covered completely.
Glue the pearl beads along the outside edge of the handle on the watering can.
Now you can display the watering can in your garden.
Notes
You can also paint the coffee beans with silver or gold paint if you want it to sparkle and be a bit less rustic.
Recommended Products
As an Amazon Associate and member of other affiliate programs, I earn from qualifying purchases.
Finished Project Gallery
Fill the watering can with fresh-cut flowers and use it as a centerpiece for any dining table.
Or place it in your garden for fun decor. It looks great as part of a fairy house!