If you are like me, then you like to make use of everything you can and create as little waste as possible.
This list of uses for orange peels is a perfect example of creating a zero-waste life that is fun, easy to manage, and fits naturally into your routine.
Oranges themselves are so wonderful for our bodies both inside and out, that it's an obvious choice for use in tons of ways around the home.
Whether you are here for decor ideas, repurposing, or fun cleaning tips, this list is sure to please!
Jump to:
Uses for Orange Peels
This list is just one of many we share with you giving you great ideas for reusing something that might otherwise be thrown away.
Since oranges are a great fruit that while more prominent in winter is still available year-round, this list can be used any time of year. I love tips like that that aren't just for certain holidays or seasons. If you want more fun household tips, make sure to check out some other tips we have listed below.
Decorative DIY Orange Flowers
This cute little craft idea is perfect for using orange peels to create a nice little fragrant and pretty accent decoration. Adding them to mason jars with potpourri makes them perfect decoration for your table or as a centerpiece.
Source: DIYnCrafts
Country Chic Orange Peel Star Garland
While I made this for the holiday season last year, I can see doing this any time of year for a lovely fragrant garland. It's super cute, easy to make, and is a perfect craft project for kids. Plus, upcycling and repurposing is always a hit with our family.
Source: DIYnCrafts
Add to Flower Arrangements
A dried orange peel can be cut into a shape and then glued or attached to a skewer or floral stick and placed in an arrangement. I love this in the fall and winter as it just adds a pop of color and lovely fragrance against all of the rich earthy greens and browns.
Stovetop Potpourri
Inspired by a holiday simmering pot, this is one of my favorite things to do with orange peels. The recipe linked shows full slices of orange, but the peels offer off just as much amazing aroma. Add in with other berries and spices or just by itself. Simmering on low for hours, your house will have a bright citrus smell that is super clean and fresh.
Source: Craft Create Cook
Turn Into a Candle Base
There are several variations of this, but I love using them as a base to pour candle wax the best. Of course, a bit of oil poured into the candle base can also burn nicely and can be used in an emergency or just because you like the smell of the orange.
Use as a Bird Feeder
Every child made one of these at some point, but it's so much fun, why not make more now as an adult? Turn an orange peel into a simple little bird feeder with a few strings, twigs, and seeds then hang outside a window and watch the birds appear.
Make DIY Orange Oil
If you want to use the beneficial oils in the orange but don't want to keep the peels around, you can extract the oil itself to store for use in things like cleaners and scrubs. It takes just a small dropper of this DIY orange oil to brighten a fragrance or clean. This process is very easy to follow and will create a nice bottle of oil that stores for a long time.
Source: Organization Junkie
Make Orange Infused Olive Oil
Infused olive oil is a perfect addition to any foodies' kitchen. I've seen a ton of varieties, but orange-infused is a lovely choice for use with those sweet and savory meals. It is especially tasty when cooking chicken or many of my favorite Asian inspired dishes that have a sweet and savory profile.
Source: Food.com
Turn Into Citrus Butter
If you've never used a compound butter, this is a fun one to try. Mix orange zest into butter and use for cooking fish and chicken. It's a delicious hint of flavor that is super easy to make and perfect for pan searing.
Add The Zest to Recipes
Of course, the orange peel is an obvious use in recipes, but do you think about simply zesting it for a little orange flavor in a cookie, cake, drink, or salad? For years I have used lemon zest in tons of recipes, why not just add orange zest since I have that peel on hand more often?
Place into Brown Sugar to Prevent Hardening
Did you know the oils in the peel will draw moisture from the sugar and keep it from drying into solid rock? I know even if I use my brown sugar quickly after opening, there is always an annoying little clump. This is perfect!
Make Candied Orange Peel
This lovely little snack is something I never knew about as a child, but am fairly certain would have driven my mom crazy begging for had I known. It's deceivingly simple to make and a perfect little treat that everyone loves receiving as a gift.
Source: Kitchen Concontions
Make Homemade Orange Marmalade
One of my favorite things at breakfast is a freshly toasted English muffin spread with real butter and a bit of this marmalade. Fresh orange marmalade is a great homemade spread that is delicious and a great way to use up those orange peels.
Source: Culinary Hill
Dehydrate Orange Peel for Recipes
If you don't want to keep it on hand all the time fresh, you can also peel and dehydrate orange peel. I find this best for use in teas or cider, but you can imagine lots of other ways to use this in your kitchen and cleaning supplies. When dried, it's said they are good for up to 3 years when stored in a dry airtight container!
Source: Savoring the Good
Turn into Orange Chocolate Bark
Orange and chocolate go together perfectly. I love the idea of using a chocolate bark recipe. I find it works best with a few shreds of coconut, some chopped pistachios, and a very high quality chocolate. The recipe linked below uses dark chocolate and includes a few other dried fruits.
Source: Urban Foodie Kitchen
Dip in Chocolate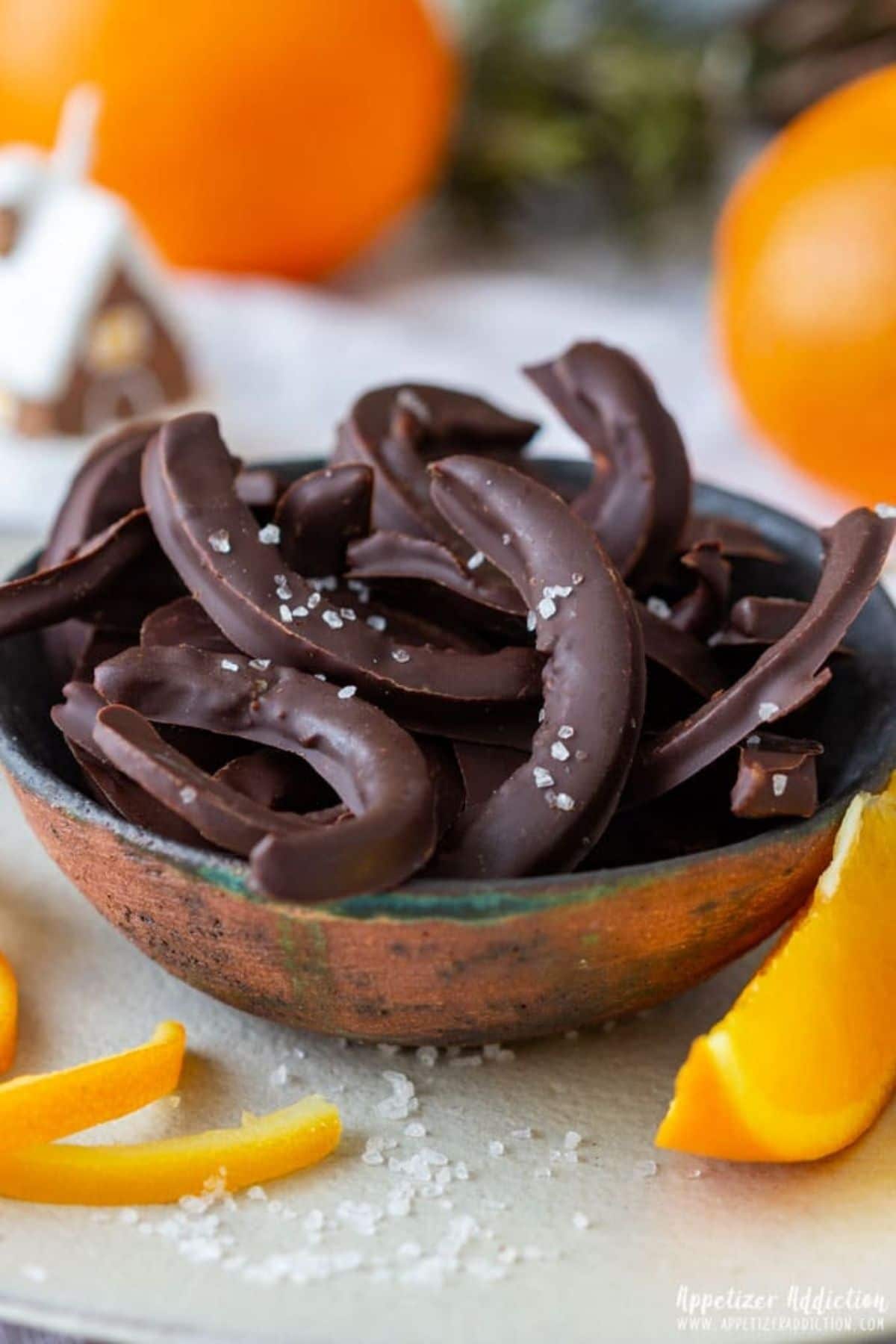 The cousin to that is simply dipping the peels directly into chocolate for a snack. While I have never had these, my friends rave over how good they are. If you like chocolate and orange together, this is sure to be a hit. Plus it makes an excellent foodie gift.
Source: Appetizer Addiction
Make Orange Extract for Baking
Extracts are so much fun to make and share with others, or just use in your own kitchen. I personally love the orange extract for going into cakes, muffins, and bread. This tutorial takes the guesswork out of the process and makes it a perfect choice for using extra peels.
Infuse Raw Honey with Orange Peels
This is absolutely brilliant! Just place a few orange peels in a jar of raw honey and let it sit for several days. Remove the orange peels and you have lightly fragranced and flavored honey that is delicious. I love using this in a cup of hot tea!
Turn Into Flavored Salt
This rosemary, orange, and thyme flavored herb salt is one of my favorite culinary creations ever made. It adds flavor to so many great meals but can also be used in things like bath soaks or scrubs. I love this sprinkled over fresh salmon and baked until perfectly done. So delicious!
Source: The Rising Spoon
Make Orange Sugar
Much like flavored salt, this is a very simple process to make and is ideal for many uses. I love it in baked goods but also stirred into a glass of iced tea or a mug of hot tea it is a perfect way to bright flavors.
Source: Like Mother Like Daughter
Make Orange Herbal Teas
If you have ever made homemade tea blends, this is an excellent addition to them. A nice orange hibiscus tea is one of my favorites and a homemade tea blend would be a wonderful way to use your leftover orange peels.
Source: Etsy
Freeze In Ice Cube Trays
In the summertime, ice cubes water down drinks. My solution is to use something like this to create a fresh flavor instead of watering down the drink.
Orange peels in ice cube trays and covered in water are a great choice for dropping into tea, water, or sparkling water for just enough extra flavor to please.
Make a Natural Vitamin C Serum
While I have not personally used it, I see that vitamin C plays a big part in many beauty and skincare routines. This recipe and tutorial for homemade serum using dried orange peels is a great idea if you want a more natural approach to your beauty routine.
Source: Primally Inspired
Make Homemade Vitamin C Powder
This recipe is perfect for use with the serum mentioned above. Drying out your orange peels and grinding them creates a powder that is used for tons of different health needs. I personally like that this tutorial included some great options and directions for use in masks and other beauty products.
Source: Zero Waste California
Add to Homemade Beauty Products
Orange zest and orange peel can both be used in a homemade sugar scrub and body butter. When using fresh foods like this, I recommend using the scrub or lotion quickly as it can change the texture and smell in time. I love zesting the peel and mix into brown sugar with some essential oils to create a great scrub for exfoliating in the winter months. Linked below is an excellent sugar scrub choice using orange.
Source: Midwest Modern Momma
Make an Orange Peel Face Mask
Orange peel and oranges themselves are excellent for our skin. An orange peel mask will be great for exfoliating and removing dead skin cells. Plus, it helps retain moisture and can make your skin truly glow. It may not be for everyone, but it is a great choice for many.
Source: eMediHealth
Make Orange Peel Soap
If you make soaps or want to get into the soap making process, you'll love these orange peel candles. They are so fragrant and the little bits of peel in them act as a wonderful exfoliate.
Source: Etsy
Citrus Vinegar Spray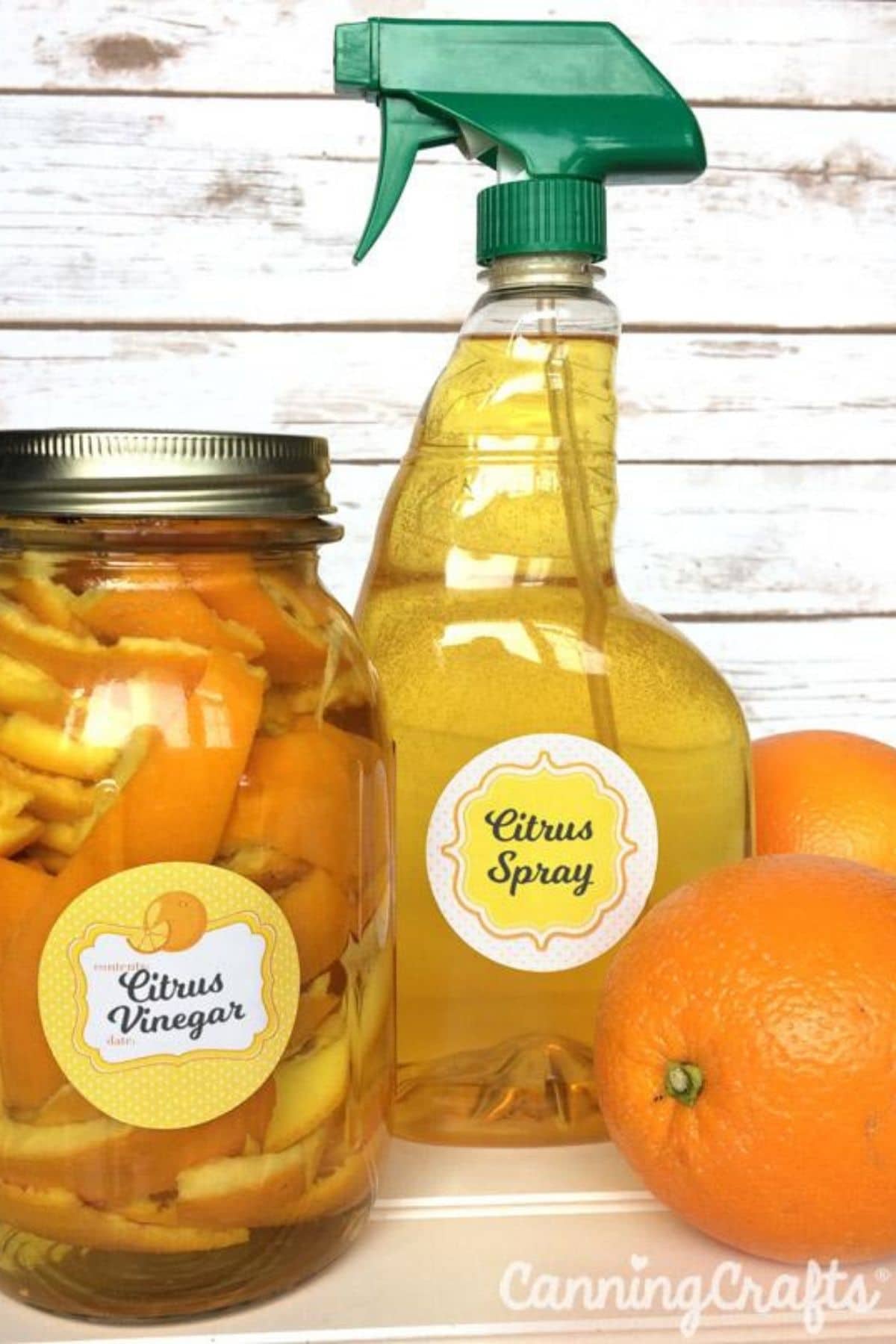 Many people uses straight vinegar or a vinegar and water combination to clean. Adding in citrus peels as you prepare the solution adds a lovely fresh scent. In this instance, you just let the peels soak and will eventually drain the liquid off for use to clean.
Source: Canning Crafts
Polish Wood Furniture
When I was a little girl, I loved polishing furniture for my Granny. It usually meant she paid me, but I also loved using the orange spray that made everything smell great. Did you know you can simply use the peel all by itself to do the same thing? Rub against the surface to polish and add natural oils to the wood.
Use as a Degreaser on Your Stove
Grab that orange peel and rub it against the stuck-on grease on your stove. The natural oils break down the grease on the stove and suddenly you have a mess gone and a bright citrus smell throughout your kitchen.
Clean and Shine Your Sink
Use a fresh orange peel to rub around your sink interior to clean, remove grime and grease, and give it a nice fresh smell. I do this just before tossing them into the garbage disposal to clean it.
Clean Scorched Pots and Pans
We've all ruined a pot or pan before by accidentally burning food. A great solution is to boil orange rinds in the pot, let it sit and cool for an hour after boiling, then wash as usual. The orange oils will break up the stuck-on foods and clean them up easily.
Clean and Freshen Your Garbage Disposal
In our house, one of the main things we do with orange peels is to drop them into the garbage disposal. The rind itself is great for helping clean off the blades and the bright citrus smell helps get rid of any rotting food smell that might be lingering in your sink or disposal.
Add to Your Trash Cans
We swap out fresh peels weekly when emptying the garbage. You can also drop a few in the bottom of the bag itself. This just adds a fresh scent and keeps the container from smelling of garbage.
Turn Into Kindling for Your Fireplace
If you have a fireplace, you may already know this trick. An orange peel with natural oils is a perfect fire starter or kindling. We keep some in a box next to our fireplace and often use them to help light a fire. Plus, it gives off a light citrus smell that is lovely.
Add to Your Compost
This obvious choice is one that doesn't make special use of the orange peel but is perfectly useful. As with most skin or peel on fruits and vegetables, orange peel composts wonderfully and adds nutrients to the soil that are beneficial to your garden.
Use in Your Garden to Repel Slugs
Citrus is well known for being a repellent to insects and slugs. Adding them around the edge of your garden is a great way to keep slugs out of the area and your plants safe. We keep a bucket near the greenhouse to drop peels into as we eat the oranges and make sure to put them on the outer edges of the garden.
Repel Stray Cats with Orange Peel
Did you now that cats don't like the citrus smell? Most cats will avoid anything smelling of citrus.
So, if you have a problem with stray cats spraying the outside of your house, this is a great solution. I've used dried powder orange all along the edge of my front porch and around our back deck for years and rarely have stray cats showing up.
Sell it On Etsy
This one is a fun addition that you may not know about, but many people will buy dried orange peel, candied orange peel, and orange powder on Etsy. I love the idea of using something you naturally have on hand to make a little extra money from home. Why not pop over, open a shop, and help out others while building your savings?