I love the recent onslaught of farmhouse style everywhere I look. From the moment you see my front door, you know the style you will find inside. This list of farmhouse wreaths spans all seasons and budgets. It's ideal for finding something new and unique that you will love creating and adding to your home. Enjoy beautiful classic farmhouse looks with easy to make decorations.
DIY Farmhouse Wreaths
There is just something about going back in time with a bit of that classic farmhouse style. Whether you go full force and fill your home with rustic wood elements and shiplap walls, or you just decorate here and there with those rustic styles, you can't go wrong. Farmhouse means something different to every person, but this list includes the most traditional looks with rustic elements that reflect nature and simplicity.
Rustic Fringed Old Book Page Wreath
This simple wreath takes a classic grapevine wreath form and turns it into a truly unique look to add to your front door. Fringed old book page pieces are attached to this simple form with a bit of burlap and flowers. You'll love the rustic look and how it upcycled items you already have on hand.
Source: DIY n Crafts
Paper Rose Rustic Wreath
This simple little paper rose wreath is ideal for those who want to make something easy and beautiful. Once again, the grapevine wreath form is a great background for the wreath. A few artificial leaves, burlap, and old books turned into flowers creates a gorgeous look that fits any season.
Source: DIY n Crafts
Rustic Yarn Farmhouse Christmas Wreath
This wreath is ideal for Christmas, but with a few changes could be used any time of year. A fabric wrapped form has artsy little yarn balls that are the ideal addition to give this a little farmhouse look you'll love.
Source: DIY n Crafts
Festive DIY Christmas Wreath Decoration
The bright red and natural greenery in this wreath appeal to the senses. Rustic natural elements like little fake mushrooms, pinecones, and a farmhouse style ribbon make this a cute look that is ideal for your front door this holiday season.
Source: DIY n Crafts
DIY Decorative Rag Wreath
Using up scrap fabric screams of the farmhouse style you love. This rainbow colored wreath is a bit b righter than some on the list, but is a gorgeous look that is ideal for springtime and summer.
Source: Craft Create Cook
Red Plaid Country Wreath
So simple, yet so beautiful, this wreath is ideal for a farmhouse door! I love how cute it is and easy to make. You can customize with any flowers or even pinecones for a unique look.
Source: Etsy
DIY Upcycled Sweater Wreath
A beautiful homemade wreath uses an old sweater and a few dollar store supplies to create a gorgeous addition to your home decor. This is a fun upcycled craft that appeals to the farmhouse style and is ideal for the holiday season.
Source: Crayons and Cravings
Farmhouse Poof Wreath
This is such a cute idea with a little sign, some burlap, and fabric to create a super cute look for your front door. I love the step by step video tutorial and how easy it is to pause and follow when needed.
Charming and Rustic Farmhouse Wreath
This adorable little wreath greets you with a cute hello! All you need are some basic supplies and you can throw this together in just a few minutes! You can easily update this with different colors or leave as is for a cute look.
Source: Home Fresh Ideas
Gorgeous Natural Element Floral Wreath
I am in love with this look! Between the grapevine wreath and the large flowers, it just makes me feel cozy. It's the ideal comfortable look to welcome anyone into your home.
Source: Home Fresh Ideas
DIY Rustic Natural Wreath
All you need for this wreath is a simple vine wreath form and a few artificial leaves. I like these smaller leaves, but you can use any you find to create a rustic natural look that easily fits into the farmhouse style that is so popular.
Source: At Home with the Barkers
Farmhouse "Hi" Wreath with Flowers
A bit of ribbon, greenery, and flowers go right alongside the large wooden message on this farmhouse wreath. It's a great addition to any home year round, but easy to adjust for holidays with different colors of ribbon.
Source: Etsy
Upcycled Pizza Pan Rustic Wreath Sign
What a unique idea! Using a pizza pan as the base, this rustic look is an ideal farmhouse craft using inexpensive dollar store items. Burlap, jute, and wooden beads add accents that make this come together as a beautiful welcome at your front door.
Source: DIY Beautify
Striped Blue Fabric Wreath
This is so beautiful! It reminds me of the patterned cloth of a vintage housewives dress. The ruffling of the fabric around the form looks great against a front door. This is also an easy tutorial to follow.
Source: DIY Beautify
Farmhouse Buffalo Plaid Wreath
A mixture of burlap, ribbon, and poly mesh combine to create a cute little welcoming wreath that features the classic farmhouse buffalo plaid we all love. I especially love the addition of the sign to the center.
Large Rustic Greenery Wreath
This is so beautiful! I absolutely love the rustic look with different greenery, little bits of white berries, and of course, the pinecones added throughout. This one is a nice large choice to add to your door and is truly gorgeous!
Source: The Idea Room
DIY Vine Wreath with Cotton
What a beautiful natural look! This is ideal for fall and winter, but remove the pinecones and use it year round. I can also see this working well all year by using different colors of thick ribbon to hang from your door.
Source: The 36th Avenue
Wooden Home Sweet Home Sign
This door sign is similar to many of the wreaths, but has a nice wooden base with a sweet message. I like this for a greeting by your front door, but it can also go on the door or even above a mantle if desired.
Source: Etsy
DIY Farmhouse Wreath Door Hanger with Cricut Joy
If you love using a Cricut and happen to have the latest machine, the Cricut Joy, then you will love this cute little project! A simple background with a welcome message is nice to add to your door, and the plaid bow really makes it pop.
Source: One Sharp Bunch
Paper and Cloth Farmhouse Door Wreath
What a cool idea! Rolled brown paper easily wraps around the wreath form. Adding strips of paper and a wide strip of rope creates a very simple look that is also beautiful. This is ideal for hanging on a wall, mantle, or even front door!
Source: Twelve on Main
Mini DIY Farmhouse Wreath
What a cute little miniature wreath idea! This is ideal for going on your door, but being so small, it's better as part of a larger display. Adding some checked ribbon to hang, makes this a great idea that is easy to customize to your home and style.
Source: Mama Dares To DIY
Burlap Flower Wreath
What a cute little wreath! Rolled and twisted burlap makes it a great choice to add to your front door. I really love the look of the flower and how it is so large and poofy without using so much burlap.
Easy Farmhouse Greenery Wreath
One of my favorite things about the farmhouse style is that greenery is a key part. This simple wreath is beautiful with easy steps. While this creator mounted it onto a base for a wall decor, you can also add this to your front door or mantle with traditional hooks or ribbons.
Source: Our Hand Crafted Life
Dollar Store Magnolia Farmhouse Wreath
If you love the actual magnolia flower and tree, then you'll love this look. Checked ribbon accents the wreath and makes it a great addition to your mantle or any door. It's also ideal for decorating a wall or any room!
Source: Tater Tots and Jello
Dried Natural Wheat Wreath
This beautiful wreath is a great choice for adding to your door! The most simple wreaths are the best for maintaining a farmhouse style you'll love. Add a ribbon or bow if wanted, or leave as is for a simple look sure to match any decor.
Source: Etsy
Rustic Natural Farmhouse Wreath DIY
Tons of natural elements combine here to create a stunning farmhouse styled wreath. I love the addition of greenery, cotton, flowers, and vines. So pretty and easy to make for a real statement piece that can go on any wall or door.
Source: Dear Creatives
My Roost My Rules Farmhouse Wreath
While not a traditional looking wreath, this is a great addition to your door. Tons of floral and ribbon elements combine with a cute little sign that is ideal for an urban farmer or chicken owner. I love the stripes, polka dots, and checks on this wreath!
Source: How to Make Wreaths
Wagon Wheel Farmhouse Wreath with Flowers
This is so beautiful! I truly love how gorgeous this turned out and the little watering can looks adorable on the side. Add ribbon to match the flowers and turn it into a cute look for any season of the year.
Source: Lydi Out Loud
Black and White Scarf Wreath
What a brilliant idea! Wrap a scarf around the form and add some greenery to create a lovely farmhouse styled wreath to great your friends and family! With winter elements, this is great for Christmas, but can be adjusted for any season.
Source: Taryn Whiteaker
Reclaimed Wood Farmhouse Wreath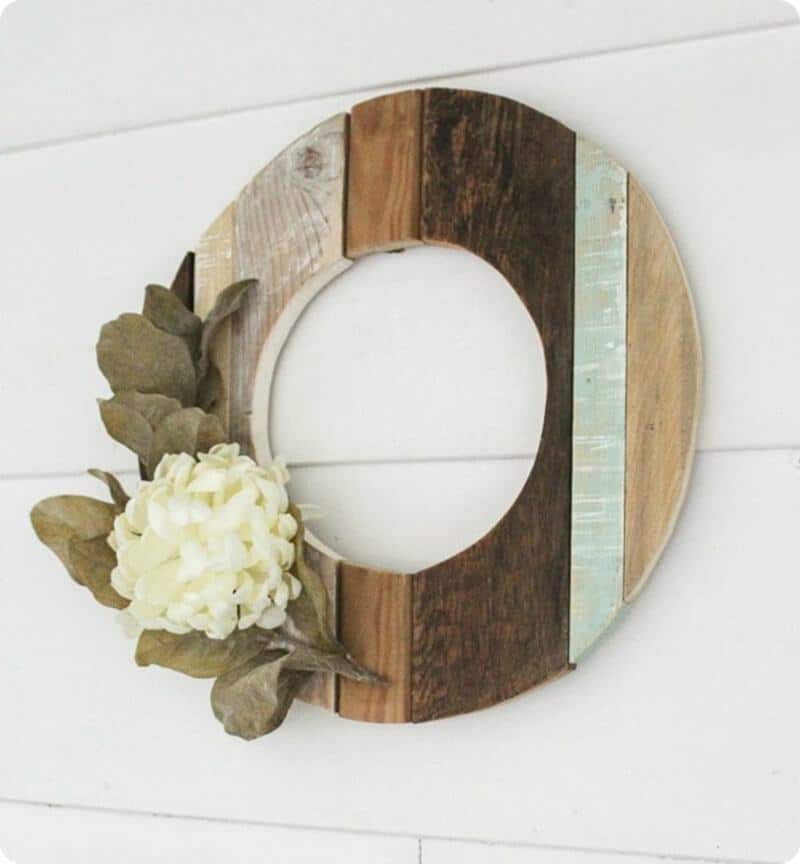 Gorgeous wood with a beautiful flower accent makes this a perfect choice for any season of the year. I love that this is truly hand made! It's ideal for a woodworker or someone who enjoys working with scrap lumber.
Source: Lovely Etc.
Buffalo Plaid Farmhouse Wreath
This is a great way to upcycle an old shirt that doesn't fit or is too filled with holes. You can wrap it around a form and add flowers to create a gorgeous wreath you can hang on a door or mantle! Ready in minutes, it's a stunning look.
Source: Lovely Etc.
Burlap Wreath with Farm Truck Accent
This is super cute and easy to make. It just adds a cute little farm truck to the center of the wreath. The added eggs in the back of the truck are ideal for anyone who raises chickens, but it looks beautiful when added to any front door.
Farmhouse Burlap and Ribbon "Hello" Wreath
The combination of mesh, ribbon, and burlap creates a beautiful wreath that is simple and stylish. I love the welcoming sign in the middle, and while this is a basic brown and cream, you could easily make this with a number of other colors and still fit the farmhouse style.
Source: Etsy
Woven Rope Wreath
While this takes a bit of time to weave the rope around the form, this wreath looks very simple. You can customize with any colored rope and flowers to make it fit any holiday! So beautiful and simple to create.
Source: The Everyday Farmhouse
Summer Wagon Wheel Wreath
This is another gorgeous wreath idea featuring the classic wagon wheel. Brightly colored flowers along the top give it a fun summery feeling, but you can easily adjust for any season, even Christmas.
Source: Lolly Jane
Farmhouse Tire Rim Wreath
What a brilliant way to upcycle an old tire rim! Such a cute way to add a rustic look to your door, and ideal for that upcycled farmhouse style you love. Add any seasonal flowers to this wreath to fit your unique style.
Source: The Craft Patch Blog
Simple Farmhouse Spring Wreath
I love how such simple items can turn into a truly gorgeous decor item. This wooden branch wreath form is accented with lace bows and sprigs of lavender for a beautiful little addition to any wall or front door.
Source: The Cards We Drew
Modern Farmhouse Fall Wreath
With a unique natural wreath form and beautiful ribbon, you have a wreath to hang in minutes! This one is ideal for customizing with your favorite ribbons and flowers. Hook it over your door or even just hang it by your front door.
Source: 1111 Light Lane
Rustic Clothespin Farmhouse Wreath with Rooster
The rustic look on this is sure to fit your decor. I like that the clothespins are weathered and have a variety of different colors. Layered together, this gives them a 3D look that I love!
Source: Etsy