Easter is nearly here, and you just know you're going to get a mountain-load of Peeps and other marshmallowy themed treats. If you find yourself getting a little Peeped out, or want to serve them a little more creatively, have a browse through these exciting recipes.
If there's more than one way to skin a cat, then you can bet there's more than one way to enjoy the ooey gooey goodness of Peeps.
Peep Krispy Treats
You simply can not have a list of marshmallow treats without including Rice Krispy treats! I like the inclusion of the white chocolate in these, and the bunny shape is just too perfect for its holiday!
Recipe Instructions and Credit – LoveFromTheOven
Easter Egg Shots
This one is for the grown-ups. After all your time spent painting Easter eggs, hiding chocolates and baking away with Peeps, you deserve a little boozy reward. You don't actually use the Peep in the shot itself, but the cotton candy vodka gives it a familiar taste; Smirnoff fluffed marshmallow vodka works even better. And I must say, the presentation is utterly spectacular.
Recipe Instructions and Credit – EndlessSimmer
Marshmallow Yogurt Tart
This tart looks freaking amazing, and I like to think that since it uses yogurt instead of cream, it's that little bit healthier. It just takes about 20 minutes to throw together, and there is a lot of room for customization; I think a few berries on top would finish it off perfectly.
Recipe Instructions and Credit – LookAtWhatIMade
Peep Nest Cookies
These chocolate coconut nests are perfect, and when you add your Peep chicks on top, your heart will melt quicker than a Peep in the oven! You don' necessarily have to melt or squash your Peep in order to create something incredible, sometimes, you can just pop one on top on one fabulous nest cookie for some fun.
Recipe Instructions and Credit – FiveHeartHome
Peepy Popcorn
Sticky, gooey, sweet, colorful popcorn? Sign me up immediately! This snack is a cinch to make, just please make sure that you make your popcorn the right way (on the stove – no chemical-laced microwave stuff!). I love the flavor combination of salt and sweet, so I'd actually add some powdered salt before pouring over the Peep liquid. It's like Rice Krispies treats but with popcorn! Pure bliss.
Recipe Instructions and Credit – YellowBlissRoad
Marshy Brownies
This recipe is a bit of a cheat since it uses box brownie mix, so it's great if you don't have a lot of time on your hands. Make sure to add the Peeps only when your brownies have a few minutes left to bake, otherwise they'll just disintegrate and you'll miss out on that lovely gooey texture.
Recipe Instructions and Credit – Lovin'FromTheOven
Peep Syrup
It doesn't get more Eastery than this: Cadbury Crème Egg ice cream topped off with a deliciously marshmallowy Peeps syrup. If you aren't fortunate enough to have an ice cream maker (why the hell not?) you can just pour the syrup over store-bought ice cream, but you should seriously consider getting one!
Recipe Instructions and Credit – We'reNotMartha
Peep-Topped Cupcakes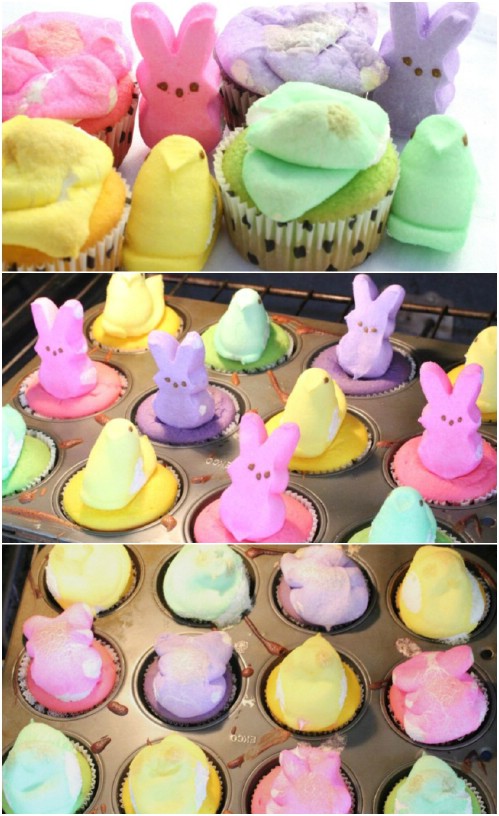 This is a stroke of pure genius: instead of making that plain old sugar icing, or wasting time with cream cheese frosting, just pop a Peep on top of your cupcake for a perfectly colorful and Easter-tasting treat.
Recipe Instructions and Credit – ToniSpilsbury
Peep Milkshake
The thing that makes this milkshake more than just a regular old marshmallow milkshake, is the toasting of the Peeps. It adds an extra element of goodness to the thick and creamy drink, making it the yummiest Easter shake.
Recipe Instructions and Credit – Life'sATomato
Peep-Choc Cookies
I'm sure we can all agree that choc chip cookies are an adored classic. Because of this, they act as a great starting point: you can add nuts, M&M's, peanut butter… or marshmallows! Wrap the dough around the whole Peep so that the hungry mouths get a lovely surprise as soon as they bite into it.
Recipe Instructions and Credit – BurntApple