Take upcycling to a whole new level with these lovely, and fun little Christmas ornament crafts! They're totally DIY, and a ton of fun to make, too! If you're looking for a simple craft to pass the time, or make in bulk you're in luck. These things are perfect for adding that handmade finishing touch to any corner of your home. You can even use the design as inspiration to create ones that will match your Christmas decorations!
Enjoy These Cute DIY Paper Christmas Ornaments for Winter
What I love most about these adorable Christmas craft ornaments is how easy they are to decorate with! They make great ornaments hanging from the tree with a piece of ribbon, or as a part of a centerpiece. They're versatile, and they stand up easily on their own. The best part about making them, though? They're a ton of fun to paint, and decorate with your favorite Christmas themed materials.
This craft is mostly upcycled, and there's more you can do to make it eco-friendly if you'd like! Using up some of your old craft supplies, you can create some simple, elegant and fun designs with these crafts. And, you can look forward to making it a part of your holiday tradition each and every Winter!
Can I Substitute Toilet Paper Rolls for This Craft?
The answer is sort of a, 'yes, and no'. You can substitute the toilet paper rolls with any similar sized paper tube. What makes this such a cheap and accessible craft is that it uses an everyday, and otherwise, disposable object almost anyone can collect! If you'd prefer to try using something else, a paper towel or wrapping paper rolls could make a good alternative!
They're much longer and will create a much larger finished product. If you'd like, you can use this to create a star, or other types of Christmas themed decoration! It's best you stick with toilet paper rolls for this craft, since they're so easy to come by! (Also, they use up less of your paint!)
What Can I Use These Paper Ornaments For?
There are several different ways you can decorate with these sensationally cute paper Christmas ornaments! Make a few sets of them to display as a part of a homespun table centerpiece. Or, hang them from the Christmas tree for a handmade touch to go along with your usual decorations. Personally, I think these look great on your fireplace mantle or bookshelf, where their bright colors can popand catch some attention!
What's the Best Way to Paint These Ornaments?
You'll have the best luck for painting each toilet paper roll individually. After that, you'll let them dry before attaching them together. We'll go into further detail on this process step-by-step in the instructions below. Using a small craft paintbrush, you can add whatever color you'd like!
Whether you're matching your existing Christmas decor or setting out on a new theme. You're sure to find some inspiration in some simple craft paints. These are easy to find, not very expensive, and provide a lot of room for your creativity to flourish! Use a small to medium-sized craft paint brush in order to spread the paint evenly, and easily.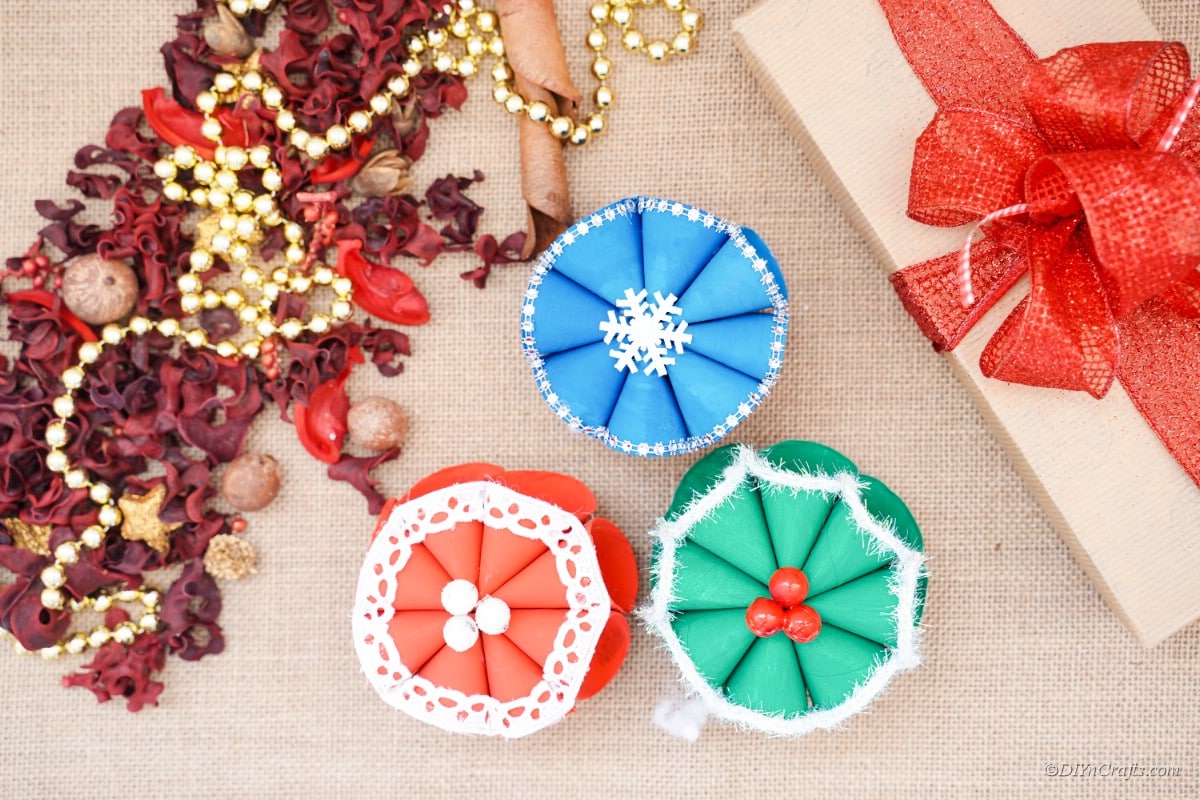 How can I Decorate This Craft?
The beauty of these little quick and easy toilet paper roll ornament crafts is that they're so easy to personalize! You can use a bunch of different methods for painting, and customizing your very own paper Christmas ornament. This is a really great opportunity to break out some of those bits and bobs from your craft supplies! Add a bit of your own personality for a cute and quirky DIY decoration you can keep for the Christmas season to come. We'll outline a few examples you can use for inspiration!
Add some eye-catching sparkle using glitter or craft snow on your ornaments
Use different colored toilet paper rolls, (such as red and green), to mix things up a little
Add small stripes or stencil deigns with markers
Use pieces of ribbon to hang these from the Christmas tree
Use them to hide small chocolates, or candies for the kids on Christmas morning
Supplies Needed
How to Make a Cute DIY Paper Christmas Ornament
First, paint each of your toilet paper rolls with either blue, green or red paint. Paint one set at a time, or use multiple brushes so you don't have to stop and wash them.
Mark the center of the roll using a ruler or hard edge.
Crease the toilet paper roll, flattening the center of the roll.
Fold each end of the roll towards one another, and staple them together.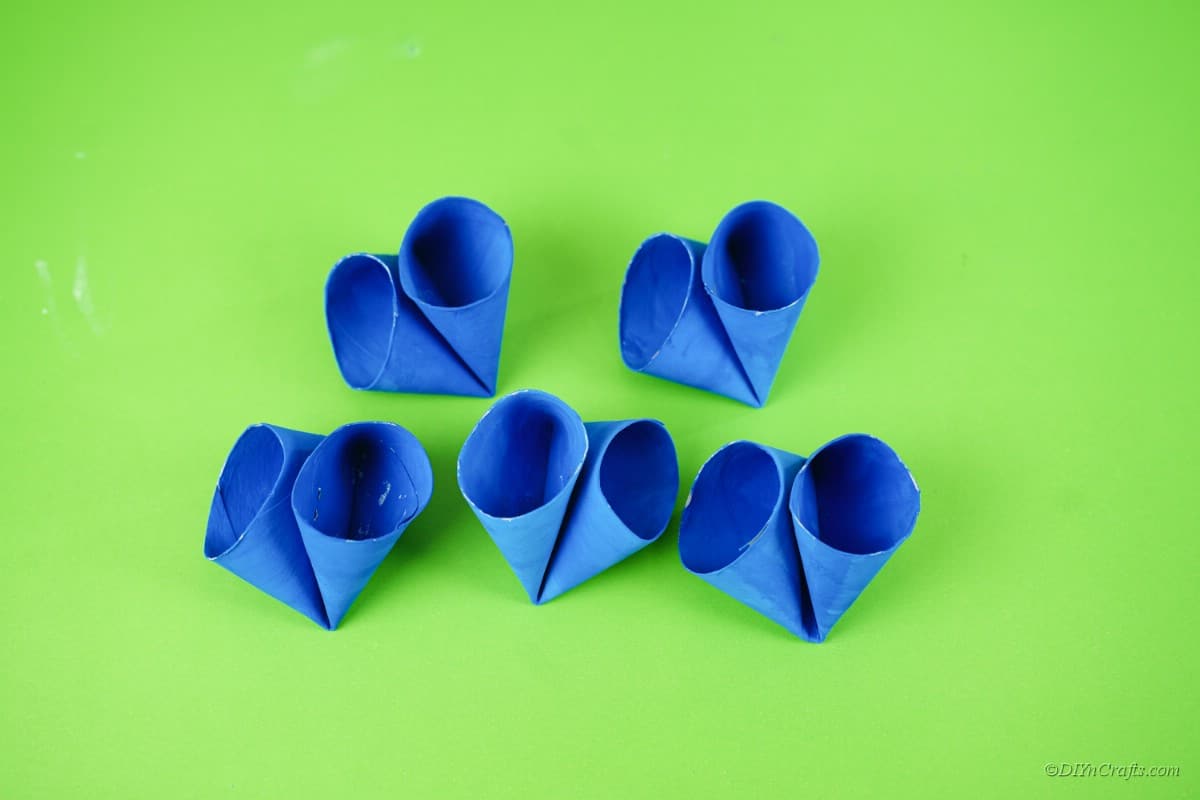 Arrange the folded and stapled rolls together end-to-end. Staple the individual pieces together to form a round pattern.
Use a hot glue gun to apply the decorations you'd like along the outside edge of the craft.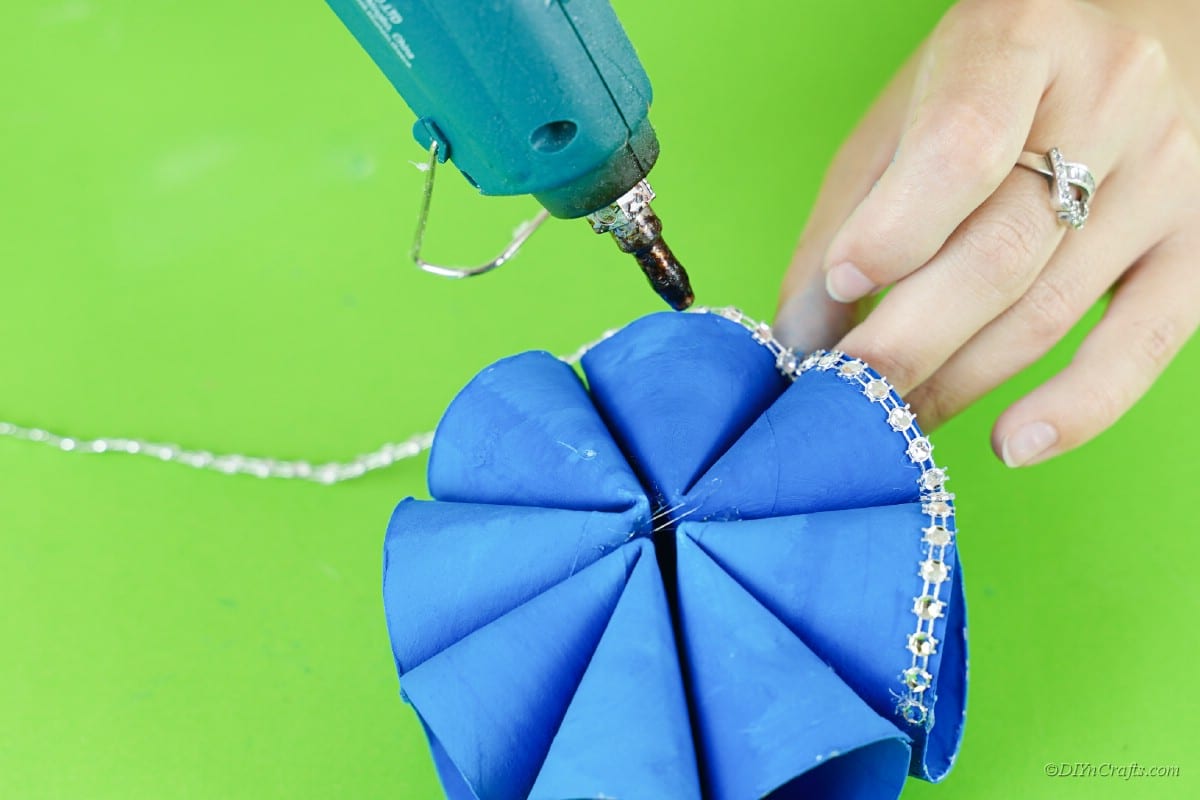 Your completed decoration should look something like this! Add a star, or motif to the center to hide the joint and add a little flair!
More Christmas Craft Ideas
There's plenty of upcycled Christmas crafts you can bring into your to light up your life! What's perfect is they're light on the wallet and incredibly easy to create! Here's some more inspiration you can draw from to plan your next project. Bringing some new life into something old, or forgotten is an affordable and clever way to recycle! Which one of these projects will make it to your craft table next?
Yield: 3
Cute DIY Paper Christmas Ornaments for Winter
Make these adorable upcycled Christmas crafts for some low-cost, easy to make and enjoy DIY decorations!
Materials
Instructions
Paint each of the toilet paper rolls either red, blue or green.
Pinch and flatten the center of each and fold end to end.
Staple each end together.
Continue until you have 5 like pieces.
Join them side by side creating a circular pattern, and staple those.
Hot glue gun around the end, adding whichever decorative touches you'd like.
Recommended Products
As an Amazon Associate and member of other affiliate programs, I earn from qualifying purchases.
Final Product Gallery
Top your tree of right with one of these adorable papercraft decorations!
They can hang from the branches, or stand on their own. Where will you display them?
You can even use these to design a bright, festive centerpiece made out of all upcycled materials!