Not everyone has space for a large flower or vegetable garden, but that's okay. I have some incredible built-in planter ideas here to help you grow herbs, flowers, vegetables, and even small shrubs no matter how big or small your space. Concrete, wood, metal, and composite all create great additions to your space to plant your preferred flowers with these ideas.
Built In Planter Ideas
Having rarely had a large yard in my adult life, I learned that planters are a great way to keep growing both flowers and fresh vegetables. Now that I have a nice space and plenty of room to grow items, I still find myself going back to the planters around our property. These help keep weeds away and allow you to separate different types of plants with ease. Below you'll find some great DIY ideas to add planters to your home and lawn space.
More Gardening Tips and Hacks
Roof Top Home Garden
This layout is a dream come true. Built-in planters around the space are ideal for creating your very own rooftop garden. With different sections separated by the box planters, you'll love how this is great for both vegetables and flowers.
DIY Trellis Planter Box
Against the wall of your home, this planter with a trellis going up the side of the home is a great addition. Trailing vines and plants up the trellis is a great way to add pops of color against a drab space.
Source: Crazy Laura
Vertical Railing Planter Boxes
I love this set of planter boxes mounted to the deck or fence wall. They are vertical but also slanted so it's easy to plant a variety of flowers that can easily grow both upwards and over the edges of the planters.
Source: Etsy
Curved Gazebo Planters
This open gazebo style seating area is a great place to add a few built in planters behind the seating. This is an excellent way to make use of space that is already existing and adding an element of beauty to the space.
Square Bench Planters
At the end of each of these benches is a cute little square planter that helps to separate the space and is a great use of what might otherwise be a useless space on the deck.
Front Door Wooden Planter
Add some vibrant life to the front porch and door area with this large built-in wooden planter. I love that this brings life to space while not taking away from the beauty of the home.
Source: Cherished Bliss
Add an Extended Deck with Built-in Planters
I am in love with this front porch renovation. Rather than keep the basic concrete steps and porch area, they totally renovated by adding a wood slat deck including built-in planters. This adds a beautiful addition to your home and definitely ups the value of the space.
Wooden Terra Cotta Pot Hanger
This mounted flower pot hanger is a great way to add terra cotta pots filled with your favorite flowers in any small space. If your railings aren't wide enough to hold the pots, you can easily add this on a hook to elevate the pots easily.
Source: Etsy
Planters in Brick Columns
Whether you have brick columns around your deck, as part of your mailbox, or as accents to separate your drive from the door, this is a great addition. Adding a few planters around and on top of the column turn something ordinary into something beautiful.
Stacked Stone Planter Bench
I am in love with this simple style. The stacked stone with concrete top is a sturdy planter that also makes for the ideal back to a little bench for added seating on your deck. Different levels allow for various heights of plants and seating.
Source: San Francisco Victorian
Address Sign Succulent Planter
This is a great dual purpose-built planter for your front porch! Add your house numbers to this sign and plant your favorite little succulents just below for a great useful and beautiful addition to your home.
Source: Etsy
Dual Entry Planters for Your Front Porch
As part of your front porch decor, you can easily add these box shrubs in large matching planters. Depending upon the deck you build or porch added to the space, these can be built in with matching colors of wood, stains, or even concrete.
Source: Crazy Laura
Wooden Slat Tall Planters
I love the basic look to these wooden slat planters. They are ideal for these taller grasses but could be used for really any plant you prefer on your deck or back patio. Keep them natural, stain to match your porch, or paint to match your trim.
Source: Kendinyapsana.com
Porch Railing Planters
Replace the railing along your porch with these deep planters instead. I love how this flows seamlessly across the porch and allows for a gorgeous view. These could be added on top of the railing, but I like the idea of them being the divider all on their own. Plus, matching to the deck wood and wood of the furniture adds to the appeal.
Source: Dwell
Wooden Bench Planters
This deck has a wonderful bench system that is backed by planters. I love how beautiful this looks and how much seating it offers for entertaining. The backs of each bench are deep wells for planting shrubs, roses, flowers, or ground coverings to suit your style.
Natural Cedar Fence Railing Hanging Planter Box
This two sided hanging planter box is ideal for going along any fence or porch railing. With the natural cedar finish, it's a sturdy addition that fits readily into any decking.
Source: Etsy
Install a Wooden Window Box
Not all planters have to be fully outdoors. This window box is a great addition that can easily stay in both indoor and outdoor spaces. I love the simple tutorial and sturdy construction of this choice.
Plant Small Shrubs or Trees In Boxes
This space shows how a wooden box on your deck can be a great idea for planting a small shrub or tree. This little bit of greenery is great year-round, and really adds life to a small space.
Concrete Stair Stepped Planters
This space is a perfect place for these built-in concrete planters that are stair-stepped for a multi-level appearance. This is ideal for a sunk-in basement walkout space. With multiple levels, you can really add different styles of plants and create a unique look to the area.
Source: Groundswell Design Group
Sloping Slide Planter Boxes
This unique idea in a backyard is absolutely amazing! It doubles as a planter and a great focal piece in the space. Add pebbles, flowers, shrubs, or ground cover to space and create an incredible look that fits into any corner space.
Source: Houzz
Hanging Deck Railing Planter Box
This tutorial shows you how easy it can be to add to an existing deck with your own simple hanging planter box. This is raw wood, but you can easily stain or paint to match existing deck or siding colors.
Build Planters Into the Steps to Your Deck
I absolutely love this layout. Adding planters to steady the space on your steps leading to the deck is a great use of space. These don't have plants in them yet, but once completed, this will be an excellent way to grow your favorite flowers, shrubs, or even a few vegetable plants if preferred.
Stacked Concrete Block Planters
Concrete blocks are great for a number of things, but I adore them in this configuration as planters. Paint them or leave natural then use individual holes for adding soil and plants or simply holding your small flower pots.
Source: My Desired Home
Wall of Boxed Herb Planters
This mounted wall of herb planter boxes is a great addition to the wall of your home, fence, or even the side of your porch or deck. The chalkboard markers on the front of each box make it easy to keep track of what you have planted.
Source: Etsy
Corner Stacked Wooden Planters
Adding planters to the edge of your deck is a great way to add a flower focal element. I love how this rustic look works and that it uses a space on your deck that might otherwise be wasted or even dangerous without a railing.
Line Decks with Matching Boxes
This composite deck includes large planter boxes attached to the deck and against the fence wall. This flows naturally between the spaces and is ideal for adding shrubs, flowers, rose bushes, or even a small vegetable garden if desired.
Multi-Tiered Herb Garden Planter
This leaning herb garden planter is ideal for adding to your garden. With multiple spaces to plant herbs or flowers, this is a great space-saving planter to add to your garden. As shown, it has three tiers, but you could easily add more boxes if needed.
Source: Etsy
Modern Raised Bed Planter Box
This is another great addition to any space. While these are raised bed gardens, they aren't traditional. I love the beautiful stains in wood tones and black to make this pop against any background.
Fill Round Planters With Shrubs and Ground Cover
I love this view of what is a roof top deck. Planters built around the deck and walking area vary in shape and size from round to small and rectangular. They included a ton of great small shrubs and ground cover interspersed with fresh flowers.
Wood Crate Vertical Vegetable Garden
This stacking vegetable garden is a wonderful DIY built-in planter that saves space while also giving you a great way to grow your favorite vegetables or herbs. You can leave these basic or paint in colors to match your siding and trim.
Source: Man Made DIY
Hexagon Deck Planter
This planter is a perfect choice to add to your deck layout. The hexagon style really adds to the look and makes something ordinary absolutely beautiful on your patio or deck!
Source: Etsy
Hang Flowers From the Garden Wall
Utilize existing garden surfaces as planters. In this instance, a few hooks turn a garden wall into a great planter. Hanging baskets line the middle of the planter and there are a few boxes built into the bottom edge for more flowing flowers and greenery.
Incorporate Planters Into Seating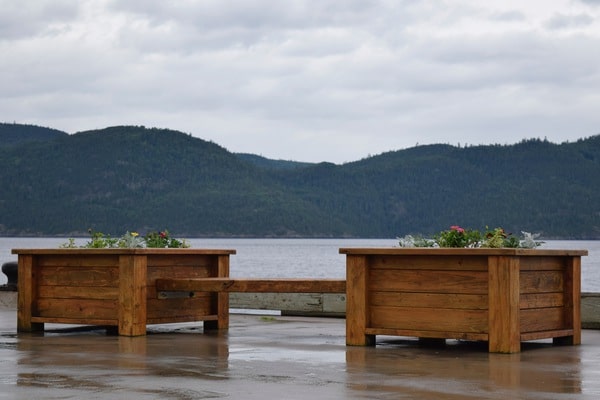 These square box planters are actually a part of a bench in front of the beach. While this may not be at a home, you can use this same style to add to your own deck or back yard. It separates the flowers and provides additional seating that matches your deck and home decor.