These cottage-style garden decorations are so beautiful! There is something relaxing and ultimately comforting about walking into a lovely garden. Whether you have built a backyard garden, have a large property with winding pathways, or are renovating the property, there is something here to add beauty. Pulling from classic English rose gardens and cottage gardens of old days, these styles and layouts are sure to bring a smile to your face.
Cottage Style Garden Decor Ideas
There is something special about walking into a garden and smelling the scent of roses blooming all around. When that garden not only smells wonderful but is pleasing to the eye, it becomes a place you never want to leave. The various decorations, layouts, and styles below all add something unique to any home and garden.
More Garden Layout Ideas
Garden Gazebo Surrounded by Flowers
What a beautiful classic cottage garden idea! A simple gazebo can be a focal point for a garden. Surround it by your favorite delicate flowers or paths to create a lovely garden that feels magical.
Vine and Floral Archway
One classic addition to any cottage garden is a floral archway. This one is supported by what looks like a metal arch form that goes the length of the walkway. Trees and vines planted near the arch travel upwards eventually creating a green and floral archway that creates a canopy of beauty.
Winding Garden Pathway
If you prefer a more structured look to your garden, this idea for a winding pathway is ideal. Setting up pebbles or stones in a winding pattern and surround with flowers and shrubs of all sizes with bright blooms throughout.
Source: Country Living
Whiskey Barrel Lily Pond
A small whiskey barrel lined and filled with water and lily pads is a beautiful accent feature in any garden. If you are limited in space but still want a water feature, this one is a perfect choice.
Source: Empress of Dirt
Stone Fairy House
A fairy garden is a great addition, but the little stone fairy house is the real showpiece in that garden. This adds a unique natural look to the space that is magical and fun.
Source: Etsy
Hanging Boot Planters
This may not be a classic cottage garden style, but it is beautiful and brings that rustic appeal you are looking for. A simple wooden arch holds up worn pairs of boots filled with soil and beautiful flowers. This could be done with any style of shoe, but wellies or boots look best.
Wooden Wagon with Floral Planters
An old wooden wagon is a great addition to any cottage garden. If it has sides, fill it with soil and then plant your favorite flowers. Wagons without sides are ideal for holding rustic planters with a variety of foliage.
Stacked Terra Cotta Bird Bath
This tutorial is excellent for making a little fountain to go in your garden! I love that this is a very easy tutorial to follow and is ideal for not just beauty but also making sure the birds and squirrels are provided with plenty of water.
Hang a Hammock Between Trees
A simple rope hammock is a perfect addition to any garden. This one hangs between two trees and includes a few comfortable pillows. Surround your hammock with trees, vines, or flowers to create a truly beautiful place for relaxing.
Source: Delightful and Delovely
Wishing Well Surrounded by Plants
A wishing well within a garden is a beautiful addition to any cottage style garden. This one shows plants inside the well, but you could create a traditional well filled with water, or even empty and surrounded by plants. In the background, the white trellis sitting area is a classic addition to this rustic garden with free-flowing wildflowers and plant life.
Add Weathered Old Doors as the Garden Gate
Instead of a traditional garden gate, add rustic old weathered doors to space. This brings a unique look that matches the look of the traditional cottage or English style garden. A bonus is this is a great way to upcycle an otherwise ordinary piece of an old home.
Source: How to Build it
Wood and Vine Arbor
Arbors of all shapes and sizes appear in gardens everywhere. This is a simple example showing two wooden trellises leading up to the roof of a home and surrounded by tall flowering trees. The addition of blooming vines that flow downward brings this together to form a stunning garden style.
Source: Gardenista
Add a Teacup Bird Feeder to the Garden
Turning an old cup and saucer into a little bird Feeder is such a great idea for your garden. This is excellent for bringing the birds and even squirrels into your garden to help spread seed and bring life to the space.
Source: Etsy
Rose Arch Gazebo
Another spin on a gazebo that fits the cottage style is a wire archway with roses planted all around so they travel up and over the arch. This creates a beautiful curtain of roses under which you can add a simple white metal table and chair set for simple garden luncheons.
Add a Vintage Washtub Garden
This idea is absolutely brilliant! A great little way to use thrift shop finds to create a beautiful little garden that uses a small space to create something beautiful!
White Trellis and Gate Covered in Flowers and Vines
Nothing screams cottage garden quite like a white trellis or fence. That said, the addition of beautiful purple and pink flowers above and below, along with vines growing all over the trellis, make this absolutely stunning. This style of gate and fencing is perfect for any sized garden space.
Rustic Fairy Garden Feature
The addition of a fairy garden is ideal for any traditional garden. It's quaint, whimsical, and adds a lovely air of magic to a garden that is both inviting and homey.
Source: Lake Travis Lifestyle
Wooden Trellis Surrounding Sundial
This garden is a beautiful rose garden with a simple wooden trellis surrounding a circular garden. Low shrubbery creates a border that surrounds pink roses and a simple sundial in the center. A simple English garden that easily fits into the cottage style.
Glass Garden Greenhouse
All serious gardeners will likely have a greenhouse. This addition to a garden creates a rustic look that is both beautiful and functional. Even if not used for gardening year-round, a greenhouse with white edging and glass panels is a lovely addition to any flower garden.
Old Rusty Bicycle Planter
Turning and old metal bicycle with a basket into a planter is a beautiful addition to any garden. Line the baskets with moss or burlap and plant any flower that is bright and flowing then prop in a corner of your garden.
Wooden Ladder Plant and Birdhouse Stand
This is a fun little addition to any garden. Stack the steps with simple planters or old wooden birdhouses then surround by planters. This can be a great addition to any garden but is especially handy in small garden spaces.
Source: One Chitecture
Weathered Table with Old Watering Can Planters
Adding an old weathered table in a corner of any garden brings a beautiful hint of style. This one has some old white watering cans and rustic birdhouses filled with flowers to bring more style to space.
Add a Mosaic Tile Bird House
Old tiles and broken pots are a great choice for creating a mosaic birdbath that looks stunning in any garden. This tutorial is super easy for making your own custom birdbath.
Stone Statuary with Green Shrubs
Additions of a few concrete or stone statues or planters are always a hit in gardens. Adding green shrubs or a topiary into this type of planter elevate the foliage and bring a cohesive look to space.
Add Stone Borders with Walkways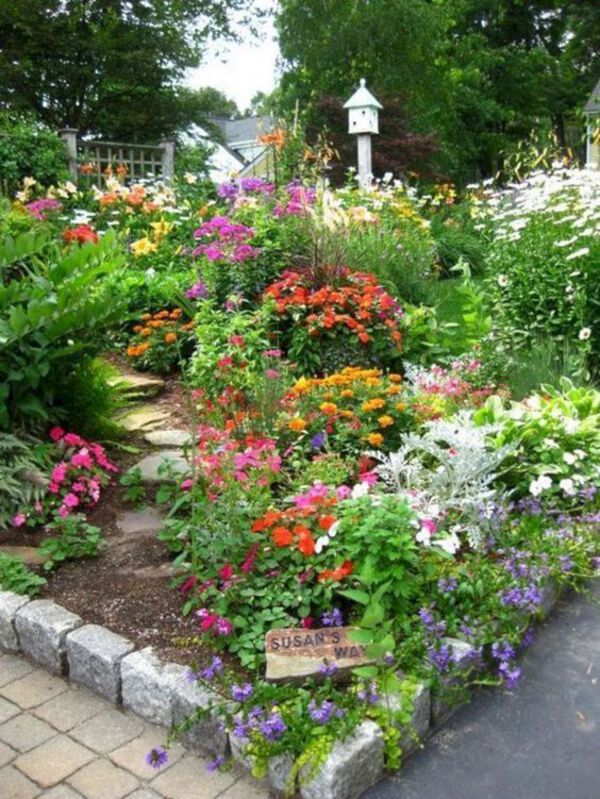 One great way to create that style you want is to make sure you include a stone or rock border. This example features a large variety of flowers in all heights and styles with a simple stone walkway that was enclosed with a stone border. I love the addition of a birdhouse in the background for added height.
Source: Junk Chic Cottage
Textured Bowl Bird Bath
A textured look to this bowl creates the perfect birdbath to add to your garden. Add a few flower petals or twigs to the bowl and make sure the water is fresh to bring more birds to your garden!
Source: Etsy
Fill Baskets with Fresh Cut Blooms
Adding a few baskets around the garden with fresh-cut blooms on a regular basis helps to showcase the beauty of the flowers grown while also adding to the rustic appeal of the space. I love this for just displaying cut flowers, but you could also plant small flowers in baskets and set around the area if preferred.
Source: Town n Country Living
Wooden Spool Table in Corner of Wooden Gazebo
These old wooden spools make great additions to any garden. Turn them into a dining space or simply add with a few old potted plants and a lantern for a unique but beautiful style.
Source: Hannas
Buried Stone Pathway
Large pieces of slate or stone are buried into the garden to create a walkway or patio style area. The goal with these is to keep them separated just enough for grass, or even weeds, to grow between them. This creates a rustic and natural look that really fits the cottage garden styling of the space.
Mixed Level Borders in Gardens
One great style is to mix and match heights of borders along with your garden. This one showcases a low green shrub with tall roses and hyacinths in the background. Mix in a variety of colors to really make the beautiful blooms pop.
Source: David Austin Roses
Stacked Corner Planters
A small tiered table is ideal for stacking a variety of garden implements and plants. I love that this one showcases a low basket filled with roses and then smaller pots on the middle shelf alongside a rustic styled watering can. The top shelf holds a large metal bucket filled with white flowers to complete the look.
Source: Garden Style Living
Add a Unique Koi Pond
This brilliant use of an old pallet and some concrete turns into a unique and original koi pond. This is a perfect addition to any garden and is a fun DIY project that anyone can make.
Add a Large Variety of Flowers in a Single Color
Instead of making a blanket of just one flower in purple, this garden features a number of beautiful plants in varying shades of purple. By mixing in different flowers in the same shade, you create a cohesive look to the garden while still allowing for a more natural look.
Source: Gardenista
Always Include a White Picket Fence
Nothing makes a garden feel more like a classic cottage garden or English rose garden than a white picket fence. This example shows how a simple fence isn't just about dividing property, but about breaking up the foliage and helping those pinks and whites of the garden pop against the green.
Source: This Old House
Add Twinkle Lights on Your Pergola
One lovely way to bring a cohesive but fairy style to a garden is to add twinkle lights for evening relaxation. This pergola includes lovely vines running along all sides and over the top interspaced with twinkle lights for a romantic garden feeling.
Garden Bench Under Pergola
Whether you build a bench or add a porch swing under the pergola in your garden doesn't matter. The addition of extra space to relax is what matters in this case. This lovely addition fits into any garden and is always a great way to add vines or flowers that create vines to grow over the pergola.
Source: Delightful and Delovely
Rustic Wooden Pergola
Rustic strips of branches and trees can combine to build a simple pergola in your lawn or garden. This one is simple to follow and create and can stand alone or with flowers and vines all around.