You are going to fall in love with this incredible list of outdoor bar ideas!
This list includes simple choices for updating an old piece of furniture down to full plans for building your own space from scratch.
No matter what size space you have or what your DIY skill set may be, there is something on this list you can add to your patio or deck space!
Jump to:
DIY Outdoor Bar Ideas
Partying outside is always fun, but who wants to go traipsing back and forth all day for drinks? Not me!
That's why an outdoor bar is a much-needed addition to any backyard or outside entertaining space.
You can add any of these fun ideas to your patio, deck, backyard, or even front yard for entertaining or just to lounge with your friends and family. They are even great for weddings and birthday parties!
More Outdoor Space Decor Ideas
We always love having people over when able.
During the current pandemic times, it's not as easy, but that doesn't mean I can't be prepared for the future!
Building and decorating the space around our home is a must. Below are just a few more ideas we have to share with you for adding beauty to your outdoor spaces!
Sewing Table Drink Station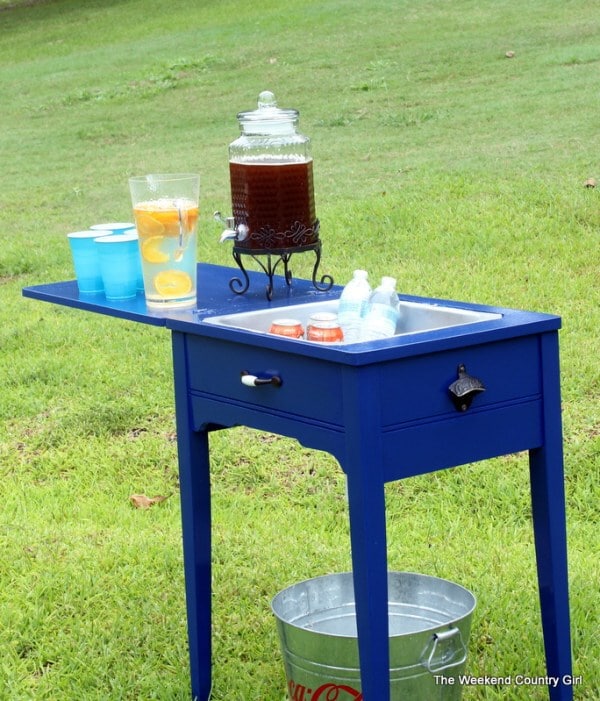 Vintage sewing tables are one of my favorite things to find when antique or thrift shopping. When they aren't in good enough condition to restore to their original state, an idea like this is perfect!
Source: Remodel Aholic
Chest of Drawers Turned Wine Bar
We've all seen old chests that just wouldn't be good for holding clothing anymore. Why not turn it into this stunning little wine bar! This is a perfect addition to any back deck or patio.
Source: Designed Decor
Murphy-Style Outdoor Bar Idea
You've heard of Murphy beds, so why not create a Murphy bar? This small and easy to create little bar is a perfect addition to any home. It's designed with just enough room to hold a few drinks and create that easy to use the table to mix, pour, or prepare.
Source: Like Honey Blog
Outdoor Cedar Bar Cart
This cedar creation is a beautiful outdoor bar.
Complete with a built-in cooler and additional shelving, it is compact but fully functional for mixing drinks, holding your favorite beer, or even acting as a small space to house utensils and plates for your next cookout.
Source: Etsy
Vintage Chair Drink Stand
An old chair can easily turn into a fun little outdoor drink stand. Grab a bucket, ice, and your favorite drinks and set this up for any outdoor event, or simply lounging outside with your family on a hot summer evening.
Source: Oh My Creative
Potting Bench Turned Drink Stand
What may have been intended to be a potting bench for the garden is easy to transform into a little drink stand or bar on your patio. Add a bucket and ice to hold beverages and a few hooks for holding glasses to complete the look!
Source: Simple Stylings
Old Door DIY Outdoor Bar
What a brilliant way to use an old door and reclaimed wood! A few simple additions like a fancy doorknob, rustic bottle opener, and hooks to hanging lanterns, and you've created a stunning bar. This can fit easily on any deck, back porch, or patio. Add one or more shelves to the door for holding drinks, or just for helping store glasses and supplies.
Source: Dreaming of Our Homestead
Double Cooler Cabinet with Cooler Tables
What a gorgeous choice for your custom outdoor bar! This is available with many upgrades including options for granite, drawers, and storage. Both side coolers include spouts for draining melted ice. Rollers on the bottom make it ideal for moving around. Customize yours to your style and preferences.
Source: Etsy
$75 DIY Simple Outdoor Wooden Bar
Nothing is better than an affordable bar. This one is a cute little bar that uses simple slats of wood to create a basic table that also doubles as a bar for your yard, patio, back porch, or deck!
Reclaimed Wood Washtub Cooler and Bar
This may be my favorite yet! Reclaimed oak wood is repurposed into a lovely miniature bar with a great space for a large washtub you can use for keeping drinks cool. This is ideal for a small space!
Source: Etsy
Upcycled Pallet Bar
We love pallet furniture ideas! This is so simple, but perfect for adding a full bar to your patio or deck area! String up twinkle lights or add hooks for lanterns. You could even include space for an outdoor outlet and a small sink with drain to create a fun exterior kitchen.
Source: All My Good Things
Brick and Wood Outdoor Kitchen
This idea is much more advanced than others but a great start. When building your home, add plans for adding a sink, refrigerator, dishwasher, and oven to your outdoor space. Of course, you can also simply use a bit of brick and extra countertop to any back yard space to create a lovely bar look.
Upcycled Wood Crate Outdoor Bar
Grab those old wood crates and stack them together to create a cute little bar! I love that this one has a nice flat top and wheels on the bottom so pulling it around the deck is easy for parties and events!
Source: Dove Cottage Blog
Blue and White L Shaped Beach Bar
Simple wood stained to perfection creates a basic L shaped bar that is ideal for your indoor or outdoor entertaining space. Whip up drinks, store snacks, or use as a buffet for burgers and snacks at your next weekend barbecue.
Source: Etsy
Rolling Bar Cart
While this isn't entirely a DIY bar option, it is a great way to turn an office cart into a cute little outdoor bar. What may have been intended as a cart for paper or craft supplies is easy to turn into a beverage cart or outside bar!
Source: A Night Owl Blog
Wood Slat Outdoor Bar
This idea is a simple way to turn an outdoor space into a bar. Grab simple 1x6 wood boards and create a little wood slat bar with any of your favorite countertop ideas. This is easy to customize, and while simple can be updated with different colors of paint or fun accessories.
Wood Barrel and Old Door Drink Stand
Sometimes, it is just simple things that can turn into something beautiful! Two old wooden whiskey barrels are the perfect base to put an old rustic door or wooden board to create a makeshift table or bar. This one showcases a drink station and appetizers, but you could add a bucket of ice, your favorite drinks, and all of the cocktail trimmings.
Small DIY Pallet Outdoor Bar
I love the addition of just a few simple pallets alongside an outdoor space for a fast and easy bar area. This readily holds drinks or snacks, but you could easily make this into a fun buffet when serving guests at your next weekend barbecue.
Source: This Worthey Life
Updated Microwave Cart Turned Outside Bar
A fresh coat of paint and a bottle opener are all you need to turn this old ordinary microwave cart into a beautiful little outside bar. I love that it already has a drawer and a little rack for hanging kitchen towels. All you need to do is update with your choice of paint and some great beverages!
Source: 2 Bees in a Pod
Rolling Beverage Cart Outdoor Bar
An old rolling cart is easy to paint and turn into a simple beverage cart. Add a few trays and buckets along with straws, glasses, fruit, and your favorite cocktail mixers for a great place to mix up any yummy drink.
Source: Hoosier Homemade
Updated Nightstand Turned Drink Stand
I love this idea for adding a fun coat of paint and rustic additions to an old nightstand. This look makes it feel older than it actually is, but also keeps it strong and safe for holding a nice large drink bucket filled with ice. What a great way to keep drinks cool for a summer party!
Source: I Should be Mopping the Floor
Bakers Rack Outdoor Bar
Old bakers rack is easy to update with just a bit of paint and a few extra hooks and shelves. This one is ideal for an outdoor bar that will be safe in any weather conditions. Start looking for old bakers racks in your local thrift shops and flea markets.
Source: Sweet Pea La Bella Vie
Rustic Rolling Beverage Cart
I love how they turned an old desk into this lovely beverage cart. Removing a few drawers, painting with a weathered look, and adding a few buckets for ice and drinks turned it into the perfect addition to any outdoor space. The addition of rollers really makes it easy to move around. I truly love this idea and plan to see if I can make one similar for our deck!
Source: Down to Earth Style
Concrete Counter Bar with Wood Base
This is a great tutorial for how to make a simple outdoor bar but with the solid twist of a sturdy concrete bar top. This is ideal for those who want a unique small bar space near their home.
DIY Wood Cooler Drink Cart
This is truly a complete DIY project including simple plans to follow. Build your own wooden space to drop a cooler, complete with a spout for draining and a little shelf for mixing drinks. I love the bottle cap design on the front, but you could create any accent you want to match your home and style.
Source: Ana White
Galvanized Bucket Drink Station
A few metal pipes and some buckets are super fast and easy to turn into a little drink station. Add buckets on the hooks for your napkins, glasses, straws, and utensils. A great little choice that is super easy to create, and of course, easily fits the farmhouse style that is always so popular.
Source: Lil Luna
The Kona Pallet Bar
The dark rich stain on this bar makes it a perfect addition to your deck. A simple style is beautiful with two additional shelves and a sturdy bar top. You can add a bucket for ice, or even hooks to hold glasses to personalize yours.
Source: Etsy
Hand Crafted Wooden Bar
Follow this simple plan for building your own little wooden bar. The stained wood is beautiful, and the simple additions for hanging a kitchen towel and storing your favorite beverages makes it perfect for any space. This takes a bit more work than some but is totally worth it to create a beautiful addition to your patio.
Source: Store Front Life
Rolling Bar Cart
This lovely idea is ideal for food and beverages! A simple large wooden box can be easily turned into a beverage or bar cart with some decorative wheels, a few wooden slats, and some decorative rails that are perfect for creating a simple roof on the bar. Add hooks to hang glasses, a bottle opener, or even add a cooler for keeping ice. What a stunning idea!
Corrugated Metal Accented Tiki Bar
If you are looking for that Hawaiian theme - this is the bar for you! Corrugated metal, a few tiki torches, and fun decor add to the unique style of this little simple bar idea for your outdoor spaces!
Source: Etsy
Cedar Wooden Tiki Bar
Another great choice for a tiki bar, this tutorial is all about the cedarwood. This covered bar is also a great choice for serving drinks at any party, or a fun filled luau themed wedding perhaps!
Rusty Metal Cart Turned Beverage Cart
This little metal cart is such a fun idea to use as a drink station. It may have been a grocery cart or could have even been an old library cart. Regardless of where it came from originally, it turned into a lovely drink station.
Source: Style Me Pretty
Simple Balcony Patio Bar
If you live in an apartment but still want a bar outside, this little patio bar is a perfect choice. It hangs beautifully over the railing and is ideal for holding a few items like your laptop, a favorite drink, or even a few potted plants.
Source: Etsy
Potting Bench Styled Into Outdoor Bar
This type of outdoor bar is really popular. I love this version that has an added fold-down side table, a long bar across the front for bar towels, and even the lovely hook and rack setup for holding glasses. It fits into a small space and is ideal for storing all of your drinks and has a simple bucket for ice.
Source: The Creativity Exchange
Old Wheel Barrow Drink Cooler
What a simple but fun way to add a drink station or cooler to your yard! This old wheelbarrow is ideal for holding ice and drinks. All you have to do is dump it out after use! What better way to add a rustic element to the yard for your next garden party!
Source: Style Me Pretty
Concrete Block Outdoor Bar
Those concrete blocks are for more than just lining pathways or building foundations. Use them as a lovely base for this DIY bar for your backyard or patio space. I love that the colored grout added here turned it a solid color!
Steampunk Pipe Bar Cart
Metal pipes and a few pieces of stained reclaimed wood are all you need to build your own fun steampunk style bar cart! You could even add some rollers to this cart to make it easy to move around your yard. Additional shelves can be added to the space, but of course, add a bottle opener somewhere for convenience.
Source: A Life Designed
Rustic Cooler Cabinet
This handcrafted cabinet includes a deep cooler, multiple cabinets, and drawers. It's ideal for holding drinks, mixing drinks, and holding all of your cups, straws, napkins, and utensils for any outdoor party. Add a rustic and unique bottle opener and bar for a bar towel to make it your own.
Source: Etsy
Wooden Bench Style Drink Stand
This idea is super easy and absolutely adorable! A wooden bench-style drink stand is so easy to make. Two ends and a simple long box that looks like a bench but is open and deep enough to hold ice or just to house the stacks of drinks.
Source: Michaela Rae
Cultured Stone Outdoor Bar
This is such a beautiful bar! The stonework isn't as difficult as you may have thought. This easy to follow video tutorial will show you just how you can turn what looks like an ordinary rock into a perfect bar for your outdoor spaces.
Volkswagen Van Bar
What a fun idea! I am absolutely in love with this idea for creating a bar that looks just like the front of a VW van or bus. So cute and absolutely great for the car enthusiast!
Source: Woo Home
Vintage Chest Drink Stand
This was such a simple choice for a wedding. Nothing needed but moving the chest outdoors! You can easily use the drawers for storing glasses, straws, napkins, or other drink needs.
Source: Wedding Chicks
Small Wooden Corner Bar
This little wooden corner bar is so simple but perfectly functional. It holds a few full bottles of your favorite beer or wine and has a few shelves on the backside to hide supplies from view. A great choice for small spaces!
Source: Etsy
Surfboard Bar and Chairs
This brilliant table and chair design are perfect for a fun outdoor bar! A great way to use an old surfboard and to add to any beach house theme!
Source: Etsy
Reclaimed Wood Indoor and Outdoor Bar
I am so in love with this! Use reclaimed wood, or simply paint wood slats in different colors to create a lovely bar that is ideal for both inside and outside use!