Paper flowers are always a welcome addition to any room. This tutorial for making a beautiful calla lily bouquet out of old book pages is super easy to follow. They turn out absolutely gorgeous and add beauty to any table or room. These could also be a great gift idea or addition to a traditional bouquet. Make your own paper flowers and add to your home for a touch of rustic beauty that makes everyone jealous.
Old Book Page Calla Lily
Growing up, my grandma had a few flowers growing outside her house. There were only a few, but I vividly remember the orange of the tiger lilies. Those flowers created my love of the lily. While there are many different varieties and stunning colors, my favorite delicate flower has to be the calla lily. It is just a lovely soft flower that always makes me think of joy and love. This is probably because they are commonly used for wedding bouquets.
Using a few pages from an old book gives these paper lilies the vintage look I wanted. The slight yellowing of the book page really adds a rustic look that makes them feel aged. I love how that looks when in a bouquet and sitting on a shelf or table in my home.
Can I Make These Different Colors?
Sure you can! I like using pages from old books since I have a habit of collecting them for crafting projects. That means they are already handy in my crafting closet. You could follow the same process with truly any paper you wanted to use.
Craft paper and scrapbooking paper is my favorite to use if not using old book pages. You could use construction paper if making these with your kids. Another option would be to upcycle old newspapers. They could also be a great way to upcycle something that might otherwise get thrown into the recycling bin.
What Ways Can I Display Paper Flowers?
I've shown a few ways that I have used these flowers as decor. Adding them to a single bud vase with some decorative rocks is great. Inside a glass cloche adds a pretty addition to any table. With other greenery or babies breath in a vase is always a favorite. I've even shown how you can just use them on the table as decor. That's not all though! You can use them for many decorations and additions throughout your home.
Glue them onto a wreath alongside greenery.
Add them with a bow to a gift or gift bag.
Use in bouquets for weddings or events.
Add to greenery and other paper flowers for a table centerpiece.
Spray with a sealant and add to a barrette to tuck behind your ear.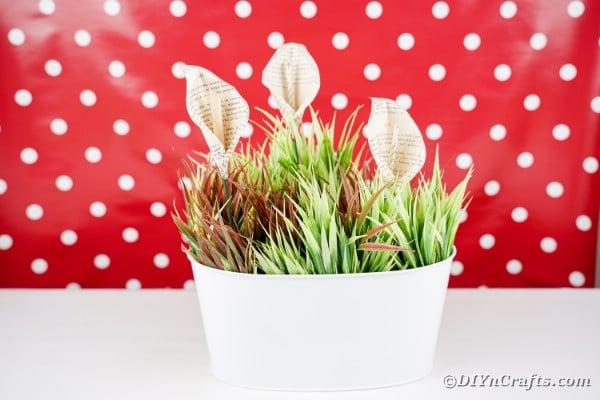 What is the Best Stem for Paper Flowers?
I keep basic floral stems in my craft supplies. While I don't work with many fresh flowers on a regular basis, I love keeping these on hand for creating stems of paper flowers. They are easy to use for this, but not the only way to create a stem for your paper flower.
You can also use craft tape or floral tape to add a dowel, stick from your yard, skewer, or even a piece of trim or baseboard you have cut down to size. Flower stems don't have to be anything specific. In fact, you could even grab a package of pencils and add these to the top to create a fun bouquet of pencils to give to a teacher as a gift.
Supplies Needed
How to Make a Paper Calla Lily from an Old Book Page
Draw a pear shape onto an old book page.
Cut out this shape and begin to create the flower shape.
Start by taking the widest end of the paper and pinching the center together to create a slight point on that end. You won't fold the entire paper, just the bottom edge. You will glue this later.
Now, fold just a bit of the outer curve of the widest parts down outwardly.
Bend the narrow end of the flower down slightly creating a curve that will later attach to the stem.
Now, cut a triangle out of the book page.
Start on the widest part of the triangle and roll upward tightly into a tube shape.
Glue the rolled paper together on the edge.
Measure to make sure the rolled paper is the same length or slightly shorter than the flower petal.
Next, put a dab of glue onto the end of the rolled paper, and insert the floral stem into the end to hold in place.
Take the petal and wrap the bottom part you pinched earlier around the bottom of the rolled paper on the stem and glue into place.
Now you can repeat this for as many flowers as wanted and display alone or with a bouquet.
Paper flowers are one of my all-time favorite things to make. This is just one of many you'll find here. Go large with this old book page flower wall art, or you can add them as an accent like with this old book page wrapped wreath with flowers. Of course, you can also add these beautiful paper flowers to any gift or package. Tissue paper flowers are another easy to make favorite, or you can really amp things up with these DIY yarn pom pom flowers. A fabric flower bouquet is another awesome option. There are tons of ideas!
Crafter's Tip

If you aren't sure about making a freehand drawing for your flower, you can always download templates to use. I love grabbing the flower shape SVG and PDF files intended to use with a Cricut machine. You can use them to cut it out, or you can use the template with your printer and then cut out of any paper you prefer.
Yield: 1
Stunning Old Book Page Calla Lily Bouquet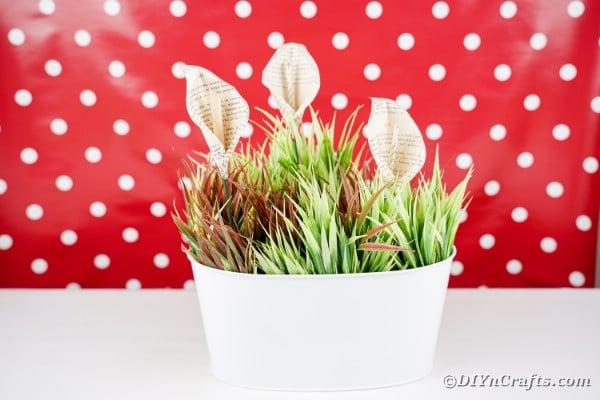 Create this old book page calla lily bouquet with just a few craft supplies and your imagination! This simple video tutorial makes paper flowers easier than ever to make!
Instructions
On a book page, draw a large pear shape and cut it out;
Pinch together the widest end of the paper at the middle to create a little point and crease near the bottom, you will not fold this, just pinch together;
Fold the edges of this pear shape down around ⅛'" outward all around the outside;
Slightly bend the narrow stem end downward;
Cut a triangle from a book page;
Roll the triangle into a tube starting at the widest edge;
Glue the roll together and then measure against the petal you created to make sure it is just slightly shorter in length;
Attach the tube to the floral stem with hot glue;
Now, glue the stem and tube into the center of teh flower petal wrapping the bottom wide edge around the tube and leavng the top open and showing the top of the tube;
Continue this process for as many flowers as wanted and then display in a vase or on a table.
Notes
Use different colors and types of paper to create a more unique flower bouquet look.
Recommended Products
As an Amazon Associate and member of other affiliate programs, I earn from qualifying purchases.
Finished Project Gallery