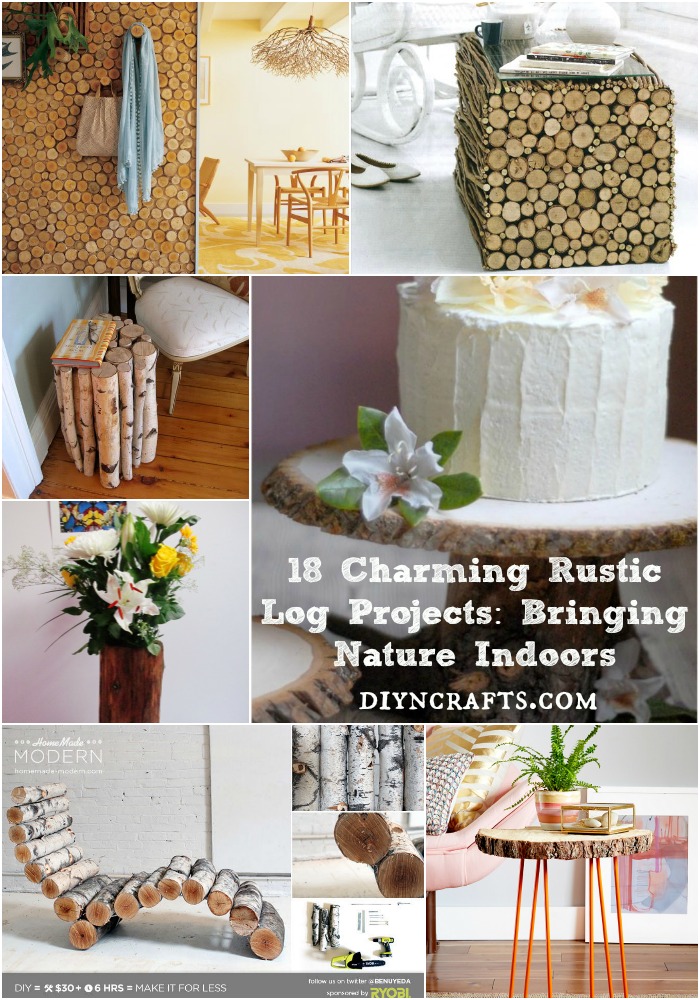 We absolutely love the idea of bringing the outdoors into your home with these incredible DIY log décor tutorials. Every tree and branch out in nature is unique, so using these elements in your home is sure to bring that natural beauty and character that you can't always find with premade items. Every scratch or imperfection to the wood simply adds to its special one-of-a-kind quality.
Enjoy the relaxing coziness that comes with homemade log furniture and décor!
Cake / Cupcake Stand
This rustic cake stand would look great at a wedding, but you can use it for any occasion. Since it's pretty simple and cheap to make you could make quite a few in varying sizes for a truly special event. We just love how you can clearly see the rings in the cross-cut; it really celebrates the natural wonder of this material.
Source and DIY Instructions: OnceWed
Wall Art
There is so much you can do with this project; for example, arrange the log slices into a specific shape or letter, create an interesting color coordination, or stain or varnish them in different shades so that you a multi-toned, unique work of art on your wall. All you need it a bit of planning, and a big vision.
Source and DIY Instructions: HGTV
Wall Panel
This birch disk wall panel is a stunning accent piece in any home; especially one that that has contrasting clean, modern lines. The disks are glued to plywood panels so that you don't ruin your walls, and can remove it if you ever feel like a change. This concept could also be adapted as a headboard.
Source and DIY Instructions: MarthaStewart
Side Tables
These side tables require some patience, but wow oh wow will it be worth your time! We love how the varnish really brings out the natural cracks and streaks of the wood itself. This project also requires some tools that you may not have in your garage but don't let that stop you; borrow, borrow, borrow so that you can have these handmade beauties in your home. Here are  two different methods for you to try.
Source and DIY Instructions: ByeByeBrooklyn and TheArtOfDoingStuff
Slice Side Table
If you like the idea of a log side table but don't want the whole stump, you can make this more modern-looking log slice table with long sexy legs. You can jazz it up even further by painting the wood a funky color.
Source and DIY Instructions: StyleByEmilyHenderson
Candle Holders
These candle holders are just so charming, and if you make enough of varying sizes and heights, you have yourself a stunning centerpiece. The tea light candles are so easy to replace so you'll be keeping these for a long time to come. You can also lay a longer log horizontally for one long candle holder instead of a series of vertical logs.
Source and DIY Instructions: CozyStylishChic and CupcakeRehab
Pencil Holder
This pencil holder is so easy to make and will look great in any child's room or artist's studio. It's amazing to see something so simplistic make such a big impact.
Source and DIY Instructions: PolkaDotBride
Coffee Table
This wheeled coffee table elegantly showcases a rustic material in a chic manner. It looks like something out of an expensive décor magazine! Instead of spending money on something that someone else made, enjoy the satisfaction of reveling in the beauty of something you made yourself and have put your own twist on.
Source and DIY Instructions: BHG
Vase
Doesn't it just make perfect sense to put plants in a vase that is made from a plant? This gorgeous vase will really enhance the natural beauty of any flowers that you stick in there.
Source and DIY Instructions: Jessthetics
Log Slice Vase
Here's another way to make a vase that's a little less obvious: turn it on its side! It's a really novel idea, and we love the fact that you can actually see the glass through the wood.
Source and DIY Instructions: AshbeeDesign
iPod Docking Station
This is such a clever and creative concept! We just love the whimsical juxtaposition of modern technology and raw nature. As long as you measure everything precisely it shouldn't be too tough to make.
Source and DIY Instructions: ManMadeDIY
Placemat
This is a nice quick and easy project; the simplicity of it will look great on your dinner table. It's especially fitting for a meal outside, or even a wedding.
Source and DIY Instructions: RyobiTools
Lounger Seat
Birch is the best type of wood to use for this lounger because you won't have to worry about sap on your clothes. Otherwise, if you're using a different type of wood you could strip the logs of their bark and just seal them. It may look a bit uncomfortable to sit on for long, but its beautiful design is one that really needs to be admired.
End Grain Wood Flooring
This durable and unique flooring technique is absolutely to die for. It takes a bit of work, but what it adds to your home is absolutely priceless.
Source and DIY Instructions: DIYCozyHome
Log Cluster Table
All you need to do to make this beautiful cluster side table is to strip the bark off the logs and use a strong wood glue to keep the pieces together. Easy!
Source and DIY Instructions: DIYGadgets
Log Pile Table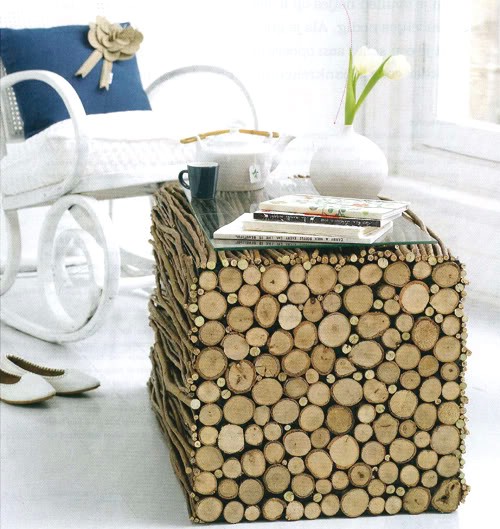 Using the same premise as the cluster table, you just need to cut the log pieces into the same size, glue them together and then wrap them in smaller twigs. The glass panel on top ensures that you can actually rest objects on a flat surface.
Source and DIY Instructions: DIYGadgets
Clothing Rack
How fabulous is this clothing rack? If you manage to find the right shaped branch or log, you can even use it to hang scarves, jewelry and other accessories. This could also work as a coat rack near the entrance of your home.
Source and DIY Instructions: LoveAesthetics
Hangers
If you want to add a little something special to your clothing rack, make these easy branch hangers to match! You get extra storage that's inexpensive, and adds a rustic charm to your room.
Source and DIY Instructions: Amazine