This colorful upcycled wine glass owl is a cute and simple way to add decorations to your home. It's such a cute addition to your springtime decor! I love painting glasses because you can turn something ordinary into an absolutely stunning decoration in just a few minutes! This can be personalized with your favorite colors and turn into something unique for your home.
Upcycled Wine Glass Owl
I absolutely love painting glasses. It's a fun little craft that is inexpensive, easy and has so many options. I started painting glasses back when I was just 11 or 12 years old, and it has been a favorite pastime ever since. My favorites are using them to create for birthdays, anniversaries, or holidays. This little owl is great for all three, and even more!
If you are an owl lover like I am, then you will love making your own unique painted wine glass craft. Feel free to get creative with colors and design to really make this unique and match your personality and decor. You can use buttons, feathers, beads, and more to really dress this up!
Where Can I Get Feathers for Crafting?
I am asked frequently about where I get the feathers I use in crafting. Many people are not just curious, but concerned about the ethical treatment of animals when sourcing feathers. Most companies now source feathers for crafting only from those that fall off naturally from birds. While the birds themselves may be raised for this purpose, you can be assured nobody is just plucking feathers from birds needlessly to supply your crafting habits.
My favorite feathers are those from Coreca chicken feathers, and also I really like the variety in these colorful feathers.
Tips for Painting a Wine Glass
While you are not painting the owl on the wine glass, you might want to paint the glass itself. When choosing the paint for the wine glass, there are a few types of paint that will work well.
Spray paint (my favorite)
Acrylic enamel
Craft paints - including acrylic and tempera paint
Acrylic paint that is marked for tile or glass
Specially formulated solvent paint designed for glass.
The paint will need to dry before you can move on to the next step. When painting this as just a fun craft, you can just set it aside to dry for an hour (or less depending upon the paint), then move on to the next step.
While this craft is not one you will be using later for drinking, etc., it is worth mentioning that there are different rules for painting glass you need to wash and use for food.
If you are painting the glass and plan to be able to run it through the dishwasher, you will follow a different method. A painted glass will need to dry for up to 21 days to cure the paint so it stays on the glass when washed. The other option is to paint and then bake the glasses for 30 minutes at 350°F. This, of course, should only be done with oven-safe glass.
How Can This Be Displayed?
This owl glass can be displayed in the kitchen to complement other owl décor or used on a shelf as part of everyday knick-knacks. You can add it to any shelf or table centerpiece during special holidays, birthday parties, or just because.
I like seeing it sit inside my glass cabinet above my desk where I store a few special collectible items. It just fits in nicely with the theme. You can also add it to a mantle with other owl decorations, or on a high shelf in a kid's room that has an owl theme.
Ultimately, I use it most often as a candleholder! Just place a votive or a tealight on top and light for soft light in a room. You can, of course, use the LED tealight candles that only require batteries and are safe to use around children and flammable items.
Supplies Needed
How to Make a Wine Glass Owl Craft
Start by spraying the glass orange and setting aside to dry. For spray paint, this usually dries within 30 minutes.
While the paint is drying, you will cut out an oval that is the length of the glass on the blue paper.
Next, you will cut out two connected circles (an 8 shape) and 2 small "feet" shaped pieces from the yellow paper.
You will also want to cut out a small orange triangle shape from the orange paper to create the beak.
Now, when the paint is dry, you will glue the blue oval onto the glass to make the owl body.
Glue the yellow figure 8 shape onto the top of the blue body, nearest the stem (the glass will sit upside down to display).
Add googly eyes to the yellow eye shape.
Now, attach the feet to the bottom of the yellow body.
Glue the beak just below the eyes.
Use the black marker to draw squiggly lines across the body to resemble rows of feathers.
Glue the feathers around the stem of the glass.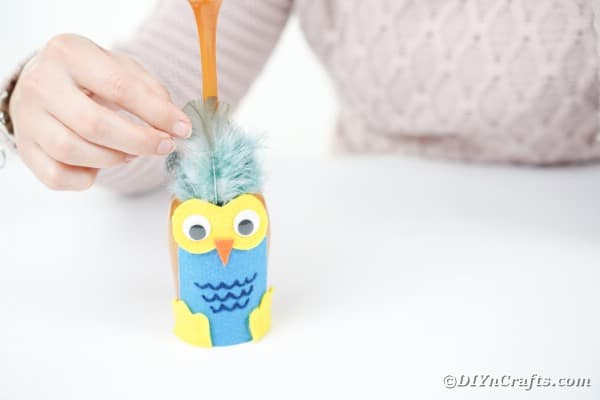 Now you have a cute owl made out of a wine glass!
If you have more wine glasses and want to make even more fun projects with them, I have tons of ideas! This rustic candle holder from a wine glass is my favorite, but of course, I have plenty for all the holidays too! A fun wine glass bunny, wine glass chick, wine glass pumpkins, Christmas candle holders from wine glasses . You can even make this simple wine glass lantern candle holder if you want!
Crafter's Tip

I find there are many more sustainable and eco-friendly or cruelty-free options on Etsy for colorful feathers. Definitely check out the small chops there instead of the big retailers!
Yield: 1
Cute Wine Glass Owl Craft - With Video
Grab your paints and turn a basic wine glass into this adorable wine glass owl candle holder! A perfect fun craft for kids!
Additional Time
30 minutes
Materials
Tools
Instructions
Spray paint the wine glass orange coating the outside completely then set aside to dry;
While the glass is drying, cut an oval out of the blue paper as the owl body;
Now cut out a figure 8 or connected circles on yellow paper for the eyes and two small yellow feet;
Cut a small triangle from the orange paper to become a beak;
When the glass has dried, glue the blue oval onto the glass to create the owl body;
Add the yellow piece for eyes at the top of the glass near the stem;
Add googly eyes to the yellow eyepiece;
Add the feet to the bottom of the glass;
Glue the beak just below the eyes;
Use the marker to create a few squiggly lines on the body to look like feathers;
Glue actual feathers around the base of the stem at the top of the owl;
Now you can display your wine glass owl!
Notes
If working with kids, you can easily do this same design on a plastic glass for safety!
Recommended Products
As an Amazon Associate and member of other affiliate programs, I earn from qualifying purchases.