Bookshelves are not only decorative, they are often necessary. If you have loads of books or even if you have only a few and want to display them nicely, we have a great collection of 25 DIY bookshelves that you can build in very little time.


Some of these use recycled materials, which makes them cheap and that's our favorite kind of DIY. Others are knock-offs, another DIY that we love. Some of them are so easy that you can build them from scratch. From pallets and ladders to ropes and wine crates, there is a bookshelf in here for everyone.
Whether you need bookshelves for the kids' rooms, your cookbooks, or any other books or collectibles, you can create these gorgeous bookshelves in less than a day. Paint them, stain them, or just leave them all natural. They are easy to build, cheap, and a great way to add some functioning décor to your home.
Anthropologie Knock Off Bookcase
Imagine paying out over a thousand bucks for a bookcase! And, it doesn't even hold that many books. In fairness, the price of this one in the catalog does include a vintage set of cookbooks but still. That's just way too much for a small bookshelf, especially when you can DIY. You just need a few pieces of wood and a couple of hours to spare and you can create this stunning display case for those favorite books. If you have any vintage cookbooks, be sure to put them in there then it will be just like the one from Anthropologie.
DIY Instructions and Project Credit - Whollykao
Rolling Bookshelf
This great rolling bookshelf doubles as a table and it's fabulous. You will need a wooden cable spool which you can probably get at a thrift store or yard sale. You also need wooden dowels that will help to keep the books in place. Just add casters and you have your very own rolling library cart or a really neat side table. This one looks great distressed so paint it whatever color you want and then sand just a bit to give it that great aged look. It's easy to build and depending on what you can get the cable spool for, it could be really cheap.
DIY Instructions and Project Credit - Smalltowncraftfair
Wine Crate Hanging Bookshelves
If you have some wooden wine crates, you can build these amazing bookshelves that hang right on the wall. You just need to cover the insides of the crates with paper or fabric, if you want, that is. You could also leave them rustic looking if you prefer. The books will stay nicely in place and you can have several of them on the walls. You could also add wooden dowels if needed to really hold those books and collectibles in place. These are great because they're cheap and you can get a ton of books on each one.
DIY Instructions and Project Credit - Designsponge
Repurposed Drawer Bookshelves
An old useless dresser drawer makes a great hanging bookshelf and if you have an old dresser with broken drawers that you aren't using, you can make this one for nothing. The map behind it is an excellent touch but you could also go with fabric, scrapbook paper, or just anything you want to give it the color and design that you want. For kids' rooms, use colorful scrapbooking paper or use pictures from old cooking magazines for the kitchen. It will hold several books and it's cheap and easy to put together.
DIY Instructions and Project Credit - Olivebites
Plumbing Pipe and Wood Bookshelf
You just never know what you can build until you get started. This great bookshelf is made from plumbing pipes and wood and it looks great. It has a very modern design to it but still a bit rustic. If you have plumbing pipe that you aren't using, this is a great way to put it to good use. The building plans are really simple and you can complete it in less than a weekend, depending on how fast you work. You can also alter the location and the size or number of the shelves to meet your specific needs.
DIY Instructions and Project Credit - The-brick-house
Recycled Wood Bookshelves
Recycled wood can be used for so many useful projects. Take this amazing bookshelf for instance. If you are using recycled wood, like from fences, barns, etc., and you want to dress it up a bit, add some contact paper. Once you have decided where to place the shelves, just cover them with some sort of paper or fabric. The wood will act as a base for all of those books and you can give it any color or design that you want. Build those shelves all the way to the wall with that old wood and then just give your shelves a little facelift.
DIY Instructions and Project Credit - Apartmenttherapy
Hanging Book Display
This hanging book display is perfect for kids' rooms. It allows them to keep their favorite books on the wall right next to the bed so you're all set for bedtime story time. You need fabric to make it, plus a couple of curtain rod brackets and a few other supplies. It's really easy to create and great for using up fabric that's leftover from other projects. Plus, it's lightweight and it hangs perfectly on the wall, giving you enough room to store several books and still keeping them within reach of your little ones. Make several of them if you have room and just install them on top of each other.
DIY Instructions and Project Credit - Pennycarnival
Dresser Bookshelf
A regular dresser can be utilized for bookshelf space by simply adding spice racks to the sides. You can get wooden spice racks for pretty cheap, although you should measure first to make sure that you get them the right size. Paint them to match your dresser and then attach them to the dresser's sides. They work perfectly to hold a number of books and if you line both sides of the dresser, you should have more than enough space to hold all of your books. You can also just attach the spice racks to the wall if you don't have a dresser that you can use.
DIY Instructions and Project Credit - Ikeahackers
DIY Corner Bookshelves
Corner bookshelves are great. They're attractive, they don't take up much space, and they hold tons of books. You can actually build your own corner bookshelf units that will give you plenty of space for storing books, knick-knacks, and other similar items. What's great about this project is even if you are just now building the shelving unit, it will look as if it was built right into the wall when your house was first constructed. It's a really easy project and one that you can finish in a weekend. If you have room, do a couple in the corners of your room to really have a lot of space for your books.
DIY Instructions and Project Credit - Remodelaholic
Recycled Wood and Leather Bookshelf
A couple of old leather belts and a slab of wood will give you the perfect pairings to create this beautiful and very unique bookshelf. You could also use this for knick-knacks but it's perfect for holding cookbooks or any other books that you need to store. You just make loops with the belts and insert the wood. You do have to nail the wood in through the belts to make it secure. You could make more than two shelves if you want which would make this one really great for holding a lot of different books. It would be perfect for the den or a boy's bedroom.
DIY Instructions and Project Credit - Designsponge
DIY Cube Storage Bookcase
This bookcase is designed to store those handy canvas cubes although you don't necessary have to use it like that. You could simply stack books on it and it's much easier to build than you may think. You could also go to your local furniture store and easily lay down a couple hundred bucks for a unit like this but we so much prefer the DIY way. If needed, toggle the measurements just a bit to meet your specific needs, especially if you are planning to just add books and not those canvas cubes. This is a great weekend project that will give you more than enough room to store all of the books in your house.
DIY Instructions and Project Credit - Ana-white
Repurposed Wooden Crate Bookshelves
A decorative wooden crate will cost you less than $10 if you buy it brand new. Once you get it home, cut it in half and you will have the makings of two great little bookshelves that are perfect for kids' rooms. Paint those halves whatever color you want or give them a new coat of stain if you are planning to put them in the living room. Then just mount your new shelves onto the wall using a couple of "L" brackets for each one. You can stick something in the bottom if your books are relatively thin so that they won't fall through the crack.
DIY Instructions and Project Credit - Extraordinareality
Recycled Ladder Shelves
An old ladder can actually be used as a bookshelf in many different ways. You can either stand it up against the wall, put two together and insert wooden slats to hold your books, or you can even hang the ladder up on the wall or in a corner and use the slats for books. There are so many different uses for ladders when it comes to bookshelves and all of them are easy to do and won't take much time. To build a leaning bookshelf, just take the ladder apart and then use the steps to create shelves to hold books.
DIY Instructions and Project Credit - Prettyhandygirl
Salvaged Drawer Modular Bookshelf
Old drawers just dressed up a bit and stacked on top of each other will create a beautiful bookcase to display your favorite books or collections. Just paint or stain the drawers, add some contact paper to the inside and then stack. Secure the drawers together with drywall screws. You can add as many as you want as long as you screw them all together and you can create any design with them that you want, as well. Put them in the corner and create a corner bookshelf or line them up a wall. They look great and work really well for holding just about anything.
DIY Instructions and Project Credit - Craftynest
Upside Down Bookshelves
If you want something really unique, these upside bookshelves are great. They really look as if the shelf is upside down and the books are just hanging there. To make this one, you will need a bit of elastic, a board, a stapler and some brackets to hang the shelf. You can add as many or as few books as you want and this is definitely going to be a conversation starter when people visit your home. The books are actually held in place by the elastic and it's very easy to take them down and put them back up when you're finished reading them.
DIY Instructions and Project Credit - Instructables
Leaning Bookshelves with Lighting
LED lighting gives these leaning bookshelves a great look and they are super easy to make. They resemble ladders and look like they are literally just leaning on the wall, although they are very sturdy. The lighting makes them look really expensive but they aren't and you can easily build these in less than a weekend. If you have a dark corner somewhere that needs a little lift, these would be perfect. Plus, the lighting will help you to find the books that you want and the overall look is elegant and really beautiful.
DIY Instructions and Project Credit - Instructables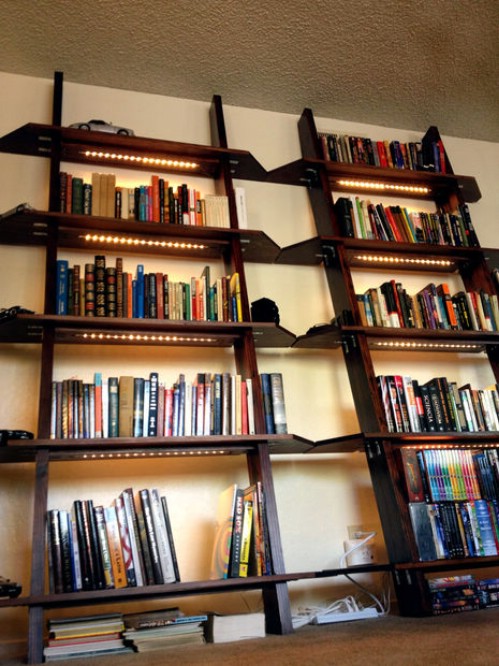 Driftwood Bookshelf
Add those books to a great driftwood shelf that you can actually make for nothing if you have a chance to get to the beach. If you can't get your hands on driftwood, you could use just about any wood that you can find outdoors, although the driftwood really does give it a great tropical look. You literally just hang brackets and then attach the driftwood. If you can get ahold of several pieces, you could create an entire wall of driftwood shelves to store your books or anything else you want to put up there.
DIY Instructions and Project Credit - Designsponge
Secret Bookshelf Door
Install a bookshelf that doubles as a secret door. Why? Because you can. This is a great way to hide away closets if you want and you get a bookshelf at the same time. You literally create a bookshelf from the door of whatever room you are hiding. Make sure that you add something at the bottom of each shelf to keep the books in place when you are opening and closing the door. Just a tiny lip will do and you will be amazed at how this looks when you have it finished. It's easy to do and something that you can complete in a weekend.
DIY Instructions and Project Credit - Manmadediy
DIY Mantel Bookshelf
If you have an old fireplace mantel that you aren't using, why not turn it into a functional bookshelf? This is another super easy project and one that won't cost a fortune. The mantel acts as the base for the bookshelf and this is a great way to add a little décor to an otherwise boring wall. Plus, you can hand stockings from it just like a real fireplace. Just paint or stain the old mantel and then add color to the back for contrast. This is such a beautiful bookcase when it's finished and it won't take you longer than a couple of hours to complete.
DIY Instructions and Project Credit - Fudgebananaswirl
Old Door Corner Bookshelf
If you don't really want to build a corner bookshelf but you want the look, this bookcase made from old doors is perfect. There is little work involved here and very little cost if you have an old door that you can use. You need to cut the door in half and then use rounded pieces of wood to create the shelving. This is such a beautiful shelf and one that is much easier to build than it looks. It also fits perfectly into the corner so it's not taking up needed space in your room.
DIY Instructions and Project Credit - Craftaholicsanonymous