Isn't this Pom Pom Tree Christmas Craft adorable?! I love that I can get the kids started on this project and let them make each ornament truly unique.
Craft sticks, green pom poms, and fun embellishments are easy to assemble and create a cute tree to hang on your holiday tree this year.
Want more miniature Christmas trees around the house? Make this Christmas tree out of cardstock for a super cute and rustic idea that fits easily into your holiday decorations.
Christmas Pom Pom Tree
If you haven't worked with pom poms before, then this is the best craft to start out making. Pom poms are basically small cotton balls that come in various sizes and colors.
For this craft, I used 8 of them in green about the same size each. They glue onto any surface easily, and a fun way to create something that is especially kid-friendly to make.
Tip: While I used hot glue for this when I made it, if working with children you can use any craft glue instead for their safety.
How Can I Decorate My Tree?
I used some small plastic stars on my tree, but you can easily decorate with anything you wish. The point is to make it look as much like a real Christmas tree as possible.
Get creative and make each tree unique.
Add pieces of sparkly ribbon to look like a garland.
Glue tiny buttons onto the tree.
Look for miniature ornaments to glue to the tree.
Add a star or angel figure to the top of the tree.
Sprinkle on glitter or dot with glitter glue to make a different shimmer effect.
Use different shades of green pom poms to give the tree more depth of color.
Use white, gray, or pink pom poms to create a different colored tree reminiscent of the aluminum trees from the 1970s.
Where Do I Display My Pom Pom Tree?
On your real tree, of course! I made several of these to display on my Christmas tree, but they could also be a cute addition to a present in place of a gift tag.
I've even seen these tacked to a bulletin board, or arranged in a holiday centerpiece. Have fun hanging them around your home or letting your kids wrap them to give as a gift to your family at Christmas.
Tip: If you give them as a gift, use a fine point marker and write the year and your kid's name on the back of the craft stick.
Supplies Needed
Cardboard
Green pom poms
Craft stick
Twine or ribbon
Decorations
Scissors
Craft glue
How to Make a Christmas Pom Pom Tree
Gather your supplies together, and if you are using glitter for your tree decorations, make sure to put a newspaper or drop cloth on your table.
Glitter makes a big mess, and this will help make it easier to clean.
The first thing you will do is to cut a small triangle out of a piece of cardboard. Attach the craft stick to the back of the cardboard to create your tree trunk.
Next, you will begin gluing your pom poms to the triangle using craft glue. Start with four on the bottom, then three, then two, then one to create the tapered look shown.
If you want to use various sizes of pom poms on this craft, you can start with the largest on the bottom and work your way up to making the top one smaller than the rest.
Once the tree has been assembled, you can pain the tree trunk if desired, or simply begin decorating the tree.
Add "ornaments", "garland", or glitter to the tree until you feel it is complete.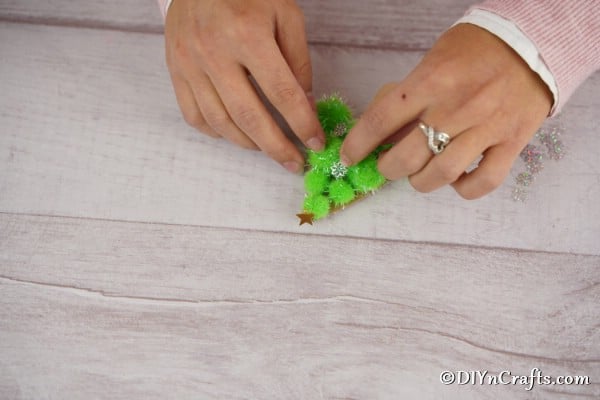 The final step is to cut a small piece of ribbon or twine, and attach to the top of the tree for hanging.

Video Tutorial:
Printable Step by Step Photo Tutorial:
Yield: 1
Adorable Christmas Pom Pom Tree Ornament
Make this adorable Christmas Pom Pom Tree craft in just minutes! The perfect craft stick idea to make with kids this holiday season.
Materials
Cardboard
Green pom poms
Craft stick
Twine or ribbon
Decorations
Instructions
Begin by gathering your supplies. If you are making these with your kids, you can set up a set of supplies at each seat for them so they all have their own tools;
Next, you will cut out a triangle from the cardboard piece and attach the craft stick to the back of it;
Once the glue has dried, you will begin gluing the pom poms to the cardboard;
If using different sized pom poms, use larger on the bottom and smaller on top. I used 4 on the bottom, 3 the next layer, 2, the next, then 1 on the final layer;
Allow the glue to dry before adding a simple ribbon or string to the backside of the top of the craft stick to be a handle for hanging;
Add embellishments like string, glitter, garland, and stars as desired;
Display on your holiday tree.