Home décor is sometimes just about what you have on hand.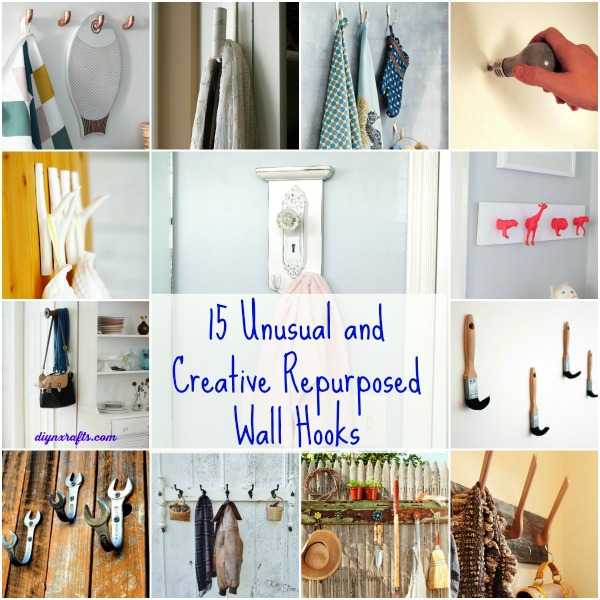 You can create any number of new décor pieces by simply repurposing items that you have around the house.
Take these great wall hooks for instance.
We have found 15 ways that you can turn old items that you no longer need into adorable and functional wall hooks. Use them to spruce up your regular home décor.
Jump to:
Neon Nursery Wall Hooks
Old plastic toys can be painted a bright neon color and then transformed into a wonderful new nursery hook.
This is the neatest idea and a great way to weed out those old toys, especially the ones that may be broken or otherwise damaged.
The hook has the heads of various safari animals but you could also do it with barnyard animals or just anything you wanted.
You could make it really fun and use the heads and tails. This is an easy project and one that will take you only a couple of hours.
DIY Details and Project Credit - Sayyes
Building Block Hooks
Old building blocks can also be used to create wonderful wall hooks and these don't necessarily have to be hung on a kid's room.
You just choose a small collection of wooden building blocks and then paint them whatever colors you want.
You have to drill a hole into each block to insert a screw which is then used to attach the block to the wall. These are great and would work really well as towel holders or you can use them as coat hooks.
They look much more sophisticated and elegant than you'd think coming from a toy.
DIY Details and Project Credit - Thehouseofsmiths
Branch Hooks
Just a few branches – that you can repurpose from the yard – are all you need to create this very unique and very rustic looking branch coat hook.
You do a single branch or multiple ones depending on how many wall hooks you need. Paint them whatever color you want and if you mess up, well you've probably got plenty more branches outside.
This is a project that'll only cost you paint if you don't already have it or you could just clean them up and leave them natural.
DIY Details and Project Credit - Scandinaviandeko
Silverware Wall Hooks
Use those old mismatched forks and spoons to create adorable wall hooks. You can use serving spoons and bend them up to actually hold things or just use smaller forks and spoons to create hooks for hanging coats, towels or purses. You can attach them to a board or just hang them directly on the wall.
This is a great idea for kitchens to hang towels and aprons or they actually look great in any room. You can even paint them if you need to in order to match them to existing décor.
DIY Details and Project Credit - Realsimple
Concrete Light Bulb Wall Hooks
Before you automatically throw away those burned out light bulbs, take a look at this easy wall hook project.
This lets you repurpose and recycle those old light bulbs and make really neat looking hooks at the same time.
You need a bit of concrete, which is really inexpensive and you can make as many hooks as you need provided you have several old light bulbs. This one takes a little time but the end result is definitely worth the work.
DIY Details and Project Credit - Instructables
Copper Kitchen Hooks
Take some old copper piping and create these beautiful and elegant kitchen hooks. Copper is relatively strong so you can use these as towel hooks or even hang your pots and pans on them.
If you are looking to remodel your kitchen and you want a more elegant look, this is a really inexpensive way to do so. You will need screws for attaching the hooks to the wall but the overall process is really easy and takes very little time.
DIY Details and Project Credit - Homemydesign
Perfume Bottle Top Hooks
When you finish up that next bottle of perfume, keep the lid and you can create really elegant looking wall hooks from it.
You'll also need some cork so if you finish off a bottle of wine, keep the cork and you can use it to attach the screw which will hang your perfume cap.
These are great and they cost you nothing if you already have the perfume caps and corks. You just stick the cork in the cap and then screw it to the wall. These are great for hanging coats or just about anything else you can think of.
DIY Details and Project Credit - Ohohblog
Vintage Spool Hooks
Keep those old wooden spools when the thread is gone and you can create beautiful vintage hooks for any wall.
You just have to attach a dowel to the wall with a screw and then add the spool over the dowel.
You can do spools of all different sizes to create a great look or if you only have one or two spools available, use them. These are perfect for hallways and entryways for hanging coats or you can use them anywhere you need a little extra hanging space.
DIY Details and Project Credit - Athomeinlove
Headboard Wall Hooks
If you don't have an old headboard that you can use for this one, look around at yard sales and flea markets.
You can probably get one pretty cheap and then turn it into this great hanging rack. You just clean it up, paint or stain it and then add decorative hooks.
You can use it for a towel rack, coat rack or even to hang pots and pans on in the kitchen. These are great because you can get as creative as you like and use other wall hooks to decorate them.
DIY Details and Project Credit - Knickoftimeinteriors
Repurposed Trowel Wall Hook
An old trowel is a great thing to use to make a new wall hook. You literally just have to paint it and then hang it.
You can do any color, although this white looks really good and you can give it a great rustic look if you lightly sand it after you have painted it.
This is great for inside closet doors to hold your bathrobe or you could actually just hang it near the front door for coats. Be creative and decorate the trowel with stencils if you want.
DIY Details and Project Credit - Mamiejanes
Wrench Wall Hooks
These wrench wall hooks are perfect for the garage. If you have some old wrenches (ask your hubby if you can use some of his old rusted ones) then you just bend them up and attach them to the wall. The wrenches are really heavy so you can hang heavier items on them.
Use them to store garden tools, tool boxes or just about anything else you can think of in the garage or storage shed.
They are also great to use in boys' rooms for coats and other items.
Available on - Etsy 3 Wrench Hook Set
Paint Brush Hooks
Who would have thought that there was a use for old paint brushes? You can use those brushes to make these whimsical wall hooks. Just leave enough paint on your brushes when you are finished with them to make them harden up just a bit.
The hardened paint is what helps you to create the hook. These would be great in an office or artists' studio. You can use them to hang your crafting aprons and other supplies.
DIY Details and Project Credit - Apartmenttherapy
Old Wooden Hanger Hangers
Put those old wooden skirt and pants hangers to good use by creating a great coat hanger from them. You don't necessarily have to make a coat hanger. You can use this project to create all sorts of wall hangers and have a place for virtually everything that needs to be hung.
You can even use hangers that have been broken because you only need about half of each hanger so before you throw those broken hangers out, take a look at this great way to repurpose them.
DIY Details and Project Credit - Alittleglassbox
Spigot Handle Wall Hangers
You can turn old spigot handles into the perfect wall hangers for your home or your garden shed.
You can pick up spigot handles at any home improvement store if you don't have any available or hit some thrift stores or yard sales.
You just have to attach them to a wooden board or just add the screw to the back and stick them directly in the wall. These are perfect for garages when you want something decorative that is also functional.
DIY Details and Project Credit - Thisoldhouse
Iron Rake Wall Hook
You simply have to pull the top off an old iron rake to have a wonderful wall hook that is great for hanging coats or you could even use it to hang your wine glasses.
Sand it down a bit if it's rusty and you can paint it if you want or just leave it with its great rustic look.
You can also use it in the bedroom for hanging necklaces and such. This is a great repurposed wall hook idea that won't cost you much if anything and something that will take you literally only minutes to have ready to hang.
DIY Details and Project Credit - Lifehacker
Conclusion
They are fully functional as well so you can use them to hang other decorative items, coats, towels or just about anything you need.
There are things in here that you would never consider using to make wall hooks and that's what makes them so great.
They are all completely unique and so very easy that you can make them in no time.
There are hooks for kids' rooms, kitchens, bathrooms and anywhere else in the home that you need them and best of all, they are cheap, easy to make and will help you to really make your home décor unique and creative.