I saw one of these floating teacup statues in my neighbor's yard, and I knew right then and there that I would have to have one for my own garden. Little did I know that making this floating teacup would be so easy. I would have had one years ago!
What Is a Floating Teacup?
A floating teacup is a gorgeous decoration for your home or garden that actually looks like a teacup that is floating above a saucer. This DIY floating teacup actually looks like the cup is pouring out flowers, and it's simply gorgeous when you get it finished.
What You Need To Make A Floating Teacup
This is an excellent opportunity for you to put those cracked teacups to good use. To make this gorgeous indoor or outdoor garden decoration, you need a teacup, a saucer, some artificial flowers and greenery, heavy wire or a wooden dowel, and your hot glue gun.
I've also seen people using old forks instead of wire or a dowel rod.
Can You Use This Floating Teacup In Your Garden?
Yes! I have mine in the garden right now. You will just need to make sure that the artificial flowers and branches that you use are safe for all types of weather. You can also use this as a centerpiece on your dinner table, on the mantel, or on a nightstand to give your bedroom a bit of color.
What Else Can You Do With Old Teacups?
I've shown you some wonderful crafts to repurpose old teacups. Remember this personalized teacup candle? How about this DIY floating teacup centerpiece? And if those aren't enough, you have to take a look at these 25 gorgeous projects to upcycle old teacups. There are so many ways to reuse those teacups!
Yield: 1
How To Make A DIY Floating Teacup Decoration
This video tutorial shows you how to make this adorable floating teacup. Add some enchantment to your home or garden with this easy craft.
Materials
Teacup
Saucer
Artificial Flowers
Artificial Branches
Wire
Instructions
Before you begin the actual craft, you will need to choose a teacup for use. If you have an old teacup that has a crack or chip, that's perfect. You also want the matching saucer – or a saucer that looks like it fits with the cup.
If necessary, cut your wire – using the pliers – to fit your project. The length of wire you will need depends on the size of your cup.
You need to fold the wire into a "Z" shape.
Attach one end of the wire to the inside of your teacup and secure it in place with the hot glue.
Attach the other end of your wire to the saucer, again securing it in place with hot glue.
Note that you will need to hold the wire in place until the glue sets. You may want to use quite a bit of glue to hold it, but don't worry, the glue won't show at all when we finish placing the flowers.
That's the hard part! Now comes the fun part – adding the flowers.
Using your hot glue, start securing flowers and leaves to the plate and then work your way up the wire and into your teacup.
You can use as many or as few flowers as you want, but you should make sure that you are covering the wire and the glue that is holding the wire.
When you get the look that you want, you're all done. Again, keep adding flowers until you are completely thrilled with the finished product.
Your DIY floating teacup will look something like this:
Pin this project: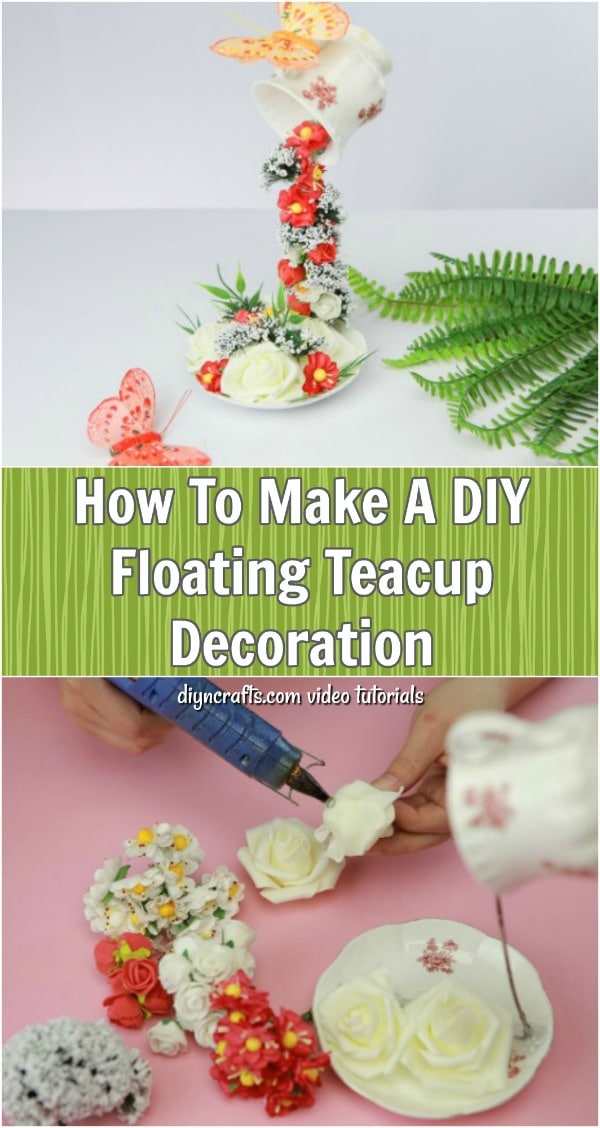 What's your favorite way to repurpose an old teacup?