During the festive season, I love to bring as much atmospheric light into my home as possible. I don't just put Christmas lights up on the tree and outside; sometimes I run them through my garlands too.
I also love to light candles to make for an even warmer holiday ambiance. And that means making DIY handcrafted lanterns!
Maybe you have seen those ornate-looking paper lanterns online with three-dimensional patterns on them, often of flowers. I was wanted to know how to make those, but I assumed that it would be challenging because they look so elaborate.
It turned out that I was wrong. There are actually surprisingly easy to make, and it is even easy to show and explain how to make them. So I have put together a video tutorial to teach you how to create your own.
Video Tutorial:
You only need a handful of materials and tools for this project. You are going to need a jar, a candle or LED light to put inside, and a white sheet of regular printer paper which you can wrap around the entirety of the jar.
I used a clear jar, but you could also use one in a different color if you wanted. You would just get a different lighting effect.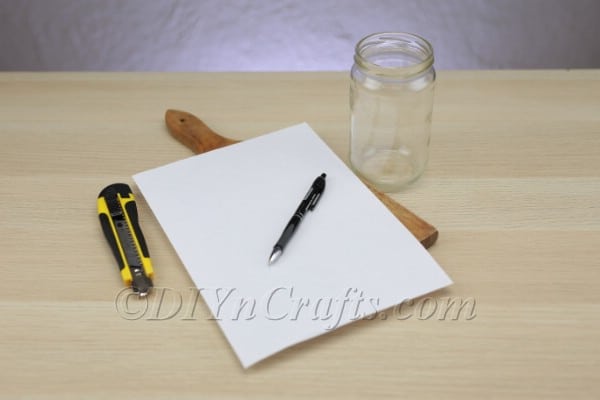 Finally, you will need a precision knife or scalpel for this project. An ordinary knife is not going to cut it (pun intended). Scissors would also be incredibly inconvenient, and would probably result in bending the paper or crumpling it in places, which would spoil the effect.
So get the right type of knife before you try to make this lantern.
Yield: 1
How to Make a Radiant 3D Lantern Out of Paper
If you are looking for a way to create a beautiful and unique lantern, you will love my latest project! Using only paper, I teach you how to create a stunning lantern with a 3D flower effect. The result looks complicated, but the project is so simple. Check out the video to make your own.

Prep Time 2 minutes

Active Time 25 minutes

Total Time 27 minutes

Difficulty Easy

Estimated Cost $3
Materials
White sheet of paper
Jar
Candle or LED light
Tape
Tools
Precision knife (like an X-Acto knife)
Pen or pencil
Instructions
You need to start by sketching the flower. To do this, start in the center of the page and start making a series of tiny little arcs in a radial pattern to represent the petals. It is very important that these arcs not run into each other or be too close together. They need a little bit of space between them.
You're also not going for realism here. You're creating a stylized flower. Keep adding more arcs, working your way outward from the center of the page. For this particular pattern, all of the arcs should be roughly the same size.
After you have finished drawing the blossom, sketch the stem and leaves. Once again, do not worry about realism. Just get the basic shape right. After you have completed drawing, it should look something like the image below.
Next comes a step which you would think would be difficult, but you will discover is quite easy. Using the precision knife, follow the lines you have made and cut the little arcs. Just run the knife directly over the lines. You do not need to do anything else. With the paper laying flat after this step, nothing will actually have been removed.
Next, use the precision knife to cut out the stem and leaves. This is a little bit different than dealing with the arcs. You are still cutting over the lines, but you need to make sure that you actually remove the entire shape of the leaves and the stem.
Now comes the really cool part. With your fingers, carefully push up on all the little tabs you have created by cutting the arcs. This will pull them up three-dimensionally from the surface of the page, creating the shapes of the petals. When you have finished this step, your page should look like the image below.
Wrap the page around the jar and secured it with some tape.
You can now put a candle or LED light inside the jar and watch it glow, achieving a dramatic effect.
Immerse Yourself in the Beautiful Glow of Your New Lantern
After you make your first paper lantern, you may understand the principles well enough to come up with variations on the idea to create even more unique lights. If you enjoy working with paper and are looking for another holiday paper craft idea, try upcycling an old book into a Christmas tree.
I have also put together some videos showing you how to make a couple other festive DIY lanterns for the holiday season. Learn how to make Christmas candle holders out of wine glasses, and find out how to make a wintry frozen candle jar decoration.
Thank you for joining us here at DIYnCrafts for the holidays. Enjoy a merry and creative season!