Knitting and crocheting are both wonderful crafts, particularly this time of year. When the weather outside is frightful and you simply don't want to venture out into the cold, you can spend those winter evenings by the fireside creating beautiful hats, mittens, scarves, blankets or whatever else you want from yarn.

If you are a beginning knitter or crocheter, there are many patterns that you can try that are really easy and will ensure that your end result looks like you have spent hours fine-tuning your craft. Many of these patterns can be completed in just a few hours so if you have really frightful weather, you can rack up some great gifts to give to others.
Homemade gifts are the best for giving so if you love knitting and crocheting or if you have decided that it's high time you had a yarn-based hobby, we have collected some great beginning patterns and projects for you that will help you to get started and have something beautiful to show for your time and effort.
Easy Pullover for Kids
There are so many projects that you can knit for babies and toddlers. This pullover is one of them and it is really easy to do. If you are a beginner who really wants to get started with a bang, this is the perfect project. You get all the instructions along with the yarn size and type and it comes in various sizes so whether your kids are babies, toddlers or even a little older, you can make them a wonderful pullover.
Source - Purlbee
Beginner Crocheted Mittens
It is wintertime after all and what could be better than crocheting a few pairs of mittens for the entire family? This particular pattern is very easy to do and great for beginners. The pattern has instructions for kids' sizes as well as those for adults so you really can make a pair for everyone. The mittens are extra-long so that they can be cuffed or folded for added warmth.
Source - Favecrafts
Easy Crocheted Doilies
You can actually use this pattern to create beautiful crocheted doilies or make several of them and put them together to form a blanket or pillow. The pattern calls for medium/worsted weight yarn and is really simple. It creates a beautiful round ripple that you can use in so many different crafts and when combined, the ripples create a stunning afghan.
Source - Smoothfoxlover
Frilly Knit Scarf
You can make a beautiful scarf that any little girl will love using Sashay yarn. These are great for gifts or you can just make them in different colors so you always have something to go with your outfit. Each scarf only requires one ball of yarn and the instructions are super easy. You can make these in just a few hours and once you get the hang of it, you can really churn them out.
Source - Unsophisticook
Crocheted Cup Cozy
For those of you who are really just beginning to learn crochet, cup cozies are a great place to start. They allow you to try out those stitches and because they are so small, they are quick to get finished. This pattern can literally be done in under 2 hours, even for those who have never crocheted before. It's a great start so that you can learn the ropes and move on to tougher projects.
Source - Oneartsymama
The Afternoon Scarf
You really can create an entire scarf in just one afternoon, even if you are a beginning knitter. For this particular project, you need 20mm knitting needles. These are fairly large needles but they help you to create a stunning, chunky scarf and the instructions are very easy. You just need one ball of yarn in each of 2 different colors to create a beautiful scarf and you can do it in one afternoon.
Source - Happyberrycrochet
Easy Crochet Rosette Flowers
For little girls who love frilly headbands, these rosette flowers are perfect. You just crochet the flowers and then attach them to a standard leather or plastic headband. You could even add them to scarves and other knitted or crocheted pieces if you want. This is a really simple project that you can do in just a matter of minutes if you have ever crocheted at all.
Source - Redtedart
Knit Dishcloths
Dishcloths are probably one of the easiest projects for beginning knitters. You can begin just knitting solid cloths until you get a bit comfortable with the process and then change colors throughout your pattern to create stripes. These little cloths are very useful when they're finished and make wonderful gifts as well.
Source - Favecrafts
Crochet Chemo Cap
These caps are beautiful and very meaningful. They are called chemo caps and are very easy to crochet, even for those who have never held a crochet needle in their life. The best part is that there are groups that volunteer to make them and donate them to local hospitals for cancer patients. You can also do this in other colors if you want, but what a wonderful way to show your support to cancer patients and survivors by crocheting them a beautiful cap!
Source - Favecrafts
Drops Slippers in Garter Stitch
These adorable Drops slippers are very easy to knit and really fun to wear. They use just one basic stitch, making them great for beginners. You can also add a few frills if you want to the front and mix and match your yarn colors to make them a bit more unique. They are perfect for girls and women of all ages and make wonderful gifts.
Source - Garnstudio
Knit Ribbed Cowl
If you prefer a cowl to a scarf, you can knit yourself one that looks great and the pattern is really easy to follow. You will need circular needles for this one as well as 8 inch needles, but don't let that scare you. This really is an easy knitting project and one that you can complete in a weekend or sooner. Once you get the hang of it, make a few of these in different colors to spruce up your wardrobe
Source - Purlbee
Knit Swiffer Pad
If you use a Swiffer and you want to save a little money, you can create your own knit pads to use. These are very easy to knit and just as easy to wash. You can make different colors so that you always have a clean one on hand and if you know someone else who also wants to save a little money, make a few for them as well.
Source - Michaels
Crocheted Baby Headbands
Babies certainly bring out the best in everyone so if you are expecting a new baby in your family, or even if you're not, you can practice your crocheting skills on these easy headbands. This particular pattern has buttons so that you can adjust the size of the headband as the baby grows. This is a great gift for new moms and you can experiment with different stitches as you grow more comfortable and add decorations.
Source - Mymerrymessylife
Crocheted Monsters
Your little ones will absolutely love these little crocheted monsters and they are so easy to create that you will love making them just as much. Once you have the crocheted monster ready, you just have to add crafty eyes from felt or you can purchase wiggly eyes at your local craft store.
Source - Craftyiscool
Knit Hat with Pom Pom
A simple knit hat with a pom pom is a great beginning knitter's project. Whether you use one color or you combine several, this hat is very easy to do and great for those of you who have never knitted the first stitch. The pattern is actually for a child's hat but you can easily make it smaller or larger by simply casting on fewer or more stitches.
Source - Smallfriendly
Basket Weave Crochet Afghan
Believe it or not, you can crochet an afghan for your first project. Depending on the pattern that you use, most afghans are much easier to crochet than they look. This is a very easy project and one that you can easily finish within a week or so, depending on how much time you devote to your craft. This is a great afghan pattern that you are sure to use even when you advance to more difficult projects.
Source - Favecrafts
Crochet Roses
Once you learn to crochet roses, you can begin adding them to headbands, scarves, blankets and just about anything else that you knit or crochet. Making crochet roses is actually pretty easy and they look beautiful when they are finished. Make a few of them in different colors and once you get the hang of it, you can begin expanding and adding them to other projects.
Source - Heidibearscreative
Crochet Purse
Girls of all ages will absolutely adore these little crochet purses and you can make them in just about any size you want or need. The pattern calls for basic stitches so you certainly don't have to be an advanced crochet expert to make them and you can decorate them with buttons or just anything you want.
Source - Giddystuff
Beginner's Bib – Knit or Crochet
This easy baby bib can be knitted or crocheted, whichever you prefer. You just have to click on the appropriate pattern and it tells you exactly how to create the bib. It's so easy you can even do it in multiple colors, even if you are just used to working with one color at a time.
Source - Smoothfoxlover
Crochet Posy Scarf
This beautiful scarf can easily be crocheted by beginners. You can begin with any base color you want and then do the posies in various colors as well. The best part is that it looks like a really complicated project but it is super easy to do. You even get instructions on how to create the cute little fringe at the bottom.
Source - Favecrafts
Hand Warmers
These hand warmers are great and really easy to knit. You just need one skein of yarn in any color that you want and 1 set of #10.5 double pointed needles. They are soft and warm and great for cold weather and they make excellent gifts. The finished size is 9 inches but you could easily subtract or add stitches to make them different sizes if you want.
Source - Purlbee
Knit Leaf Coasters
This is an easy project that will take you just a couple of hours from start to finish. These knit leaf coasters will look great sitting on your coffee table or you could give them away as gifts. Use different colors to make an entire set in a great spring or fall look. Once you get the hang of it, you can use multiple colors in each leaf to really make them unique.
Source - Craftside
Crochet Cable Baby Blanket
Cable knit and crochet looks and sounds difficult, but it's really not. This is a great pattern for those of you who have down the crocheting basics and want to step it up just a notch. The cables are really easy to crochet and when you are finished, you will have a beautiful baby blanket to show for it. You could also alter the pattern a bit and add to it to make a larger blanket if you want.
Source - Hooked-on-crochet
Crochet Ear Warmers
Headband ear warmers are adorable and you can easily crochet one in just a few hours. This pattern has a flower that is crocheted on the band but you could leave that off if you want. Chunky yarn gives the ear warmer a great look and the size ranges from 5T to adult, although you could easily alter it to make it larger or smaller if you need to.
Source - Poshpatterns
Stuffed Giraffe
If you want a really easy pattern and one that is fun, this crocheted giraffe is perfect. The body takes a full skein of yarn and then you'll need bits of other colors for the accents. It is much easier to make than it looks and it gives you a great toy for your little one or something that would make a wonderful baby shower gift.
Source - Yanaknits
Slouchy Beanie
Slouchy beanies are so in right now and this pattern is so easy to follow that you may want to make a great stylish beanie for everyone in your family. You will need a tapestry needle to weave in the ends but generally, you just follow the simple instructions to create this really neat crocheted beanie that is sure to be as fun to wear as it is to make.
Source - Jennlikesyarn
Infinity Wrap
This is a beautiful wrap that looks so stylish and is very easy to knit. You will need size 10.5 knitting needles and about 3 skeins of yarn in whatever color you wish. You could also make it in multiple colors if you are comfortable working with different yarns which would give it a really great look. The completed length is 32 inches, although you could add a few extra stitches if you want to make it longer.
Source - Nobleknits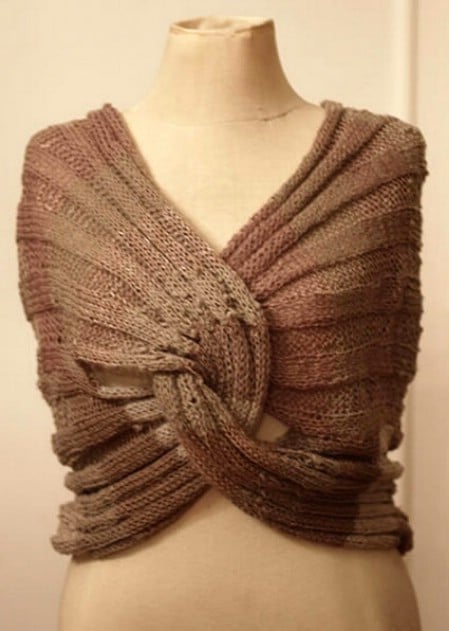 Unisex Slipper Socks
These slipper socks are great for keeping your feet warm and they are really simple to crochet. The pattern size is perfect for men and women or children. You can look up the size that you need and simply follow the instructions for that size. These are great for cold nights and because they're so easy to crochet, you can make a pair for everyone in the family.
Source - Knitting-crochet
Crocheted Table Runner
Simple lines make crocheting projects much easier and this table runner is perfect for beginners. The overall size of the runner is about 16 by 72 inches before you add the border. This is a great project to test your skills and try out different color combinations. It's a versatile project and a great one for you to get used to crocheting before you try out those more complicated pieces.
Source - Ravelry
Cuff Bracelets
These cuff bracelets are great because you can knit or crochet them so whichever you prefer to do, you can create adorable cuffs. They are really easy to make and you can alter the patterns to make them thinner or thicker, however you want them. Create a host of different colors and use these patterns to really spice up your knitting and crocheting skills.
Source - Squidoo