New Year's Eve is quickly approaching and with it comes visions of parties and get-togethers with family and friends. If you are planning to ring in the New Year in style, we have a wonderful collection of DIY party ideas that are sure to make your party a huge success. Whether you plan on having a huge New Year's blowout with many guests or just a quiet evening with your closest friends and family, there are ideas here that are sure to please everyone on your guest list. If you love doing things the DIY way and you want to plan a fabulous New Year's Eve party, we have just the collection of ideas for you. Everything from foods to decorations and even themes are included so your party will be the hit of the New Year and you will know that you did it all yourself. Browse the collection and gather ideas or use them all and plan the party of the year.
Classic Hats and Champagne
You don't have to spend a fortune on your party but you can look like you did. Adding a few classic top hats (which you can pick up at any party supply store fairly cheap) and some champagne classes is a great way to throw a hit party. Champagne glasses are also available at party supply stores and you can get several plastic ones in a package for under $5. Tutorial/Idea - Catchmyparty
Confetti
You simply have to have confetti to ring in the New Year. If you have a small table or even a fireplace mantel, you can set up a mini confetti station with everything that your guests need when the ball drops at midnight. Place small plastic glasses or boxes filled with confetti and remind everyone to visit the station shortly before midnight so that they can throw their confetti when the New Year arrives. Tutorial/Idea - Pinterest
Glittery Centerpiece
Again, you don't have to spend a fortune to throw a grand party. You can easily make a centerpiece using old glass soda bottles. Just wash the bottles and spray paint with black and then glittery silver or gold paint. Make glittery numbers for the bottles using cardboard so that you can officially announce the arrival of 2014. This is a quick and easy centerpiece project and you can add a few silver and gold Christmas decorations to really make it look spectacular. Tutorial/Idea - Atozebracelebrations
Rainbow Wreath
If you are looking for easy (and cheap) decorating ideas, a wreath made from colorful drink umbrellas is a great choice. If you don't already have the umbrellas on hand, you can pick them up at most party supply stores for very little. Just arrange them around a metal wreath base or create your own base if you want. You can customize the wreath for the New Year by adding 2014 in the center in glittery numbers or just any way you want.
Easy Decorations
Make your table or other display look beautiful with Christmas ornaments that are decked out for New Year's Eve. If you have glass or plastic vases (or really large glasses) you can just fill them with leftover Christmas decorations to make them look really festive for the New Year. Red and black are dramatic colors that look wonderful for New Year's parties. Tutorial/Idea - Tablespoon
Decorative Garland
Garland is not just for Christmas decorating. You can use silver and gold (or other colors if you want) decorations to make a wonderful garland for your New Year's Eve party. You just need a few Kraft tags, some silver or gold twine and old wallpaper or stickers that match your color scheme. This is a really easy project that takes very little time and you may have supplies on hand already so it's also really inexpensive. Tutorial/Idea - 100layercake
Party Hats
Party favors aren't really that expensive but when you make them yourself, they are virtually free. You can make adorable party hats using plastic cups, a little twine and some silver tinsel garland. Just add the twine to hold the cup on your head and decorate with silver tinsel using your hot glue gun. These take very little time to make and your party guests will love them. Tutorial/Idea - The36thavenue
Glitter Flats
You don't have to buy new shoes to be the hit of your party. You can easily make your own sparkling, fun glitter flats to wear to any New Year's party. You just start with basic flats and then add a coat of glitter paint and a couple of coats of Mod Podge. Once that dries, add some glaze spray and you have wonderful glittery shoes for your celebration. You could also add a glittery bow or other decoration to make them really festive. Tutorial/Idea - Wearenotmartha
Sparkling Cupcakes
When you plan your party menu, consider adding festive sparkling cupcakes. You just have to bake and ice your favorite cupcakes and then dress them up a bit with tiny sparklers. Light the sparklers around midnight and your dessert will be the hit of the party. You can also do this with a larger cake if you prefer but the cupcakes gives every guest his or her own little sparkling gift to ring in the New Year. Tutorial/Idea - Simplyseductive
Make It Glitter
Adding gold glitter makes every New Year's Eve party a hit. You can add glitter to your food or your decorations. You can also use Christmas decorations that have gold to add a bit of extra sparkle without worrying about overspending on your decorations. You can easily decorate any table with glass bowls filled with gold beads or use gold garland from your Christmas collection. Tutorial/Idea - Thecakeblog
Go Pink!
Pink metallic, that is. Pink metallic is a great decorating theme and you can find so many different ways to incorporate your decorations. Add pink sparkly stir sticks to your drinks, cut out stars and make them pink and sparkly – the possibilities are endless. You can find most of what you need at your local Dollar Store and then just add your own unique pink touch. Tutorial/Idea - Pizzazzerie
Countdown Clocks
You simply have to have countdown clocks at your party. You can make them from cardstock or larger paper umbrellas and combine them with adorable cork props. Just grab a few old corks (or buy new ones at your local craft store) and add the countdown numbers. This is a great idea for an easy (and cheap) centerpiece that is sure to get loads of attention. Tutorial/Idea - Yahoo
Glitter Party Hats
You can make adorable party hats with a paper mache cone, Mod Podge, a little glitter and some tinsel garland. These are great for kids if you are planning a family themed party but adults will love them too. Choose one color scheme or make them in different colors, it's your choice. They are easy to make and you can hold them on with a headband or elastic. Tutorial/Idea - Studiodiy
Glitter Heart Cake Topper
Whether you are planning on a cake or cupcakes, you can decorate the tops with an adorable cake topper that is glittery and festive. You just have to cut hearts out of construction paper or card stock and then add your glitter. Glue them onto wooden skewers and add them to your desserts. You can decorate the skewers with glitter as well to make them really festive and if you want to mix and match the colors, you can create a really gorgeous dessert display. Tutorial/Idea - Paperpony
Make a Piñata
Piñatas are relatively easy to make and they are much less expensive when you do it yourself. You don't even have to use paper mache, unless of course you want to. You just need cardboard cut into the shape that you want and then just decorate it. Don't forget to fill it with candy or other yummies that your guests will love. Decorate a stick to pop it with and your party will be a huge hit. Tutorial/Idea - Ohhappyday
Have a Huge Confetti Wall
Decorating for your New Year's Eve party should be quick and inexpensive and it can be when you make an entire wall of confetti. Just cut out circles in different sizes and tack them to your walls. You don't actually have to use tacks and leave holes. You can use Blu Tack which comes off easily and won't leave any residue. This is a great project for kids, especially if the weather is frightful and they are stuck indoors. Tutorial/Idea - Weebirdy
Have a Cocoa Station
What better way to warm your guests than with a beautiful hot cocoa bar? You can create a stunning cocoa display and have different desserts and drinks if you want. Decorating is easy. You just use photo frames and other decorations that you may have left over from Christmas. Offer different flavors of cocoa and even a hot toddy if you want. Tutorial/Idea - Hwtm
Make Decorative Pom Poms
If you have yarn, you can create adorable little pom poms that you can use for decorating. You just have to wrap the yarn around the tines of a fork until you get the size that you want and then snip it and tie it all together with another piece of yarn. These are great for decorating gifts, centerpieces or just anything you want and they are so easy to make! Tutorial/Idea - Vividplease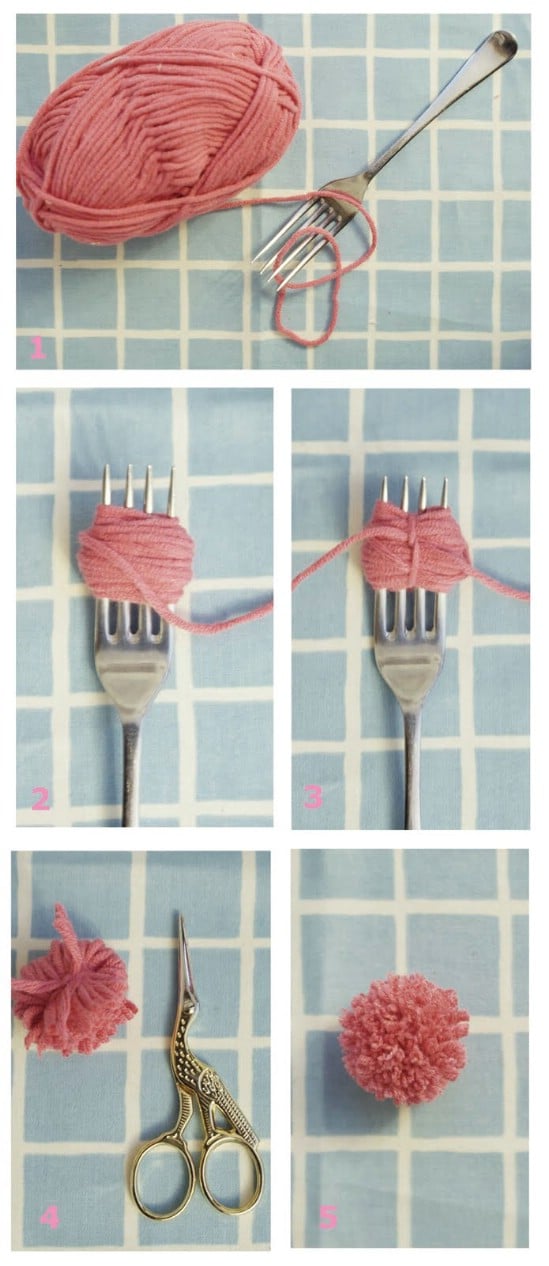 Decorate a Champagne Bottle
If you are planning to serve champagne or wine, take some extra time and decorate the bottles. You can use Mod Podge or glue and add glitter to any glass bottle and make them extra special. Even if you aren't planning to serve alcohol at your party, these make great centerpiece decorations and are really easy to do. Tutorial/Idea - Bethanngreenberg
Tissue Paper Pom Poms
Decorate your entire party room with easy to make tissue paper pom poms. You will need tissue paper (like the kind that you use in gift bags) which is really inexpensive. Just fold it up, tie it together and then unwrap your lovely decoration. These are great for hanging from the ceiling for a really decorative party or you can use them in centerpieces. Tutorial/Idea - Thoughtfullysimple
Sparkly Cake Topper
Ring in the New Year in style with a beautiful sparkly cake topper. You can make these in any shape that you want. Having 2014 displayed on your cake or cupcakes is a great party decoration idea. You will need glittery pipe cleaners, straws and wooden skewers to create the display that you want. These work great with all types of cakes or cupcakes or you can use them in any foods that you like. Tutorial/Idea - Sayyestohoboken
Light Up Furniture
If you have an old mirror that you can use for decoration, add a strand or two of clear Christmas lights to really make it sparkle. Your guests will love the extra touch. You can do this with any furniture that you have from dressers and tables to mirrors, pictures or anything you want. The lights add a festive touch and if you already have clear lights from Christmas, this decoration won't cost you a cent.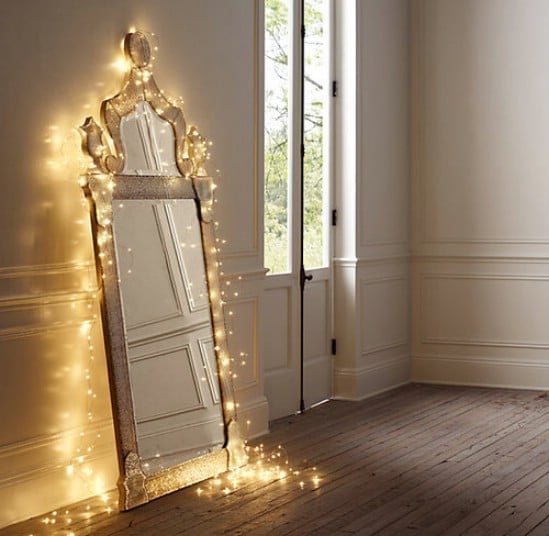 Sparkly Balloon Garland
Don't just have boring balloons decorating your party. Add a sparkly touch and make them fabulous. You can use foam sheets with a little sparkle to them and cut them into shapes. Use adhesive backing to stick them to a string and then tie your balloons on. You can display your sparkly balloon garland inside or outside, depending on the weather and really have a festive display. Tutorial/Idea - Honeysucklelife
Countdown Boxes Filled with Confetti
Have confetti ready for all of your guests in no time with these little individual matchboxes. You can decorate the boxes in shiny Christmas wrapping paper and then fill each one with confetti. Hand one to each guest as he or she arrives so that everyone will be ready to let the confetti fly at Midnight. Tutorial/Idea - Carolynshomework
Make a Disco Ball
Contrary to popular opinion, Disco is not dead. You can revive it with a beautiful glittery Disco ball that will really thrill your guests. You just need a paper lantern, spray glue and some glitter. You can create a wonderful dancing area with several of these filled with clear Christmas lights or just hang one in the room for a great party look. Tutorial/Idea - Ohhappyday
Clock Cupcake Toppers
Cut out circles, add clock-like decorations and glue them to wooden skewers to insert into cupcakes. The small clocks are perfect for New Year's and your guests will absolutely love them. You can make the hands turnable and use a punch tool to make numbers so that your cupcakes will help you to countdown until midnight. Tutorial/Idea - Fiskars
Customized Party Hats
Using free printables, you can make custom party hats that your guests are sure to love. Just print out what you need and then assemble the hats. If you are planning to go all out for your party, customized hats are an absolute must. Just print them out on cardstock and then tape or glue them together. Tutorial/Idea - Ohthelovelythings
Confetti Poppers
With a bit of tissue paper, toilet paper rolls and some glue, you can create very festive confetti poppers that you can use to really ring in the New Year. Hang your poppers all over your party room and make sure your guests remember to pull the strings at midnight. These are great little party favors that are easy and really inexpensive to make. Tutorial/Idea - Ruffledblog