Do you love crafting? Do you have a crafting table or desk that makes your crafting easier?
If not, I have a wonderful list of DIY projects for you. I found 17 easy-to-build DIY crafting desks that you are definitely going to want to add to your home.
These are all super easy to build and many of them can be done in about an hour or less. If you love crafting and you need a dedicated space to do it, this is the project collection you need to check out.
Jump to:
1. Simple DIY Built In Craft Desk
You can build this simple DIY craft desk right into the wall, so it saves space. If you have a dedicated craft room or just a section of a room that you can use, this is a wonderful way to have your own crafting space, and there is so much storage for your craft supplies!
And, the storage is under the desk so it doesn't take up any additional space, either.
Tutorial/Source: practicallyfunctional
2. $50 DIY Crafting Table
If you really need a crafting desk or table and you are working on a budget, this DIY crafting table can be built for just $50. That's much less than what you would pay to buy a similar model.
This one is made by putting a couple of premade shelving units together and then covering them with some desktops. It gives you loads of crafting space and so much storage!
Tutorial/Source: organizeyourstuffnow
3. Fun And Colorful DIY Crafting Desk
Crafting should be fun and this colorful DIY crafting desk certainly makes it fun. You can easily make this with a couple of bookshelves and a desktop or a thick piece of plywood. You could even use DIY bookshelves for this one.
The shelves give you loads of room for storing baskets or canvas boxes so that your craft supplies stay neatly in place. And, you can decorate it in colorful style with wallpaper or contact paper.
Tutorial/Source: marthastewart
4. Shaker Style Fold Out Desk
Whether you need a space for sewing or doing other crafts, this shaker style fold out desk is perfect. You can easily make this with some plain wood and you don't even have to paint it.
That's what gives it its unique look! Plus there is loads of storage space for all of your crafting supplies. I saw this one on Etsy and thought it would be a great DIY project. Or, you can buy this one for around $900.
Tutorial/Source: Etsy.com
5. Tall Counter Height Craft Desk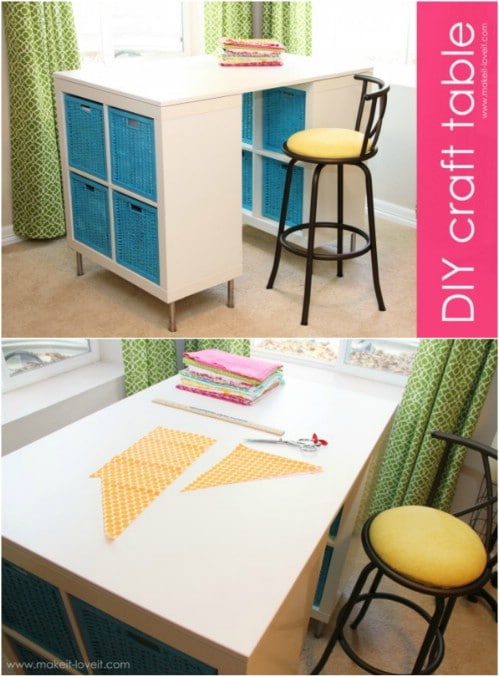 This DIY crafting desk is really tall, as tall as your counters and it's great. This one is made from a couple of shelves, a tabletop and a few legs and it's super easy to put together.
If you want something that is a bit less traditional than an ordinary desk, this is it. It's tall enough to keep little ones…and cats…from destroying your current craft.
Tutorial/Source: makeit-loveit
6. DIY Thrift Store Find Craft Desk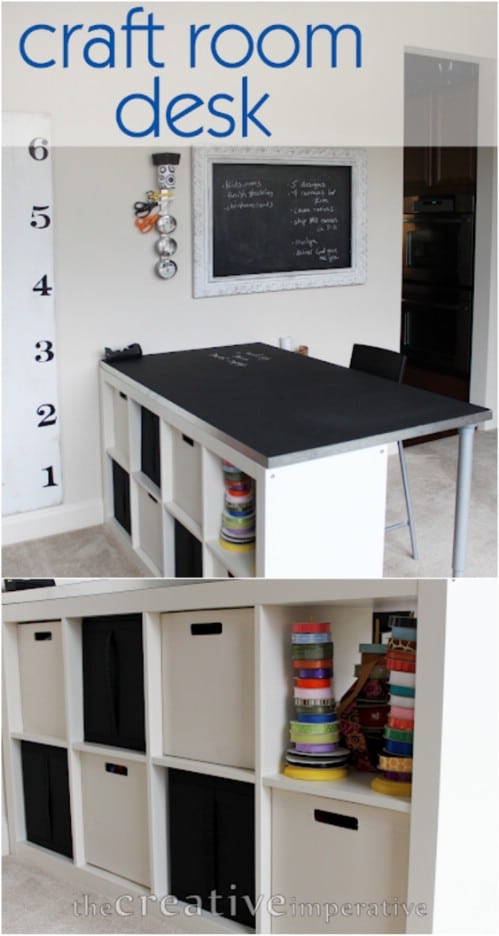 You can make this DIY craft desk from things that you find at your local thrift store. The tabletop came from Goodwill!
It has shelves on the backside for holding all of your crafting supplies and the top gives you plenty of room to work, no matter what your current craft project may be. This is one of the easiest DIY craft tables that you can make…and one of the cheapest.
Tutorial/Source: thecreativeimperative
7. Cute DIY Kids' Craft Station
Believe it or not, you can make your kids a DIY crafting station for less than $50 and it's big enough to hold all of their craft supplies. This one takes up very little actual floor space.
Most of the craft supplies are stored on peg boards above the crafting desk, which is made with wooden DIY sawhorses and a tabletop. This is a simple DIY craft desk that your little ones are going to love.
Tutorial/Source: handmadecharlotte
8. Murphy Style Hideaway Craft Desk
This simple wooden craft desk can be almost completely hidden away thanks to its murphy bed design. This is the perfect craft desk if you don't really have room for a desk to be standing all of the time.
When not in use, it's just a closed shelf on the wall, but the front comes down to make a neat little crafting desk. This would be such an easy DIY project, or you can check out this one on Etsy that I found for less than $300.
Tutorial/Source: Etsy.com
9. DIY Wall Mounted Craft Desk
This little DIY craft desk takes up very little space and it's really easy to build. I love the built in shelves that give you storage space for all of your crafting supplies.
The supplies cost around $200, depending on what you already have on hand and you can put this whole thing together in about an hour or so. The desktop has so much space to work, too!
Tutorial/Source: thecraftedlife
10. IKEA Hack – Expedit Crafting Desk
I love a good IKEA hack, especially when it makes crafting more organized and fun. This DIY crafting desk is made from a couple of relatively cheap IKEA Expedit units, along with a tabletop and a picture ledge.
The entire thing is really attractive when it's finished and there is so much room for storing everything. The Expedit units give you loads of shelf space!
Tutorial/Source: ikeahackers
11. Repurposed Filing Cabinet Crafting Desk
You don't even have to run out and buy wood boards or anything else to make yourself a crafting desk. You can simply put two old file cabinets together and then lay a piece of plywood or a tabletop on top of them.
Boom! You have a DIY craft desk and it takes about 15 minutes to put it all together. Plus, those drawers in your file cabinet come in handy for organizing and storing your crafting supplies.
Tutorial/Source: northstory
12. Easy DIY Four Station Craft Desk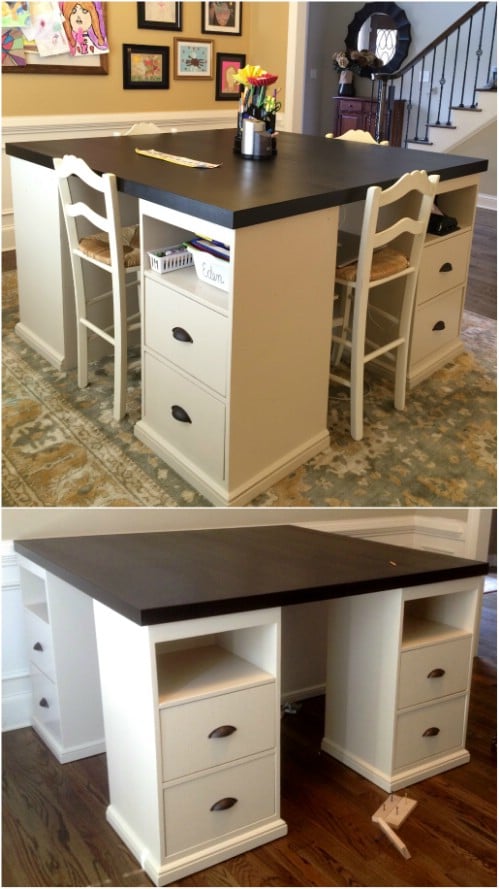 Okay, so if you have more than one person in your household who loves to craft, or if you enjoy having your friends over for crafting sessions, then you definitely need this DIY four station crafting desk in your life.
There is room for everyone around this craft desk! It even has storage on all four sides so everyone can keep all of their crafting supplies at their own stations.
Tutorial/Source: ana-white
13. IKEA Kallax Craft Table
IKEA has so many wonderful things that you can hack and turn into something else altogether. Take this DIY Kallax craft desk. You make this from three IKEA Kallax bookcases.
You also need a board for the desktop and a few other basic supplies. Overall, this is one of the easiest DIY crafting desks that you could make and if you happen to have a few Kallax bookcases, it won't cost you anything to make this one.
Tutorial/Source: thecraftyblogstalker
14. IKEA Hack – Dresser To Craft Desk
A little IKEA Rast dresser can be turned into a gorgeous new crafting desk with just a couple more materials and a little time. I love the look of this one, especially the white on dark wood.
The dresser makes one end of the craft desk and it holds all of your crafting supplies. The other end is a pair of old table legs and the overall project is gorgeous when it is completed.
Tutorial/Source: addisonmeadowslane
15. Quick One Hour Sawhorse Crafting Desk
A couple of wooden sawhorses and a tabletop are all you need to make this stunning crafting desk, and it only takes about an hour to complete. This one is really lightweight and so rustic looking.
It's perfect for your farmhouse inspired craft room or you could paint it any number of colors to match your existing décor. And if you don't have a couple of sawhorses that you can use, you can totally build them yourself.
Tutorial/Source: homedit
16. Gorgeous DIY Pallet Farmhouse Crafting Desk
If you are really going for that farmhouse look throughout your home, this DIY pallet farmhouse style crafting desk is perfect. You make this with old pallets and it can be as long or as short as you need it to be.
If you want something really simple and really gorgeous, this is definitely worth your while. And, pallets are really cheap so this could be one of the cheapest DIY craft desks you could possibly make. DIY indoor and outdoor pallet projects are great!
Tutorial/Source: funkyjunkinteriors
17. Portable Bed Craft Desk
Maybe you don't need an entire craft desk. Perhaps this little portable bed crafting desk is just what you need, and it's adorable. It is perfect if you are working on your crafts from bed or while lounging on the couch.
You could easily make this one from reclaimed wood, or just take a look at this adorable one that I found on Etsy for less than $40.
Tutorial/Source: Etsy.com
Conclusion
Some of these DIY crafting desks cost very little to make, which makes them great in my book. Why spend hundreds of dollars on a desk when you can DIY it for less than $50?
Honestly, there are so many ways that you can cut down your costs when it comes to making your own furnishings and décor.
These DIY craft desks are definitely going to make your day. They all have so much storage space for those crafting supplies! And, if you need additional storage anywhere in your home, take a look at these 85 clever storage and organization hacks.
It just makes sense that you would DIY the space where you do your DIY projects, doesn't it?
Whether you need something that takes up little space, like a hideaway murphy style crafting desk, or you want something that seats more than one person, like a four station DIY crafting desk, you are going to find the perfect craft project in this list.
There is even a DIY craft desk for kids! And, if you need additional kids' projects, check out these 50 amazing DIY storage solutions for kids bedrooms.