Swing sets are a wonderful thing for kids, especially in the spring and summer when they can actually play on them. My kids were so upset when we moved recently – far away from their favorite park. So, instead of driving them to the park this summer – which is an all day trip now – I decided to do something special for them in our own backyard. I started looking for DIY swing sets that I can build pretty quickly to give them their own little park right here at home.
I found 26 amazing DIY swing sets that you can build yourself! These are all pretty simple and they are much cheaper than buying a premade set. I priced some of those sets and to get everything that my kids love to play on, it was going to cost me well over $1,000. So, I decided to DIY it! Building your own swing set is a much cheaper way to give your kids the fun that they want and many of these can be built for less than $100. And, while you're DIYing some fun for the little ones, be sure that you take a look at this DIY bowling alley that you can build right there in the backyard. It's fun for the whole family!
I know what you're thinking. You just don't know if you can build a swing set by yourself. Well, I promise you that you can. All of these DIY swings have really clear instructions and you get lists of the materials that you need. Just print off the list and take it to your local hardware or home improvement store. Then, get home and start building. These are easy and your kids are going to have so much fun playing on their own swing sets this summer. You know what's also great for the backyard? DIY furniture and I have a great list of 80 DIY backyard furniture projects that you can build in a weekend or less.
1. DIY Airplane Swing
This DIY airplane swing is probably the cutest thing that I have ever seen. You can easily make this with a few boards and some other hardware essentials. If you have the room, and more than one child, you could do a few of these and paint them different colors. Hang them from tree limbs or create your own wooden A-frame to make a cute little backyard swing set for the kids.
Tutorial and Plans: whitneysworkshop
2. DIY Jungle Gym Swing Set
This DIY swing set has everything that your kids love from the park, and it's all right there in the backyard. You can customize what you hang, put baby swings or rings plus a few swing set seats. This one has a neat little deck that they climb up on and you could even attach a slide to one side to really give them everything that they want in a park playset.
Tutorial and Plans: howdididoit
3. DIY Tire Swing Set
Instead of simply hanging a tire from a tree, create an entire swing set around that tire. This DIY swing set has a tire swing and loads of other fun things for the kids. You can create a climbing area, add a slide and even have other swings on the outside. This one is pretty simple to build and it's a great way to repurpose a couple of old tires and turn them into exciting new toys for the kids. This is a great way to repurpose old tires.
Tutorial and Plans: howtospecialist
4. Awesome DIY Clubhouse Swing Set
Imagine the looks on your little ones' faces when you build them this amazing clubhouse swing set. This one really has everything and the clubhouse looks like a nice little playhouse that your kids are going to love. There is room for at least three swings and you can add a slide – or this awesome curly slide – to keep your little ones happily playing outdoors for hours.
Tutorial and Plans: ryobitools
5. DIY Plywood Deck Swing Set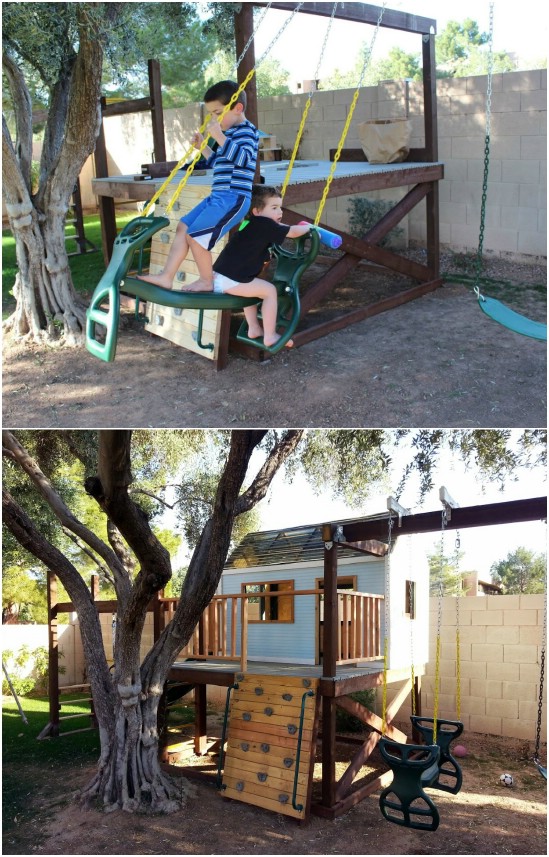 Here is another great little swing set that has a deck and it's a pretty easy one to build. You make this one predominantly out of plywood and it has so many activities for the little ones. Aside from the deck where they can look out over the yard, you also have a few swings, a rock climbing wall, a slide and rings. Kids are going to love all of the outdoor activities that this DIY swing set offers and you will adore how cheap and easy this one is to build.
Tutorial and Plans: ana-white
6. DIY Swing Set With Sandbox
This DIY swing set has swings, a slide, a deck and a sandbox underneath. Your kids are really going to love this one and it's much easier to build than you would think. You could pay several hundred dollars for this if you wanted to buy it or build it yourself for just a fraction of that. It has everything you would want for your little ones to enjoy the outdoors.
Tutorial and Plans: motherearthnews
7. DIY Backyard Playground
If you don't live near a park, this is the perfect DIY swing set. It's a backyard playground that has everything in it! You build a base by placing old logs or landscaping timbers and then fill it in with mulch. Your swing set and sandbox go inside the base and it looks just like the swing sets at the parks. Kids will really love this one and you just won't believe how quick and easy this one is to build.
Tutorial and Plans: kenarry
8. Easy DIY Friendly Swing Set
If you are relatively new to DIY, or to building things out of wood, this is definitely the DIY swing set for you. This one is DIY friendly and you can have it completely built in just one weekend. You can add or take away anything that you don't want, like the slide, and overall, this is one of the easiest playground sets that you can make yourself.
Tutorial and Plans: allthumbsdiy
9. DIY Fabric Covered Platform Swing
If a traditional swing set is not what you really want, this DIY fabric covered platform swing is perfect. Your little ones will have loads of fun on this one and it's a really, really simple swing to build. Plus, you don't need to build a frame for this one – you can just hang it from a tree and then let the little ones do their thing. This is also a brilliant way to upcycle leftover fabric scraps.
Tutorial and Plans: reesedixon
10. Simple Old Fashioned DIY Tree Swing
I had a tree swing when I was growing up and it was my favorite thing. You can give your little ones that same joy when you make them this DIY tree swing. This is the simplest backyard swing that you could make and if you have more than one good sized tree in the yard, you could put a few of these around to keep all of your little ones happy at the same time.
Tutorial and Plans: abeautifulmess
11. The Ultimate DIY Swing Set
This DIY swing set is the ultimate in fun! It has everything from swings and a slide to a bouncy bridge, a climbing area, and so much more. You will be amazed at how quickly and easily you can build this one. Take note though, once you have this ultimate DIY swing set in your backyard, yours will become the most popular house in the neighborhood.
Tutorial and Plans: blackanddecker
12. DIY Clubhouse – Slide Swing Set
This DIY swing set has two clubhouses or playhouses – one on each end – as well as swings in the middle and a nice curvy slide. You can add a regular slide if you prefer. The gist of this one is the clubhouses and the center swing set. If you buy this one, it will cost you nearly $1,000 but you can build it yourself for just a couple of hundred dollars, even less if you happen to already have a few boards and posts on hand.
Tutorial and Plans: builtbykids
13. Basic Freestanding A Frame Swing Set
This DIY swing set is a basic freestanding A frame set and it is super easy to build. Once you have the frame, you just have to hang the chains and attach your swings. You could add a seesaw if you wanted or just have the swings hanging there. This one is super easy and super fun for kids and you can build it as large or as small as you need it to be to fit into your backyard.
Tutorial and Plans: instructables
14. DIY Pressure Treated Pine Swing Set
If you are building your own swing set, you really need to use pressure treated lumber, and pine is the least expensive option. This DIY swing set is made from pressure treated pine and it has everything that your little ones would want in an outdoor playset. You build a basic A frame and then add everything else from the little climbing deck to your swings and a slide. And, this one only takes a few hours to build. It's a great project that you can make from 2X4s.
Tutorial and Plans: yellawood
15. DIY Grown Up Swing Set
I just had to add this swing set for grown ups. It's a great way to relax while the kids are playing outside. If you are planning to build the little ones a new swing set and you have an old one outside that you need to get rid of, you can turn it into the ultimate relaxation for adults with a few fabric swings. Then, you and the kids can enjoy your outdoor time together.
Tutorial and Plans: prettyhandygirl
16. DIY Deck Swing Set
You can build this DIY swing set right off your deck and it's made from a few recycled materials. You can take to Craigslist or online yard sale sites to find old swing sets that are torn apart and use those parts to make your own huge jungle gym that you could put right there on the backside of your deck. This one is pretty easy and given that you use recycled materials, it's also really cheap to build.
Tutorial and Plans: instructables
17. DIY Modern A Frame Swing Set
This A frame swing set is a bit different than those basic models. This one has a great modern appeal and it is really easy to build. You start with a basic A frame and then you fill in the spaces with smaller boards. It's a really attractive backyard swing set and it's much sturdier than many others because of the additional wood holding it all together.
Tutorial and Plans: hgtv
18. DIY Multi Tire Swing
This DIY swing is just a bunch of tires that are tied together with a rope. It's a fun swing for kids and really cheap for you to build. If you have a few old tires, this is a great way to repurpose them, and your kids will love that they can all swing at the same time. You will need to use a heavy rope to support the weight of the tires – and your little ones – and then just hang it from a strong tree branch.
Tutorial and Plans: Pinterest Originals
19. DIY Pergola Swing Set
This DIY backyard swing set doubles as a gorgeous pergola! If you have ever wanted a pergola in the backyard and you need to build the kids a new swing set, this is the perfect plan for you to follow. Not only do your kids get a brand new swing set, you get the appeal of a backyard pergola – it's a win-win for all of you!
Tutorial and Plans: onlyfromscratch
20. DIY Backyard Play Fort With Tire Swing
Here is another wonderful way to repurpose old tires – it's a DIY play for that has a slide and a tire swing. You could use a regular swing or build one out of a block of wood, but the tire has such a nice old fashioned look. The fort is so much fun for little ones and this is a super easy one to build.
Tutorial and Plans: buildeazy
21. DIY Sensory Bucket Swings
This DIY swing is made from a plastic bucket. It is one of the easiest things in the world to build and it's great for sensory play. You could do as many of these as you need for the backyard and hang them from trees or you could build your own freestanding A frame to hold two or three swings. DIY sensory toys and games are a wonderful way to help your children to develop.
Tutorial and Plans: threechannels
22. DIY Backyard Playground With Roof
This cute little backyard DIY swing set will only take you a weekend or so to complete and it has everything, including a little roof over the deck. There is a huge sandbox underneath and a place for a swing or two on the side. This one takes quite a bit of hardware but it's much cheaper as a DIY project than it would be to buy a playground of this size.
Tutorial and Plans: morningchores
23. Simple Rustic DIY Swing Set
This easy DIY swing set can be built in just a few hours and it has such a gorgeous rustic look to it. You will need to concrete the posts into the ground to make them sturdy. Overall, this is one of the easiest swing sets that you could possibly build and you can make it large enough for several swings or just small enough for one or two.
Tutorial and Plans: myoutdoorplans
24. DIY Solar Swing Set
This DIY swing set is solar powered! Actually, the swing set itself doesn't use the solar power, but if you have set up your home to run on solar energy, you can use this DIY backyard swing set to add some solar power. If you are looking for a really unique swing set that is fun for the kids and offers the benefit of additional solar power, this is definitely one that you should check out.
Tutorial and Plans: instructables
25. Easy DIY Plastic Crate Swing
If you don't really have room in the backyard for an entire play area, you could simply turn a plastic crate into an amazing swing for your little ones and hang it from a tree. You could also build a frame for this one if you do have the space. The entire project is super easy and kids will adore swinging back and forth in their own little crated swing. You could also turn this into a DIY wood crate recycling project.
Tutorial and Plans: playtivities
26. Repurposed Skateboard Swing
If you have an old skateboard that you aren't using any longer, you can take off the wheels and turn it into a great little swing for the backyard. This one can be used to hang from a tree, or you could build a frame for it. Or, you can use this DIY swing to add to your newly built DIY swing set. You just add some rope and hang it up!
Tutorial and Plans: wikihow