For many of us, our backyard is our haven. This is the place where we go to relax, unwind and forget about the world. It's where we entertain family and friends and maybe even steal away for some alone time. Whatever your backyard is to you, you want to make it a place that you love to visit. Of course, if your backyard is relatively small, then your choices may be limited as to what you can do to it…or are they? You can design a gorgeous backyard even if it's smaller than average, and I have 15 DIY small backyard design ideas that will help you.
There are many ways that you can add space to your backyard, or add the illusion of space to make your yard seem larger. From garden mirrors to how you place your patio furniture, there are so many things to consider when it comes to decorating a small backyard. You can incorporate so many beautiful design elements into your backyard, even if you have little space available. You can make your backyard look larger and enjoy beautiful water features, gardens and all sorts of furniture and structures. And, you should take a look at these 10 beautiful DIY Zen gardens that you can add to your outdoors as well.
Whether you need ideas for how to add flower gardens to small outdoor spaces or you just want to know some DIY projects that will add style to your small backyard, you are going to find so many wonderful ideas. From glow in the dark planters that make your yard seem bigger to a fold up picnic table that gives you loads of space, you can redesign that backyard and make it better than ever. And, be sure to check out this DIY brick barbecue to add some function to your yard, as well.
1. DIY Backyard Pond And Waterfall
Even if you have little space available in your backyard, you can add this gorgeous pond and waterfall. This is a really simple and relatively inexpensive DIY project and it doesn't take up a lot of space. Adding just a simple water feature to a small space can make it seem so much larger and just imagine how relaxing it will be to have the sound of trickling water in your backyard. DIY water features are perfect for adding lovely design elements throughout your outdoor living spaces.
Tutorial: instructables
2. DIY Deck On A Budget
You can build this gorgeous deck for just a few hundred dollars, and it's small scale so it will fit perfectly into your small backyard. You can adjust the plans if you need to in order to make it a bit larger or even smaller. A deck will help to split up your backyard and make it seem larger, and this is a really simple one to build.
Tutorial: homedepot
3. DIY Glow In The Dark Planters
A little light can go a long way in helping your backyard to look and feel larger. You can get that light with these gorgeous DIY glow in the dark planters. These are so easy that you'll want to make a few for the front yard, too. They're great if you don't have room for a flower garden and they give off a beautiful glow at night.
Tutorial: sweetandsimpleliving
4. DIY Convertible Picnic Table
A picnic table is a wonderful way to enjoy the outdoors during the warmer months. If you don't have much room for a picnic table in your backyard, this convertible one is perfect. It folds up when you aren't using it so it won't take up too much room and when you fold it out, it is big enough to fit your entire family so you can enjoy those great dinners outside during the spring and summer.
Tutorial: hertoolbelt
5. Simple DIY Mirrored Gazing Balls
Adding a mirrored effect to your backyard garden area will make the entire space seem larger. You can do that with these easy to make DIY mirrored gazing balls. Pick up some old bowling balls at your local thrift store and then turn them into these gorgeous mirrored garden balls. These are so easy and will give you the illusion of more space in the backyard. DIY gazing balls are simple to make and offer so much design potential.
Tutorial: thegardenglove
6. Easy DIY Flagstone Patio
Separating your patio space from your backyard space will give you the look of more room in the yard. This DIY flagstone patio is perfect for creating that separation. This one is super easy to build and you can do it in whatever size you need. If you have a really small backyard, just build a patio big enough to hold your patio furniture. You'll have a wonderful space for relaxing and gazing out over the rest of your yard.
Tutorial: instructables
7. DIY Rope Swing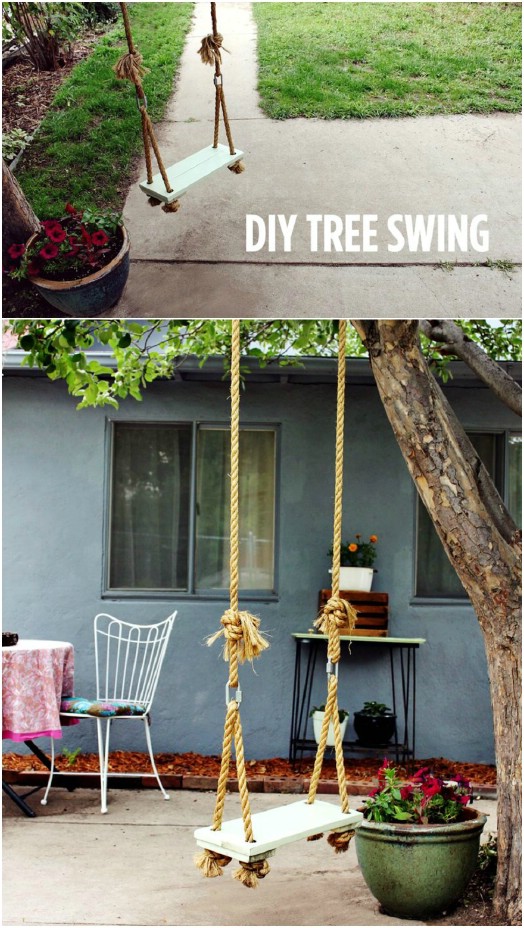 If you have little ones and you don't really have enough backyard space for a traditional swing set, you can DIY this rope swing instead. This gives you plenty of room for other things in the yard and gives the little ones the swing that they really want. Plus, a rope swing hangs from a tree so you aren't using any of your lawn space to put it up.
Tutorial: abeautifulmess
8. Fenced In Patio
If you have a really tiny backyard, you can simply fence it all in and turn it into a backyard patio. Add a few small garden areas for your greenery and then turn the rest of your yard into a brick or flagstone patio area. This is great for really small yards and you never have to worry about mowing the back lawn. It's a great way to maximize the space and give you a wonderfully relaxing backyard area.
Tutorial: houzz
9. DIY Tree Bench
Add some extra seating without taking up too much yard space with this DIY tree bench. This is a bench that you build around a tree in your backyard. It adds a wonderfully decorative element but doesn't take up a lot of space and you get tons of extra seating. Be sure that you build it around a mature tree or if you are doing it around a younger tree, make sure to make it big enough for the tree to continue to grow.
Tutorial: thisoldhouse
10. DIY Optical Illusion Garden Mirrors
Creating more space can simply mean adding the illusion of more space. That is exactly what you get with these DIY optical illusion garden mirrors. They look like windows that open to reveal a larger yard but in fact, they are mirrors. You can hang these on your backyard fence to make it look like your lawn continues and give yourself the illusion of more space in a beautifully decorative DIY project. DIY mirrors are easy to make for your indoors or outdoors.
Tutorial: empressofdirt
11. Small Backyard DIY Swimming Pool
Yes, you can have a swimming pool in the backyard – even if you have a tiny backyard space. This DIY swimming pool is made by repurposing a livestock tank. You can find livestock tanks at any farm supply store or check with farmers in your area to see if they have any that they would be willing to sell you for cheap. This is such an easy DIY project and it gives you a wonderful swimming pool that the entire family will love.
Tutorial: theownerbuildernetwork
12. Repurposed Tree Stump Planters
If you don't have room in the backyard for a flower garden, why not make use of those unsightly tree stumps? You can easily turn those stumps into gorgeous planters. The design will help to brighten up that small backyard space and you won't have to worry about paying someone to remove the stumps for you. Use the stumps to plant your favorite flowers or succulents to add design to the backyard without taking up a lot of space.
Tutorial: thisoldhouse
13. Repurposed Crib Mattress Porch Swing
If you don't have a lot of space in the backyard for seating, consider this porch swing that you can make from an old crib mattress. If you are in need of a project to repurpose that crib mattress, this one is perfect. It saves you so much space. Instead of having a large patio furniture set, you can simply add this swing and then a couple of chairs and you'll still have enough space for everyone to sit. Plus, this one is a really easy build.
Tutorial: sawdust2stitches
14. DIY Updated Patio Floor
If you really want to create the illusion of more space, give your patio floor an upgrade. By painting the patio floor in contrasting colors, it makes the entire space look larger. It also contrasts with your lawn so it creates a separate space for the patio and the lawn, which again, helps you to create the illusion of more space.
Tutorial: houselogic
15. DIY Pebble Mosaic
Adding a bit of design can help you to make your backyard more interesting. These DIY pebble mosaics are perfect for adding a small walkway through the yard or you could use them as accents anywhere in your yard or your garden area. They are really easy to make and mosaics are the perfect way to add some design on a budget. DIY mosaic projects really give you incredible design that are perfect if you are working on a budget.
Tutorial: thisoldhouse