Gardening time is coming and I couldn't be more excited! I love working in my gardens and I love prettying up my outdoors. This is what has led me to this latest collection of DIY ideas and projects.
I found 17 of the most amazing DIY garden edging ideas that you can make yourself.
From wood and brick to patio pavers and even some gorgeous rock formations, you can create your own beautiful garden edging and really add some style and beauty to your outdoor living spaces.
Jump to:
1. DIY Brick Edging
Brick gives your garden and landscaping such a neat and classic look and you can install your own brick edging pretty simply. If you have a stack of old bricks lying around the house, this DIY project is free.
You just have to choose where you want your brick edging installed and then spend a weekend installing it. This is a great idea if your house is brick or you just want to add some classic appeal to your outdoor living spaces.
Tutorial: thisoldhouse
2. Easy DIY Cinder Block Garden Edging
Cinder blocks are relatively inexpensive and make really beautiful garden edging. Youcan get the blocks for under a dollar each at many places. Check local yard sales and flea markets to find them even cheaper.
Then, you can use them to create really lovely looking garden edging for your flower beds and other landscaping. You can turn them so that the holes are facing upwards and use those holes as mini planters, too.
Tutorial: bobvila
3. Mixed Material Garden Edging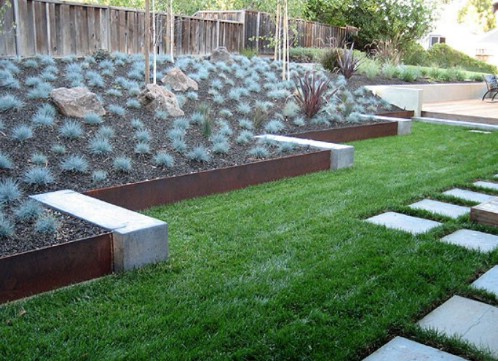 You don't have to stick with one garden edging material. You can mix them up and create a really unique look. Add some cinder blocks or bricks and scrap metal to create a truly unique garden or use wood and bricks or any combination that you want.
This is a great way for you to get new garden edging and clean up all of those materials around the house too – just recycle them into garden edging!
Tutorial: houzz
4. Wooden Log Garden Edging DIY
If you want something rustic and really cheap and simple, this DIY wooden log garden edging is perfect. You will need several logs, depending on how much garden edging you need to make, but if you have a few old trees and a chainsaw, those are free.
Then you just have to lay out your design and use the logs to fill it in. This is a great edging project if you want that great farmhouse or log cabin look in your outdoor living spaces.
Tutorial: childhood101
5. Gorgeous DIY Cobblestone Edging
I love cobblestone. It has such a classic and gorgeous look and you can use that look to add some style to your garden area.
You can create a raised bed look with a few cobblestone pieces or just make it all one layer – however you want. The raised bed look is great for showcasing your favorite blooms and plants or for adding a focal point to your front yard. You can make so many beautiful DIY projects with garden stones.
Tutorial: billwandsnider
6. Easy DIY Rock Garden Border
If you have a few old rocks in your yard, you can put them to good use as a border for your garden. Not only does this give you beautiful new garden edging, but you can make use of those rocks and get them out of the yard. If you don't have rocks, check with friends and family.
Chances are someone has a load of rock in their yard that they would love for you to remove for them.
Tutorial: onsuttonplace
7. Lincoln Log Style Garden Edging
Here is another way that you can use logs to create a rustic looking garden area. Just stack the logs on top of each other, Lincoln Log style. This one is pretty simple and it is perfect if you have a couple of old trees that you need to get cut down and out of the way, or if your yard is cluttered with old logs. You could do this with logs of any size and the longer they are, the bigger your garden area could be.
Tutorial: houzz
8. DIY Concrete Garden Edging
I love good DIY concrete projects and this garden edging one just shows you how versatile concrete can be. If you don't have bricks or other edging materials on hand but you want something easy and cheap, concrete is a great way to go and there are a couple of ways that you can do this. You could create a mold to shape your concrete or just dig a trench and pour it into the ground.
Tutorial: bobvila
9. DIY Upcycled Pallet Garden Edging
If you want something really simple and really cheap to make your garden edging with, then get out those old pallets and upcycle them.
Wooden garden edging has a great rustic farmhouse look to it and upcycled pallets are the perfect way to get some cheap wood to create that garden edging. This is the perfect project for that stack of pallets in your backyard. There really are some great DIY pallet projects for you to try.
Tutorial: the-shed-and-beyond
10. Easy DIY Sawtooth Edging
Whether you prefer bricks or wood, you can create this gorgeous sawtooth edging for your garden and depending on the size of your garden, you can have this finished in a weekend or less. You just put your edging material in longways and lay it over sideways just a bit – it's a lot less complicated than it sounds and it gives you gorgeous new garden edging.
Tutorial: pavingexpert
11. Pressure Treated Landscaping Garden Edging
I love using pressure treated landscaping timbers for garden edging. This is one of the easiest ways to edge your garden and it has such a lovely rustic look to it. You just pick up a few pressure treated timbers – you can find them sometimes at online yard sales for just a fraction of the cost of new ones – and then lay them around your garden area.
Tutorial: landscaping
12. Recycled Wine Bottle Garden Edging
My mother used to have a garden area that had these amazing wine bottles as edging and it was so creative and gorgeous. I love this idea!
You just turn those old empty wine bottles up and plant them into the ground around your garden. You will need several bottles for this depending on the size of your garden, so start saving them now. Or, check with friends and family or look at yard sales and thrift stores to see if you can find several empty ones.
Tutorial: apartmenttherapy
13. Small Stone Garden Edging
Pebbles and stones are a great way to create your own garden edging. You can buy small stones at any gardening or home improvement store or if you live near a river, you can get them for free. You can also buy a load of gravel and use that if you prefer or check with your county highway department. They often give you gravel for free by the truckload if you have a truck to go an pick it up.
Tutorial: serenityinthegarden
14. Repurposed Scrap Wood Garden Edging
You know those small pieces of wood that you have laying around from other DIY projects? You can use those small wood pieces to create rustic garden edging. Or, if you don't have any scrap wood, check with your local pallet mill.
You can get an entire truckload of pallet scraps for around $20 or so and they make the perfect garden edging if you are going for that outdoor farmhouse look. There are some wonderful woodworking hacks that you really should learn that will help you to build so many beautiful things in your home and yard.
Tutorial: farmhouse38
15. Terra Cotta Landscaping Edging
Lowe's and Home Depot sell the most gorgeous terra cotta tiles that you can use to edge your garden. These come in all shapes and sizes and are perfect for creating a unique looking garden.
The tiles are not terribly expensive and they are super easy to install. If you want something creative that gives your outdoors a beautiful new look, terra cotta tiles are definitely the way to go.
Tutorial: gardenista
16. DIY Terra Cotta Pipe Edging
Terra cotta pipes give you beautiful garden edging and you can use them to create little mini planters, too. You can use this design concept to create beautiful edging for your garden and plant succulents in the pipes.
If you don't want to spend the money on pipes, you can also use terra cotta planters for this look. Just buy a bunch of cheap planters and stick them in the ground just a bit and then plant smaller flowers or plants or succulents in them to create garden edging that is also a mini garden.
Tutorial: apartmenttherapy
17. Patio Paver Garden Edging
You can use patio pavers to create garden edging that also doubles as a walkway to and from or around your garden. These pavers can be used upright to edge in your garden and then you can lay them in the ground around your garden to create a gorgeous walkway around the garden.
Patio pavers are not cheap but they aren't the most expensive landscaping material, either and if you check online yard sales and thrift stores, you may find them a bit cheaper than new.
Tutorial: familyhandyman
Conclusion
I really do love a great DIY project, particularly for the outdoors. When warmer weather comes, I spend more time outside than I do inside, so I really want my lawn and garden area to look nice and relaxing.
Having pretty garden edging is just going to help you to spruce up your outdoors and it will add value to your property.
If you ever decide to sell or refinance your home, having your gardens in tip top shape will only help you by making your property more valuable. And, if you are planning to spruce up your outdoor living area, you should be sure to take a look at these 30 eye popping fence decorating ideas that will instantly pretty up your backyard.
You don't have to spend a lot of money to get great garden edging. You can make your own from so many different things and some of these ideas can be done with upcycled or repurposed materials so you won't be spending anything on them.
Whether you have a pile of bricks that need a new project or you have found a stack of pallets for really cheap, you can create your own beautiful garden edging, no matter how big or small your garden happens to be. And, you can add even more style and beauty with these 30 whimsical DIY garden decorations.