Birdfeeders are a great way to enjoy wildlife at its best.
If you live in an area that has many birds, a couple of strategically placed feeders will allow you to view those pretty birds up close and personal.
You don't necessarily have to go out and buy an expensive birdfeeder though. You can easily make one yourself. Most feeders take just a little time and very little money.
With the holiday season quickly approaching, now is the time to get those DIY projects finished if you want to use them for gifts. If you are planning on giving someone a birdfeeder, why not make it yourself and make your gift extra special?
We have collected a great list of DIY birdfeeders that will instantly beautify your porch or make the perfect gift.
They are easy to make and are great for getting those birds to your property so that you can enjoy them.
Jump to:
Popsicle Stick Feeders
If you have kids that love DIY projects, why not create a popsicle stick birdfeeder?
You can use sticks that you have on hand or buy some at a craft store. Just layer the sticks and be sure to add something to hold the birdseed in. Kids can paint these any color that they want and they will have a ball creating different feeders for all of your trees.
Tutorial - DIYnCrafts Craft Stick Birdfeeder
Plate and Bowl Birdfeeder
You can make a beautiful birdfeeder from a saucer and a matching bowl – or a mismatched one if you prefer.
You just have to drill a hole in the saucer and attach the two together. Ok, so it is a bit more complicated than that but not too complicated. This beautiful birdfeeder looks great and the saucer protects your birds from rain, sun and other weather elements, sort of like an umbrella.
Tutorial - Erinscreative
Tea Cup Birdfeeder
A teacup and saucer can make a beautiful birdfeeder. If you have a spare set, you can create a very unique feeder by gluing the teacup to the saucer sideways. It makes it look as if the bird food has spilled out of the cup. This is an adorable feeder and with a ribbon or string, you can hang it anywhere that you want to see pretty little birds. Note that you do need glue that has really good holding power.
Tutorial - Mommymoment
Wine Bottle Birdfeeders
Old wine bottles can be turned into beautiful birdfeeders. You just have to create a base and a small saucer works perfectly. Then just carefully drill holes in the sides of the bottles to allow the bird food to come through and hang. You can fill the bottles through the lid. You just have to add wire or rope to hang.
Tutorial - Thegardenroofcoop
Mason Jar Feeders
Mason jars can be used for so many DIY projects and they make excellent birdfeeders. You can buy metal chick feeders at any farm supply store and they are really inexpensive. You then just have to affix them to your mason jar and choose a way to hang it. These are really cute feeders and you can do different styles so that you have a little variety.
Tutorial - Thegardenroofcoop
Birdfeeders from Recycled Products
Honestly, whatever you have lying around the house could be turned into a birdfeeder. As long as you have a way to hang it or attach it to your outside wall, and it will hold bird food, you can create a birdfeeder. Even old license plates could be used to create a whimsical and really unique feeder that you will be proud to display and your birds will love the thought.
Tutorial - Junkmarketstyle
Shoe Feeder
You can even make a birdfeeder from an old shoe. If you are into whimsical and really unique things, why not nail a shoe to your tree and put your bird feed in there? Not only will the birds love you for feeding them, your neighbors are sure to think that you are the most creative person ever.
Wooden Spoon Feeder
A plastic soda bottle and a couple of wooden spoons make a great birdfeeder. You just have to make holes in the bottle for the spoons and be sure that you angle the spoons downward so that the birdfeed will drizzle onto them. This is a really cute idea and a great project for the kids.
Milk Carton Feeder
An old milk carton will make an adorable feeder. You can paint (or have the kids paint) a cardboard milk carton and then just cut a hold for the feed. You may want to put a wooden dowel or even a wooden spoon through so that the birds have somewhere to land when they want to eat. These are really easy to make and are great for kids to do.
Tutorial - Amandamedlin
Teapot Feeder
An old teapot will make a really cute birdfeeder. Just attach the teapot to a tree or even the side of your house. You can use this for a feeder or a nester. Birds can get inside and build their nests so that you can see the babies when they are hatched. As a feeder, it works really well and is a really unique idea.
Tutorial - Edenproject
Log Bird Feeder
Create a small log by carving out part of a small piece of wood. If you use firewood in the winter, just one little log will do it. You just have to hollow out enough room for the food and then attach a chain to hang the log in your tree. Birds will love it because they will feel as if the tree itself is feeding them.
Teacup Towers
Teacups make such adorable birdfeeders. You can create a little section in your garden for feeders and put them on poles to make them more decorate. Just attach teacups to saucers and then to the poles. These are great for sitting out in the yard and the more you put up, the more birds you will have to look at.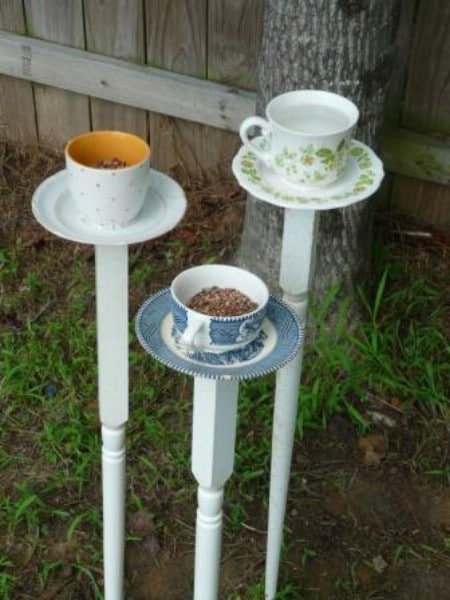 Tutorial - Rockiescrafts
Pinecone Feeders
Pinecone feeders are sort of traditional. You can spread them with peanut butter and then add birdseed or spread them with lard and add birdseed. Whatever you prefer, these are really easy to make and are great projects for the kids. Make several of them and decorate your outdoor trees with many little feeders.
Tutorial - Dragonflybluecraft
Window Birdfeeder
If you love looking at birds in the winter but simply don't want to go outside to do it, you can bring them right up to your window. You just need a few scraps of wood and a glass-safe hanger. Just create a little "house" for your birds and then attach to any window. You can then sit inside your warm and comfy house and watch the birds eat all day long.
Tutorial - Ana White
Clay Feeder
If you love working with clay and you love birds, why not make a clay birdfeeder? You can create a beautiful clay bowl that is perfect for feeding your favorite birds. Kids love working with clay so if you have little ones, this is a great project for them to help you with. Remember to add rope or something for hanging and if you want, paint the feeder before you hang it up.
Tutorial - Henryhappened
Monogrammed Jar Feeder
You can create a personalized birdfeeder from a mason jar and really give your birds a special place to eat. Just decorate the jar with a vinyl monogrammed letter, some beading and whatever else you want. This is a great project for gift-giving so if you know someone who really loves birdfeeders, consider this for their holiday gift.
Tutorial - Allparenting
Flower Pot Birdfeeder
An old flower pot will make a beautiful bird feeder. You will need to drill holes in the pot so that the birdseed will come out. You will need a plastic bottle with the top cut off and this will need holes drilled in as well. Get creative when you are drilling the holes and make a pattern so that they are functional and decorative.
Tutorial - Allthingsheartandhome
Open Bar Feeder
With a few planks of wood and an old bottle, you can make your birds a lovely bar that dispenses birdseed around the clock. You will need a bottle that has a screw cap and something to hang the feeder when you finish it. You will need something under the bottle to hold the food as well.
Tutorial - Espritcabane
Sisal Rope Feeder
An old tin can and some sisal rope can be combined to make a beautiful feeder for your birds. Just wrap the rope around the can (be sure to use a clean can) and bend the lid in half so that the birds can get to the food. You may want to put something for a ledge so the birds have something to stand on when eating.
Tutorial - Dabblesandbabbles
Cookie Cutter Feeders
You can create birdfeeders in all shapes and sizes when you mold them. If you have cookie cutters, you can mix gelatin and water to create a base and then add birdseed and mold it in the cookie cutters.
Once the mold sets, you can hang these little feeders anywhere with string. Kids will love this project and if you don't have a lot of cookie cutters on hand, you can use mason jar lids or anything that will create a mold.
Tutorial - Eighteen25
Outdoor Wedding Décor Feeders
If you have an outdoor wedding coming up, or you just want to decorate your lawn with beautiful vintage teacups, make birdfeeders out of them. Bamboo sticks will hold the vintage teacups and saucers and they look beautiful together. These make wonderful gifts and cost less than $5 each to make. Imagine the people you could please and the money you could save.
Tutorial - Intimateweddings
Orange Cup Birdfeeders
You can create a beautiful and very aromatic birdfeeder by simply slicing an orange in half and removing the inside. Then just fill with birdseed and hang. You can poke holes in the orange and tie twine for hanging. These are really cute feeders and so easy to make. Plus, you can make two feeders from each orange and they smell wonderful.
Tutorial - Sheknows
Summery Birdfeeders
Head to your local craft store and pick up a few twig spheres. You can also use pinecones for this and if you have them at your house, they won't cost anything. Just spread peanut butter on the spheres or cones and then coat with birdseed. Use old fabric or lace to hang. Once the birdseed is gone, you can recoat and hang again.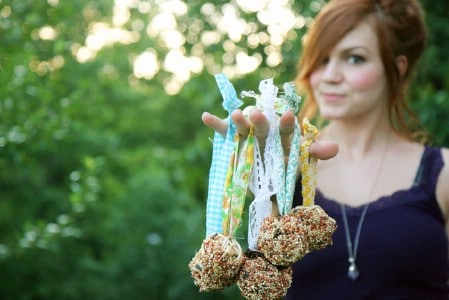 Tutorial - Moorea-seal