Looking for fun, fast and easy Christmas crafts which you can throw together at the last minute for gifts or home décor? You've come to the right place! Recently, I showed you how you can make 5 DIY Christmas tree ornaments using everyday supplies. I also shared 25 DIY garland ideas to deck your halls.
Today, I will show you a few more quick and easy Christmas crafts. For each, you only need basic craft supplies, most of which you probably already have handy. Every project uses yarn, so be sure to stock up if you've run low. Let's get started!
Video Tutorial:
Materials:
Amazon.com affiliate links:
Yarn in a variety of colors
Paper roll
Scissors
Package to wrap
Ribbon
Bow
Small hat for a snowman
Ball bearings
Paper clip
Hot glue and glue gun
Steps
Hats
1. Get a paper roll and cut out a thin slice to use. Have some yarn in a festive color like red or green at the ready.
2. Get a small piece of yarn and make a lark's head knot around the paper roll.
3. Next, get another small piece of yarn (the same size), and make another lark's head knot around the paper roll. Slide it right next to the first one.
4. Get another piece of yarn and make yet another lark's head knot. Slide it next to the first two. Keep doing this until you have covered the entire paper roll in yarn. You are literally just making a series of lark's heads all the way around.
5. You now just need to get one more piece of yarn. Bunch up all the yarn ends which are sticking up and tie them together to finish creating the shape of the winter hat.
6. Embellish as desired.

The finished hats actually look pretty realistic!

Gift Box
1. First you will be making a pom pom out of yarn. Begin by spooling up some yarn around your fingers.
2. Get a small piece of yarn and tie it around the spool in the middle (after removing it from your hands and detaching it from the rest of the yarn).
3. Next, get a pair of scissors and cut through the loops of thread at either end. This will create a whole bunch of ends. Fluff it up, and you have a pom pom.
4. Wrap up a present with paper and a ribbon. I recommend plain paper to make the pom pom stand out, and a ribbon which will complement it. Then attach the pom pom to the top.
6. Use hot glue to attach pipe cleaners, snowflakes and other embellishments as desired.

All done!
Snowman
1. Begin by making two pom poms using the method described in the previous project. Make them out of white yarn, with one pom pom just slightly smaller than the other.
2. Get hot glue and attach one pom pom on top of the other. Now you have the snowman's body and head.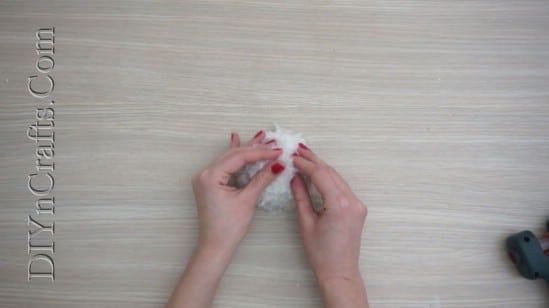 3. Now you need some object to use as a "hat" for your snowman. I had a little plastic hat to use with some faux snow on it, but if you don't, you could make something out of paper. Hot glue it to the top of your snowman's head.
4. Using hot glue, attach a bow and then some ball bearings for the snowman's eyes (you could also substitute buttons or any other supply you want).
The finished snowman is so cute!

Bookmark
1. Begin by making a pom pom in a color of your choice using the method previously shared.
2. Get a paper clip and hot glue it to the pom pom.

You now have a cute fluffy "bookmark." It is great for assignments: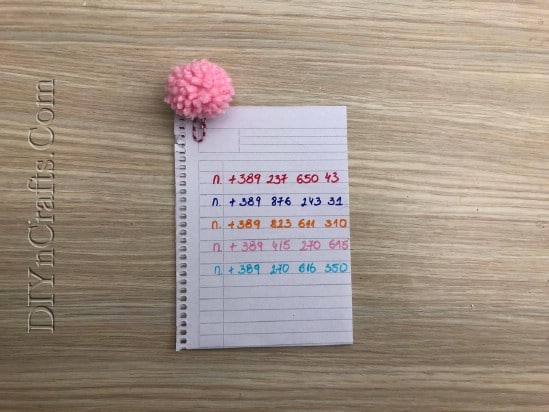 Or it can be used to mark a page in a book:
These are fast and easy to make, and are perfect stocking stuffers for everyone on your list.
I hope that you have fun making these yarn crafts. While you are working on them, you'll probably come up with other festive ideas for Christmas crafts as well. Yarn is so versatile!