It's fall, which for me means holiday craft time! Even though it's still early into the season, for me it's not too soon to work on some winter-themed crafts.
Have you checked out any of our holiday craft lists? Take a look at these 20 DIY door decorations for Christmas, and these 15 festive tree toppers.
Today I want to share some snowman crafts with you. These projects are ridiculously easy, so my kids and I worked on them together. Check them out in the exclusive video below.
Video tutorial:
Materials:
Craft sticks
Paint
Hot glue and glue gun
Fake pine needles and berries
Bows
Buttons
Construction paper
Large plastic pot or cup
Smaller plastic cups
Googly eyes
Pipe cleaner
Pom poms
Plastic straw
Plates
Candies
Plastic fish bowls
Fake snow
Holiday figurines
Hat
Steps:
Craft Stick Snowman
1. Line up five craft sticks. Get a sixth stick and glue it diagonally across the top of them.
2. Paint the diagonal craft stick black, as well as the portion of the other five craft sticks above it. This is a "hat" for the snowman.
3. Glue a faux pine branch and berries to the part you painted black. This is an embellishment on the snowman's "hat."
4. Hot glue some buttons on to serve as eyes.
5. Add a little orange triangle of construction paper to stand in as a carrot nose.
You now have a cute rustic snowman!
Earmuff Snowman
1. Get a small plastic bot or cup which is white and turn it upside down.
2. Hot glue some googly eyes to it.
3. Glue an orange triangle of construction paper underneath to serve as the carrot nose.
4. Glue a pipe cleaner in a U-shape to the top of the snowman's head.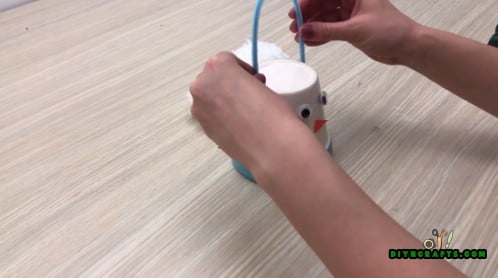 5. Add the pom poms to either side. Now the snowman is wearing a pair of earmuffs.

Cup Snowman
1. Get two small plastic cups and hot glue them together by their rims.
2. Add a dab of hot glue and attach a piece of orange construction paper cut into a triangle. This is the nose.
3. Attach button eyes.
4. Cut up a plastic drink straw and glue the pieces to the top.
Plate Snowman Place Setting
1. Get a larger plate and a smaller one. Position the smaller plate above the larger one.

2. Put two candies on the top plate to serve as the snowman's eyes.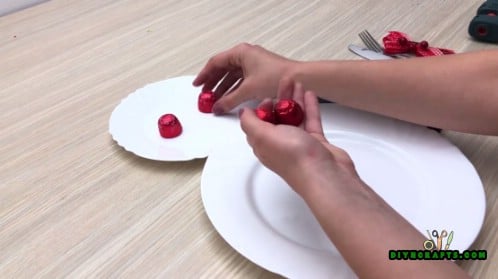 3. Add some more candies in a row on the bottom plate as buttons. Then simply add a bow, a knife and fork, and a napkin to complete your snowman place setting.
Fishbowl Snowman
1. Pour some craft snow into a glass fishbowl.

2. Place some holiday figurines inside.
3. Get a smaller fishbowl and pour some craft snow into that one too.
4. Put some more holiday figurines inside that one.
5. Set the smaller fish bowl on top of the larger one.
6. Put a hat on top to complete your fishbowl "snowman."
Enjoy these fun and easy snowman crafts, and happy holidays!