Babies are so wonderful. They add such joy to our lives and often, so many pieces of furniture, too.
If you have had a baby recently that has outgrown his or her furniture, there is a way that you can repurpose that furniture and turn it into new and exciting things.
I have a list of 20 wonderful ways for you to repurpose your baby's changing table and make something new from it.
Instead of tossing it or worse, leaving it in the baby's room in the way, make something exciting from that changing table and put it to good use again.
Jump to:
1. DIY Bedroom Storage
What better way to repurpose that old changing table than to turn it into extra storage? An old changing table makes the perfect place to display photos or hold quilts – whatever you need it for.
You can paint or stain the table as needed to match your existing décor, too and just think about all of that organizing space that you will have!
Tutorial: allpeoplequilt
2. DIY Lego Table – IKEA Hack
I do love IKEA hacks and this is one of my favorites. You can turn an ordinary white changing table from IKEA into the most adorable Lego table for your little ones.
A Lego table not only gives them a wonderful place to play, but it helps to save your feet…if you have ever stepped on a Lego then you know what I'm talking about.
This is an excellent way to store those Legos and keep them off the floor and give your kids a place for creative play as well.
Tutorial: erinspain
3. Quick And Simple Toy Car Garage
You can instantly turn that unused changing table into the perfect place to park your little boy's cars and trucks.
A changing table makes a wonderful car garage and you really don't have to do anything to it unless you just want to.
Personally, I would paint the table to match the child's décor and maybe add in some cute racing stripes or other automotive related embellishments to really make it stand out.
Tutorial: lovegrowswild
4. Repurposed Changing Table Desk
Turn that old changing table into a cute little desk where your little ones can do their homework. I love the idea of furniture growing with children and this is the perfect example.
It doesn't even take that much effort to make a desk from an old changing table and it saves you from having to buy them a desk once they start school.
Tutorial: thriftdiving
5. DIY Play Kitchen From Changing Table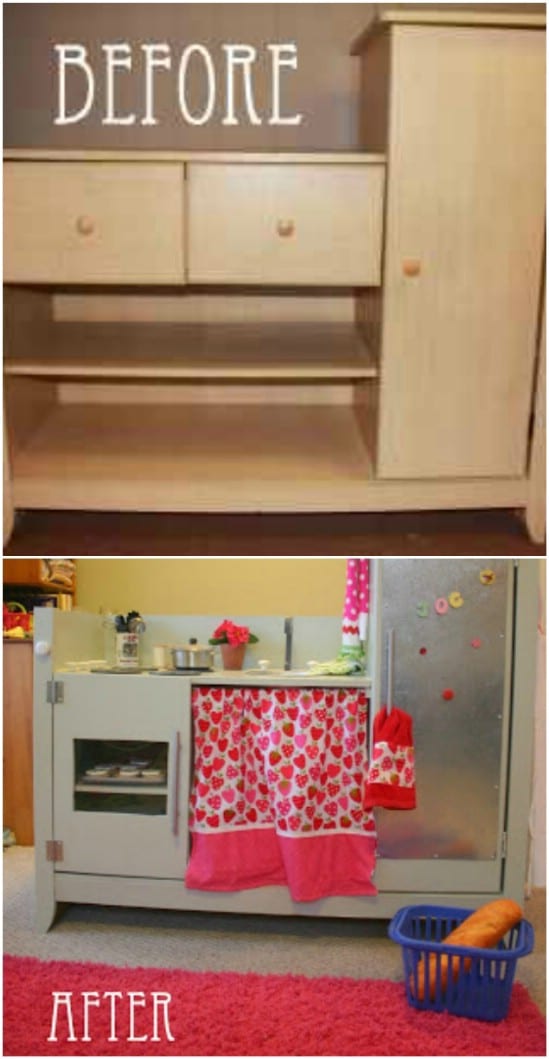 An old fashioned changing table can easily be converted into a play kitchen for your little girl…or turn it into a play tool station for little boys.
This is such a creative project and one that is really easy to do.
Just a little paint and some imagination are all you need to turn that changing table into a play station that will keep your little ones entertained for hours.
Tutorial: shopbonnenouvelle
6. DIY Play Shop/Lemonade Stand
When your little ones get older and you no longer need a changing table, you can convert it into a cute little play shop or a lemonade stand for when they want to make their own money.
This is such an easy project and one that will bring your children so many hours of joy.
There is so much storage in here for all of their little toys, too.
Tutorial: mondocherry
7. Repurposed Changing Table Console Table
Turn that changing table into a gorgeous console table that you can display in the living room or entryway.
The shelves give you so much room for displaying pictures and other décor and this is a really easy transition.
You just paint the table or stain it in the color that you need to match your existing décor and then place it where you want it.
Tutorial: averageinspired
8. DIY Rolling Beverage Station
When you no longer need a changing table, turn it into a rolling beverage station.
This is a great repurposing project if you love entertaining and this makes the perfect bar or beverage station for your deck.
Just add the wheels and you can even cut away a section of the top to hold an ice bucket or cooler to keep ice on hand. I love this idea and it's a really simple repurposing project.
Tutorial: apartmenttherapy
9. DIY Ice Cream Parlor
I love the idea of turning a changing table into an ice cream parlor for toddlers. This is a simple transition and one that will definitely thrill your little ones.
You just need some paint and a few embellishments and you have the perfect play station for toddlers and younger children.
The shelves give you plenty of room to store their play ice cream toys and the changing table is the perfect height for little ones to play as they grow.
Tutorial: sisterssuitcaseblog
10. DIY Dog Crate And Bedside Table
This is the most creative use of an old changing table that I have ever seen. You can turn an old changing table into a bedside table for the bedroom, and it has a dog crate built right in!
If you have a pooch and you want build him a DIY dog bed, this project is perfect.
Plus, it makes a really cute bedside table and you can hide away the dog crate with a DIY curtain that you can make in just a few minutes.
Tutorial: ikeahackers
11. Repurposed Changing Table Into Driving Dresser
This dresser for little boys is so creative and it's pretty easy to make from an old changing table.
If you have a solid table – that has drawers and not just open shelving – this is the perfect repurposing project.
You just paint it to look like it has highways running up and down it and turn it into a fun and creative dresser for your little boy.
Tutorial: remodelaholic
12. DIY Entertainment Center
This entertainment center made from an old changing table is perfect for holding all of your media supplies.
I love the use of baskets in shelving. It gives everything such a nice farmhouse look and this is perfect if you have a television that hangs from the wall.
Or, if you have a changing table with a solid top, you could just sit the television right there on top of it and still use the shelves for holding all of your games and DVDs.
Tutorial: remodelaholic
13. Gorgeous DIY Entryway Table
Just a coat of paint or stain will turn that unused changing table into a gorgeous and functional entryway table for holding all sorts of things.
I like the idea of putting baskets or small wooden crates on the shelves to hold mittens, keys and other needed items and you can dress it up with pictures and some homemade candles.
This is perfect for the foyer or dress it down a notch and use it in the mudroom.
Tutorial: polkadotpoplars
14. Decorative DIY Garden Cart
This repurposed changing table garden cart is really creative and it is the perfect addition to your porch or deck.
You don't even have to do much to turn your old baby changing table into a garden cart.
Just choose a paint color and then pick what you want to display.
This is great for showing off those gorgeous potted plants in the spring and summer or your holiday décor during the winter months.
Tutorial: martysmusings
15. Repurposed Changing Table Reading Nook
I have to admit…I love to read and I love nothing more than having a place for peace and quiet when I do so, which is why I really love this changing table turned reading nook.
Making a shelf from that old changing table is so easy and it offers the perfect place for you to enjoy your reading.
Just create the bench shape and then add a homemade cushion – the bottom shelves work really well for holding your books, too.
Tutorial: hometalk
16. Food Serving Cart
You can also turn a small changing table into a serving cart that really helps when you throw those amazing dinner parties.
This is also a great plant stand for the kitchen or dining room when you don't need it for serving.
It takes very little work and it does produce the most amazing little cart – complete with wheels if you want to add them.
Tutorial: margitta
17. DIY Cat Perch
Do you make your own DIY dog toys? How about something for the cat? If you have a cat…or multiple cats…then you know just how important it is to have a place for them to perch.
This changing table repurposed into a cat perch is perfect and all of your cats will love it.
This is such an easy transition and one that will help you to save a fortune on furniture – cats tend to climb up things that they are not supposed to be climbing when they don't have their own perch.
Tutorial: desiretoinspire
18. Repurposed Changing Table Window Seat
I adore this changing table that has been repurposed into a window seat. The sides are so awesome and this really is a wonderful way to repurpose a changing table that you no longer need.
If you have a picture window or a bay window, this is the perfect seat for the front of it.
It's an easy DIY project that gives you the most comfortable place to relax and it adds that extra seating that you need when you have a lot of company.
Tutorial: iowacity
19. DIY Laptop Cart
You can quickly and easily turn an old changing table into a mini desk or laptop cart that is perfect for when you just need to quickly check your emails…or update yourself on the directions of your latest DIY project.
I love this idea. It's so creative and such an easy DIY project for you to do.
Plus, it is perfect for keeping your laptop in the kitchen for looking up recipes.
Tutorial: enjoyerofgrace
20. DIY Bathroom Storage
I don't know about you, but I never seem to have enough bathroom storage. Those towels just take up so much room…Enter the repurposed changing table! You can turn an unused changing table into gorgeous bathroom storage for your towels and you can even make it a nice vanity.
Just add a bowl-styled sink and you're all set. I love this idea – it has such a nice rustic look to it, don't you think?
Tutorial: bhg
---
Conclusion
From a desk for your little one to the most adorable play station, you can turn that unused dressing table into something functional once again.
I love repurposing! It saves you from tossing things out that could be of great value and it is so easy to turn those old items into new things.
Just take a look at these 30 crafty ways to repurpose old magazines.
You can repurpose just about anything and make it something new again!
And, that goes for baby changing tables…which you will see in this list.
If you don't have a changing table to repurpose but you really want to try out some of these DIY projects, you can check yard sales or your local thrift stores.
You can normally find an old changing table for under $20, which still makes these projects super affordable and there are just so many wonderful things that you can do with that changing table.
I can't wait for you to try out these changing table repurposing projects, and you should also check out these 20 creative ways to repurpose kiddie pools.
As your little ones grow, you will be able to repurpose all of their baby items!