Anyone who knows me knows how much I love my dogs; all dogs really.
Dogs are the most loyal, most loving creatures in the world and those of us who have them in our families like to treat them as the special creatures they are.
To that avail, I've collected 25 different DIY dog toys that I think you and your furry friend are going to love.
Jump to:
1. Toilet Paper Roll Dog Toy
Okay, so what could possibly be cheaper than an empty toilet paper roll? You already buy the toilet paper and chances are you throw those rolls out when they're empty, right?
This great DIY dog toy is made from an empty toilet paper roll. It's full to throw and even more fun for your little dog to fetch, and best of all, it's free to make.
Tutorial: catster
2. DIY Dog Toy From Old Glove
You know you have at least one mismatched glove in the house. You know, those leftover gloves when you lose one or when one gets a hole. Well now, you can turn that glove into a great DIY dog toy. Again, if you've already got the glove, this project is free and you know that little pooch would just love to chew on an old glove.
Tutorial: creativeconnectionsforkids
3. DIY Christmas Dog Chew Toy
The holidays are definitely approaching and what better gift for your beloved pet than this great Christmas tree dog chew toy? It's really easy to make with green felt and some pillow stuffing. Add ornaments if you want with embroidery thread and customize however you wish. Your little dog is sure to love seeing this in his stocking.
Tutorial: runningwithagluegun
4. DIY Feeder Toy
Satisfy his thirst for adventure and his appetite with this great DIY dog feeder that doubles as a toy. You can stuff dog kibble or treats inside the pipe, which is inexpensive PVC from your local hardware store. Your dog will love that he can chew on the pipe and that he gets treats through the strategically placed holes. You'll love that it's easy and really inexpensive to create.
Tutorial: dogtipper
5. Patchwork Dog Pillow Toy
This little patchwork dog pillow is the perfect playmate for your dog. It's adorable and dogs will love chewing on the softness. Plus, it's a dog, so it'll be like her having her very own Barbie doll of herself. I found this on Etsy, but it looks really easy to recreate.
Tutorial: etsy
6. Puppy Toy
Puppies chew on everything. If you've got a new puppy, you simply have to train her to know that she can't just chew on furniture and other valuables. This DIY puppy toy is the perfect way to do that. All you need is pillow stuffing and some rather durable material. Heavy duty material will ensure that your little pup gets a few good chews in before breaking through the material.
Tutorial: realhousewivesofmn
7. DIY Ball Toy
Dogs love to play with balls, and this DIY ball toy makes it even more fun. You can throw the ball for them with the long handle, and he can even chew on the handle without tearing up the entire toy. You'll just need a tennis ball and a scrap of fabric. The best part is there's no sewing involved.
Tutorial: ammothedachshund
8. DIY Re-Stuffable Dog Toy
One of my dogs always chews on her toys until the stuffing falls out. Once that happens, she just doesn't know what to do with the toy. I mean, it's no fun without the stuffing, right? Well, this little DIY dog toy can be stuffed over and over again, which makes it virtually indestructible. That means no matter how many times she pulls that stuffing out, she can still enjoy her favorite toy.
Tutorial: kolchakpuggle
9. No Sew Denim Dog Toy
Forget throwing out those old jeans. Use them instead to create this great no sew puppy toy. Just tie strips of the denim over and over until you have a ball. Leave strips hanging down for throwing and chewing or do it however you want. Dogs will have a blast chasing and chewing on the toy and because it's denim, it's pretty heavy duty so it will last for quite a while.
Tutorial: instructables
10. DIY Interactive Tennis Ball Toy
Take an old tennis ball, cut a slit in it, and then fill it with dog treats and you've created Rover's favorite toy of all time. The treats will make a sound when the ball is thrown or shaken and of course, they're treats, so he'll love chewing on the ball to get the treats out. This is a good toy for teaching puppies focus and strategy.
Tutorial: romprescue
11. Homemade PupSicles
Dogs love chewing on things and they'll love these pupsicles even more. You make all the ingredients completely from scratch, so you know they only contain things that are good for your little doggies. Once they're frozen, you can store them in a freezer bag and just toss one out to the dogs when they're ready to play. They make a good chew toy and an even better snack.
Tutorial: lifeinmomma-tone
12. Water Bottle Toy
This is by far one of the easiest DIY dog toys in this collection. To make it, you simply put an empty water bottle in a sock. Dogs will adore the crinkly sound that the water bottle makes when they're chewing on it and the sock gives them grip. Just tie a string around the sock's opening to keep the bottle in and let them have a blast with it.
Tutorial: momasaurus
13. Tennis Ball On A Rope
This looks just like one of those rope toys that you would buy at a pet store for around $15 or more, but it's a ball on a rope toy that you can easily make at home. Save yourself some money and take half an hour to whip this DIY dog toy up. Just cut a slit into the tennis ball to hold the rope in place and you're all set, and about $15 richer.
Tutorial: withmycamera
14. DIY Jumping Toy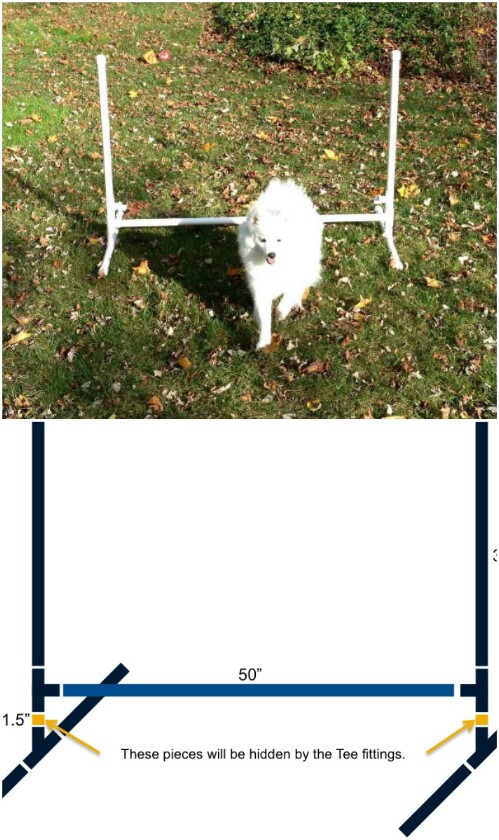 Okay, so the toy doesn't jump. This DIY dog toy is great for training dogs to jump or for expending some energy so that they'll settle down better at night. You can make it for around $15 and it's a great outside toy to get those dogs off their haunches. If you're training, this is a great addition to your dog's arsenal, or just let him jump it for fun.
Tutorial: softpuppywarmhouse
15. T-Shirt Dog Rope
Take a couple of old worn out t-shirts and turn them into this great dog rope. I love these upcycling projects, not only because they save money but they help you to have something to do with those old shirts and other items. This is such a great project and one that your dog will love.
Tutorial: barkpost
16. Fleece Dog Chew
Here's another great dog chew toy made from fleece. If you don't have any fleece leftover from other projects, you can pick it up at any craft store or Wal-Mart and it's really inexpensive. This toy is great because it's easy to make and your little furry friend will adore chasing and chewing on your homemade toy.
Tutorial: craftedniche
17. Sweet Potato Chew Toy
Sweet potatoes are good for dogs, and they love the taste. That's what makes this sweet potato chew toy so great. Not only do they get to chew on it, they get a great taste when they do. You'll need to dry out some sweet potatoes, and then just feed them onto a sturdy rope. It's virtually indestructible so it's great even for puppies who may be teething.
Tutorial: instructables
18. Chicken Flavored Chew Toy
This DIY toy is so great. You just need a chew toy, which you can make from any of the other projects in this collection. Soak the chew toy in chicken broth and then toss in the freezer for a bit. Once it's frozen, give it to your doggie and he'll have hours of chewable and tasty fun. This one's even recommended by the ASPCA.
19. Another DIY Fleece Toy
This fleece toy is a bit different from the others. For this one, you need strips of fleece material which you'll tie together to form a ball. The strips that hang off will really thrill dogs as they'll have them to chew on and grasp the ball with. This is a no sew project that takes very little time and makes for a very happy little pup.
Tutorial: dalmatiandiy
20. Doggie Boredom Buster
I love interactive toys that keep doggies entertained and teach them at the same time. This DIY doggie toy is so very easy and so very free. You just put empty toilet paper rolls, or cut empty paper towel rolls in half, into a bowl or pan. Add a few treats to the bottom and watch your dog amuse himself trying to get to the treats.
Tutorial: dogue
21. Interactive Pull Toy
Did I say I love interactive teaching toys? This one is great and one that any dog is certain to love. You'll need a plastic sphere. Dollar Store has great plastic balls that would be perfect for this. Stuff old socks or fabric into the holes and let your dog learn to strategize as he figures out how to pull the socks out.
Tutorial: dogue
22. Three-Sided Pull Toy
If you've got more than one dog, this fleece pull toy would be great. Each of them can grab a side, up to three that is, and pull away. Fleece is such an inexpensive fabric and this toy is really easy to make. You could also use old t-shirts if you prefer or denim or whatever fabric you happen to have on hand.
Tutorial: funnyfleece
23. DIY Tennis Ball Game
Here's another great interactive game that your dogs will love. Take an old muffin tin, which you can get at any flea market or even a new one at the Dollar Tree is really cheap, and fill the holes with tennis balls. Dogs love picking out a ball and you can even teach them to put the balls back into the holes. This one will keep them busy for hours.
24. DIY Foxtail Toy
Dogs love tennis balls and this foxtail toy made with a tennis ball at the end will surely be a hit with your furry friend.
You just take some old fabric and stitch the "tail" and then sew in the tennis ball at one end. You can wind it up and throw it far, teaching him how to fetch like a master, and he'll love being able to chew on the ball.
Tutorial: instructables
25. DIY Chew Ring
This DIY chew toy is made from durable rope so it will last for quite a while. You just braid and knot the rope together to form the ring.
Dogs love the shape and you'll love how easy and inexpensive it is to create. You can make this in any size and even get creative with the shape if you want.
Tutorial: instructables
Conclusion
Dogs as a general rule love to pull on toys and chew on things. So, I've found a great collection of DIY dog chew and pull toys that will ensure your little furry family member doesn't ruin your furniture.
You can buy dog toys all day long at any pet shop, but honestly where's the fun in that?
If your little pet does happen to chew the furniture before you try your hand at these DIY chew toys, be sure to check these quick and easy ways to refinish that wooden furniture. That being said, let's get started making your dogs some great DIY dog chews and toys that they will love.
Enjoy this collection of simple, homemade toys for your dogs that are so cheap you can make one for every dog on the block.