You love to save money, right? Plus you love to have nice things, things that look like they cost a lot of money while not actually costing a lot of money? Well, I've got a great collection for you! I've found 40 of the most creative spray paint projects that you can imagine.
What's great about this collection is that it's filled with wonderful DIY spray paint projects that make ordinarily inexpensive things look expensive. Only you will know that you made them yourself!
From chandeliers to lampshades and so much more, there is definitely something here for everyone. There are beautiful DIY spray painted lace chairs and even a trashcan turned side table, all made with just a cheap can of spray paint and other inexpensive materials.
And speaking of DIY projects for the home, be sure to take a look at my 40 Genius Rustic Home Décor Ideas. You're sure to find something that goes well with the pieces in this collection, and who doesn't just love rustic décor?
So, back to this collection. I love that there are so many things you can DIY with a can of spray paint. I mean, who knew you could do so much with so little? You're definitely going to want to take a look at some of these home décor projects. There are things for every room in the house and even a few outdoor decoration ideas as well.
From vases and painted pots to picture frames, you're going to be amazed at all of the ways you can transform your home décor with paint, and you can get cans of spray paint at the Dollar Store or Wal-Mart for just a dollar or so each.
So, let's get started learning about all the ways you can completely transform your home décor with some spray paint. I'm excited - I hope you are, too!
1. Thrift Store Bird Cage Makeover
Whether you have an old bird cage sitting around, find one at your local thrift store, or you use a plastic one that you can pick up at most Dollar Stores, this is an excellent project if you want to add a French feel to your décor. This bird cage spray painted black is as easy to make as it is elegant.
Tutorial/Source: kotibeth
2. Blue Chandelier
You can breathe new life into a faded old chandelier or give a makeover to a new one with a simple can of spray paint. I have to say, I love this gorgeous blue color. Changing the color of your chandelier will instantly change the look and feel of any room, so if you're looking to renovate but you don't want to make massive changes, this will certainly do it.
Tutorial/Source: restorationredoux
3. Not So Metal Galvanized Tub
So, a simple plastic tub, that you can get at the Dollar Store for a dollar or two, can be turned into this amazing galvanized looking tub with just a single can of metallic silver spray paint. You can use the tub for so many things and no one will know that it's actually plastic unless you tell them. Plus, plastic doesn't rust so you get the gorgeous look of a galvanized tub without the worries of leaving it out in the rain.
Tutorial/Source: thetiptoefairy
4. Painted Lampshades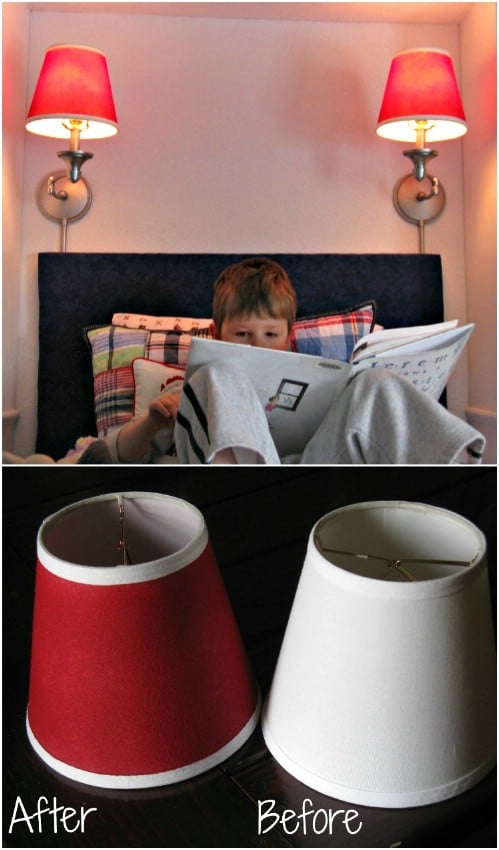 Instead of buying new lighting, just change up what you have. You'll save a fortune and still get a great new look for the bedroom or living room. You can easily spray paint lamp shades and even the bases if they're metal. Get creative, use stencils or tape to make designs, or just go with a complete covering of a different color. There are so many ways to change up your lamp shades!
Tutorial/Source: inspirationformoms
5. DIY Chrysanthemum Clock
Believe it or not, this gorgeous clock is made with plastic spoons, and it's spray painted! I love the color and this looks like a relatively easy project. It'll take about 250 plastic spoons and you'll need the clockwork supplies, which you can get at any craft store, unless you have an old broken clock that you can transform. It'll take a few hours, but it's so well worth the effort!
Tutorial/Source: thatswhatchesaid
6. DIY Cupcake Pedestal
So this is a fluted pie pan turned upside down and attached to a candlestick and then spray painted. It makes the most gorgeous cupcake pedestal! If you bake a lot, which I do, then you're going to want to make this. You can get fluted pie pans at most stores new for just a few dollars, or find an older one at thrift stores for probably less than a dollar. The candlesticks can be bought at the Dollar Store for a dollar or so each.
Tutorial/Source: rainonatinroof
7. DIY Mercury Glass Vase
Seriously, the things you can create with spray paint! This gorgeous vase started out as an ordinary glass vase, which you can pick up for a couple dollars. A few sprays of mirror effect spray paint and you have an amazing mercury glass vase that looks like you spent a small fortune on it. This is such a wonderful gift idea for just about anyone.
Tutorial/Source: hammerandheelsblog
8. Stunning Gold Wicker Chair
How much do you love this elegant gold wicker chair? It's absolutely gorgeous! Now, if you don't have an old wicker chair to use, I can tell you that you can probably find one at Goodwill or any other thrift store. Even if you have to repair the seat or sand down some rough areas, you're probably only going to pay a few dollars for it. Then you just hit it with a few coats of gold spray paint and you've got a stunning chair for your foyer.
Tutorial/Source: ourfifthhouse
9. DIY Gold And White Bowls
So these gold and white bowls run around $150 if you buy them. But…you can make them for such a small fraction of that. You'll need bowls and some gold and white spray paint. Spray the inside of the bowl gold and the outside white. These are really gorgeous when they're finished and make wonderful jewelry holders.
Tutorial/Source: lezoemusings
10. Soup Can Flower Pots
Yes, I know it's not spring yet, but you have to admit that these soup can flower pots are such a great project. This is a great project for any time of the year. You just recycle those old soup cans, or whatever cans you may have on hand. Clean them up and spray paint them whatever colors you want. The paint helps to prevent against rust and gives you a wonderful display for your spring plants.
Tutorial/Source: theseamanmom
11. Refurbished Outdoor Cushions
You know how dingy those outdoor cushions get after a few years of use? Buying new ones can be expensive. Sewing new ones yourself is an option but takes so much time. A better way is to spray paint those old cushions. I was amazed I must say at the thought of spray painting cushions, but apparently it's a thing and it works wonderfully!
Tutorial/Source: thehappierhomemaker
12. DIY Garden Gazing Ball
An old bowling ball and a can of chrome spray paint will give you this gorgeous mirrored garden gazing ball. If you've ever wanted one of these, this is your chance to save some money and make it for yourself. You can get an old bowling ball at most thrift stores for just a couple of dollars and then just set your ball up on a garden ornament or statue.
Tutorial/Source: thegardenglove
13. DIY Outdoor Planters
You love those huge outdoor planters, right? They look so great lining the walkway, but they can be very expensive. With a $15 garbage can and a can of spray paint, you can recreate that same look and save so much money! I priced a large planter for my porch at around $100, and I'll take $15 over that any day. These are so easy, too and you can do them in different colors if you want to match a specific theme.
Tutorial/Source: thespottedlamb
14. DIY Flower Art
Art is gorgeous but it can also be expensive, plus there aren't many times that you find precisely what you want to hang on your walls. Well, make your own art and get the perfect wall display, plus you can save a fortune when you create that art with spray paint. Some leaves or branches, whatever you want to create really, canvas and your chosen paint color are all you need to grace your walls with lovely DIY art.
Tutorial/Source: simplyrealmoms
15. DIY Countertop Redo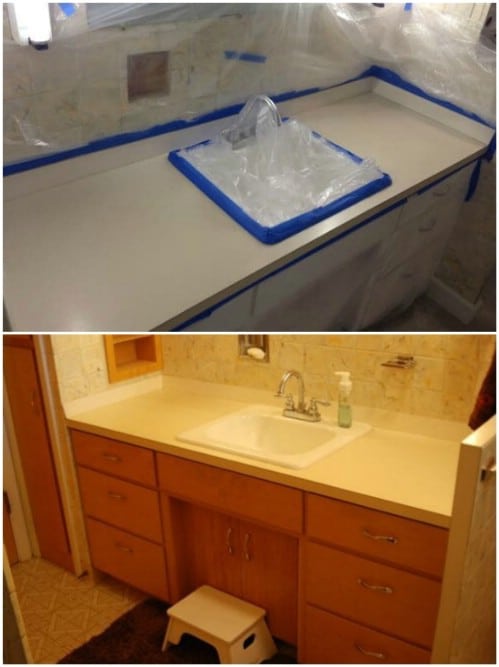 Yes, you can spray paint those countertops, too! Imagine saving hundreds of dollars and still getting the new countertops you want. Rustoleum makes a wonderful stone looking paint that won't cost you much and you just paint over your current countertops to make them look completely new and completely different. This is a great project if you're redoing the kitchen and need to save a little money in the process.
Tutorial/Source: brightgreendoor
16. DIY Side Table
This trash can turned side table is an amazing project. You just pick up a wire trash can, which you can get at the Dollar Store for around $5 or so, and then spray paint it the color that you need it to be. This is a great idea for a teen's room and it's such a quick and easy project.
Tutorial/Source: makinghomebase
17. DIY Chevron Rug
This chevron rug is really neat and it's so easy to make with a can of black spray paint. The most work you'll do is taping off the chevron pattern, which may take an hour or so. Once you've painted the areas you want painted, just let it dry and remove the tape and you've got a great rug. This is a really good repurposing project for old worn out rugs, too.
Tutorial/Source: https://www.youtube.com/watch?v=FXrqdWCc0fI
18. Dalek Dresser
If you're a Whovian, meaning that you absolutely can't get enough of Dr. Who, then you're going to love this Dalek dresser. You can use silver or even mirrored spray paint to get the look. If you have a son, or daughter, who loves Dr. Who then they will absolutely go mad over this DIY dresser. And, you can add various highlights or embellish it in a number of ways while still keeping with the theme.
Tutorial/Source: addhousewife
19. Spray Painted Lace Chairs
This is the most amazing project I think I've seen in forever! You take spray paint and a lace pattern and create chairs that look like they're made of lace. The design is gorgeous and you can dress up old chairs instantly with this project. Whether you're changing your dining room chairs or you just want something a bit different for the entryway, this is the perfect project to transform those old chairs into something new and elegant.
Tutorial/Source: creativityindiyyoucandoit
20. Anthropologie Inspired Golden Logs
Anthropologie décor is great, but it's also rather expensive. If you love the gold candles from Anthropologie, you can get the same look with a few short logs and a can of gold spray paint. While they're not candles, they are still beautiful golden logs that you can use to decorate wherever you want. If you don't have logs, you can probably get them at your local lumber yard. Choose a few small, short ones and then create this gorgeous look yourself!
Tutorial/Source: theproperblog
21. Refurbished Light
A cheap light that you can get for less than $10 at any thrift store could turn into a lovely light for any room in the house with just a little paint. I love this idea for the kitchen above a little breakfast table. It's a quick and easy project and one that will save you a bundle over buying those chain lights for kitchen areas.
Tutorial/Source: 2littlesuperheroes
22. DIY Gift Toppers
I love these DIY golden gift toppers. They're especially perfect for this time of year to dress up all your holiday gifts. You'll need clothespins and a few plastic animals. Then you just spray paint them gold, attach to the clothespins and you have the prettiest and best dressed presents on the block. You could get creative and use various different colors but I think the gold looks great.
Tutorial/Source: bloomdesignsonline
23. Mailbox Garden Tool Storage
Pick up an inexpensive metal mailbox and turn it into the perfect place for storing your garden tools with a coat of spray paint and a few screws. I love this idea, particularly to hang on the fence so you have your tools handy all the time. You can normally get these mailboxes pretty cheap at home improvement stores or you may be able to find one in a flea market or thrift store for even less.
Tutorial/Source: 2littlesuperheroes
24. Alligator Jars
These alligator jars are just too cute, and they're really simple to make. These are perfect for holding crayons or small toys and kids are going to adore them. You can use this same technique to make any type of jar you want. Just hot glue your plastic animal (or reptile) to the jar top and then spray paint. You'll have a great way to organize kids' rooms and a fun little project, too.
Tutorial/Source: acasarella
25. File Cabinet Makeover
Turn an ordinary old file cabinet into a work of art with a little imagination and a can of spray paint. I love this idea for the home office. You can customize your cabinet however you want and give it a much more appealing look than those boring old metal cabinets typically have. You can also normally get an old file cabinet at thrift stores for around $10 or so.
Tutorial/Source: iheartplanners
26. Painted Birdhouses
Birdhouses are great and such a wonderful way to dress up your outdoors. You can quickly paint old or new birdhouses with spray paint and add a splash of color to your yard. Birdhouses in natural wood can be picked up at Wal-Mart or any craft store. Then just choose your spray paint colors and get to work. Make a number of them in colors to match your house or create a veritable rainbow of houses in your yard.
Tutorial/Source: forwhatitsworthjeannie
27. DIY Chunky Necklace
This great necklace is made from vinyl tubing and spray paint! You cut and then thread the tubing around cotton swabs with the cotton cut off. Then you paint them with gold spray paint and link them all together. This is a gorgeous necklace and would make a wonderful gift for someone who loves bold jewelry.
Tutorial/Source: cremedelacraft
28. Kitchen Canister Makeover
I have a great set of canisters that my grandmother left me and I've always wondered how to refurbish them. Little did I know you can completely update those old canisters with just a little spray paint. This is great for metal canisters that are maybe faded and need a new look. Just choose your paint color and give those worn out old canisters new life.
Tutorial/Source: recapturedcharm
29. Spray Painted Plant Stand
If you have an old metal plant stand that has seen better days, you can completely redo it with spray paint. Just sand down any rust spots before you begin to make it smooth and spray away. Instead of throwing out those metal stands and buying new ones, just spend a couple dollars on a can of paint. You'll save loads of money and get the stand that you want in any color you prefer.
Tutorial/Source: calliescrafts
30. DIY Birthday And Anniversary Calendar
Did you know that chalkboard paint comes in a spray can? You can use it to create this great birthday and anniversary calendar. If you're bad at remembering dates, this is the perfect solution. Note that this project takes a bit more time than some of the others, but it is so very well worth the extra effort. Plus, this would make a wonderful gift for those forgetful people on your list.
Tutorial/Source: thinkingcloset
31. Stenciled Bottles
Upcycling old bottles is one of my favorite crafts. You can just do so many things with them once you've repurposed them. These stenciled bottles can be used for whatever you need, depending on the bottles that you use. Need a vase? Choose a bottle with a smaller opening. Bottles with larger openings can be used as pencil holders or any number of other things. And, you can create them with a few stencils and a can or two of spray paint.
Tutorial/Source: sewsomestuff
32. DIY Penny Vase
You have to love the look of this penny vase and it's so very easy to make. You'll need an empty oatmeal carton and several pennies along with your chosen can of spray paint. This is a beautiful base and no one will know that you didn't pay a small fortune for it at the store. You just hot glue the pennies onto the carton and then paint. So very easy and such an elegant way to display your favorite plants or flowers.
Tutorial/Source: tocrave
33. DIY Elephant Key Hooks
These gorgeous elephant key hooks are made with cheap plastic elephants, driftwood, and gold spray paint. The paint gives them an expensive and really elegant look. Once it's finished, the trunks hold your keys, scarves, or other small items on the wall. This is such an adorable project and who doesn't just love elephants?
Tutorial/Source: creativesoulspectrum
34. DIY Color Block Vases
You know those old glass vases you have under the kitchen sink? Those vases that you never use because you just forget about them? Well, if you spray painted them with this lovely block pattern, you'll leave them out all the time. This is a great project and a really good way to put those old vases to use. Plus, you can give these out as gifts and no one will know that the vase has been hidden under your sink since last Valentine's Day.
Tutorial/Source: savvydesignwest
35. Painted Plastic Pots
What do you do when you have several unattractive black plastic pots sitting around outside your house? You spray paint them and make them beautiful! You're going to want to use these for so many things and if you already have several pots, you won't have to buy anything but the spray paint. Do a number of colors and really have a rainbow look in your yard.
Tutorial/Source: cottageatthecrossroads
36. Fluro Cutlery
Create bold and beautiful cutlery with some spray paint and a few pieces of old silverware. If the pieces are rusted you may need to sand them down a bit. Overall, this is a relatively easy looking project and it gives you this amazing cutlery. What a great addition to your dinner table!
Tutorial/Source: saniapell
37. Gold and Pink Dino Collection
I love these little pink and gold dinosaurs and kids will, too. You'll need those cheap plastic dinosaurs from the Dollar Store and some spray paint. You can make such a gorgeous display from these for your child's bedroom, or if you really like them, leave them out for everyone to see. The gold paint makes them look like little mini statues.
Tutorial/Source: jennabethday
38. Dino Toilet Paper Holder
Okay, so maybe I've gone overboard with the dinosaurs, but you have to admit that they're really adorable. You can use the larger ones to create this cute toilet paper holder, which is perfect for the kids' bathroom. Just spray paint your little dino buddy to match the bathroom décor and you're all set!
Tutorial/Source: thechicsite
39. Curtains
Curtains? Spray painted? Yes! You can give those old drab curtains a great new look with some spray paint. Just use tape to mark off your pattern and then start spraying. This is the perfect way to redo those curtains every year without worrying about the cost of a new set of drapes. Just paint them different colors and you can reuse them over and over again.
Tutorial/Source: squirrellyminds
40. Welcome Mat
You surely have a welcome mat, don't you? If not, here's your chance to have one. You know those cheap straw mats you get at the Dollar Store? The drab ones that don't say anything? Well, take one of those along with a few stencils and some black spray paint and make your welcome message loud and clear. I love the "Hey There" mat but you could honestly do any message that you want.
Tutorial/Source: somewhatsimple
How to Paint Old Light Fixtures
Light fixtures are something that many of us never consider when repainting our homes. They do however, often need a bit of sprucing up. If you buy fixtures from a yard sale or flea market, you may want to give them a new look before you hang them just to make sure that they look great and match your current décor.
This tutorial tells you step by step how to safely paint those light fixtures without ruining the electrical components. It helps you to ensure that you get them exactly how you want them and because you don't do it while they are actually hanging on the ceiling, you can make sure that you don't mess up your ceiling or wall paint.
This is a great trick for restoring old fixtures or adding something new to your home without spending a lot of money. Hit those flea markets and garage sales for cheaper fixtures and then just make them look new with these tips.