Ever think about putting a pool in your backyard? It was something that my husband and I wanted to do for years.
And don't even get me started on the kids. If they so much as overheard us talking about it, they went crazy every time.
And of course it was always a major letdown each time we told them we still didn't think we could do it.
Lately though we've started thinking seriously about installing a backyard pool again, and it's in large part because there are quite a few inspiring projects I've found online! So I have been pulling together this huge list, and I thought I'd share them with you.
A lot of these ideas are pragmatic and affordable … but I've thrown in a few which are quite opulent and a better fit for bigger budgets as well.
Why? Well first of all, because they're just cool. Secondly, they can still provide you with inspiration for lower budget projects.
Check out 38 brilliant backyard pool ideas that could transform your own backyard into a private Eden!
1. Surround Your Aboveground Pool with Beautiful Plants.
Aboveground pools are always more affordable than those built into the ground—but they also tend to be the most unsightly. Here is a pool which proves you don't need to do anything fancy to make an aboveground pool look good.
Even just adding a few plants around the perimeter can work wonders!
Source: handymantips
2. Build an Aboveground Pool Deck
One way you can really spruce up the appearance of an aboveground pool is to build a deck around the outside of it.
This also can provide a place to sit around the edge or place pool toys, drinks, and so on. Check the link below for some instructions to get you started.
Source: hubpages
3. Build Your Own Private Tiki Bar
Here's a genius idea! That is a pretty standard aboveground pool—on its own, it really would be an eyesore.
But simply by fencing it in with some reeds and adding an umbrella and some barstools with a small countertop, it has been transformed into an adorable little slice of the tropics!
Source: craftyincrosby
4. Make a Cute Sign
This is a continuation of the project above. This adorable sign is made from pallet boards, and helps to complete the look—and add some humor!
Source: craftyincrosby
5. Build a Rock Step Entry
Here is another very cool way to help an aboveground pool to better meld into the surrounding landscape. Along with some plants, a set of steps has been constructed here out of rocks. It's absolutely beautiful to look at!
Source: pinterest
6. Build a Swimming Pool Using Pallets
Who says you need to buy a regular aboveground pool? If you don't like that look at all, no matter how well it is disguised, or you just want to do-it-yourself, consider building an aboveground pool from the ground up using wood pallets.
The supplies are cheap and the finished design is gorgeous!
Source: diypalletfurniture
7. Use a Galvanized Steel Stock Tank
This backyard swimming pool is the perfect size for the kids to splash around in, and it is made out of a galvanized steel stock tank with some improvised plumbing. This is a very clever and affordable design, coming in at around $500 for the whole project.
Source: apartmenttherapy
8. Make a Pool Out of Pallets and a Tarp
Previously I shared a swimming pool made out of pallets. Now I want to share another wood pallet design. If you check out the source link, you can view a series of photos showing the steps as it all comes together.
Source: diyncrafts
9. Build the Pool Out of Hay Bales
You wouldn't think that you could build a swimming pool out of something as simple as hay bales, but with a tarp, it can be done.
This is probably one of the most cost-effective methods you could use, especially if you already had the hay bales handy.
Source: reddit
10. Go Dumpster Diving.
This photo comes from a block party that was thrown in Philadelphia. If you search the web, you'll find many other photos like it of other impromptu swimming pools made by filling dumpsters with water. These Philly locals got in some trouble since they used water from a fire hydrant—so whatever you do, don't do that.
Source: philadelphia
11. The Pool Box
This backyard swimming pool in New Orleans reportedly also began life as a trash container, but looking at it, you would never guess! It is absolutely beautiful to behold, and certainly is a far cry from most of the other dumpster pools you'll see.
Architect Stefan Beese really took this concept to new heights!
Source: beesign-la
12. Build a Pretty Staircase
One way you can quickly spruce up the appearance of even the most mundane backyard pool is to incorporate a beautiful staircase.
Not only is the staircase functional, but it vastly improves the appearance of the pool, and makes it feel more inviting.
Source: pinterest
13. Add a Pool Slide
More concerned with how fun your backyard pool is than how it looks? Think about adding in a waterslide for your kids. Believe me, they won't be the only ones who love it—suddenly your backyard pool will be the envy of the entire neighborhood!
Plus, even though the slide doesn't necessarily beautify the pool in any traditional sense, it does give it a more "finished" appearance.
Source: dad-u
14. Build a Sun Dome
If the summer backyard swimming season ends sooner than you'd like, consider constructing a sun dome like this one. A sun dome can help regulate and trap heat, which could help you reduce your costs and enjoy your pool later in the year.
Additionally, it helps to screen out insects (a great benefit throughout the summer) as well as debris, making it easier to clean and maintain your pool.
Source: amazon.com
15. Heat Your Pool with a DIY Solar System
Speaking of cheap ways to keep your pool warm, another idea is to use solar panels! This may be easier than you think; check out the video to find out how it can be done.
Video:
16. Place Your Pool in the Ground
Seriously, sometimes it really is worth it to just dig a hole in the ground. Is it a lot of work? Yes. But can it make even the most basic aboveground children's pool look fantastic? Yes!
Source: home-decor-ideass
17. Build Your Own Concrete Swimming Pool
This guy was looking at $30,000 to get a concrete swimming pool installed, so he scrapped that plan and built it himself with his son for a mere $7,000.
It was a lot of work, but well worth it as you can see in this photo—just take a look at that amazing view!
Be sure to visit the source link to and check out photos of the pool in development and find out more about how he did it.
Source: instructables
18. Shipping Container Pool
Got an old shipping container lying around not doing anything? Why not turn it into a swimming pool?
As this photo proves, this works quite well—though rust is a bit of an issue. If you visit the link below, you can find out more about how the shipping container pool was constructed and what challenges it has posed. After 7 years, it has held up pretty great.
Source: theepic
19. Add a Few Embellishments
In many ways, this little backyard pool is the essence of simplicity—and on its own, it wouldn't look like much, would it?
What really makes it look outstanding is its proximity to the fence along with the little embellishments—the shelf, the plants, the lights, the shower heads, and of course that cute little waterfall, which is just genius! It just goes to show, you don't have to get too fancy or expensive just to make your pool look incredible.
Source: astrollthrulife
20. This Pool is Flat-Out Gorgeous
I don't even know where to begin when it comes to describing how stunning this backyard pool is!
Obviously this would be a very expensive job to commission, but the results just steal your breath away. Beautiful work.
Source: houzz
21. Build a Bar Around Your Pool
This is a self-cleaning hot tub, but you could do the exact same thing with any backyard swimming pool—build a bar around it! The woodworking here is beautiful, and there is shade for those hot, bright summer days as well.
Source: thehottubandswimspacompany
22. Backyard Spa
This is the same self-cleaning hot tub model that was pictured above, only here you see a totally different backyard pool idea.
Once again, I am blown away by the woodworking, and by the simplicity and elegance of the design.
Source: thehottubandswimspacompany
23. Put Your Pool Under a Pergola
This lovely pergola frames this hot tub beautifully, and also provides for a great lighting solution in the evenings. This would work equally well with any small backyard swimming pool!
Source: westerntimberframe
24. Use a Glass Wall in Construction
Okay, so you knew I was going to have at least a few outlandishly unrealistic ideas in here, right? I couldn't resist with this one—that view is jaw-dropping! If you do happen to have this kind of view in your backyard … and the luxury of lots of cash … be sure to use it like these homeowners did, and commission a backyard pool with a glass side.
Source: houzz
25. Think About Installing a Long Swimming Pool
This is another pool that is probably outside your budget—but hey, maybe you are lucky and you can put in a custom installation like this. I wanted to share this pool because it is long and narrow. If you want to swim laps and not just splash around, this design is amazing!
Source: houzz
26. Imitate Nature
This pool also would only be something you could afford if you had an extravagant budget, but isn't it amazing how it melds almost seamlessly into the natural environment?
Source: houzz
27. Construct a Natural Swimming Pool Yourself
Then again, maybe building a natural swimming pool complete with water lilies and other beautiful plants is not outside of your budget—if you do it yourself! Visit the source link below for a fairly comprehensive article which teaches you exactly how to do it.
Source: diyncrafts
28. Build a Pool House
This is a fairly extravagant deck and pool house, but you can see that it was built around a pretty standard aboveground pool. The deck looks incredible—this would totally make you feel like you were on vacation in your own backyard each day! Even if you couldn't construct something this fancy yourself, you might be able to do something similar on a smaller scale.
Source: crestwoodpools
29. Steps and Levels
It's amazing how beautiful a backyard pool can look if you just incorporate some steps and levels using wood or stone.
Source: pinterest
30. Use a Trellis
Here we have a lovely backyard swimming pool which has been surrounded with reeds for that "Tiki" look, along with some potted plants. The addition of the trellis here is the unique feature I want to draw your attention to. What a beautiful way to create a pool deck!
Source: pinterest
30. Long Above Ground Pool for Laps
You don't necessarily need to build a pool into the ground in order to get a long pool which you can swim lengths in. Here is an example of an aboveground pool which is suitable for exercise.
Source: apartmenttherapy
31. Enclose the Pool with Some Lovely Stonework
While the Tiki look is very cool, maybe you want to aim for a different look and feel in your backyard. Here we have a backyard pool with some stonework along the side. Who says aboveground pools can't look classy?
Source: apartmenttherapy
32. Build a Glass Wall Swimming Pool
This is something that will be outside of most budgets, but if you can afford to do it, just look how spectacular the effect can be—even with an aboveground pool.
Source: apartmenttherapy
33. Add a Fireplace
Thinking about making multiple improvements to your backyard? Look for clever ways to combine them, and you can achieve an awesome effect. Here we have a small in-ground swimming pool with a fireplace to frame it. What a cozy spot to relax!
Source: houzz
34. Incorporate Some Artwork
This hot tub has some cool artwork next to it, which is backlit for an elegant effect. Why not try putting some artwork next to your backyard pool, maybe a sculpture? The sky is the limit here, since you could go any direction you wanted with this!
Source: houzz
35. Use Interesting Lighting Effects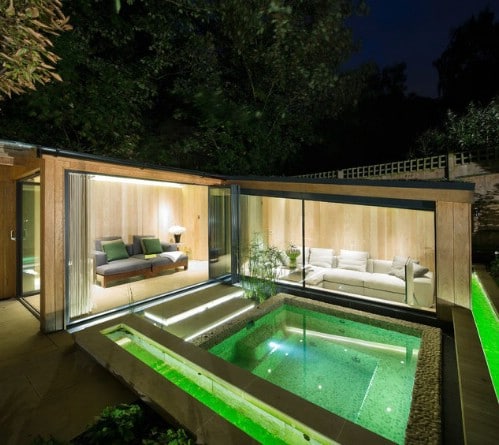 While this pool is unrealistic for most budgets, perhaps there is an idea you can take from it. What makes this pool look so amazing? Part of it is the way the different channels of water are arranged around the main pool—and part of it is the angling and different levels. But a big aspect of what makes the pool look incredible is the lighting. How awesome is that glowing green water? You might be able to use an idea like this to give your own backyard pool a cool club vibe!
Source: houzz
36. Pirate Ship Pool
Kelly and Susie Lundgrin used to have a pretty basic 10x10 foot deck around their aboveground pool—but why have a standard, boring old deck when you can have a pirate ship? The ship itself was designed entirely by them, and is in fact essentially just a really unusual deck. It provides privacy when they are in the pool, keeps the neighbors guessing, and looks totally amazing.
Source: cjonline
37. Build a "Cave" to House Your Pool
How ridiculously awesome is this? Constructing something like this may seem unrealistic, but it may be more feasible than you think. Apparently a custom metal mesh was constructed on-site (no molds were used), and then it was sprayed with concrete and dyed. So imaginative!
Source: houzz
38. Unbelievable Pool Transformation
Now for something more practical! If you are looking for a straightforward way to build a gorgeous enclosure for a typical cheap aboveground pool, it is hard to beat this! Click through to the link to see how it was done!
Source: diyncrafts
Bonus: Water Blob
Really can't afford a backyard pool, but still looking for a way for your kids to have a blast this summer with water out in the backyard? Make them a water blob! Check out the link to find out how to do it!
Source: diyncrafts
Conclusion:
As you can see, even an aboveground pool can be absolutely stunning if you are creative and willing to put in the time and the work.
I hope you enjoyed all these inspiring backyard pools. Get ready to dive into your own backyard paradise!
There are so many reasons why it's a challenge to install a pool in the backyard. In most cases, it seems to boil down to one of the following two issues:
1-Either you have a concept that is going to look fantastic but totally break the bank,
Or …
2-You've come up with something you can afford, but it's going to be a complete eyesore when you install it. Ugh—talk about buyer's remorse.
And then there is a slew of logical problems involving plumbing and whatnot to contend with as well. It's no wonder we got so discouraged. So if you've been wussing out of installing your own backyard pool, don't fret—you're hardly alone.