Halloween is nearly here and that means party planning, candy hoarding and DIY decorations! I love decorating for Halloween and I love planning scary parties even more. To that avail, I've begun looking for some wonderfully scary drinks to serve at my next Halloween get-together and I have found what I think is the best of the best. I've got 30 frighteningly fun party drink recipes to share with you that are sure to thrill your guests.
None of these drinks contain alcohol so they are perfect for kids and adults alike. From frightening blood colored punch to drinks that actually sizzle and foam, your guests are sure to adore what you have in store for them. I really do love making an impression with my DIY projects and my recipes are no exception. When I create a new recipe, I want people to really notice, which is why these drinks have made the list. They are all notice worthy! Of course, you will need food to serve with your scary Halloween drinks, so be sure to head over and check out these 250 scary and delicious Halloween food ideas.
I really do love hosting Halloween parties. We've been doing it since my kids were tiny and they still love it ever year. While dressing up may be the best part for some people, my favorites always lie in making things. I make my own Halloween party décor and have even hosted a DIY haunted house or two in my time. I've used so many of these great DIY Halloween décor ideas. Cheap and easy are my favorite DIY projects!
So, if you are planning to host a Halloween party and you need a good idea for a scary punch or any other Halloween drink, this is the recipe collection for you. You are sure to find the perfect drink to scare your guests and quench their thirst at the same time. Happy Halloween and I hope your party is a huge DIY success!
1. Bat Juice Halloween Mock Cocktail
This bat juice drink looks like a cocktail but there is no alcohol involved, so it's perfect for even your younger guests. Kids will love the dark color and the taste. It's made with 7-Up and black Twizzlers, which incidentally act as straws too if you want them to. It's a really simple punch like drink to make and one that your little gobblins will gobble up.
Recipe: celebrations
2. Delicious Black Halloween Punch
Here's another really dark punch that is perfect for those Halloween parties. You make this one with grape and orange flavored drink mix and it has a frozen hand floating in it. It's sure to be the scariest and the tastiest thing at your Halloween party and it's super easy to put together. It's one of the least expensive punches that you could make, too!
Recipe: allrecipes
3. Blood Orange Mock Martini
You can make this blood orange martini without alcohol so it's perfect for children's parties. It looks great and is really tasty so kids are going to love it just as much as adults do. Draw a spider web on your glasses to make it even creepier and add a spider – not a real one of course. With black frosting, blood orange juice and orange syrup, it's a tasty and somewhat healthy drink.
Recipe: culinaryginger
4. Bloody Shirley Temple Drinks
These bloody Shirley Temple drinks are as delicious as they are creepy. The creep factor comes from a plastic syringe that is filled with "blood" (which is actually grenadine). You just pour Sprite over ice and add a squirt of grenadine to give it a bloody look. Then fill your toy syringes with grenadine and kids can have a blast mixing their own bloody drinks.
Recipe: madefrompinterest
5. Bubbling Swamp Juice
Kids are really going to love this bubbling swamp juice. Not only is it green and grotesque, it's also delicious. It's a great Halloween take on traditional hot chocolate, using white chocolate chips and green food coloring to give it that great scary look. Top it off with mini marshmallows and centipede gummy worms for a really nice creepy look.
Recipe: tasteofhome
6. Homemade Bug Juice
This isn't the Bug Juice that you buy in convenience stores. It's a much creepier Halloween drink and one that your guests will adore. With lime flavored gelatin mix and real juice, it's a pretty healthy take on traditional punch as well. You top off the green concoction with gummy worms and other creepy crawly candies to give it a great swamp look. And the ginger ale makes it bubbly.
Recipe: susikochenundbacken
7. Harry Potter Inspired Butterbeer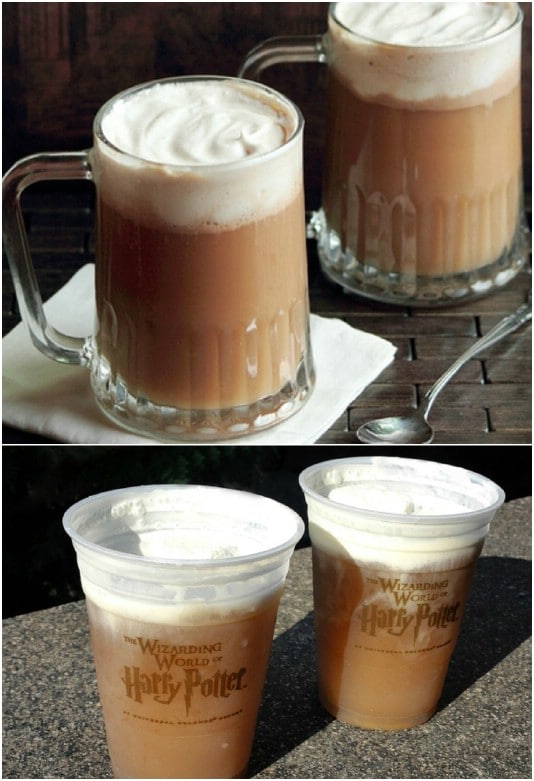 If you love Harry Potter, there's no doubt that you've always wondered what butterbeer tastes like. Well, now you can stop wondering and mix up a batch for your Halloween party. Butterbeer is simply a mixture of brown sugar, butter, apple cider vinegar, heavy cream and cream soda. Mix it all up and pour into mugs or tumblers to give your Harry Potter themed Halloween party a real pick me up.
Recipe: pastryaffair
8. Candy Corn Halloween Drinks
Candy corn is a must for any Halloween party. If you don't want to have it out in candy dishes, then simply make candy corn drinks. White juice acts as the bottom layer with darker juice like mango acting as the middle layer. For the top, you use a yellow colored juice like a tropical citrus. Then just add crushed ice and you've got a lovely and really tasty Halloween colored drink.
Recipe: boulderlocavore
9. Tasty Caramel Apple Cider
It just wouldn't be fall without some apple cider and this caramel apple version is perfect for Halloween parties. It's made with apple cider, caramel ice cream topping, and whipped cream. Make them up in your glasses and garnish with cinnamon sticks for added decoration. These are really tasty and really easy to mix up and kids are going to love them as much as adults.
Recipe: pastryaffair
10. Gory Cemetery Slime Punch
This is a great punch recipe for parties. It's easy to mix up and really delicious. You make it with root beer, gummy worms, vanilla frozen yogurt and chocolate frozen yogurt. It's the color that gives it that creepy factor although the taste is out of this world. It looks so great surrounded with scary Halloween themed dishes and your guests are going to really adore it.
Recipe: cookingchanneltv
11. Cherry Chiller With Blood Drip Glasses
This cherry drink is made with lemon lime soda, grenadine and some maraschino cherries. The cherries give it a really spooky eyeball look and you can make the blood drip glasses by rubbing the rims in a mixture of corn syrup and red food coloring. This drink is as refreshing as it is terrifying and it's absolutely perfect for Halloween parties for all ages.
Recipe: diynetwork
12. Spooky Dragon's Blood Punch
This dragon's blood punch is made with ginger ale, cranberry and apple juice and Hawaiian punch for color. The deep red color is gorgeous and perfect for a scary drink. Pour it into "blood" rimmed glasses or you could even add decorative ice cubes like dragons or dragon eggs to give it real character. It's a super easy recipe to make and one that kids will love to drink.
Recipe: foodnetwork
13. Scarily Easy Halloween Punch
This punch is so easy to make and it's super scary. You just pour Sprite into glasses or a punch bowl and add Nerds. Then use Halloween themed Peeps to decorate straws and add some creepy Halloween candy eyeballs for added effect. This one is so very easy and is probably one of the most decorative and scary punch recipes I've seen. Kids are going to love it!
Recipe: agirlandagluegun
14. Fun Fizzy Pumpkin Halloween Drink
The fun part of this drink is that you serve it in pumpkins – well, pumpkins that you make from mason jars anyway. Textured jelly jars work really well and you can decorate them with jack-o-lantern stickers to make your pumpkins. The drink itself is just a mixture of orange juice, pineapple juice, lemon lime soda and orange sherbet. It's much like the wedding punch that I've been making for years!
Recipe: thehouseofsmiths
15. Frankenstein Punch
This Frankenstein punch is really simply to make and really fun to serve. To make the punch, just mix ginger ale, chilled pineapple juice and lime sherbet. The fun is in the glasses. Make Frankenstein looking glasses using clear plastic cups. Just draw on your Frankenstein faces and then glue two Rolos to the sides. Add your green punch and you have a wonderful Frankenstein drink that's as cute as it is delicious.
Recipe: bedifferentactnormal
16. Spooky Foggy Drinks
These foggy drinks are sure to be the hit of your Halloween party. Note that you'll be using dry ice to make them so this is not recommended for children. You mix the drink in a clear glass bowl or a punch bowl. You'll need Kool-Aid or Gatorade for the drink base along with gummy worms and your dry ice. Just chip off pieces of your ice and add to your punch to create the fog whenever needed.
Recipe: kidsactivitiesblog
17. Cute Ghost Milkshakes
Ghost milkshakes are so easy to make. You literally just make a vanilla milkshake and then add small chocolate cookies or google eyes to turn them into ghosts. Kids will really love these and you'll love how quick and easy they come together. You just need vanilla ice cream, milk, whipped cream and your googly eyes.
Recipe: herecomesthesunblog
18. Hot Chocolate With Ogre Eyes
Imagine dressing your party table with this ogre eye hot chocolate. You just make traditional hot chocolate and then add ogre eyes by putting chocolate chips or chocolate candies inside marshmallows. Dress your drinks right before serving so that the "eyes" don't melt. These are really cute and you can dress them up even more by using colored marshmallows or adding food coloring to your hot chocolate.
Recipe: tasteofhome
19. Creepy Gummy Worm Punch
This gummy worm punch is really cute and kids are going to adore it. Just freeze green Hawaiian punch with gummy worms in a muffin tin and then add those frozen discs to a mixture of lemon lime soda and Hawaiian punch. The worms will come out as the discs melt into the drinks. These are pretty quick and easy to put together and are sure to be a hit with kids and adults alike.
Recipe: bitzngiggles
20. Jack-O-Lantern Smoothies
Chocolate chips create the face for these adorable jack-o-lantern smoothies. You melt chocolate chips and use a knife to spread inside clear plastic cups to make the eyes, nose and mouth. Then blend yogurt in orange or peach with orange juice, banana and mandarin orange segments to create the yummy punch. It's a healthy and delicious punch that has just the right hint of chocolate to make it dreamy.
Recipe: pillsbury
21. Bubbly Magic Potion Punch
This punch really is magic! You mix lemonade with grape juice and lemon lime soda to create it and then add a teaspoon of grape flavored Jell-O powder, which creates the magic. It will fizz and create the perfect complement to any magically inspired Halloween decorations. Kids will love the taste and you will love how easy it is to make.
Recipe: bitzngiggles
22. Healthy Halloween Milk Shooters
Sometimes simple is the best way to go and these milk shooters are definitely simple. They're also really healthy and a wonderful way to get kids to drink their milk. To make these ghastly ghost drinks, just rim a glass in melted chocolate and dip it in Halloween sprinkles. Decorate the outside of your glasses to make a little ghost face and then fill the glasses with milk.
Recipe: feedingmykid
23. Tangled Web Milkshakes
Kids really love milkshakes and these tangled web shakes are no exception. They'll definitely love the taste and the look of this one. Dark chocolate and caramel make zig zags throughout the milkshake, which sort of resembles the hair on Frankenstein's wife. You also add a web made from caramelized sugar to each glass to really give them the Halloween spirit.
Recipe: bhg
24. Scary Monster Guts Punch
This scary punch is made from fruit punch, 7-Up and ice cream and topped with yummy yet creepy gummy worms. The gummy worms, along with candy eyeballs and other creepy confections, are what give this punch its fun look and taste. Kids will love it and you can even set it up so that they make their own, which takes some of the work away from you.
Recipe: porch
25. Mummified Juice Boxes
This is a really easy way to dress up your Halloween party table and it takes away a lot of the mess of punch bowls and cups or glasses. These little mummy drink boxes are super easy to do and kids are going to love them. Just cover your drink boxes – whatever flavors and brands you want to use – in gauze or white paper tape and use hot glue to hold it all together. Then add your eyes and you're all set.
Recipe: stockpilingmoms
26. Halloween Colored Hot Chocolate
If you want to serve hot chocolate but you want something that has more of a Halloween color to it, this Halloween hot chocolate fits the bill. It's made with white chocolate as opposed to milk chocolate so you can color it whatever color you want. Just add food coloring to turn it orange, green or purple. Then, top it off with a bit of whipped cream and some googly eyes or Halloween sprinkles.
Recipe: yourhomebasedmom
27. Swamp Potion Punch
Here's another wonderful punch recipe that is easy to make and eerily scary for Halloween. You decorate the glasses to make this even more special. The punch has banana, kiwi strawberry sparkling water, orange sparkling water and coconut milk. To prepare the glasses, just rim them in green frosting and then dip in Halloween sprinkles and add plastic spiders and other creepies.
Recipe: eazypeazymealz
28. Blue Slime Punch
This is another great punch recipe that takes just a few ingredients and very little time to put together. It has blueberry gelatin, lemonade, Sprite or another lemon lime soda, and water. Just mix all of the ingredients together in a punch bowl and then add any gruesome candies that you want to give it a really great Halloween look.
Recipe: food
29. Rotten Apple Punch
You don't really use rotten apples to make this yummy punch but it sure looks like you do. The rotten apple color comes from grape and lime Kool-Aid and then you add gummy worms and rotten apples that you make from freezing gummy worms in the grape Kool-Aid. It's such a delicious tasting punch and it has a wonderful Halloween color.
Recipe: https://www.youtube.com/watch?v=9thQKH4wktU
30. Sparking Apple Punch
Your punch doesn't have to be scary or contain gruesome ingredients. This sparkling apple punch is really refreshing and perfect for a Halloween party. It's also relatively healthy with apple, orange and cranberry juice along with ginger ale and whatever garnish you want. Adults and kids alike will love the taste and you will love that you are serving them something with real juice as opposed to something with just a lot of sugar.
Recipe: culinaryginger