Have you gotten on the recycling kick yet? If you haven't, you really should.
Not only is it good for the environment, it can help you tremendously when you're doing DIY projects.
If you've been thinking of beginning your recycling or you've been recycling and just need a new station to keep your recyclables organized, I've got just the collection of ideas for you.
I've found 20 easy DIY home recycling bins and stations that you can make in very little time and many of these can be made with things that you already have on hand…so they're free.
Jump to:
1. Behind The Door Recycling Station
You don't need a lot of space to create a great recycling station. This behind the door solution is perfect if you live in an apartment or tiny house. This would be great behind the kitchen or mudroom door.
Just hang up your recycling bins and then pull them down when you need to empty them. You can use anything from reusable plastic bags to small wooden crates to hold your recyclables.
Tutorial/Source: makeit-loveit
2. DIY Pantry Recycling Center
You certainly don't want a lot of trash in the same pantry where you keep your food, especially if that trash tends to spill over or fall into the floor. This DIY pantry recycling center is perfect for keeping the pantry organized and having a place for all that plastic and paper.
You can build these out of corrugated plastic and they're super simple to make.
Tutorial/Source: manmadediy
3. Easy Metal Bucket Recycling Station
These metal buckets are perfect for keeping your recycling organized. Whether you put them on the deck, in the garage, or even hang them on a wall in the kitchen, they're inexpensive and hold quite a bit depending on the size that you buy. Just attach printed out labels or paint a custom label on each one so that everyone knows where each recyclable goes.
Tutorial/Source: sarahhearts
4. DIY Double Bin Recycling Station
In my house, we worry more about soda cans and plastic bottles with regards to recycling, so this double bin recycling station would be perfect. If you only need two spaces for recyclables, this is a pretty easy build and it's absolutely gorgeous when it's finished.
It'll cost you around $100 if you don't have any of the required materials, which isn't bad at all. But, if you have a few boards laying around the house, you can get this done for much less.
Tutorial/Source: ana-white
5. Quick And Easy DIY Recycling Bin
You can instantly turn an ordinary plastic trash can into a recycling bin. You just need to label it and then instruct your family to place their plastic, metal or paper in there.
This one is really inexpensive as well. If you don't have a plastic trash can on hand, you can pick them up at the Dollar Store for less than $10, which makes this a really cheap solution for recycling organization.
Tutorial/Source: 11magnolialane
6. Repurposed Filing Cabinet Recycling Bin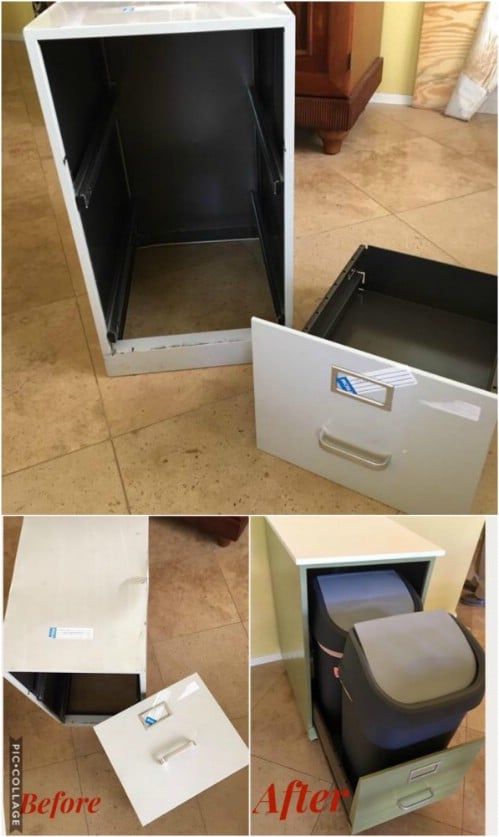 You can turn an old filing cabinet into a great little recycling station with just a bit of work. If you don't have a metal filing cabinet, you can get these at thrift stores for around $10 or so.
You simply remove the top drawer and then add trash cans that are labeled with your recycling. The bottom drawer pulls out, revealing your recycling bins and when it's closed, the bins are hidden from view.
Tutorial/Source: hometalk
I love the idea of hiding away the recycling station. It's not that I mind recycling – I just like things to be in order and having trash in view just doesn't sit well with me.
That's why I adore this hidden recycling station. You can't even tell that it's a recycling bin at all. It's an upcycled kitchen cabinet that looks for all the world like an expensive piece of furniture – underneath and hidden penalty away are all the recycling bins you need.
Tutorial/Source: projectophile
8. Repurposed Tote Stackable Recycling Bins
You can buy stackable recycling bins or you can make them yourself. Personally, I prefer the DIY way and these repurposed totes are perfect for stackable recycling.
You simply choose the size of totes that you want or need, cut out a section in the front to place your recyclables inside and then stack them. You can even remove the lids if needed to remove the recyclables when you're ready to haul them off – or repurpose them.
Tutorial/Source: homesteadprep
9. Stackable Milk Crate Recycling Storage
Plastic milk crates are great for any number of DIY projects. I love the idea of using these to organize your recycling, and there are a few different ways that you can do so.
You can stack them up in the mudroom or on the porch with labels for your recycling items or you can even hang them on the wall. They make a wonderful shelving unit and give you so many spaces for all of your recyclables.
Tutorial/Source: pinterest
10. IKEA Cupboard Recycling Center Hack
You can turn an ordinary IKEA cupboard into a lovely recycling station that's hidden away from view. Plus, this one is accessible from the top so you merely have to remove the lid to drop in your recyclables.
The doors then open for easy removal of your recyclables. This is a really gorgeous cabinet and the entire station doesn't take much work – or much money.
Tutorial/Source: ikeahackers
11. DIY Kid-Friendly Recycling Station
It's a great idea to teach your little ones to recycle and the younger the better. This kid-friendly recycling station is sure to make recycling fun so that they'll continue doing it long after they are grown.
The trick is in letting them help you to make the recycling station and it can be done from empty cardboard boxes. Let them draw or paint pictures or designs and they'll always want to place their trash in the right recycling bins.
Tutorial/Source: momtastic
You can easily build this outdoor recycling station in a weekend and it doesn't cost much at all. If you prefer to keep your recyclables outdoors, this is perfect. It's a little shed that completely hides those bins away and it looks great wherever you choose to put it.
You could build it on the deck or porch if you don't have anywhere in the yard to place it and it won't take away from your outdoor décor at all.
Tutorial/Source: sunset
13. Repurposed Metal Trash Can Recycling
These metal trash cans are perfect for recycling – they're trash cans! You don't have to just place metal cans on the porch or deck, though. You can decorate those cans and make them blend in well with your existing outdoor décor. These can also be used indoors and they have plenty of space for keeping all of those recyclables organized.
Tutorial/Source: sweethaute
14. Repurposed Laundry Sorter Recycling Bin
If you have a laundry sorter that you are no longer using, you can easily convert it into a recycling station. Even if you don't have one on hand, these aren't terribly expensive.
The great thing about these laundry sorters are they are on wheels so taking that recycling out to the car will be a cinch. Or, you could make it stationary and simply build a cabinet around it to hide it away.
Tutorial/Source: diydanielle
15. Upcycled Shopping Bag Recycling Bins
Plastic coated shopping bags are perfect for recycling, particularly those with flat bottoms.
They have handles that are sturdy enough to carry that recycling to the recycling center, so you don't even have to bag it up when you're ready. Line the bags up on a shelf or hang them on the wall or the back of the door if you're low on space.
Tutorial/Source: bhg.com
16. Easy DIY Rolling Recycling Storage
Kids are going to love these low to the ground recycling bins. You make them with totes and house them in a rolling cart.
This lets you set up a cute little station that is easy for the kids to reach and it gives them a wonderful opportunity to grab some of those plastic bottles and other recyclables for art projects.
Tutorial/Source: handmadecharlotte
17. Slide In Laundry Basket Recycling
Okay, so this one is actually an organizer for laundry, but it would make the perfect recycling station.
The concept is the same. Just build the slide in cabinet and then label your laundry baskets for the items that you want to recycle.
The entire project is really cheap and you can have it all put together in a weekend or less. It's perfect for organizing recyclables if you don't have a lot of space available.
Tutorial/Source: makeit-loveit
18. Stackable Garage Recycling Station
Turn totes into the perfect stackable recycling station for the garage. You just have to hang the totes on the wall – 2X4s can help with this – and then label them.
The totes lift up and off the boards so you can easily empty them and this helps to keep them off the garage floor so you save precious space that you may need for other items.
Tutorial/Source: familyhandyman
19. Upcycled Wooden Pallet Recycling Bin
If you need to hide away those recycling bins, this upcycled wooden pallet idea is perfect. You can use it like a stand for plants or anything you want and it holds your trash can underneath where you keep your recyclables.
Note that this is only for one trash bin, so if you have several different recycling types, you'll need to build one for each. The good thing is that these are pretty easy to build and pallets are really cheap, so they won't cost much at all.
Tutorial/Source: savedbylovecreations
20. Repurposed Wooden Crate Recycling Bins
Wooden crates are great for decorating and they're also great for organization. This DIY recycling station is made from inexpensive wooden crates and gives you loads of room for those recyclables.
If you don't have wooden crates on hand and don't want to buy them, you can make them yourself. They stack on top of each other easily so they also help you to save space.
Tutorial/Source: laurasplans
Conclusion
I really love doing DIY projects with my recycling.
From bottles to broken furniture, I adore turning something that would otherwise be trash into a new treasure. Just take a look at these 25 bottle cap upcycling projects.
You can do these with caps from those soda bottles that you save in your recycling bins. There are tons of ways to use up the bottles, as well. So, if you aren't recycling, you should be and I've got just the easy DIY recycling bins to get you started.
From recycling stations that you can hide behind the door to save space to those that you build outside that have their own shed, you're going to love all of these different ways that you can get on the recycling bandwagon.
Recycling is so great for the Earth and it's a wonderful way to teach kids responsibility – there are some great kid friendly recycling bins that you can make, too.
From plastic and paper to tin cans and everything in between, you'll see some wonderful recycling station ideas that you can begin implementing immediately.
And, if you typically save paper like newspapers and magazines, you need to take a look at these 30 crafty ways to upcycle those old magazines.
I hope I've gotten you excited about recycling for your DIY projects. Even if you don't plan to use your recycling for projects, it's a great idea to keep certain items separated from your normal trash.
These great DIY recycling bin ideas should be plenty to get you started on your way to recycling fame.