You know those boxes of like 100 plastic drink straws? I bought one of those last year because my young son thought drink straws were fun. He used about five of them and then promptly lost all interest, so they have spent the past year in the drawer collecting dust.
Recently I have been learning how to do crafts with simple supplies—like how to make a jewelry box out of a duct tape roll, or how to make drink coasters out of popsicle sticks. So I got to wondering what I could craft out of plastic drink straws, and I ended up coming up with 5 really awesome projects. Watch the video below to learn how to make all 5 projects in just 4 minutes!
Video Tutorial:
Materials:
Amazon.com affiliate links.
Colorful plastic drink straws
Ribbon
Hot glue and glue gun
Pencil sharpener
Embellishments
Directions:
Necklace
1. Cut a couple of colorful plastic straws into a number of pieces.
2. Get a ribbon and push 3 straw segments through it of equal lengths.

3. Tie a knot so that you have an equilateral triangle.
4. Attach 2 or more segments on each side (your choice).
5. Attach a bow and pearl or other cute embellishments to the front.
6. Wear your pretty new necklace.
Picture Frame
1. Glue two straws together so that they form a teepee shape.
2. Glue a third one down the middle pointed straight downward.
3. Stand them up to make a tripod.
4. Glue one more straw horizontally across one face.
5. Set a photograph on it to display. Now you have a cute picture frame.
Bracelet
1. Run a straw through a pencil sharpener.

2. Tie or glue it shut to form a bracelet.
3. Wear it and enjoy.
Candle Holder
1. Lay 2 straws down parallel to each other, and then glue 2 straws on top of them perpendicularly at either end to form a square.
2. Glue 2 more straws on the top and bottom.
3. Glue 2 additional straws on the sides.
4. Keep doing this, stacking upward like you are building Lincoln Logs.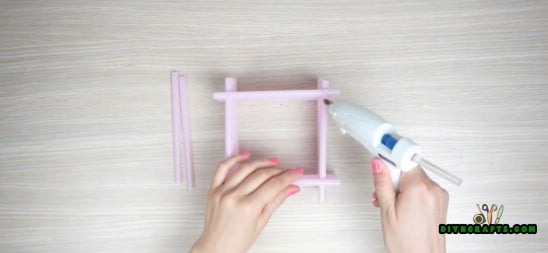 5. Once you have stacked as high as you like, put a candle inside. Now you have a beautiful glowing candle holder. Embellish it as you choose.
Hanging Stars
1. Glue 5 straws together to create a star shape.

2. Attach a string at the top and you can hang it from the ceiling.
Video:
You now have 5 beautiful and simple projects you make using your extra plastic straws. Have fun!