I love decorating my garden with all sorts of whimsical crafts. I wondered recently if there were perhaps more things that I could add than what I already have in there and of course, I found so many great DIY projects.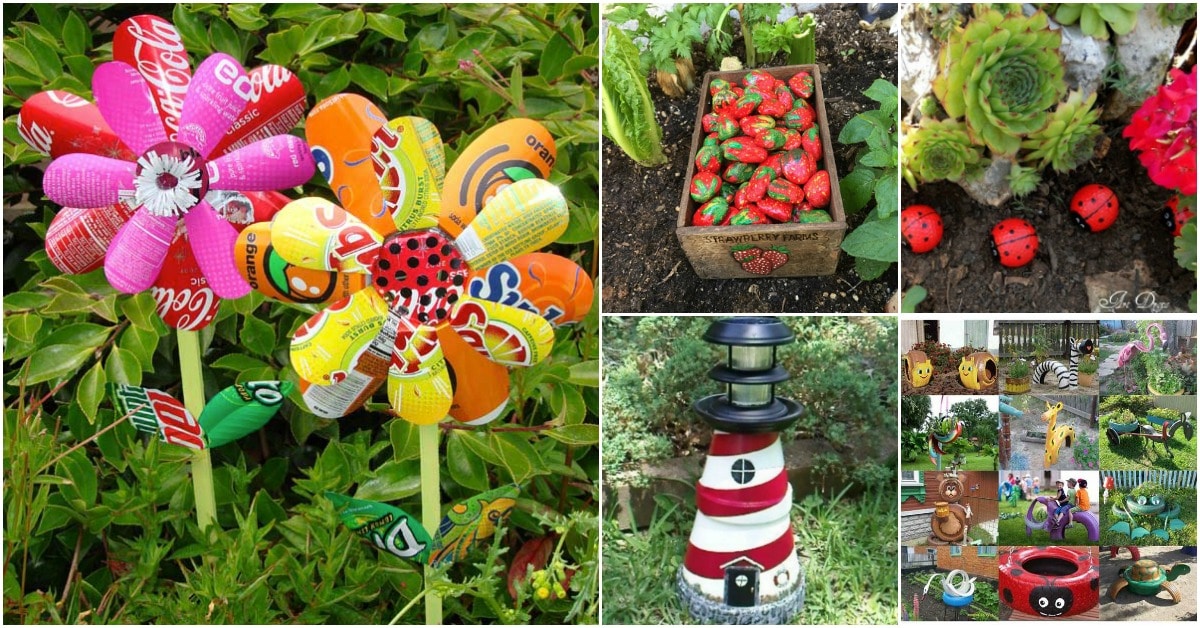 If you love making your own garden décor and even more specifically, if you love adding a whimsical look to your outdoors, this project collection is for you.
I've found 30 wonderfully whimsical ways that you can add charm and grace to your garden, and most of these won't cost you much if anything at all to make.
Jump to:
1. Repurposed Brick Book Decorations
Turn some old bricks into these great looking faux books and bring some whimsy to your garden. You just choose your favorite book titles and paint them onto bricks.
These would look great lining your steps or even sitting right there in the flower garden for some extra décor. What a wonderful way to add some whimsy to your favorite reading place!
Tutorial/Source: punkprojects
2. Clay Pot Lighthouse
I have always loved lighthouses and use them as often as I can in my indoor and outdoor décor. I really adore the idea of turning clay pots into lighthouse decorations for the garden. These are so easy to make and they're really cheap considering you can get terra cotta planters at the Dollar Store for around a dollar each. Just paint and stack and you have a wonderful decoration for the garden area.
Tutorial/Source: diyncrafts
3. Garden Cactus Marquis
Turn your garden area into a brightly lit display with these amazing cactus lights. If you don't plant cactus in your garden, this is a great way to integrate that same style and light up your garden at the same time. You can make these, but I found these gorgeous ones on Etsy for just under $70 and they come in an array of colors to perfectly match your outdoor décor.
Tutorial/Source: etsy.com
4. DIY Crystal Watering Can
Take an old watering can and turn it into a beautiful garden decoration with some crystals. I love this idea for so many reasons. It's gorgeous and it really stays in line with your garden theme.
The crystals look like water coming from the can's spout and overall, this is a really easy way to add beauty to your flower garden or backyard area.
Tutorial/Source: craftsbyamanda
5. Decorative Glass Stone Garden Balls
If you don't have decorative garden balls, you really need them. They add just the right touch to any garden area and these are really easy to create with glass stones that will shine brightly in the sunlight. Just cover a bowling ball or other spherical shaped item in glass stones in whatever colors and designs you want.
Tutorial/Source: empressofdirt
6. Fun DIY Garden Rock Caterpillar
I love the idea of putting bugs in the garden – not real ones, mind you but these whimsical and colorful rock bugs. These little caterpillars are so much fun to make and to look at, too.
You can use stones that you buy at the store or use up those rocks that are in your yard and get them out of the grass in a fun and creative way.
Tutorial/Source: nelliebellie
7. Painted Rock Ladybugs
I love ladybugs, as long as they're not in my garden, that is, which is why these painted rock versions are my favorite.
You just need some rocks and some paint and you can create these cute little ladybugs that will grace your garden, and this version doesn't bite or cause issues with your plants. Put these everywhere you need a little extra something to add to your plants.
Tutorial/Source: pietrevive
8. DIY Fence Post Garden Bench
This garden bench will add function and whimsy to the garden or yard. You can even use repurposed fence posts to make it if you have any on hand. It's a really attractive addition to the garden and gives you a wonderful place to sit and relax while you're admiring all your beautiful plants and flowers.
Tutorial/Source: dukesandduchesses
9. Upcycled Tire Garden Animals
Okay, I love upcycling old tires. They can be used to make so many wonderful things, including these cute little garden animals. No matter what animal is your favorite, you can likely make it from old tires.
From parrots and giraffes to bears and turtles, there is definitely a tire animal in here that will allow you to add a spark of whimsy and color to your yard or garden.
Tutorial/Source: icreativeideas
10. Upcycled Paint Can Fairy Luminary
Fairy gardens are certainly all the rage right now and this upcycled paint can project will help you to get in on the craze. You just create a design in your paint can by poking holes with a nail and then add tealights to light them up at night. The can itself can be designed to look like a fairy house so you get great garden décor as well as a wonderful light for those dark evenings.
Tutorial/Source: thechillydog
11. Repurposed Tire Planter
This old tire gets new life when it is added to a base and filled with beautiful flowers. This is a great upcycling project for old tires and an old table or chair. Paint the tire if you want to give it a newer appearance or you could even wrap it in rope if you prefer a more rustic look. I love the idea of setting it on legs so that it's off the ground and you can use it for all sorts of plants and flowers.
Tutorial/Source: thegreenhousediaries
12. Adorable DIY Golf Ball Ladybugs
Here's another wonderful ladybug idea to add a bit of style to your garden. Take some old golf balls and turn them into adorable little ladybugs. If you don't have any golf balls, you can often find them at yard sales for about a dollar per dozen, so you can create a number of little bugs to give your garden a bit of whimsical style.
Tutorial/Source: diyncrafts
13. Upcycled Soda Can Flowers
If you drink soda and typically don't recycle your cans, why not upcycle them into these amazing garden flowers? These are pretty easy to make, although you do need to cut the tin so it's a project that requires precision and carefulness. The flowers are so colorful and are definitely a great addition to your flower bed or lawn.
Tutorial/Source: plantinghappinessblog
14. Stone Garden Birdhouse
Turn those old garden stones into beautiful birdhouses and hang them throughout your flower bed or lawn.
Not only is this a great way to get those stones out of your garden and yard, it's a wonderful way to treat your little birdies to their own beautiful houses.
You'll need a wooden birdhouse and then you just glue the stones to the outside, giving them a really unique appearance and giving you a wonderful garden decoration.
Tutorial/Source: empressofdirt
15. Colorful Upcycled Hubcap Flowers
Old hubcaps can often be found at thrift stores and yard sales and they're pretty cheap. You can take them home and turn them into gorgeously colored flowers for your lawn.
Just paint them bright colors and then use old wooden stakes or even broken shovel handles to place them in the ground. They're easy to make and so gorgeous when you add a few together.
Tutorial/Source: theweathereddoor
16. Mad Hatter Bird Bath
I love Alice in Wonderland and the Mad Hatter is my favorite character. That's why I had to add this Mad Hatter styled bird bath when I saw it.
Use old teapots, cups and saucers to create it and you can toggle it if you want to give it a more Mad Hatter look. Paint in whatever color you want or if you're looking to add a nice Alice in Wonderland look, paint the different pieces in different bright colors and even add polka dots and other decorations.
Tutorial/Source: morenascorner
17. Hand Painted Rock Garden Markers
These hand painted rock garden markers not only give your garden area a little color, they're functional as well. If you're using them in an herb or vegetable garden, you'll always know which plants are which.
Or, you could paint messages or family names on them if you don't need them to actually mark your plants.
Tutorial/Source: craftsbyamanda
18. Upcycled Frame Planters
Turn old picture frames into these beautiful plant displays! This is such an easy and very farmhouse looking project. If you have old frames that you aren't using, or those that the glass has come out of, you just hang them in the garden and use them to silhouette some of your favorite hanging plants.
This would also work on the porch or deck and you can add color if you want by painting the frames before you hang them.
Tutorial/Source: organizedclutter
19. Whimsical Footprint Rock Décor
These little footprints are really cute and pretty easy to put together if you have the right rocks. You can buy stones if you don't have any on hand and this will still be a pretty inexpensive project to pull off.
Just choose stones in the right shape and then make little "feet" throughout your garden or along your pathway. You could also glue them to concrete pavers or wooden squares to make pathway stones.
20. DIY Rock Stone Art
Remember those pet rocks you had when you were young? Well now you can have an entire family of them and use them to add a little whimsical charm to your garden.
You just choose rocks that you can stand up somewhat, paint eyes on them and then glue them all to a larger base so that you have an entire crowd of little rock people. Talk about a rock band!
This is a great décor option for flower beds or even a nice conversation piece on the deck.
Tutorial/Source: instructables
21. Natural Sun Catcher Wind Chimes
This is a wonderful upcycling project for old jar lids and a great one for the kids, as well.
You use mason jar lids to create natural sun catchers and when you add them all together, they also make a nice wind chime for the porch or garden.
Decorate them with pressed flowers and other natural items and then tie them all up with wire or twine and hang them from a twig or other natural object.
Tutorial/Source: handsonaswegrow
22. Strawberry River Rocks
Adding strawberries to the garden is always a good idea, even when those strawberries are actually stones.
I love these hand painted strawberry stones and think they would look perfect in the flower bed or even in the mulch up next to the house. You can get these on Etsy for just a dollar each if you don't want to actually hand paint them yourself.
Tutorial/Source: etsy.com
23. DIY Teacup Garden Stake
No, you don't actually use a real teacup to make this garden stake. You craft one out of copper pipe. This is a beautiful stake for the garden and a wonderful way to show off your DIY skills.
Once it's finished, you can decorate with flowers and greenery or just leave it as it is – it's beautiful either way.
Tutorial/Source: ohmy-creative
24. Whimsical DIY Tire Teacup
Turn an old tire into a whimsical teacup that will instantly brighten up your garden area. You can do these in so many different styles from whimsical to elegant and each of them makes a wonderful planter for your garden area.
Add bright colors and polka dots for a more fun approach or use traditional colors and a more elegant design for something a bit less whimsical.
Tutorial/Source: diyncrafts
25. Recycled Tire Wishing Well
There are so many ways to use tires in your garden décor and this wishing well is probably one of my favorites. It looks really easy to make, too. You'll need three tires plus the materials to build the top – pool noodles work wonderfully as roofing materials.
When this is finished, it's a beautiful piece to add to your garden and you won't even have to spend much making it if you already have a few tires on hand.
26. Upcycled Wood And Stone Tic-Tac-Toe
This Tic-Tac-Toe game made from an old piece of wood and some painted stones is nothing short of spectacular.
You could even glue the pieces on to the wood if you want to keep it in tact or actually use it as a game when you're outside enjoying the weather. However you do it, it's going to be a great addition to your garden area and the bumblebee versus ladybug theme is great.
Tutorial/Source: chickenscratchny
27. DIY Garden Mushrooms
While you certainly don't want real mushrooms in your garden, these DIY versions are perfect and they're made from repurposed materials. You'll need a terra cotta planter for each one and the drain plate makes the top.
Paint them in bright whimsical colors and add the polka dots for beautiful decorations that are sure to bring a smile every time you view your garden. These also double as benches and are sturdy enough to handle adult weight.
Tutorial/Source: birdsandblooms
28. Upcycled Rusty Shovel Sign
This is a great way to get some décor in your garden and put those rusty old shovels to good use, too.
Even if they're broken and otherwise not usable, you can turn those shovels into great garden signs by just painting on your message. They'll give your garden a beautifully rustic look and you could even use them to mark your veggies or flowers if needed.
Tutorial/Source: organizedclutter
29. Adorable DIY Toadstools
These little garden mushrooms are easy to make as well and use repurposed items, so you get a great project and a nice little repurposing project at the same time.
You make them with stainless steel bowls that are painted to look like mushrooms and then just drill a hole in the bottom of the bowl to attach to your stake. These really are cute and easy to make. Choose stakes of different heights to show them off and give your garden depth.
Tutorial/Source: bobbiesgirl-carole
30. Repurposed Milk Can Fountain
Turn an old milk can into a beautiful garden fountain and if you paint the milk can just right, it will add a whimsical look to the garden as well.
This particular project is done over an old well but you could do this just as easily with a fountain kit that you can pick up at your local home improvement store.
This is a great way to add a simple water feature to your garden and give it a bright and cheery look, too.
Tutorial/Source: hometalk
Conclusion
From repurposed bricks to upcycled tires, there is something in here that is sure to spark your creativity and make you want to get started decorating your garden.
I have to say, repurposing projects are my favorite and there are so many of them in here. And as for decorating the garden, be sure to check out this great fairy garden treehouse that you can easily make to add even more charm to your outdoor area. Adding fairy charm to your garden is so easy and there are so many options as to what you can create.
Now, back to our whimsical garden décor collection. I just can't wait for you to try some of these projects.
There are cute little garden animals made from tires and golf balls and even a beautiful fountain that you can paint to look really whimsical. How about a birdbath that has real Mad Hatter charm? There really are some wonderful ways to decorate your garden and give it color and style.
There are also a number of wonderful DIY garden swings that you can incorporate, so be sure to check those out as well.
Whether you want to add splashes of color to really bring out your flowers or you're just looking for a nice garden project to spend time on this weekend, these are sure to spark some interest and give you something to look forward to. Be sure to let me know which of these is your favorite!