Have you ever had a favorite lamp just stop working on you? I have and it's a frustrating experience.
Not only do you need to find a new lamp, you have to find a way to keep that favorite lamp even though it no longer works, right?
I've had so many favorite lamps over the years and every time one of them stopped working, I would look for ways to keep it around.
I mean, they're lovely lamps and I just hate to throw them out.
So, I started thinking about ways to keep them around without actually needing them to work as a lamp, and I found 20 fantastic ways to do just that.
Jump to:
1. Floor Lamp Patio Planter
A floor lamp and a hanging basket can be put together to create the perfect patio planter. Just paint your lamp base and then add an inexpensive hanging basket to get this look. Add your plants of choice and enjoy this beautiful creation – you can even use it for all seasons depending on the plants that you put in it.
Tutorial/Source: hometalk
2. Repurposed Lamp Base Finial
I love finials for general decorating. They just add such a nice touch to just about anything. You can make a finial easily from an old wooden lamp base and add charm to any table or mantel. Just remove the lamp part and then paint the base and you're all done. You don't even have to have a lamp on hand. You can normally pick them up at thrift stores for under $5.
Tutorial/Source: modvintagelife
3. DIY Adjustable Lamp Planter
This one is a bit different than traditional lamps. This planter is made from an old adjustable lamp and it's perfect for adding a bit of contemporary charm to any room. All you do is remove the bulb and the lamp hardware from inside the floor lamp and then find a plant that will fit nicely into that spot.
Tutorial/Source: apartmenttherapy
4. Repurposed Lamp Cake Plate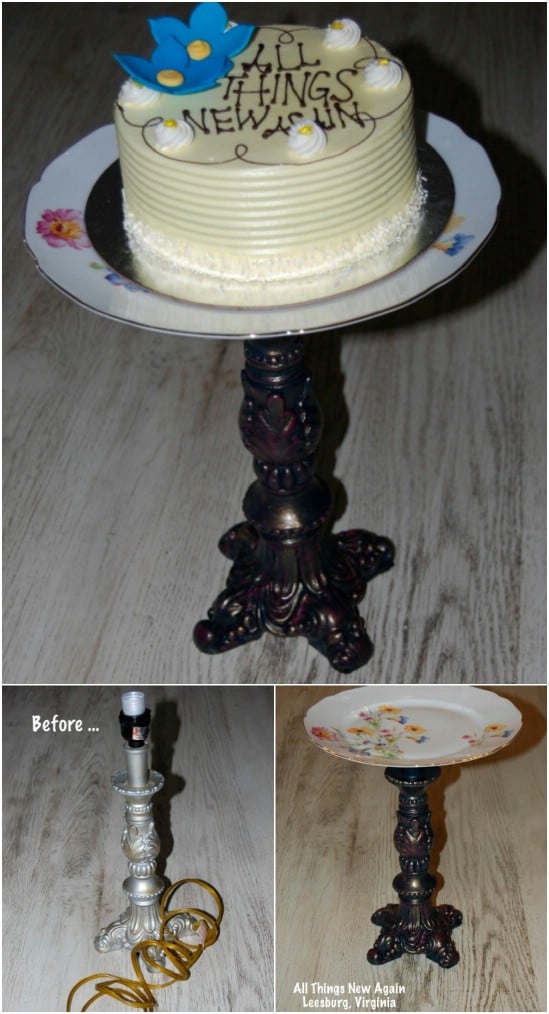 That old lamp base and an old china plate can be put together to create this gorgeous cake plate. Just remove the bulb section of the lamp along with the wiring and attach the plate to the top. You'll end up with a very elegant and very simple to make cake stand that will beautifully display all of those yummy baked goods you want to create.
Tutorial/Source: allthingsnewagain
5. DIY Lamp Birdbath
An old lamp base and a dish can also be turned into a really elegant DIY birdbath. You just remove the hardware and wiring and then attach a small plate or bowl to the top of the lamp base for the birds. You could use a wood or metal lamp for this – just whatever you have to work with and it will create a stunning birdbath for your lawn or garden area.
Tutorial/Source: blogher
6. Repurposed Table Lamp Candlesticks
I love these old lamps turned elegant candlesticks. You can normally get an old lamp for just a couple of dollars at thrift stores, so these are actually really cheap candlesticks. Just remove the cord and paint. You don't even have to remove the bulb part – the candles will fit perfectly into the slots where the bulbs go.
Tutorial/Source: shabbychicinspired
7. DIY Citronella Firepot
Turn that old lamp base into a great citronella burner to keep the bugs off you when you're outdoors this summer. Refinish your lamp base however you want and then add a copper bowl to hold your fire and citronella. This is a beautiful firepot and will look amazing on your patio or deck this summer.
Tutorial/Source: hometalk
8. Repurposed Lamp Base And Chicken Wire Dress Form
An old lamp base can be made into a vintage looking dress form when you add chicken wire and a hanger. This is a stunning project and it's not terribly difficult to pull off. I love the entire look of this. It would be perfect for a craft room or office or even in the bedroom to hang and organize various things.
Tutorial/Source: junkchiccottage
9. Old Lamp Turned Fountain
You can also turn those old lamp bases into beautiful garden fountains with just a bit of work and a few additional supplies. You'll need glass bowls that you attach together onto the lamp base and then of course a fountain pump of some sort. What a beautiful way to repurpose an otherwise useless lamp.
10. Repurposed Lampshade Garden Trellis
When you're deciding what to do with those old lamps, you may also have to choose a project for your old lampshades. If you remove the fabric cover, you can set that lampshade in the garden and use it as a trellis for all sorts of flowers and climbing veggies. Many plants will even grow tall enough to hide your trellis and it offers great support for the vines.
Tutorial/Source: kovels
11. Wooden Lamp Base Turned Side Table
I really love the idea of creating a small side table from an old lamp base. There are a few ways that you can do this – with a square of wood or a picture frame or even an old drawer. You just attach the top to your lamp base and you've got a wonderful little table that is perfect for a reading nook or the front porch.
Tutorial/Source: theshabbycreekcottage
12. Glass Lamp Base Garden Posts
Glass lamp bases can also be used in the garden area to add beauty and charm. If you have several on hand, you can stack them – securing them together of course – and create beautiful garden posts to display in your flower bed or anywhere on the lawn. Stack them in large planters for an even more dramatic touch and even add succulents or small flowers around the bottom of the base.
Tutorial/Source: somewhatquirkydesign
13. Repurposed Lamp Base Jewelry Holders
Smaller lamp bases can be repurposed into wonderfully vintage looking jewelry holders. Just give them a fresh coat of paint – or leave them as they are for a more rustic look – and then hang jewelry from them. This is a great way to add a little vintage charm to the bedroom or bathroom and to keep those necklaces from knotting.
Tutorial/Source: terahware
14. Unique Junky Lamp Base Christmas Trees
Smaller lamp bases can also be stacked into amazing Christmas trees. Just choose the pieces that you want to work with and then stack them, gradually getting smaller as you get to the top – just like a real Christmas tree. I love this idea for adding a Victorian look to your Christmas decorating and it's such an easy and really inexpensive project.
Tutorial/Source: mysalvagedtreasures
15. Upcycled Lampshade Basket
If you have an old lampshade to work with, you can turn it into a beautiful basket. You'll need to remove the fabric so that you're working with just the metal frame. You'll need some strips of wood and maybe a wooden circle to close up the hole in the top of the shade. This is a detailed project that may take you a while if you have to cut the wood strips yourself, but it's definitely worth it when you see the end result.
Tutorial/Source: mylove2create
16. Repurposed Lampshade Christmas Tree
You can also turn lampshades into lovely Christmas trees – and even use these along with the lamp base trees for your decorating. You will need a few lampshades and in different sizes to make this work. This is such a lovely idea and would look beautiful lit up with clear lights and just a few vintage ornaments.
Tutorial/Source: sweetmagnoliasfarm
17. Small Lamp Memo Board
Even those really small lamps can be put to good use with some sort of repurposing. You can turn them into great memo boards to help keep yourself organized. I love this idea for kitchen messages or shopping lists, but you can use it however you see fit. Just add a picture frame with chalkboard inside and you've got the perfect repurposing project for those tiny lamps.
Tutorial/Source: confessionsofaserialdiyer
18. Upcycled Lamp Turned Outdoor Solar Light
That old lamp that doesn't work or otherwise doesn't get used can be turned into a great solar lamp for your deck or porch. You'll want to remove the electrical hardware and then just add a solar light kit – you can get a set of five for around $5 at the Dollar Store – and you're ready to light up your outdoors.
Tutorial/Source: redoityourselfinspirations
19. Upcycled Lamp Shelf Décor
I absolutely hate boring shelves. I mean, all shelves need to have some sort of decorative element, don't you think? That's why I love the idea of using old lamp bases to add some dramatic flair to otherwise boring shelves. Just remove the hardware, paint or stain as needed and then add those lamp bases to your shelves to give them an elegant pick me up.
Tutorial/Source: theshabbycreekcottage
20. Thrift Store Lamp Tiered Stand
Turn a thrift store lamp and a few old trays into this wonderful tiered stand. You could even mix and match your lamp parts and trays to get a totally unique stand that is perfect for serving desserts – especially at weddings or other somewhat formal get-togethers. This would make a lovely cupcake stand or a great display for all that homemade candy you create around the holidays.
Tutorial/Source: romancingthehomeltd
Conclusion
Whether the lamp in question is an old heirloom that you just can't part with or you found a great deal at a thrift store – you can get lamps at thrift stores for about a dollar or so each – you need ways to repurpose them, right?
Right! So, how about turning them into planters or candlesticks, or any number of other wonderful creations?
Trash to treasure – it's a wonderful thing to be able to repurpose something that seems useless into something wonderfully useful again! Just look at these 25 creative ways to repurpose old leather belts. There is literally a way to reuse just about anything in your house.
Many of these projects require very little work. For most of them, you just have to remove the electrical parts of the lamp and some of them don't even require the entire lamp.
There are several things that you can do with the lamp base and just as many that let you repurpose the lamp shade. No matter what part of your lamp you want to reuse, you're going to find a wonderful way to do that.
Some of these even have that great rustic farmhouse appeal, which is so in right now. And if you love that look, you have to check out these 40 wooden ladder repurposing ideas that add farmhouse charm to your home.
So if you have a favorite lamp that has stopped working or you just decided to upgrade and need a project for that old lamp, this post is for you. You'll find so many amazing ways to turn those lamps into useful and beautiful decorative items for your home and garden and you'll be able to finish many of these in just an hour or so.