I have quite a collection of leather belts and always wondered what to do with them since I really don't wear all of them any longer.
So, I started looking for ways that you can repurpose and reuse leather belts and I've found a number of great projects for you.
Whether you have a lot of belts or you just want to work with leather, these projects are all going to give you something beautiful to add to your home.
If you don't have belts or one of the projects requires more belts than you have on hand, you can often get these at thrift stores for a really low price.
Jump to:
1. Vintage Leather Belt Purse
This vintage leather belt bag is part of a rather expensive collection, but you could easily DIY one for yourself. You'll need a few different belts, which you can pick up at any thrift store for around a dollar each. Just work your creative magic and make a purse or wallet that would rival anything you see on the runway.
Source/Tutorial: lasanta
2. DIY Belted Chair
If you have an old chair that needs a new seat and you have a handful of leather belts, you have what you need to create this lovely belted seat chair.
You just weave the belts through each other and then fasten on the bottom of the chair with staples. How gorgeous is this? I love the vintage look of it and how easy it is to create.
Source/Tutorial: savedbylovecreations
3. Vintage Leather Belt Cuff Bracelet
Those old leather belts can be put to good use as bracelets, like you'll see with this gorgeous cuff bracelet. I love leather and would totally rock this cuff bracelet. It's got lovely beads and the overall look is very stylish.
You can pick this one up on Etsy for just $20 if you don't feel like making one yourself.
Source/Tutorial: etsy.com
4. Cheap And Durable Leather Belt Camera Strap
A leather belt is the perfect beginning to a sturdy camera strap. You just have to trim the belt down a bit if it's really long and then use copper wire to hold it to the camera. I love this idea. It has such a rugged rustic look and you can decorate the belt if you want with patches and other design elements.
Source/Tutorial: diyphotography
5. Repurposed Leather Belt Message Board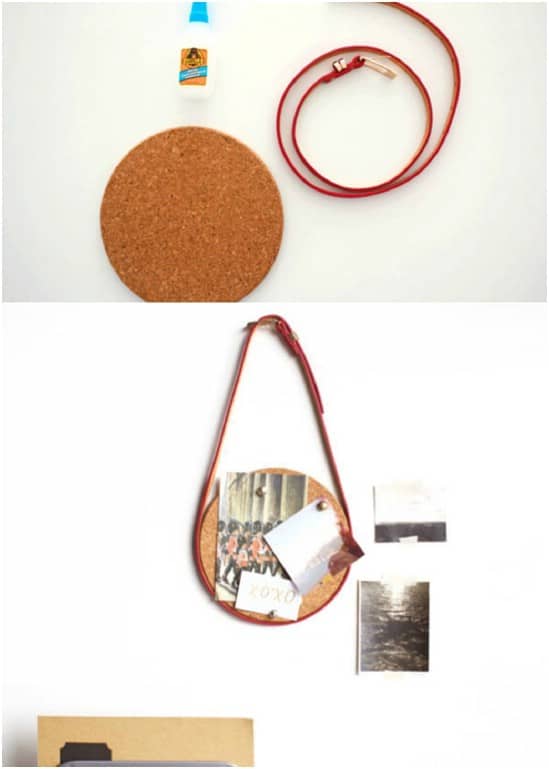 The look of leather for home décor really speaks to me, which is why I love this message board that you can make from a cork pad and an old leather belt. You use the belt to frame and hang the cork pad and the entire look has a very western feel to it.
This would be great in the nursery or even in the barn for keeping vet schedules and such.
Source/Tutorial: comfort
6. Cool Leather Belt Door Mat
I absolutely adore the look of this door mat! It's made from a collection of old leather belts and it's just so unique.
This project really doesn't take as much time or skill as you would think and it gives you a lovely doormat that I'm sure is different from anything you've ever seen before. Use different sizes and colors of belts to create something really amazing.
Source/Tutorial: lilyshop
7. DIY Leather Belt Crate
You can turn an ordinary crate into something elegant and beautiful with a few old leather belts. The belts give the crate texture and turn it into something really decorative.
This would be great for closet storage or you could even put this out in the open so everyone can admire it.
Source/Tutorial: myrepurposedlife
8. DIY Hanging Terrarium
You can use a leather belt to help create a lovely hanging terrarium for the bathroom or anywhere you want to add a bit of lovely.
Those old glass milk jars, which you can get at most craft stores, or Italian juice jars work beautifully and all you have to do is add your rocks and plants and then attach the belt.
Source/Tutorial: poppytalk
9. Vintage Belt Wrapped Vase
Turn an ordinary vase into something of beauty with a vintage belt. You just have to wrap the belt around the vase and you're all done.
You could also do this with colorful belts for bridal bouquets or bridesmaids bouquets. Just wrap and that's it! I love the rustic look of this and it would be perfect for displaying in any room in the house.
Source/Tutorial: crownedphoenix
10. DIY Leather Display Shelf Hanger
If you have a shelf that you want to hang to display something great, why not make it even greater by using a leather strap for the hanger?
An old belt can be turned into a great strap that will instantly draw attention to your shelf. Then you will know that whatever you are displaying is sure to be seen.
Source/Tutorial: clonesnclowns
11. Repurposed Leather Belt Dog Collars
If you are all finished with that belt, why not turn it into a stylish collar for your dog? Leather collars for dogs aren't cheap by any means, which makes this project even better.
You get a great, and sturdy, dog collar and you don't have to pay a fortune for it just because it's leather. Just measure and then cut the belt and attach the fastening hardware.
Source/Tutorial: hometalk
12. DIY Leather Drawer Pulls
If you really love the look of leather, you can turn those old belts into these amazing drawer pulls. This project is relatively simple and doesn't take a lot of work or leather working knowhow.
You just cut your belt to the size of drawer pulls that you want and then attach them with small nails or rivets.
Source/Tutorial: improvisedlife
13. Elegant Clock Hanger
Turn that leather belt – or a couple of them in this case – into a great clock. Take an ordinary clock and use a couple of thin leather belts to hug it tight and secure it to the wall.
This is a gorgeous look and so very easy to recreate. If you're looking to get that rustic log cabin or western feel to your home, this is a great place to start.
Source/Tutorial: poppytalk
14. Repurposed Leather Belt Curtain Ties
I'll admit, I love the look of dark leather against light fabric, which is why I really adore the idea of using old belts for curtain ties. They're just so elegant and would look really perfect in a den.
You just have to cut your belt to size and then add decorate screws to help them hold your curtains back. These would look beautiful against white curtains!
Source/Tutorial: earnesthomeco
15. DIY Old School Leather Book Strap
Turn that old belt into a vintage leather book strap and relive your youth! I love these old straps and they really do get the job done.
For this project you just have to cut the belt down to size and that's about it. If it's a short enough belt, you may not even have to do that. Just put your books inside and tighten the buckle.
Source/Tutorial: hiconsumption
16. DIY Repurposed Leather Belt Floors
Yes, you can create an entire floor from those leather belts. You'll need quite a few for this project, depending on how much floor you want to create.
This would be beautiful in a den or bedroom, if you are willing to put that much work in, that is. It does take a while to get it all set, but can you just imagine walking out on these beautiful leather floors?
Source/Tutorial: thesuels
17. Repurposed Leather Belt Liquor Tags
Create these elegant and beautiful liquor tags from those old belts. If you tend to entertain quite a bit, these would be a wonderful addition to your bar.
You could also make them for anyone you know who does entertain often. They would make wonderful gifts and there's not that much work involved in making them.
Source/Tutorial: sadieseasongoods
18. DIY Leather Napkin Rings
What better way to put an old belt to new use than to make beautiful leather napkin rings out of it?
You just cut your belt into smaller sections, depending on the size of the ring that you want, and then use rivets to create the ring.
These are very easy and would make a wonderful wedding or anniversary gift for someone special. You can get several rings out of one belt, too.
Source/Tutorial: craftaholicsanonymous
19. Repurposed Belt Lawn Chair
I love these old vintage lawn chairs but unfortunately, the seats don't last as long as their plastic counterparts. A good way to remedy that would be to reseat them with your old leather belts.
These chairs are simply gorgeous and will add so much beauty to your outdoor living spaces. I found this chair on Etsy for around $300, but you can totally recreate the look if you want.
Source/Tutorial: etsy.com
20. DIY Belted Storage Totes
Turn ordinary totes into extraordinary storage when you add those old leather belts. You make these with cardboard boxes, fabric, and those leather belts. They're gorgeous and offer such a wonderful storage solution.
The belts make the handles so they're easy to move about as needed and the fabric gives those ordinary cardboard boxes such style!
Source/Tutorial: brit
21. Repurposed Belt Roman Shades
You can also use thinner belts to make wonderful roman shades. You'll need fabric for the shades of course, and the belts make it much easier to create the look without having to sew in those pesky folds.
You just fold the fabric up into the belt and you're all done. You could also use wider belts for this if you prefer the look but thinner belts have such an elegant look when you use them as shade holders.
Source/Tutorial: skonahem
22. DIY Herb Wall Holder
Use belts to hold herb boxes on the wall. This is a really neat little idea and gives you a decorative and functional space for your herbs.
Just create your herb boxes and then secure them to the wall with your old leather belts – make sure that you securely fasten the belts and that they don't have any breaks that would cause them not to hold well.
Source/Tutorial: bambulablogi
23. DIY Leather Tabletop
Turn those belts into this beautiful tabletop. A table with a glass top is perfect for showing off those leather belts and creating this amazing display. You can also do this over a wooden tabletop.
You just line up your belts and glue them into place. They create a gorgeous table display that is perfect for living rooms or dens.
Source/Tutorial: thistlewoodfarms
24. Upcycled Leather Belt Wreath
Really show off your love of leather with this DIY leather belt wreath. This is simple to make and so beautiful.
You just wrap leather belts around a wreath form and that's it. Add whatever decorations or embellishments that you want and you have the most unique wreath in the neighborhood.
You can even create a hanger for it out of a small strip of leather, just to keep with the theme.
Source/Tutorial: jillruth
25. DIY Yoga Mat Strap
An old leather belt makes the perfect strap for that yoga mat. For this project, you just need a thin leather belt and of course, a yoga mat.
The belt keeps the mat neatly rolled up when not in use and offers a very comfortable and very effective carrying strap as well.
There is a little work involved to make this one, but not much and you can easily have it completed within an hour.
Source/Tutorial: themerrythought
Conclusion
I found an entire bag at my local Goodwill some time ago that had 10 belts and the entire bag only cost me $2, so even if you have to run out and buy some vintage belts, these projects are really inexpensive.
Of course, we like to keep things inexpensive, right? And, we like to repurpose things, like these 40 repurposing projects for old windows. If there is a way to reuse it, that's what I'll do.
Call me a pack rat, but I really do hate throwing things out. That's why I'm glad I learned the art of repurposing.
Instead of tossing those old leather belts, you can use them to reseat an old chair or make your own gorgeous curtain tie backs or roman shades.
There really are many different ways to repurpose leather belts, just as there are numerous ways to repurpose just about anything. Just look at these 20 fun ways to repurpose old board games. Turning trash to treasure really is an art and it's a fun one, too.
So, if you have a collection of old belts and you're looking for ways to reuse them, I've got a nice little collection of 25 creative repurpose ideas for you. From jewelry to home décor, we'll find a use for those belts that is sure to blow your mind and leave you happy that you've gotten on the repurposing boat.