Everyone loves rustic, vintage décor. If you want nothing more than to turn your home into a classic paradise, but you don't really want to spend a fortune doing so, I've got quite a treat for you.
I've collected 30 of the easiest and most gorgeous DIY projects that will give you that vintage décor that you want, without having to spend a lot of money or time doing it. There are so many wonderful projects in this collection, and they are all so easy.
Whether you love lacy candleholders, vintage keys, or even boot racks that give you a great vintage look and loads of storage options, there is definitely something for you in this collection.
Grab those DIY supplies, you know like that burlap that you really want to use, and let's get turning your home into a vintage lover's dream. Choose one project or do them all. None of them are expensive but they're all wonderfully rustic and old-fashioned!
Vintage Plates
Sometimes it's not about actually making something but more about how you use what you already have. If you don't have a few vintage plates, you can pick them up for virtually nothing at yard sales and flea markets. Then just use them to cover a wall. You'll get a beautiful vintage looking wall and it probably won't cost you anything.
DIY Instructions: findinghomeonline
Vintage Boot Rack
Create this beautiful and functional boot rack using old wooden crates. Wooden crates are another thing that you can probably pick up at any flea market if you don't already have a few on hand. They are the epitome of rustic and no matter how you stack them or how many you use, you've got a great option for keeping those muddy boots off the floor.
DIY Instructions: findinghomeonline
Vintage Drawer
You can turn an old cardboard box into this gorgeous vintage drawer for storage. Keep your jewelry in here or just have it sitting around for added décor. It's beautiful and very easy to make. You'll need a few basic supplies like cardboard, lace, pearl garland, and other decorating paraphernalia, along with scissors and glue. When you're finished, you can display it anywhere, although I think it's great for the dresser or nightstand.
DIY Instructions: blog.weddingstar
Photo Pendant
This photo pendant is an excellent way to add a bit of vintage and to keep your loved ones close. Black and white photos make it even more vintage. You can wear these if you want, but they would also look great just decorating a frame or hanging from the dresser. Plus, they would make an excellent gift for someone else who loves the vintage look.
DIY Instructions: crhideas
Music Box
This may be my favorite from the entire collection. It's a music box created from an old book, and it's easy to do and gorgeous! You can pick up an old book at any flea market or yard sale if you don't have something that you want to use. How adorable is this? Imagine having this sitting on the table or dresser, or this is another one that would make an excellent gift for a vintage/music lover.
DIY Instructions: kayskeepsakes
Charming Lace Balls
Decorate your entire home with these beautiful little lace balls. You just spray glue dollies to a balloon and then allow it to dry. Once it dries and the doilies have made hard balls, just pop and remove the balloon. What you have left is a gorgeous lace ball that you can use to decorate any room in your house, and give it a lovely vintage, Victorian look.
DIY Instructions: utterlyengaged
instructables
Vintage Books
Using vintage books is an excellent idea if you want a simple and inexpensive way to bring some old-fashioned into your home décor. Use the pages to recover tables or countertops or make a runner. Make sure that you're not using a first edition, and then just take out the pages and use your imagination. You could also just use the entire book as decoration if you prefer not to take them apart.
DIY Instructions: lovegrowswild
Distressed Furniture
Distressing furniture is easy and fun. You can give a desk, dresser, or coffee table a great new look and add a bit of vintage appeal to your home at the same time. If you don't have an old piece of furniture that you can distress, just pick up something cheap at a yard sale and go to town adding appeal to it. It doesn't have to be a grand piece; just anything that you can turn into a great antique looking furnishing.
DIY Instructions: whitelacecottage
Dyed Jars
Tinting glass jars is a brilliant way to bring some of the old world into the modern age. Adding a bit of dye will make jars resemble those of the depression era and before. You can use any old jars you want, although mason jars look really great when they are tinted. This is a really easy DIY project, and one that you can do in an evening after work. Use these jars to decorate the kitchen or any room where you want a little vintage décor.
DIY Instructions: fancythatdesignhouse
Bronzed Keys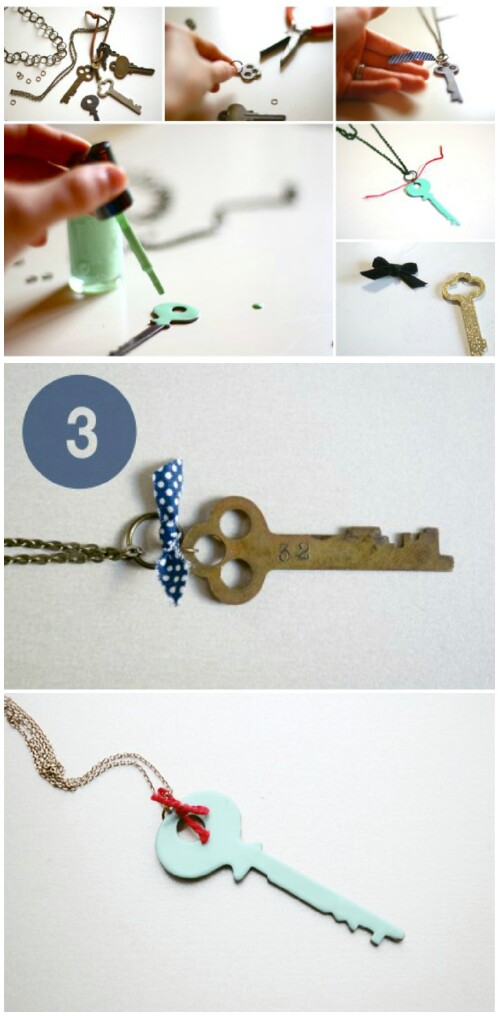 Take a few old keys and turn them into beautiful vintage décor with a bit of paint. Those rusty old keys are certainly not doing you any good in their present state. Why not turn them into something that will enable you to bring some rustic and vintage décor into your home? A little bronze spray paint and some appliques go a long way in helping you to create a stunning vintage look.
DIY Instructions: sugarandcloth
Letter Dishes
Monograms are a wonderful vintage décor idea. If you have some old dishes, or if not you can pick them up at flea markets or thrift stores, then use those dishes to create this gorgeous décor. Simply upgrade them by adding old-fashioned letters. Spell out words, create your family monogram, or just keep it random. The look is the same – sheer antique-ness!
DIY Instructions: florencefinds
Vintage Jewelry Box
This jewelry box is not only great for décor, it's very functional. And, it's made from an empty Pringles container! Imagine being able to recycle your trash into something that creates a vintage, antique look throughout your house. This is such an easy DIY project, and one that you are certainly going to want to share with the kids. This also makes a wonderful gift for that special lady you know that loves vintage jewelry boxes.
DIY Instructions: decoracion
Antique Jewelry Holder
Ok, so this isn't really an antique, but it certainly looks like one. People will think this has been passed down from generation to generation, and you can make it in just a couple of hours. An old picture frame and a bit of lace work together to give it a gorgeous vintage feel, and it's the perfect way to display that old costume jewelry that your grandmother gave you.
DIY Instructions: honeybearlane
Pallet Organizer
Ok, so you know how much I love working with pallets. I'll be you didn't know that you can use a pallet to create a great wall organizer, and give that wall a bit of vintage charm as well. These pallet organizers are perfect for hanging kitchen utensils, as a sort of spice rack, or whatever you need them for, really. And, they're super easy to make.
DIY Instructions: knickoftime
Vintage Crate Storage
Here is another storage solution made from vintage crates, and one that you are sure to love. These old crates give your home such a charming, rustic look and feel, and they're great for storage any number of items. Just think; you can clean up the house and make it more organized, and add to your rustic charm as well.
DIY Instructions: thehouseofsmiths
Wooden Spools
You can easily create your own DIY wooden spools to give your décor an instant vintage boost. These spools are perfect for any number of other decorating ideas. Create several and line a basket with them, or just have a couple sitting around anywhere. They're gorgeous to look at and give the room such an antique look.
DIY Instructions: homestoriesatoz
Teacup Lights
I love these teacup tealights! I mean, if you really want something old-fashioned and classy looking, this is certainly a great DIY project for you. Floral teacups and a bit of candle wax create these amazing candles that you can use as a centerpiece for the dining room table or just anywhere you want to add a bit of vintage elegance.
DIY Instructions: heygorg
Lace Jar Candles
Create these beautiful lacy lanterns with jars and some lace. Nothing says vintage quite like lace, and these are so very easy to make. Use them to decorate the dining room table or have them anywhere in house. Not only is this a great recycling project for those empty jars, it gives you a bit of Victorian décor to add to your home as well.
DIY Instructions: craftsbyamanda
Pallet Entry Organizer
This pallet organizer is a wonderful entryway shelf. Not only does it give you loads of room for hanging jackets or holding mail, the look is sheer vintage. The "accidental finish" is great, and really looks old. This is a project that won't take you more than an afternoon, and you could do a few of these in different sizes if you want to really give your entryway a vintage look.
DIY Instructions: bec4-beyondthepicketfence
Suitcase Nightstand
I absolutely love decorating with old suitcases, and this nightstand idea is wonderful. You just stack suitcases and top with a glass serving tray. This is a wonderful idea for the guest room or put it in your room. The vintage look is amazing and you can do this in any size or color that you need. You can find old suitcases at most thrift stores and flea markets for just a couple dollars each.
DIY Instructions: cupcakesandcashmere
Suitcase Cabinets
I told you I love decorating with suitcases! Here's another wonderful way to put those old suitcases to good use, and get some old-fashioned décor at the same time. Create a medicine cabinet, a bar cabinet, or just any cabinet you want from those old suitcases, and you can even add lighting. This is such a wonderful idea and great for a little added rustic décor.
DIY Instructions: apartmenttherapy
Window Wall Décor
Use an old window, by the way you can pick these up at most flea markets or thrift stores for just a few dollars each, and create a gorgeous display for the wall. Just paint the glass in the windows with whatever you want, or you could add pictures of the family. Use your imagination and create something amazing for your wall, that has just the right bit of vintage.
DIY Instructions: blesserhouse
Shop Light Lantern
An old shop light turned lantern is a gorgeous idea for your living room or you could even hang these on the porch and give the outdoors a bit of vintage flair. You can likely find some of these old light cages at flea markets or yard sales, and then just add a bit of polish to them and a tealight candle. They are really beautiful when finished and such a great antique looking light.
DIY Instructions: adirondackgirlatheart
Framed Botanical Art
An old picture frame painted white, some burlap for backing, and a bit of botanical art gives you the makings of this gorgeous wall hanging that has vintage written all over it. This is such a simple idea, and one that will literally take you less than an hour from start to finish. You could also add any other type of picture that you wanted and still have a great vintage looking print for the wall.
DIY Instructions: canarystreetcrafts
Electrical Insulator Vase Stand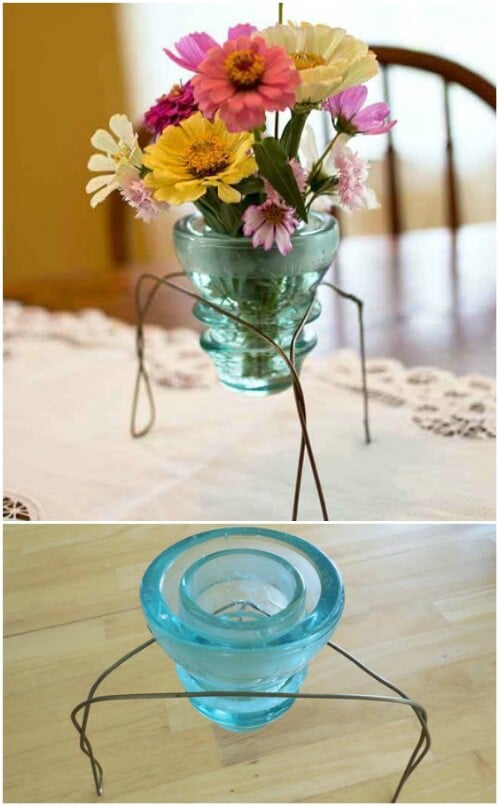 Ok, sometimes the simplest ideas give you the grandest of décor impressions. Take this insulator vase stand for instance. It's really simple and so easy to create, and takes very little time. What you end up with is a wonderfully old-fashioned looking vase stand that you are sure to impress people with when they see it. It's so vintage and rustic but so very easy to create.
DIY Instructions: thepaintedhinge
Paper Rolls
Again, sometimes the simplest ideas give you the grandest of statements. These paper rolls are so easy to make the kids could do them, but when you lay them in a basket or an old wooden crate, you get instant vintage décor that will cost you nothing but a few minutes of your time. If you love books and magazines, these paper rolls are the perfect addition to your home.
DIY Instructions: andersonandgrant
Shutter Décor
Some old shutters, that you can incidentally pick up at any flea market or thrift store, give you the perfect start for some rustic wall coverings. You can distress the shutters to give them an even better rustic and vintage look, and this is such an easy project. Put them anywhere you want to add a bit of antique décor.
DIY Instructions: seekinglavenderlane
Boxwood Wreath
Wreaths are very vintage and this beautiful boxwood wreath is also easy to create. Tie it up with a piece of burlap for extra rustic appeal. This would be a great piece to hang on the inside of the living room door for added décor or you could put it outside the door like normal to spruce up your porch with a bit of old-fashioned décor.
DIY Instructions: makingitinthemountains
Suitcases…Again
Here we have another wonderful way to use old suitcases to add some vintage appeal to your home. Just stack them up under a coffee table or beside the couch for an extra small table area. Whatever you do with these old suitcases, they're going to give any room an instant old-world feel. Plus, they're really cheap at yard sales and flea markets, and the older they look, the better!
DIY Instructions: 2beesinapod
Burlap and Lace Candles
Some old jars, a bit of lace, and a few strips of burlap give you the makings for these gorgeous candle holders that you can place strategically around the house to spruce up every room. These are great in the bathroom or kitchen or you can use them in the bedroom or living room. They're super easy to make and have such a wonderful vintage appeal. Plus, they let you recycle those old jars in a useful way.
DIY Instructions: diybeautif
Use Vintage Toys
Some old vintage trucks or other toys are a great choice when it comes to creating an old-world feel inside your home. An old truck also makes the perfect planter or you could create candleholders from them. Use your imagination and create something great! I love the thought of old trucks for holding small plants inside the house or out.
DIY Instructions: lauradivenereinteriors