To me the most amazing gardening and landscaping concepts are those which make use of the existing natural features of a property. A lot of people spend a ridiculous amount of money and effort to get rid of old tree stumps, and I always just shake my head wondering … why?
Tree stumps are gorgeous! They really add character to a lawn. And you can actually transform them into planters, not to mention super cool lawn ornaments that look like little fairy houses. Those are just the two most common ideas. You can also turn them into playable games, playground sets for children, sculptures, and so much more.
Thinking of giving it a try? I've scoured the web to find the most beautiful tree stump flower planters and lawn ornaments out there. Here are some brilliant examples to fuel your imagination and inspire you in your own flower garden.
Pretty Purple Flowers
The simple elegance of this stump really blows me away. I love how the purple flowers have just been left to drape naturally toward the ground. You could almost imagine it grew this way by itself.
Source: crafthunters
Pansies and Petunias
Here is one that you could never mistake for growing naturally, but that is exactly its charm. It is beautifully cultivated and immediately grabs your attention. I love all the different colors!
Source: edmontonsun
Fairies Welcome!
The two most common ideas for transforming stumps in gardens are usually either turning them into flower planters or fairy houses. Here is a beautiful little stump which combines both concepts. It is a fairy house with moss growing out of the top! The little details are amazing; be sure to check out the full post on the source page for photos of all the design elements!
Source: themagiconions
Natural and Rustic
This stump has a lot of rustic charm. The fungi have been left growing around the circumference, and there are a lot of different plants and textures interacting here. The yellow flowers add a splash of color. This stump looks like it grew this way naturally rather than being cultivated. Very pretty!
Source: gardeningknowhow
Tree Stump Dude
Here is a very unique art project made out of an old stump. Instead of your typical fairy house, this artist decided to carve what looks like a face! Old bicycle wheels form the spectacles over the nose, and there are flowers growing out of the hat on top. An idea like this is very original, and takes advantage of the natural shape of the tree.
Simple and Colorful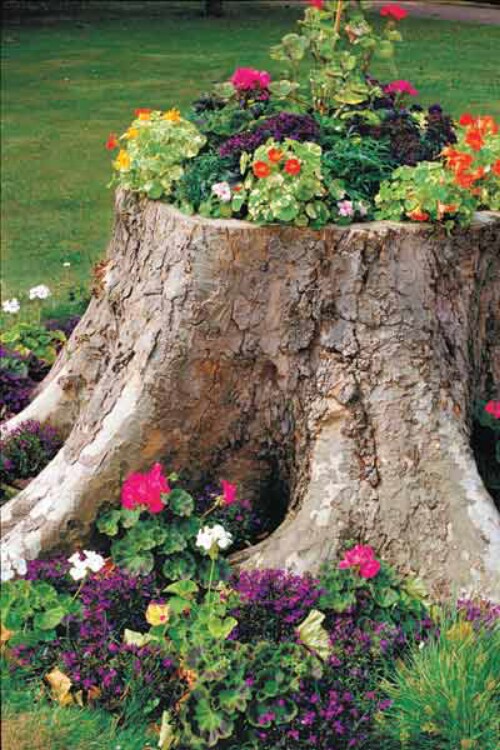 This tree stump has a lot of beautiful flowers planted on top with the same blossoms repeated around the roots. The look isn't very organized, but is still quite clearly cultivated, and delightfully colorful.
Source: thisoldhouse
Succulent Garden
This tree stump has a little garden of succulents growing on top. Succulents are beautiful and easy to take care of, and are very popular right now since they make for an eco-friendly choice in a lot of climates which are not as supportive of other plants.
Source: radmegan
Another Gnome Home
Here is another cute little gnome home, this one actually being part of a full tree. But you could just as easily build something like this around a tree stump. It is hard to make out what the wrought iron is, but it appears to be a bench that you could sit on, which is a nice touch. It would be a really lovely place to relax!
Source: snapguide
Add a Barrel Planter
Here is a tree stump which actually has a barrel planter on top of it with the flowers planted in that. This saves you the trouble of hollowing out the stump and converting it, while maintaining a rustic look. You could even add a few more barrels full of flowers around it.
Source: sheilazellerinteriors
Build a Bird Bath
What's the easy way to build a bird bath? Just pick an attractive stump in your yard and put the bowl on top of it and call it good! It has a great rustic look and fits right into the environment. Birds will love this!
Source: shovelreadygarden
Fairy Gazebo
We all know now that fairies need houses, but they also need spots where they can relax and take in a bit of fresh air. That's why this fairy gazebo on a tiny tree stump is awesome! It's a unique idea and a fresh take on fairy housing. I love all the little details here; there are even seats inside the gazebo and a little well in case the fairies need refreshments. I'd love to see a closer view into the interior of the gazebo!
Source: theburghbaby
Birdhouse Village
Birdhouses can be really artistic and awesome-looking, but this little "village" of birdhouses takes the cake as far as creativity goes. This stump had a number of branches, so each one can support a house! If I saw this in person it would immediately grab my eye; there are so many beautiful details to look at.
Source: ana-rosa
Fairy Village
Here is another tree stump with multiple branches which uses the same concept as the birdhouse village above, only this time it is a little village of fairy houses. This makes me wish that I were tiny so I could live here!
Source: facebook
Tree Stump Chair
Need a nice spot to sit in your yard? If you have a large enough tree stump, why not carve it into a throne fit for the king or queen of the forest? This is such an awesome-looking chair! It not only offers seating, but even when it isn't in use it looks totally awesome and really spruces up a yard.
Source: sugwekar
Tree Stump Serving Table
The designers who came up with this table were sad to learn that their black walnut tree was dead, but they made the best of what was left over. The stump was just the right height and size to hold food and drinks, so they converted it into a table by adding a wire wheel round.
Source: homedepot
Tic Tac Toe
Recently we did an article with a lot of fun backyard games, and one of the games we featured was this tic tac toe set! I want to share it here with you again because it is made out of a tree stump! It would be very easy to cut the top of a stump so that it is flat, draw some lines, and create some cute little game pieces like these. Now your dead tree stump has been turned into a toy to amuse your children.
Source: chickenscratchny
Checkers
Here is another fun idea for a game made out of an old tree stump! Here the designer had a much larger stump to work with and was able to create an entire game of checkers, once again complete with adorable pieces.
Source: hometalk
Create a Work of Art
Artist Bruce Hebert uses a chainsaw to create elaborate carvings of animals and human beings out of old tree stumps. This beautiful carving of a heron was made out of an elm stump. Check out the source link to see more examples of his amazing work.
Source: inventorspot
Birch Fairy Castle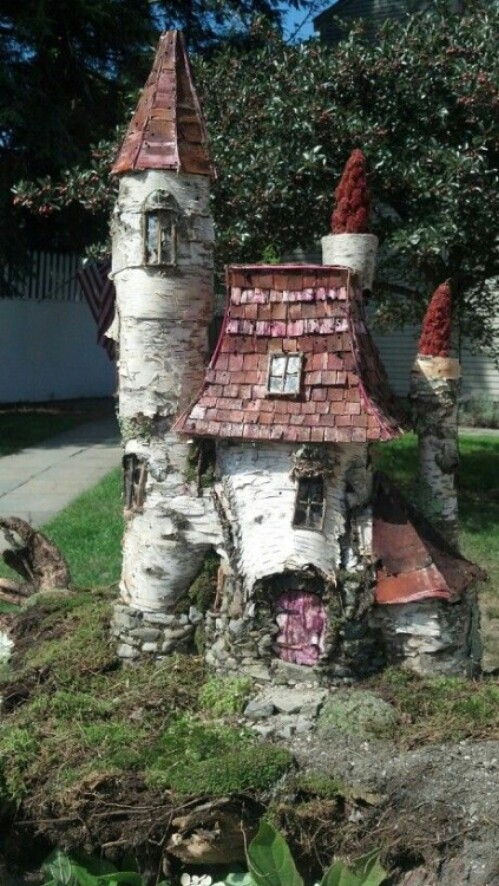 This fairy castle with its shingled roof and whimsical turrets is marvelous! The birch texture of the trunk really adds character. Birch creates a somewhat run-down look, but that just makes it more atmospheric. You really do get the sense that this wonder was stumbled upon and built by a real fairy a long time ago, rather than a creative human crafter!
Source: mineuniquesmile
Children's Slide
Here is one more idea, this one neither a planter nor a fairy house—but it is one your kids will love! When this blogger's maple tree collapsed, a substantial stump was left behind, just the right height for a children's lookout, slide, and climbing wall. Very clever and looks ridiculously fun!
Source: wifemothergardener
I hope you enjoyed these amazing planters, bird houses, fairy homes, tables, and more designed out of old tree stumps. Next time you look at that old stump in your backyard, you should see it through the eyes of possibility. Good luck turning it into something beautiful and unique which adds a bit of flair and function to your landscaping!