The humble coffee table has actually become one of the most used items of furniture in the house. Just think about how often you use yours to rest drinks, perhaps scribble some notes, play games, browse through books or just generally gather around. Apart from the importance of function, a coffee table also has a significant role as a focal point, so it can add some much-needed style, character or charm to a room. So if you're tired of your dull table, or if it's simply time to upgrade, why not ensure that you get exactly what your home needs by building your own? You can make it as elaborate or simple as you want! Since these tables are traditionally fairly small in size when compared to other items of furniture, it's not too difficult a project. And if it comes out great, you know it will always be seen.
Modern Farmhouse
I absolutely love this coffee table because the mix of modern and rustic is just so perfect, and thanks to those legs, it makes a loud and bold statement. The tutorial includes a link to the free plans so that you can recreate this and make your home feel just as cozy.
DIY Instructions and Project Credit – Shanty2Chic
Repurposed Window
I have been a fan of these window tables for a long time now because I absolutely love repurposing projects. What's really always drawn me to these, though, is the fact that you can lift the top up and display some decorative pieces in there – and you can change it up as often as you like!
DIY Instructions and Project Credit – Marty'sMusings
Wheeled Taylors
If you have a few hours to spare and $100 in your pocket then you'll be able to create this gorgeous Pottery Barn knockoff coffee table. Since you're making it yourself, you get to play around with colors, so I'd definitely suggest a few coats of chalk paint that you distress slightly.
DIY Instructions and Project Credit – Shanty2Chic
World Map
I've seen some coffee tables where a map was simply decoupaged to the top, but I much prefer this look of engraving (tracing) the outline onto the wood itself. And now that you have this technique in mind, you can use practically any image to engrave, as long as it's not too intricate.
DIY Instructions and Project Credit – Instructables
Cute Suitcase
Oh. My. Gosh. This is adorable! Once again, I'm delighted at the clever repurposing of something that probably wouldn't' be used for its intended purpose anymore. I would paint this in some crazy, bright colors to get that awesome mix of classic vintage and playful retro.
DIY Instructions and Project Credit – Ruche
Cool Copper
Isn't this coffee table just exquisite? This sleek and elegant table is the ideal addition to a modern or minimalist home. The copper pipe is a relatively expensive material to use, but at about $160, this really isn't a very costly project.
DIY Instructions and Project Credit – ForMe,ForYou
Framed Art
If you're looking for something that's unique and oozes luxury and sophistication, then you're bound to fall in love with this idea. Who would've thought to use a framed art piece as a tabletop? It's absolutely brilliant, and pure genius, in my opinion.
DIY Instructions and Project Credit – AlongTheLeftBank
Simple Metal and Wood
The thing that really strikes me about this table is the fact that the base and overall form is quite basic and simplistic, but as soon as you see that tabletop you know what all the fuss is about! And if you aren't able to make the metal base, there's a link in the tutorial for a wooden alternative.
DIY Instructions and Project Credit – Shanty2Chic
Trestle Door Table
If you want something that's going to be a real showstopper and focal point then something like this might just be perfect. This DIYer fell in love with this piece when she saw it online, and thanks to her hard work and creativity, you can now make this yourself for just $70 (the original has a $2,000 price tag!).
DIY Instructions and Project Credit – TheRozyHome
Nostalgic Pinball table
Oh how I love being reminded of all the fun games I used to play when I was a child! The pinball machine was definitely up there with my favorites. So here's a brilliant way to incorporate some of your childhood fun into your adult home with an eye-catching pinball coffee table.
DIY Instructions and Project Credit – Instructables
Whiskey/Wine Barrel
When I think of a rustic, warm, cozy home, I can picture this whiskey barrel coffee table right in the very center. It's sturdy, it's bold, it's in-your-face and it's absolutely beautiful! Try to get the barrels precut if possible – it'll save you a lot of time and effort (and you don't really want to risk cutting it incorrectly either).
DIY Instructions and Project Credit – DIYProjectsWithPete
Vintage Trunk
I have always loved the idea of a big, heavy, old trunk or chest in my house somehow, but the ones I've seen are always way out of my price range. So I'm delighted to have found this tutorial! It's actually made from plywood, but you'd never guess that just by looking at it.
DIY Instructions and Project Credit – Shanty2Chic
Planter Table
It's always good to have a bit of plant life around you, so why not build a coffee table around a planter? This is more of an outdoor table since the plants need sunlight, unless you can find an indoor spot that catches the sun. Otherwise, I'd even consider just filling the planter part with interesting little stones, marbles or whatever!
DIY Instructions and Project Credit – ABeautifulMess
Glow Tank
This is amazing! This modern glowing cube is actually made from an old aquarium water tank and just some tissue paper. Genius, isn't it? The light goes inside to give you this glowing effect; just make sure that you use LEDs or other "cool" lights so that it remains safe.
DIY Instructions and Project Credit – Instructables
3-in-1
This is such a clever idea: make one large bench and two smaller benches of equal size that can then be stacked together as one cohesive tiered coffee table or they can be arranged separately. I love the playful element of being to change it up every now and then.
DIY Instructions and Project Credit – ThriftyAndChic
Spool Table
So this was initially designed and created as a bookcase, but it's so creative and lovely that I simply had to include it, and I see no reason why it can't function as a coffee table. And if you aren't much of a reader then you can use that bottom shelf to store or display a number of other items.
DIY Instructions and Project Credit – PinkStitches
Library Drawers
This is another knockoff that'll cost you a fraction of the price – instead of spending $900 you'll only have to dish out $200! I absolutely love the addition of drawers because not only do you get extra storage space, but they're what gives this table its unique look.
DIY Instructions and Project Credit – Shanty2Chic
Salvaged Door
If you like the beat-up, worn-in look, then you'll adore giving an old door a new purpose. You could, of course, use a brand new door, but it just wouldn't be the same without the character. What's even more impressive that the total cost of materials is only about $30!
DIY Instructions and Project Credit – ThisSortaOldLife
Faux Industrial
You know the expression "fake it till you make it"? Well, we crafters and DIYers have some clever ways to cheat a little, and this coffee table is the perfect example. The base is actually made out of wood that has been painted to look like metal. Genius! You get the look you want but without paying the hefty price.
DIY Instructions and Project Credit – HouseUpdated
Wonderful Wine Crates
I've been holding on to a few old wine crates and I think I've finally found the best way to put them to good use. This is a relatively easy DIY since you're basically just laying crates on their side, and I just love that middle section that be filled however you wish. And if you kept all the corks from the wine, here are some fun cork projects.
DIY Instructions and Project Credit – VintageChic
Minecraft Madness
Bring out your inner geek with this Minecraft-inspired table. Some people will get the reference immediately while others won't, but either way, they table on its own is simply stunning. The painting may take a little while, but it certainly is worth the effort.
DIY Instructions and Project Credit – Instructables
Pallet Table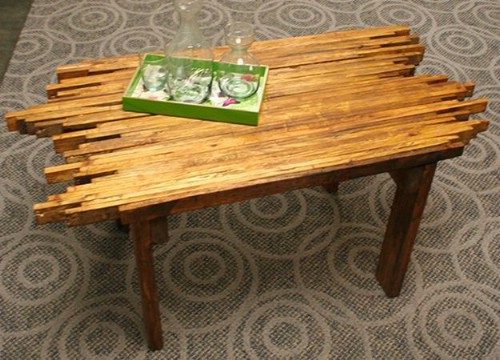 I've seen a lot of pallet projects around, and I must say, of all the tables this one is my favorite. I love the fact that it's not obviously made from pallets, and I am madly in love with the irregular sides – that's what really makes it special! You'll also be glad to know that this tutorial also shows you how to disassemble the pallet in the first place.
DIY Instructions and Project Credit – Instructables
Simple with Storage
This simplistic design is just so chic and elegant; it's perfect for those of you who don't want anything too bulky. In my opinion, it's the hairpin legs that make this final product so stylish, and then, of course, the storage compartment is super helpful!
DIY Instructions and Project Credit – JadeAndFern
The Jenga Table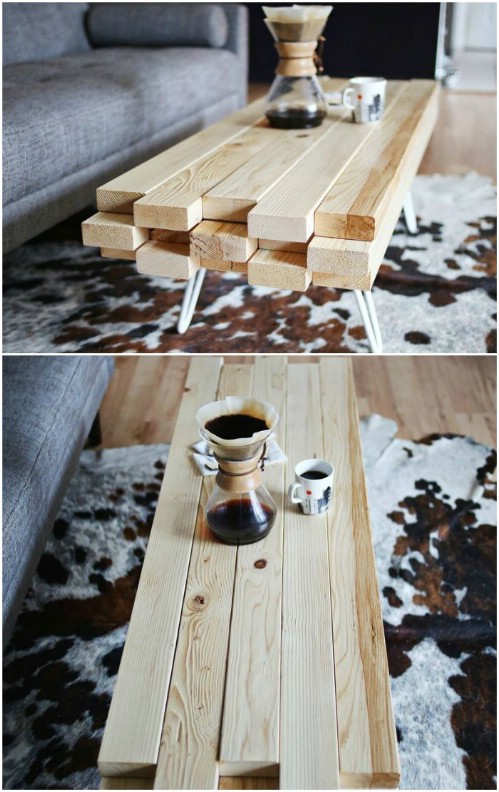 I call this the Jenga table because the staggered planks actually look like some Jenga construction from the side. This is a relatively easy project if you get the boards cut to size – it's basically just some simple assembling so it won't be too long before you get to admire your work.
DIY Instructions and Project Credit – ABeautifulMess
Industrial Plumbing
I've always been a fan of the industrial look, although I prefer to have bits and pieces here and there instead of implementing the theme throughout my entire home. This base made of plumbing pipes is exactly the type of accent piece that I'd want! This tutorial doesn't have step-by-step instructions, so you're going to have to use a bit of brain power yourself.
DIY Instructions and Project Credit – TheLocker
The Budget-Friendly Table
If you're hell-bent on making your own coffee table but really, really don't have any funds left over in the budget for materials, then look no further than this brilliant budget project. The total cost of materials is about $10, and just look how well it turned out!
DIY Instructions and Project Credit – DreamState
Make Your Own Stacking Coffee Table
If you prefer the modern look in home decor, this stacking table is great. It is really easy to make and you can stain it whatever color you want so it will perfectly match what you already have in your home.
A great thing about this coffee table is that you can stack it however you want. Stack the boards all together for a neat, uniform look or toggle them to make something really unique. You can use as many boards as you want, too so your table will be the perfect height. This is a great, customizable project that allows you to create a coffee table that is perfect for your home.
Even if you don't particularly like modern furnishings, this table is sure to catch your attention. It's easy to make, beautiful and best of all, inexpensive. Lowes page of this project.
How to Build Your Own Pallet Coffee Table
We just love these "build your own" type posts. This one will show you how you can build your very own coffee table using pallet wood. Pallets can be purchased at most lumber yards or you may have a few just lying around the house. If you do, you have what you need to build a beautiful coffee table.
This makes a stunning table and no one will know that you built it yourself – unless of course you want to tell them. If you have noticed the prices of furniture lately, you see why building your own is a much better option in most cases. This table is easy to build and so inexpensive that you may want to do a couple for other areas of your home.
The best part is that you can make it any stain color that you want and match it to your current decor. Can't find the perfect coffee table? Just make it yourself!
Bonus project:
DIY Tutu Table – Gorgeous Decorating Idea for Your Little Girl's Bedroom

Oh my goodness, this is probably my favorite DIY of all time. This adorable tutu table comes from Krystal over at Sassy Sanctuary. You do need to buy about 50 yards of tulle but the process is relatively easy. If you already have a small table and chairs, this would be a breeze to redecorate or you can just buy a cheap table and make it look really extravagant. The top of the table is painted and you can follow the design on the site or go your own way. This is very versatile and turns out so beautifully that your little girl will absolutely adore it.
DIY Instructions and Project Credit – sassysanctuary