Who knew that plastic bottles could be so cute? This fun project takes a basic empty water bottle or soda bottle and turns it into an apple! A perfect teacher's gift idea or just a nice little apple decoration for your mantle! You could even make this so it can be opened and used to store items! Whether you use it to store jewelry, keepsakes, or just your everyday trinkets, this box is sure to bring a smile to your face every time you see it.
Plastic Bottle Apple
For some reason, the apple is the symbol of teachers everywhere. Making a homemade little apple decoration is ideal for back-to-school, teacher's gifts, or just to decorate during the fall season when apples are so popular. This one is made from empty bottles and is ideal for using up leftover craft supplies. You can use this as just a decoration, or keep it easy to open and use for storage!
If you like this idea, then you might like some of these other DIY gift ideas that could be ideal for a teacher's gift. There are tons of options on the list that can be given to anyone who needs a bit of recognition.
What Should I Use For the Apple Stem?
I grabbed the brown pipe cleaners because they are always on hand already in my craft box. They also hold their shape easily and can be glued in place very simply.
You can also use a piece of paper twisted into a stem shape, a stick or twig from your yard, or even a fake stem from fake flowers. I've even thought of painting a dowel or skewer and cutting it to size and gluing it into place.
You can even make a stem using air-dry clay, like model magic, or even baked clay. Once the clay is hard, simply paint it brown. Then you can attach the clay with glue. Use strong glue to hold it into place like E6000 or hot glue.
How Can I Customize My Plastic Bottle Apple?
While there are only so many ways that you can change things up for this plastic bottle apple, you can change a few things. You can paint the apple any color that you like, red is common, but that doesn't mean that is what you have to paint it. You could easily paint your apple a shade of pink, or even a light green like a Granny Smith apple.
You can go another direction completely and paint it orange for a pumpkin or gourd. If you go that direction, use green pipe cleaners to create a twisty vine to come off the top by the brown stem. And, of course, you can always add some leaves to the vine if you want.
What Can I Use This Apple For?
This is a cute little decoration to sit on a desk or shelf, but it can also be used as a trinket box that you can use to store small things. To do that, you would want to add the ribbon below the seam of the apple and leave it easy to lift the top off rather than gluing it together.
You can keep jewelry, like necklaces, bracelets, and earrings in the apple. This trinket box is perfect for small keepsakes like tickets or postcards. You can also use it to store your everyday trinkets like hair ties and bobby pins.
The plastic bottle apple box can even be used to hold things like candy or decorative soaps. It makes a great gift idea, especially when stuffed with candy. Any teacher would love that as a treat!
This little plastic bottle apple is super versatile and fun to make. You can customize it and use it for a number of things around the house as decor or storage. Just use your imagination and have fun with it.
Supplies Needed
2 (2-liter) empty bottles
How to Make an Apple Trinket Box
Before you make this apple, you'll want to clean off the bottles and remove any labels. I prefer to wash it out and let it dry completely, but you can leave it as-is if you prefer.
Once clean, cut the bottom ¼ off of both bottles and discard the rest of the bottles or set them aside for other craft projects.
Now, push the two bottom pieces together to form a solid bottle with bottoms on both ends and rounded like an apple. Once together, spray paint this completely red and then set it aside to dry.
After the apple has dried completely, you will wrap the red ribbon around the very center, covering the season around the middle of the apple. Glue this in place and trim the ends.
Now, cut and twist a 2" piece of pipe cleaner in half to create the stem for your apple.
Glue the stem in place on the top center of the apple. Then, you can glue a small fake leaf beside the stem if desired.
More Back to School Ideas
Back-to-school season is so much fun! It comes with all kinds of shopping for clothes and school supplies, plus organizing and working with your kids to keep things ready for them to use at all times. Below are some great tips and ideas to make the back-to-school season just a bit easier to manage. Make sure that you bookmark these ideas, pin them to Pinterest, or print out their tutorials to make soon!
Yield: 1
Decorative Plastic Bottle Apple
This plastic bottle apple makes a perfect teacher's gift for back to school! A fun upcycled craft idea for kids!
Additional Time
30 minutes
Materials
2 (2-liter) empty bottles
Instructions
Cut the bottom ¼ off of both of the bottles.
Then push them together making one piece.
Spray paint it completely red and set it aside to dry.
Once dry, glue a length of red ribbon around the center of the bottle covering the seam.
Then, cut and twist a piece of brown pipe cleaner into a stem.
Glue this to the top of the apple.
Add a small fake leaf beside the stem.
Notes
This can be painted any color you prfer.
Recommended Products
As an Amazon Associate and member of other affiliate programs, I earn from qualifying purchases.
Finished Project Gallery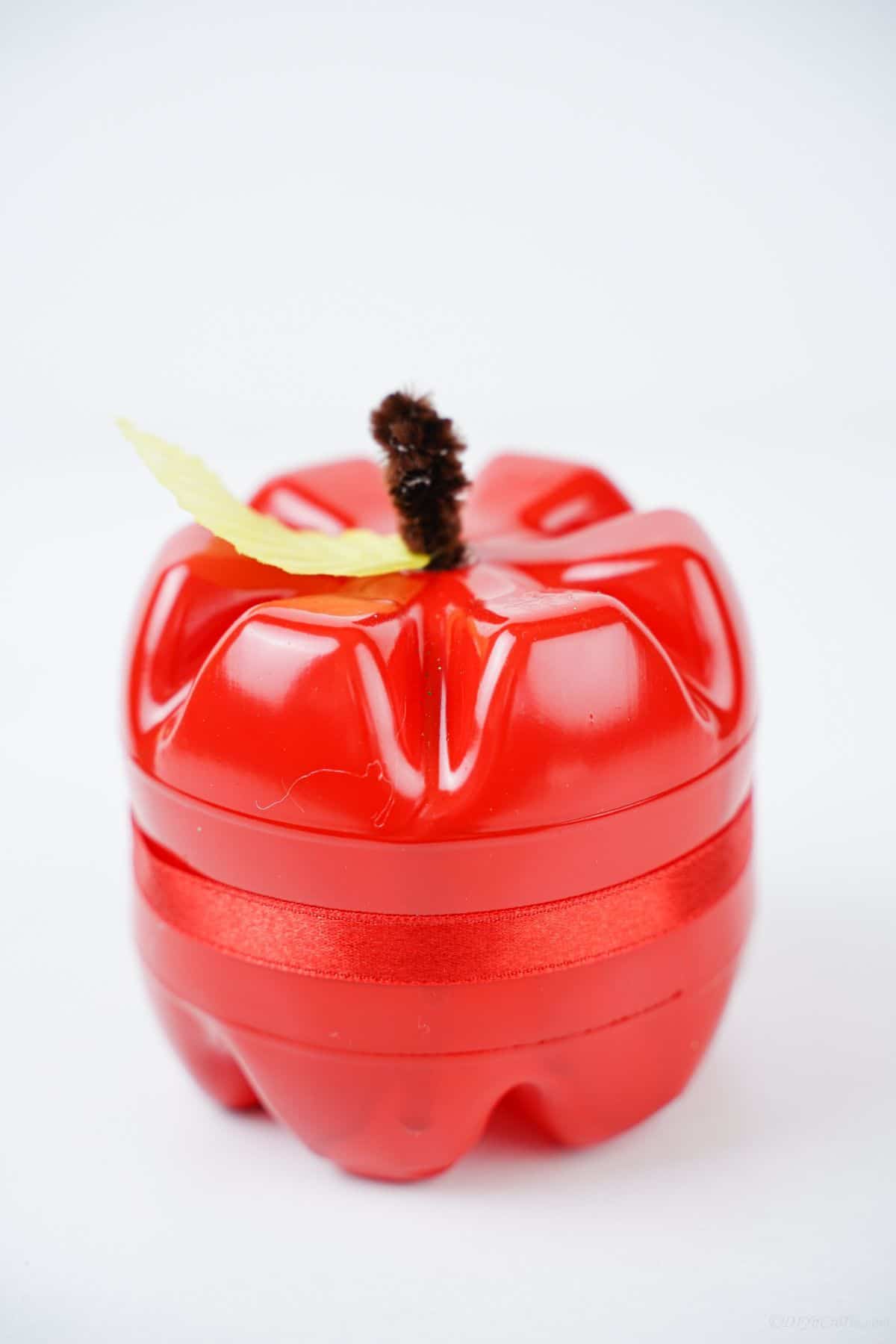 This is a cute idea to give as a gift, but can also be used as fall decor.
Or you can fill it with small items and use it as a trinket box!