There's something so luxurious, romantic, and regal, even, about a canopy draping elegantly above your bed.
Apart from framing your bed and making it appear larger than it is, it gives you that cozy, comfy little corner where you can nestle in and hide away in sweet slumber.
Unfortunately, most of us can't dish out the cash when it comes to massive four-poster beds, but there are actually a number of ways to make your very own bed canopy, and since you're doing it yourself, you get to customize and alter so that it's unique to you.
You can even use a simple canopy design to outline and draw more attention to your beautiful headboard.
Jump to:
PVC Pipe Curtains
I love the soft and calming look of these bed curtains, and the fact that the rails are made of PVC piping is just genius.
If you want to get really technical, I guess this isn't exactly a canopy since there isn't any cloth hanging over the bed, but we don't have to be that pedantic.
You can also paint the pipes to match your roof if you prefer them to blend in.
Surprisingly, this isn't the craziest thing that someone's done with PVC piping.
DIY Instructions and Project Credit – TakeItFromMe
Draped Canopy
This canopy is just so romantic, don't you think? It's a very simplistic look, but the draping gives it a nice dramatic flair.
This project is best achieved with a lightweight fabric since you don't want the dowels to have to bear too much weight.
DIY Instructions and Project Credit – LifeAnnStyle
Decorative Tapestry
This is one of the easiest ways to bring in some more color or a pattern to a room; all you need is the fabric, nails and a hammer. Most people expect a canopy to be neutral, but this example shows just how fun it can be to break away from the norm.
DIY Instructions and Project Credit – Mr.Kate
Hoop Canopy
If you want a simple canopy with minimal fuss, then the hoop version is your safest bet – it's so easy!
You can use an embroidery ring or even a hula hoop if you want it a bit larger. I love the mix of materials in the second image, and even the string of wooden beads – it just goes to show how much you can do with something so simple!
DIY Instructions and Project Credit – SpindlesDesigns and TheGoods
Crown Canopy
This project requires a bit of digging because you'll want something ornate and pretty for the crown part where the fabric—or in this case, bed sheet—drapes from. I suggest looking for a vintage shelf in thrift stores or online.
DIY Instructions and Project Credit – MyLoveOfStyle
Crown Cornice
Here's another take on the crown canopy that shows you how to build your own cornice. I also included this one because I like the idea of adding extra decorative pieces like those paper lanterns to really make the whole thing pop.
DIY Instructions and Project Credit – Remodelaholic
No Sew Pleated Canopy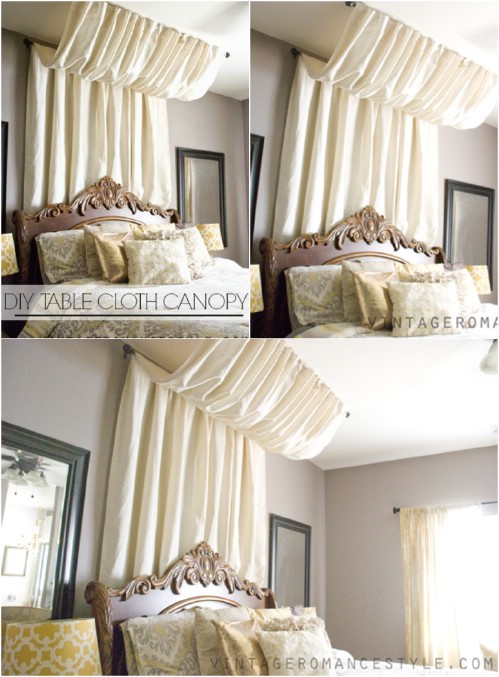 This tutorial is great for those of us who prefer to stay away from sewing – it shows you how to get that gathered fabric result without any needles or thread. And did I mention that this was done with a tablecloth? That's what I call thinking outside of the box!
DIY Instructions and Project Credit – VintageRomanceStyle
Paneled Canopy
This canopy makes use of different panels of material that just goes to show that you don't have to stick with just one plain color.
The mix of two colors and one focal patterned fabric is just so clever and interesting and will give you something that's totally unique and original.
DIY Instructions and Project Credit – HuntedInterior
Corner Canopy
The thing that's really interesting about this one is that it gives you the illusion of the four-poster bed even though it doesn't actually have the four vertical posts. Since the curtains only hang from each corner and don't close up, you still get a sense of openness.
And it's really easy to do!
DIY Instructions and Project Credit – OneKingsLane
Happy Camper
For the most part, kids love the idea of camping, so I'm pretty sure the prospect of having a tent canopy would make their little eyes light up with excitement! This shouldn't take any longer than two hours to make so you can surprise your little one and they won't be the wiser.
DIY Instructions and Project Credit – TheRaggedWren
Flower Wreath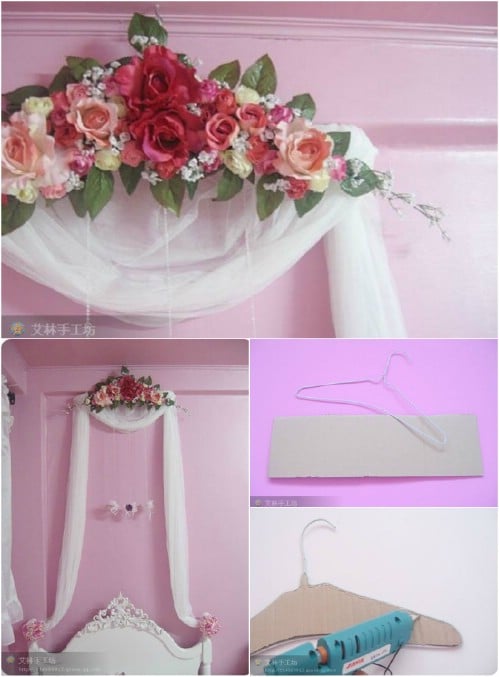 If you want something really soft and feminine for your little princess then this is definitely what you're looking for.
The hanger and fake flower arrangement is pure genius, and it won't cost you much in terms of money or time.
DIY Instructions and Project Credit – Cestosycestas
Four-Poster Bed
If you want to go the whole nine yards then you can actually build your own wooden four-poster bed.
It takes some doing, but just look how incredibly stunning it is! You can even choose different materials to drape over the canopy so that you don't get bored.
DIY Instructions and Project Credit – DecorSanity
Ladder Canopy
I'm all about repurposing, so this ladder-turned-canopy is right up my alley;
I just love the rustic, shabby chic look. I like the ease with which you can simply drape your chosen fabric over the ladder rungs on either side.
Since they aren't permanent, you have the freedom to replace them with other fabric pieces if or when you decide to change up your color scheme.
DIY Instructions and Project Credit – ChippingWithCharm
Back Curtain Canopy
The way in which this canopy extends far forward on the ceiling and then drapes down actually creates an illusion of a higher ceiling. I love the idea of placing a decorative piece over the wall-hanging curtain, as this really draws the eye and gives the room a clear focal point.
DIY Instructions and Project Credit – IAmThatLady
Tiered Canopy
A bit of fabric and two curtain rods can really take you far if you want your bed to look grand and impressive.
This project is similar to the previous one, but I really like addition of the little extra overhang in the front, especially since the fabric differs to that of the headboard.
DIY Instructions and Project Credit – DesignSponge
A bit of Trim
This is definitely one of the easiest canopy projects since you just need three brackets to create a tent shape.
What I really like about this one specifically, though, is the addition of the trim. A lot of these projects use sheer fabric, and although it gives you that soft, dreamy feel, sometimes a bit of trim is all you need to make it look more polished and finished.
DIY Instructions and Project Credit – YoungHouseLove
Lampshade Flower
Who would've thought that you can repurpose and old lampshade to create a gorgeous hanging flower canopy for a little girl? I love the simplistic drapery, it really puts the focus on the flower which is the real showstopper in this case.
DIY Instructions and Project Credit – Skooks'Playground
Ceiling Mounted Canopy
If you like the idea of having a full rectangular curtain outlining your bed but don't want to construct a ceiling frame, then this hook and wire rope project is the perfect alternative. I love how the fabric is nice and long and almost drags onto the floor instead of just touching it – it reminds me of one of those lovely veils that drag behind the bride.
DIY Instructions and Project Credit – OliveAndLove
Draped Ceiling Mounted Canopy
This version is very similar to the previous project, although, as you can see, the string is much looser, thus allowing the fabric to hang.
I also wanted to include for the little addition of the star garland. It's such a simple touch, yet it makes such a big impact.
DIY Instructions and Project Credit – TheNakedCo-Ed
Elaborate Drapery
With just one hour on your hands and about $10 in your pocket, you can make this gorgeous canopy with bed sheets and bed skirts.
I just love the frilly, flowy-ness that you get when the drapes are pulled open. If you're willing to spend a little more and want to add some extra body, I'd suggest some lace or a different colored sheer fabric along the skirting.
DIY Instructions and Project Credit – SmartLivingNetwork
Simple Straight Canopy
You don't have to build a big frame to get that canopy look that you want; you can simply attach a straight curtain-type thing that hangs from the ceiling over the top part of your bed. It's extremely easy, quick and cheap to pull off, although it certainly doesn't look cheap by any means!
DIY Instructions and Project Credit – RosyRedButtons
Knotted Ombre
A little bit of tie-dye is always fun, and this isn't your average in-your-face tie dye, it's just a bit of lovely subtle ombre love.
The knotted strips of hanging fabric is the part that I'm really in love with – it's soft and simple and really has a calming effect, very beachy!
DIY Instructions and Project Credit – Treasures&Travels
Bold Feather Canopy
If it's drama you want, then this is most certainly the way to achieve it!
This rather glamorous canopy project is totally different from the rest, mostly because of the bold color choice. I just want to show you that it doesn't all have to be soft and romantic, edgy and bold works just as well!
DIY Instructions and Project Credit – LoveMaegan