To me, a bare wall is a real eyesore, but it does get me excited because it serves as a massive blank canvas for some creative and fun designing.
The best way to decorate walls really is to make something yourself; not only will it save you from having to spend too much money, but whatever you create will be unique and customized to your personal taste.
Some people tend to think that art can only be made by people who have that knack for painting and drawing freehand, but this way of thinking really deters people from trying things out.
There are many ways to create visually impressive and impactful art without that natural talent.
If you just give it a try, you may just surprise yourself and find that you're a lot craftier than you initially thought.
Jump to:
Hanging Yarn Art
This is quite possibly one of the simplest things to make; if you think about it, all you're doing is tying yarn strands to a twig.
The fun comes with picking the colors and deciding on how long or short you want the strands – I find that the irregularity really adds to the charm.
DIY Instructions and Project Credit – OleanderAndPalm
Folded Paper Squares
You certainly don't need to be an origami master to achieve this bold and colorful piece, just plain old folding skills will suffice.
I just love the 3D effect, and if you put this in an area that catches the light, you'll get some really interesting shadows, too.
DIY Instructions and Project Credit – HowAboutOrange
Triangle Pixels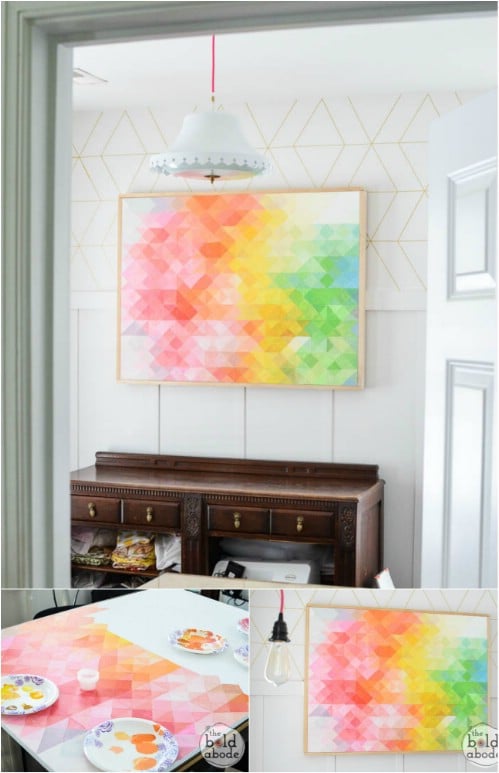 Ok so this one involves painting, but there's actually more math to it than there is art.
There's a helpful video to show you how to pixelate your chosen image on Photoshop so that all you have to do is copy the triangles onto a canvas.
Don't get too hung up about perfect lines – the blurriness just adds to the pixelated look.
DIY Instructions and Project Credit – TheBoldAbode
Wall Prints
Moroccan prints like these are gorgeous, but honestly, you can apply this technique with absolutely any pattern or shape that you like.
Simply cut yourself a stencil and start tracing! You won't even need hanging art if you have a statement wall.
DIY Instructions and Project Credit – WhileTheySnooze
Burlap Canvas
I've always liked burlap as a material because of that rustic, natural-looking charm.
A burlap canvas is a cinch to make, and it's really cheap too! If you can't find a stencil of something you like, you can always just make your own by printing an image from your computer.
DIY Instructions and Project Credit – TheMissingNiche
Wooden Map
Regardless of whether you're a seasoned traveler or still making your adventure plans, world maps remain a favorite when it comes to decorating. This wooden map only requires some tracing and staining – nothing you can't handle!
A fun way to personalize this is to add pins to the places where you've been.
DIY Instructions and Project Credit – TheHappierHomemaker
Paper Cherry Blossoms
These easy little paper flowers may take you back to your elementary school days; who doesn't love a bit of nostalgia? The incorporation of actual tree branches is what makes this really stand out. I'd just love to cover a wall with these delicate blossoms!
DIY Instructions and Project Credit – ApartmentTherapy
Cutout Canvas
I am a real fan of simplicity and minimalism, and I think this cutout canvas project really is a fantastic example of that. All you really need is a bit of patience with the cutting out part – it is quite a meticulous task, but it certainly is worth it!
DIY Instructions and Project Credit – JoyfullyJensen
Wire Shapes
A bit of wire can go a long way, especially in this case! I love how the design embraces imperfect lines, and the overlapping of wire makes it look almost like a pen sketch in a notebook.
If you have a shape in mind but aren't too confident in getting it right, just print out the image and use it as a guideline, and don't get too hung up on making it look perfect.
DIY Instructions and Project Credit – ForTheLoveOf
Pyramid Painting
Whoever came up with this idea is an absolute genius. A potato stamp? Who would have thought?
This is yet another painting project that requires practically zero painting skills. And the more you think of it, the wider your options become, for example, different color shades, different shapes, a mixture of shapes etc.
DIY Instructions and Project Credit – Woman'sDay
Paper Dahlias
If you can roll pieces of paper and staple or glue them to a piece of cardboard then you may as well start calling yourself an artist, because that's really all it takes to make this stunning paper dahlia.
Although it looks cool, I just can't bring myself to tear up a book, so I'd rather stick to colored paper for this one.
DIY Instructions and Project Credit – TheEnchantedPetal and Love,PomegranateHouse
Ball Spikes
I really love it when someone sees something expensive in a store and then finds a way to make it themselves for just a few bucks. If you're not so inclined, though, luckily, the internet is teeming with these types of people who are more than happy to share their brilliance, as is the case with these stunning, sculptures. I'm considering making like 10 or so in different sizes (shorter and longer sticks) to cover a big portion of a wall.
DIY Instructions and Project Credit – Make+Haus
Driftwood Animals
I absolutely love the incorporation of natural elements like wood in home décor. This is another very simple project that really makes an impact – and as long as you can trace, cut wood and glue, you're good to go!
DIY Instructions and Project Credit – CreativeInChicago
String Art
I've gotten a little obsessed with string art lately just because it is so clever and interesting (and inexpensive!). The possibilities are endless – you can create absolutely any shape that you want, and the only skill you really need to possess to pull this off is some patience.
DIY Instructions and Project Credit – DIYOnTheCheap
Split Photo
For some reason, an enlarged photo split onto two or more separate canvases or boards just looks so much better than if you were to display it on just one setting. If you want the image to look as if you printed it directly onto a canvas, try this easy little cheat that gives you the look without spending a fortune.
DIY Instructions and Project Credit – HouseByHoff
Washi Tape Wall
With just a few carefully placed strips of washi tape you can create a stunning and interesting focal wall. Since the only supply you need is a large roll of tape, this works out to be a very cheap project. And if you're renting your living space, at least you won't have to paint over the wall when you leave.
DIY Instructions and Project Credit – EverythingEmily
Pop Art Pets
Here's a fun way for you to show off your beloved furry friend à la Andy Warhol. I am absolutely smitten with this project! The tutorial describes using a copier to achieve the colorful doggy, but you can always just edit your digital photo on the computer to get whatever color you want.
DIY Instructions and Project Credit – ABeautifulMess
Wood Shim Chevron
This DIY requires just a bit of carpentry really, but if you don't even feel comfortable with that, I'm sure you can turn to a friend for some assistance.
The multicolor look really makes a bold statement, but remember, you can keep it plain and monochromatic, go for ombre, opt for some shine with metallics, or use different shades of the same color. And if you're concerned about gluing them directly onto a wall, find some cardboard or foam to use a base instead.
DIY Instructions and Project Credit – EastCoastCreative
Dripping Crayons
You must have noticed this melted crayon artwork all over Pinterest lately, so it's about time I show just how easy it is to do yourself. Glue, crayons and a hairdryer is really all you need! I like the simplicity of the textured streaked lines, but if you want something a little different, try for this face idea. I promise it's not as daunting as it looks!
DIY Instructions and Project Credit – FridayIsArtDay and ArtisticJunkie
Masking Tape Herringbone
The creativity of some people never ceases to amaze me, and I am forever grateful to them for making it so much easier for us to follow their guidelines. I feel a little silly about not thinking about this clever masking tape trick myself, but now I'll definitely be putting it into practice!
DIY Instructions and Project Credit – Refinery29 and OohILikeThat!
Retro Circles
This is a great minimalist piece for those of you who are so inclined. Make sure to get a mixture of interesting prints and textures to really bring this simplistic feature to life. As long as you can buy paper and get or borrow a large punch, there really is no way to mess this one up.
DIY Instructions and Project Credit – MerMag
Frames Shells
I love practically anything that reminds me of the beach, so these framed shell pieces are a real winner in my book. These examples were very well planned out and perfected, but you don't have to keep it as neat meticulous as that – a mixture of shapes and colors would also look just as great.
DIY Instructions and Project Credit – SandAndSisal
Rustic Wood
If you have some wooden boards or pallet wood left over from a previous build then here's the perfect opportunity to create a rustic work of art for your wall.
You can choose absolutely any image that speaks to you, and although the white on dark wood looks great, don't be scared to introduce a pop of color.
DIY Instructions and Project Credit – 4Men1Lady
Fabric Panels
Fabric panels are one of the easiest and most effective ways to introduce some interesting patterns, colors and textures to a room with minimal effort.
You can frame pieces or simply wrap them over Styrofoam or even just cardboard, and you can cut out any shapes you want. Simple, right?
DIY Instructions and Project Credit – ImperfectHomemaking and IHeartNaptime
Geometric Painting
The thing that I really love about this project is that you can do it on a really large scale and all it really involves is some taping and simple painting.
The chosen colors are fantastic, in my opinion, but you can keep your palette as bold or as demure as you like. There are so many possibilities with this technique!
DIY Instructions and Project Credit – TheNewDomestic
Pinwheels
This pinwheel idea is perfect for a big empty wall that needs some decorating.
It's such a fun and whimsical project, which is why I think it would be ideal for a children's room. As long as you can make a few easy folds here and there, which really isn't rocket science, you'll get this done in no time.
DIY Instructions and Project Credit – ViewAlongTheWay
DIY Wooden USA Wall Map
Creating your own home decor is rewarding and can be fairly cheap depending on the project.
If you are looking for décor that is a bit different and something that won't cost you a fortune or take forever to make, this wooden USA wall map is perfect.
The finished map is around 4 feet wide and 3 feet tall and it weighs less than 5 pounds. You will need to print off a stencil so that you can create the shape and the map is made from wooden planks so it has a really great rustic look.
Once you have finished building it, you can stain or paint it any color you want to match your existing home decor.
Imagine how this would look above your couch or anywhere in your home. You can be really creative and paint each state a different color or stain the entire map one solid color to make it look more elegant.
The possibilities are endless with what you can do once you build it and creating it takes less than a day so this is something that you can start, finish and have hanging over a weekend.