If you've ever grown flowers before, there's a good chance that you've utilized a hanging basket. Hanging baskets are vital to gardeners of all kinds, not only because they save space by being suspended in midair, but also because they make it super easy to grow gorgeous plants of all kinds.
However, did you know that hanging baskets aren't only good for flowers - they're also super useful for growing leafy greens? You can easily make a leafy green hanging basket - also known as a lettuce globe or a lettuce basket- by following these simple tips. You don't need much time to get this done - one or two hours is all it takes to create a gorgeous and functional lettuce globe for your home.
How to Make a Lettuce Globe: 8 Easy Tips
Lettuce is one of the easiest things to grow, and to me, the most fun. A lettuce globe is tons of fun and ideal for anyone who wants a variety but doesn't have a ton of room to grow. This is one of my favorite fast-growing vegetables. It grows quickly and easily and is ideal for a beginner gardener.
It might even be one on the list of foods you can grow in water, but I like this method the best. It really is easier with a lot more harvest in the long term.
1. Gather Your Materials

Before you create your lettuce globe, your first step will be to collect your materials. You can find most of what you need at your local dollar store along with the gardening supply center.
You will need a traditional hanging basket (purchase one that can be fully enclosed if you want to grow your lettuce in a ball or globe-like fashion, or an open one if you'd rather have a traditional hanging basket planter).
You will also need lettuce seeds or seedlings, some potting soil, and sphagnum moss. While you're shopping, it's not a bad idea to pick up a watering can with a long neck to reach your planter, either.
2. Layer Soil and Moss

Begin by soaking the moss in water for at least ten minutes. Let the extra water drain from the moss - there's no need to squeeze it. You can instead just let it drain naturally over the sink. Then, start layering moss and soil in your planter. Pack a layer of moss at least an inch thick, then add an inch of soil on top. Keep going until your planter is about halfway full.
Don't want to mess with layers? You can also plant your lettuce directly in a moss ball. You can purchase a ball of moss at most gardening centers. Rather than layering, you'll just drill one-inch holes in the moss ball using the head of a screwdriver or even just your finger. You'll space the holes evenly and plant the lettuce in the holes.
Want more container-style plants? Check out this list of the best vegetables to grow in containers.
3. Plant Your Seeds or Seedlings

Next, remove your lettuce seedlings from their pots (or open your seed packet). You'll lay the lettuce horizontally on the soil, threading the leaves through the openings in the baskets. Alternately, you can scatter seeds in the planter. Either way, just do your best to space the seeds or plants evenly around the perimeter so that the plants will emerge through the gaps in the wire of your basket.
4. Keep Layering Until Your Planter is Full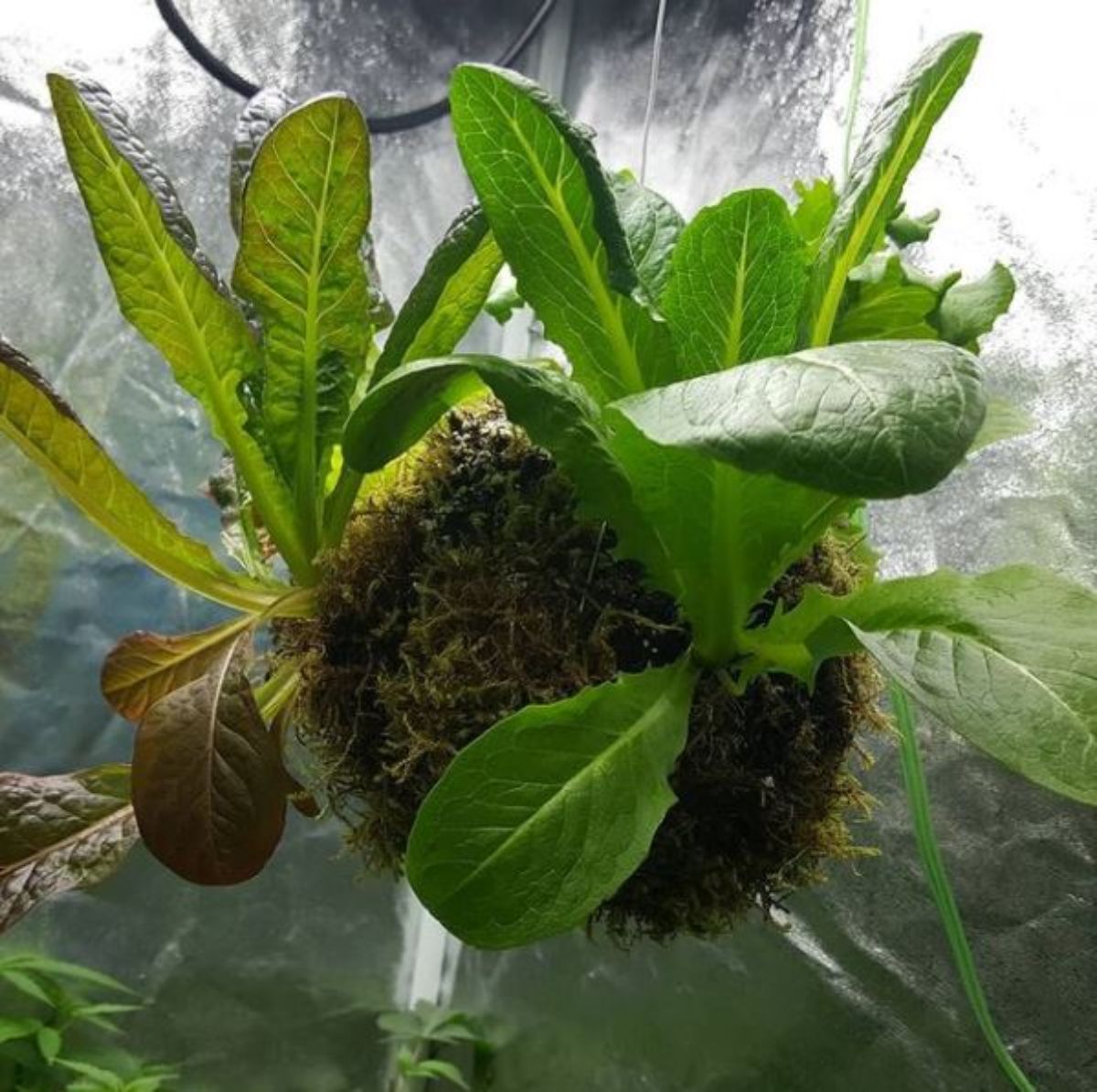 byjukshy_farms
If you have more space to use up in your planter, don't be afraid to keep layering with lettuce, seeds, soil, or moss. Make sure the roots of any seedlings are fully covered. Leave about one inch at the top of the basket.
If this is the type of planting you enjoy, you might also like these tips for making the most of your pallet garden. It's a unique way to create a garden with many types of vegetables.
5. Complete the Final Layer and Attach the Top

In the final inch, add one more layer of moss and more potting soil, if necessary. If you plan on attaching a top cover to your hanging basket, go ahead and hook that on now. Add more soil, moss, and lettuce if needed to fill the rest of it up.
6. Hang Your Planter
Now it's time to attach the chains of your planter and hang it. Make sure the moss and soil are intact and packed in well, then tuck any excess around the wire of the basket to secure the moss. Water your basket thoroughly, let it drain, then hang it from a secure hook in a sunny location (ideally one that's out of lots of wind).
I like using these wall-mounted hooks for the walls of my garden or outside my home. You can also use these shepherds hook-style hangers to put these throughout your property and away from your garden or home.
7. Tend To Your Lettuce

There's not much you will need to do to care for your lettuce globe. In most cases, you'll just need to give it full to partial sunlight and water on a regular basis. No fertilizing is necessary - and neither is weeding, when you grow your lettuce in this unique fashion.
To water your lettuce ball, you may find it helpful to use a spray bottle rather than a watering can. This is a great way to get water to all of your lettuce plants without over-saturating them - you will be lightly misting the leaves once or twice a day rather than dousing them with water when they begin to look wilted and dry.
Whichever option you choose, be sure to water first thing in the morning so the leaves have time to dry out before nightfall.
If you want, you can even plant a few companion plants with your lettuce, like pansies or nasturtiums. These will help keep airborne pests away and will also add another crop for you to harvest for a colorful salad.
8. Harvest Your Crop
You can begin harvesting leaves of lettuce as soon as they appear. The best time to harvest is first thing in the morning before it gets too hot but after the dew has dried on your plants.
As long as you don't cut more than a third of the plant at a time, you should be able to continuously harvest your plants for several weeks or months. The leaves can be used fresh in a salad or stored in the refrigerator for up to three days. Don't forget to water each time you harvest!
Why You Should Make a Lettuce Globe Today

Growing lettuce in a lettuce globe is a smart way to make the most of limited planting space - while at the same time maximizing your harvest. Lettuce globes are compact and easy to care for, requiring very little besides the occasional watering.
This kind of planter will keep your lettuce up and off the ground - and away from the eyes and teeth of hungry little nibblers, like rabbits, snails, and slugs.
No weeding, no fertilizing, and not using? Sounds like a win-win!
More Gardening Hacks and Tips