Valentine's Day isn't just about romantic love. It's time to celebrate the kids too! This list of great DIY Valentine's Day gifts for kids is perfect for keeping the little ones in your life feeling loved. They are ideal for making just for your children, or in bulk to share with the kids in their class. Of course, there are ideas here for kids of all ages, including a few the teens would like!
Valentine's Day Gifts for Kids
Get busy crafting and have fun sharing with others during the month of love! Share tons of moments of kindness with others and help everyone in your circle feel the love you have. Below are some more ideas for creating and sharing around Valentine's Day that you will love.
Cupid's Arrow Craft
This adorable little idea is cute and functional! Add your own custom message and tuck these into a gift or place at their place setting to start the day off fun!
Source: DIYnCrafts
Valentine's Day Paper Crown
Every child needs a chance to feel like royalty! Make this adorable little paper crown for your kids to wear throughout Valentine's Day. Customize with their favorite colors or name to make it even more special.
Source: DIYnCrafts
Pom Pom Valentine's Monster Craft
Isn't this adorable? Make your kids their own cute little monster to add to their gift or place setting. Kids may like making these too! You could easily assemble a little kit for making their own Valentine's Day monsters as a gift!
Source: DIYnCrafts
DIY LEGO Crayons Valentine's
I don't know about you, but my kids love LEGO and this is a perfect little craft idea that you can make and gift to them. The printable card is adorable, and the molds are easy to find. What kid wouldn't love coloring with their own LEGO crayons?
Source: Craft Create Cook
Candy Tic Tac Toe Game
This is so cute and super fun! Print out the little tic tac toe page, and tuck it into a baggie with some candy pieces. A fun game to play with the kids and sure to make them happy since the reward is candy!
Source: Etsy
Dollar Store Gift Basket
This is a fun idea that can be as simple or as complex as wanted. While not entirely DIY, you can pick up additions to build your own gift basket, or you can follow make items and simply follow this general idea to make the basket.
DIY Pillow Treat Holder
Add their favorite candies inside this cute little treat holder! A fun way to upcycle those old toilet paper rolls or paper towel rolls, and you gift them something fun! Kids love these little pouches!
Source: Our Wabi Sabi Life
Valentine's Day DIY Ear Muffs
What an adorable idea! So much fun to update and perfect for these cold winter mornings! Customize with a bit of glitter or beads and make them even more unique for your kids.
Source: Premeditated Leftovers
Valentine's Day Themed Bookmarks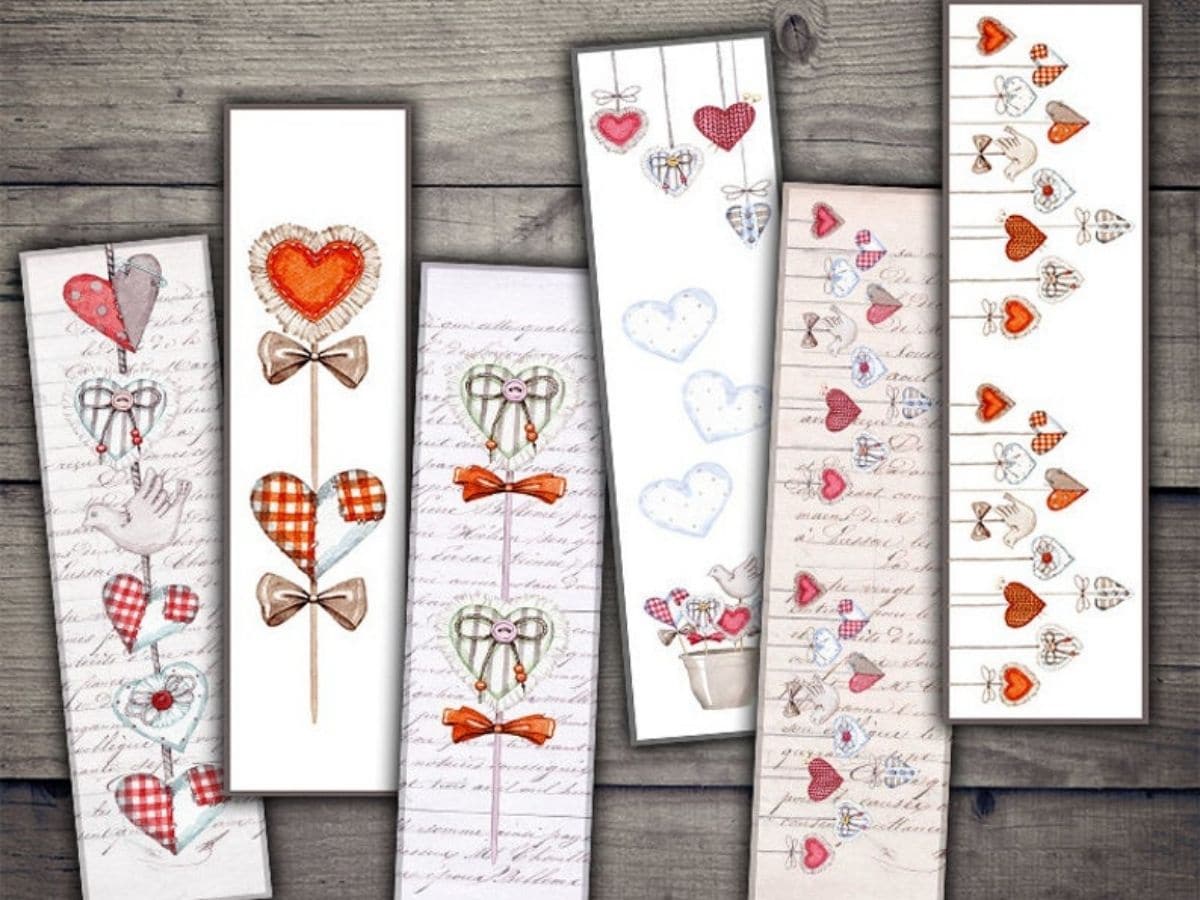 You can easily print bookmarks off and laminate them and add ribbons or string to them. Such a fun idea, especially for the book lover in your life. Plus, you have so many great options online with quotes and images, there is always variety!
Source: Etsy
Valentine Robot Snacks
This idea is a fun one that can be made for a group of kids or just tucked into your child's lunchbox. Pudding cups, juice boxes, and a few candies or googly eyes and you have an adorable little monster that is fun and tasty!
Source: Crafty Morning
Crochet Valentine Teddy Bear
If you can crochet, then you will absolutely love this idea! Make your own little teddy bears to give to your kids. They are so easy to customize with different colors and definitely fun to make.
Valentine's Day Cricut Gift Boxes
If you want something a bit sleeker, this Cricut file is ideal for cutting out cute little gift boxes to use for candies or treats. Kids will love seeing a fancy present for them, and presentation, sometimes, is truly everything.
Source: Sweet Red Poppy
Beaded Monogram Bracelets
Sometimes it's the simplest things that bring smiles to faces. A pony bead bracelet with their name or monogram initials is a cute idea they will love. This is especially good for the little ones who want jewelry but who may not be so responsible with the real deal.
Source: Etsy
Bubble Valentine's Day Gift
This was designed for kids to give to each other, but it's just adorable and had to be added to this list. Ideal for you to make for your kids! Of course, I would add it to a giant bottle of homemade bubble solution to save money!
Source: Passion for Savings
Valentine's Day Minky Throw and Pillow
I love sewing and even just creating with fabric. This is a fun idea that you can make using fleece and soft fabrics to make a cute little throw, blanket, or pillow for your kids. These are often treasured items they keep until adulthood.
Personalized Journal or Notebook
It's super easy to customize a simple journal or notebook from the dollar store. Print out a sticker or hand-letter on card stock then attach it to the front. In minutes, you have a custom journal that kids will love!
Source: Etsy
Paper Flower Shadow Box
This is such a fun way to customize a little decor for your kid's rooms! You can do this with any color, but I love the pink flowers for Valentine's Day! While you can cut the flowers by hand, this is another awesome project if you have a Cricut.
Source: By Pink
Valentine's Day Treat Poppers
This is fun to make for the kids or with the kids. Little party poppers are always a hit with the little ones and can be filled with homemade confetti, and sometimes candy!
Source: Happy Mothering
Custom Name Crayons
This is so fun! Kids love unique crayons, but this is even more special! Making crayons out of their name is so much fun! Definitely, a cute idea that kids will love opening.
Source: Etsy
Valentine's Day Explosion Box
If you haven't seen these before, they are tons of fun! It's a box that unfolds easily to load up with your favorite gift ideas so each layer has something fun and unique for them to find. Kids love these!
Love Bug Juices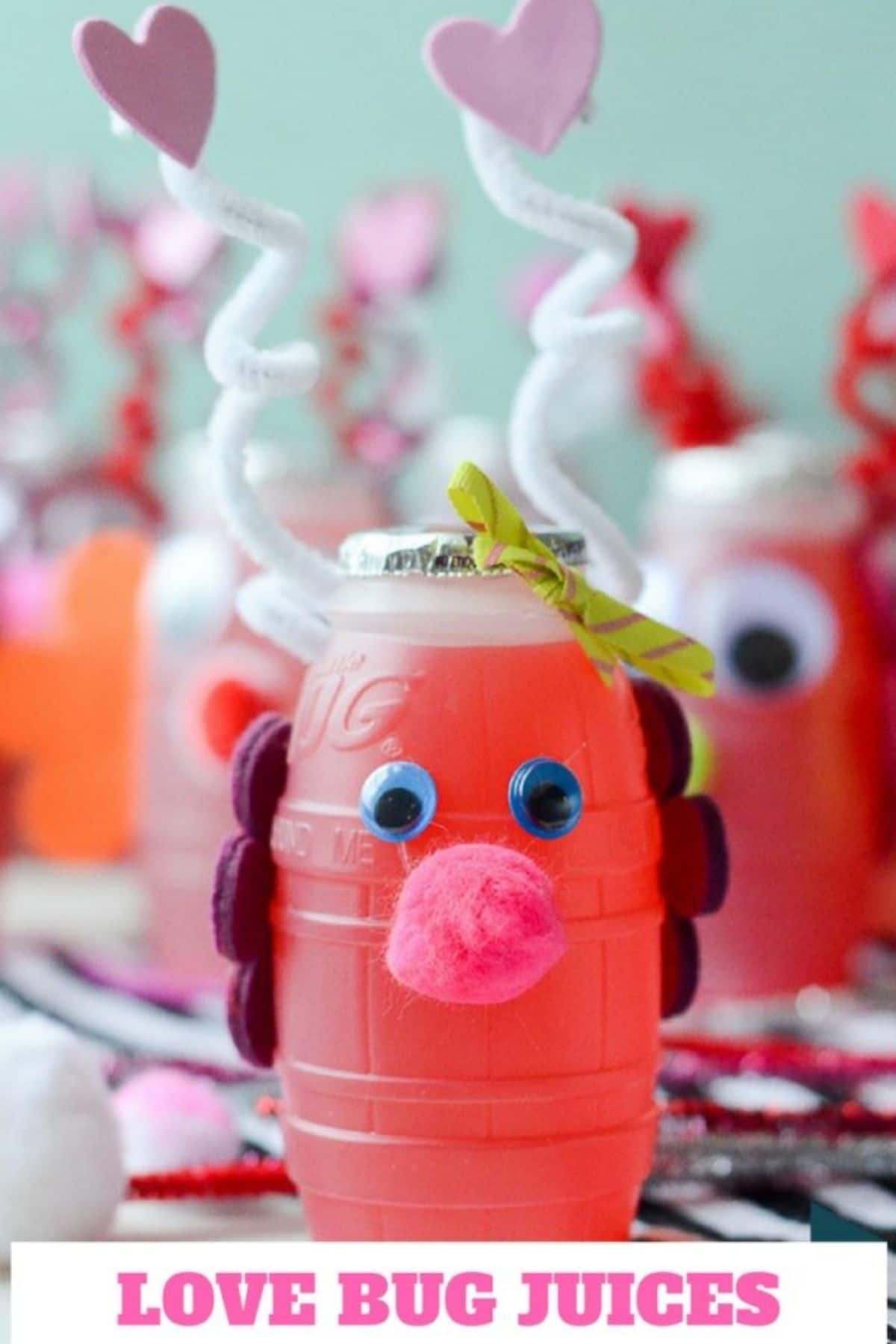 What a cute idea! Turn ordinary juice drinks into adorable little bugs just in time for Valentine's Day! This is ideal for tucking into lunchboxes or sharing with their class party.
Source: Planted in Arkansas
Valentine's Candy Dog
My kids would love this! Too cute, funny, and yummy! Turn their favorite candies into a cute little dog to gift! This is ideal on top of a gift, at a place setting or tucked into lunch boxes.
Source: Kid-Friendly Things to Do
Felt Heart Wand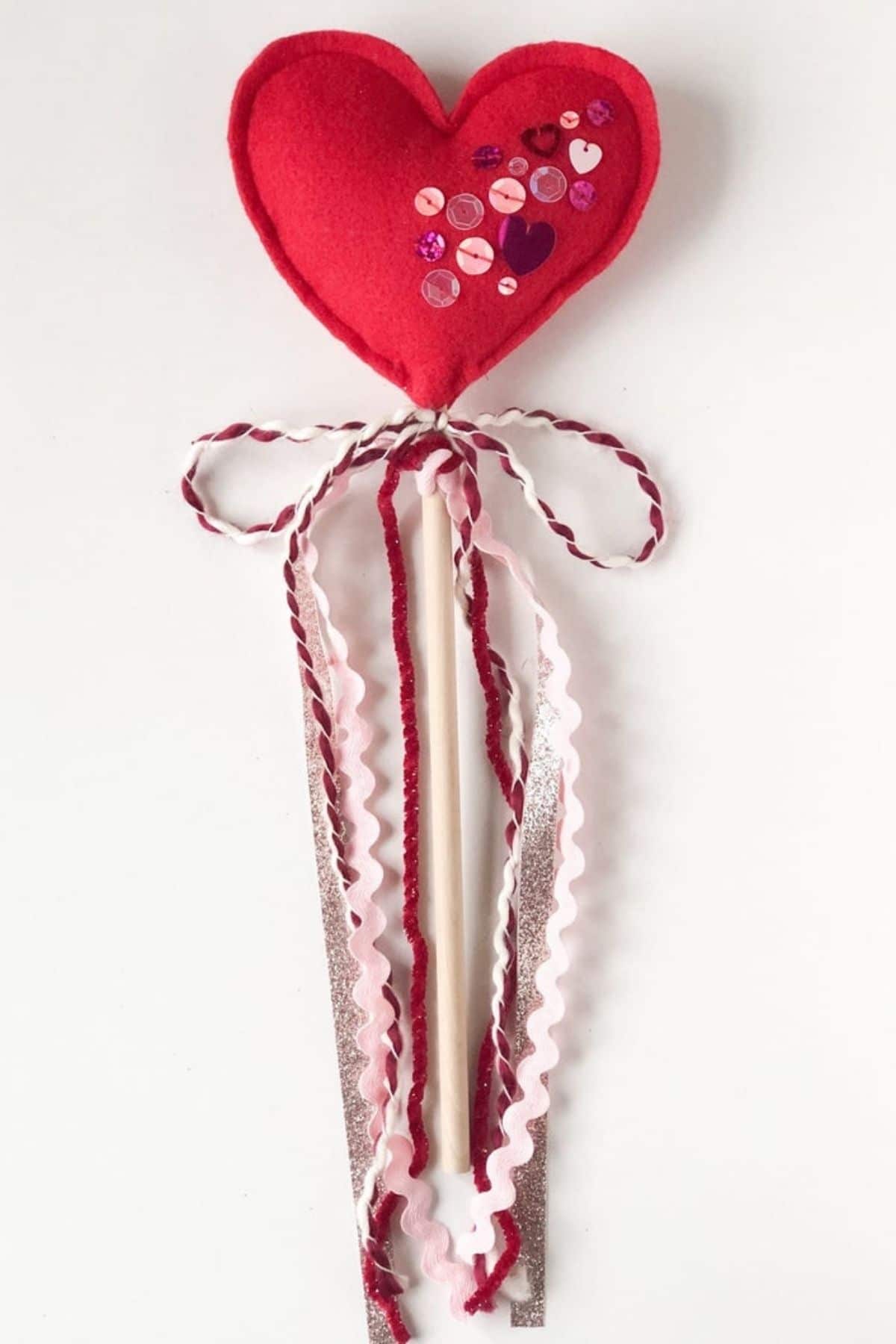 If you have a child who enjoys some bit of magical pretend play, a fairy wand is a must! This little heart wand is a perfect choice for Valentine's Day and super easy to make!
Source: Etsy
Tootsie Pop Flowers
Oh my goodness! This is too cute and fun to make! Give one, or create a whole bouquet! It's a perfect idea for kids who love big gifts when you don't have a large budget. It's big but cheap to make!
Source: The Keeper of the Cheerios
Slime Making Kit
If you have kids who love making slime, of course, this would be an ideal choice for gifting at Valentine's Day! A box of supplies with unique add-in items is sure to be a hit. Kids will definitely be excited.
Source: Etsy