Valentine's Day decorations are one of my favorite things to create! There is just something amazing about adding gorgeous decor for the day of love! Whether you are throwing a party, decorating for your kids at breakfast, or just love adding beauty to your home, this list has something for you. Beautiful additions, fun creations, and lovely decor are the center of the Valentine's Day traditions!
Valentine's Day Decorations
We LOVE the season of LOVE! It's tons of fun to celebrating our love for each other by adding cute decor around the house. Below you will find items that can double as decor and gifts, as well as lovely ways to create a themed valentine party. If you want even more ideas, check the collections below for more inspiration!
Adorable Valentine's Day Heart String Art Decoration
String art is one of my favorite decor ideas. It's so easy to do and creates absolutely stunning looks. This one is so simple and easy to make, you will adore it! Hang it on a wall year round, or use it just for Valentine's Day!
Source: DIY n Crafts
Glittery Valentine's Day Paper Heart Wreath
A few pieces of foam paper cut into hearts is the perfect base for this little wreath. It's so pretty, easy to make, and looks great on a door, wall, or mantle. You can even make multiples to create a large grouping on a wall.
Source: DIY n Crafts
Glittery Valentine's Heart Flower Bouquet
What a fun way to make a little bouquet to use as a centerpiece or to place on a table. These are easy to make and a fun addition to any Valentine's Day decorations. You will love just how easy it is to make!
Source: DIY n Crafts
Cute Burlap Heart Valentine's Day Garland
I love burlap! It makes a great base for any garland or banner. This one is perfect for Valentine's Day and super easy to make. String up on the mantle, a wall, entry way, or along the front of a buffet table.
Source: DIY n Crafts
Glittery Framed Hearts Valentine's Day Decoration
Sometimes the simplest items are the best for decorating. An old picture frame, some glitter paper, and glue are all you need to make this cute little framed art that is ideal for Valentine's Day decorating.
Source: DIY n Crafts
Gorgeous Valentine Hanging Paper Hearts Mobile
This is just too cute! It's the perfect choice for hanging from the ceiling. You can hang this anywhere in your home, or add to a nursery as a fun baby mobile if preferred! Super cute and so easy to make!
Source: DIY n Crafts
Personalized Valentine's Message In A Bottle Craft
This little message in a bottle is absolutely adorable! I love how cute this is as a gift, but it's also ideal to use for a decoration. Add to the Valentine's Day table, on a mantle, or used as a centerpiece for a party.
Source: DIY n Crafts
Valentine No Sew Fabric Wreath
What an absolutely gorgeous addition to your front door! So pretty, super easy to make, and budget-friendly. It's super fun to make with the kids too! A great addition to your door, mantle, or wall!
Source: Craft Create Cook
Tiered Valentine's Day Tray Display
This is such a fun idea and more and more popular. Using a tiered tray or lazy Susan, people are stacking and creating a little bouquet and centerpiece filled with themed items. This Valentine's Day stand is lovely and a perfect addition to a kitchen counter.
Source: Living on Cloud 9
Vintage Style Paper Hearts Garland
This lovely garland combines hearts cut out of old book pages and floral paper for a lovely garland or addition to a mantle, Valentine tree, or even just on an entryway. So pretty and simple!
Source: Etsy
DIY Love Rope Sign On Reclaimed Wood
I am in love with the simplicity that looks so gorgeous! It's a perfect fast decor idea that can be customized with your favorite colors to fit your home decor. Easy, affordable, and lovely, this is a great idea!
Source: This Worthey Life
Valentine's Day Flower Pot Craft
What a lovely little idea to make with kids! So cute, super easy, and versatile. You can use these for flowers or to hold anything from pens and pencils to utensils on your party buffet table.
Source: Our Wabi Sabi Life
DIY Dollar Store Heart Wreath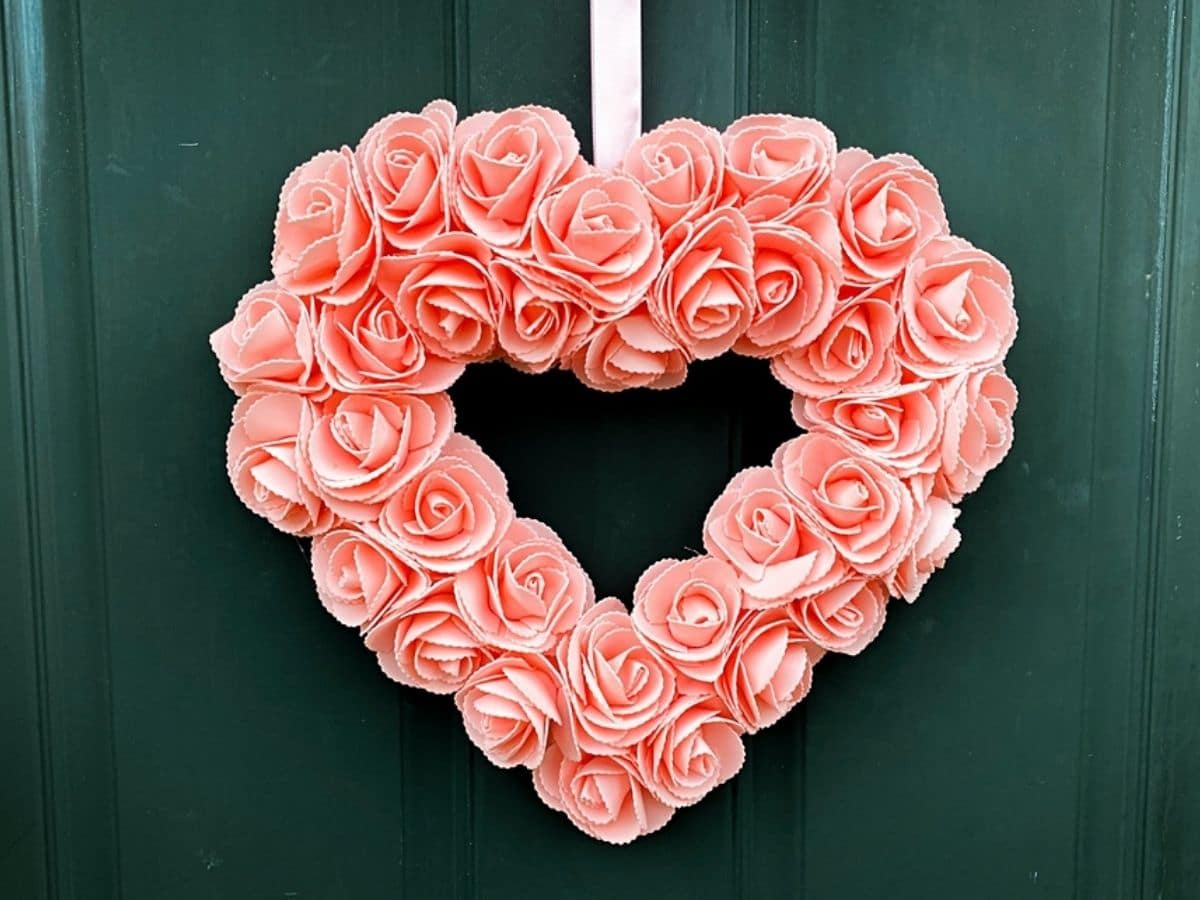 This adorable little dollar store wreath is gorgeous. I love the idea of using artificial roses to create the wreath. Make with a single color as shown, or add a variety of red, white, pink, and silver colors for more style.
Source: South Lumina Style
Valentine's Day Gnomes
Of course, I have to add gnomes to the list. It's such a fun addition to any decoration and these themed ones are adorable. So easy to customize and a perfect addition to a bookshelf or a mantle.
Source: Etsy
Simple Fabric Heart Garland
A few red and pink themed pieces of fabric and simple stitches and you have a lovely vintage styled garland. This is a great addition to any decor and is a wonderful beginner sewing project.
Source: My Sanity Project
Valentine Yarn Wrapped Trees
Trees aren't just for Christmas. This one is a great little craft that has that modern farmhouse rustic look you will love. It's a great easy craft that is budget-friendly and fits on mantles, tables, or bookshelves perfectly.
Source: Shaken Together Life
Valentine's Day DIY Canvas Heart Art
This is so fun! What a great idea that is easy to make and super fun to customize. With different options for creating hearts, the possibilities are limitless. Plus, kids will love helping you make this!
Source: Design Improvised
DIY Heart Pom Pom's
These are so cute! Perfect for hanging on a Valentine's Day tree, adding to gifts, stringing along twine for a garland, and more! Fun to make and versatile, these are sure to be a favorite.
Source: The House That Lars Built
Wooden Heart Blocks
Oh how cute! This is such an easy to make addition to your decor. A few little wooden blocks painted with Valentine's Day colors and a little heart on the front is easy to make. These can go anywhere you want in your decor!
Source: Etsy
Valentine's Tree Idea
You don't have to have a tree just for Christmas! This is such a cute idea for any holiday, and I love how pretty this one is. A few garlands, and ornaments, and you suddenly have a lovely focal point just for the season of love.
Source: ReFabbed
DIY Pom Pom Heart Wreath
Turn ordinary yarn pom poms into a lovely little wreath. Such a cute idea that is multi-colored and perfect for hanging on your front door, wall, or mantle!
Source: Country Peony
Valentine's Day Puzzle Piece Wreath
This wreath is so cute! It's a great way to upcycle that old puzzle that's missing pieces. Paint them red, white, and pink, add a colorful twine, and you have a gorgeous addition to your mantle, door, or wall. I love this for kids to help create!
Source: The Soccer Mom Blog
Pom Pom Heart Door Hanger
This is such a fun idea! I love how cute it is and I always forget about hanging things on the door. It's a perfect way to add a small little decoration to your door or even interior doors in your home.
Source: Lia Griffith
Valentine's Day Heart Table Runner
This is so pretty! You'll love this easy addition to your dining table. You can add itbreath to any table, even end tables. A great choice for updating your space simply in a fun way.
Source: A Night Owl
Simple Wooden Message Sign
An ordinary scrap piece of wood, stain, some lettering or paint, and you have a cute sign! It easily hangs in the living room, kitchen, or outside your front door for a cute addition to your Valentine decorations.
Source: Etsy
Cupid's Arrow Wall Hanging
Of course I have to include something that pays homage to cupid! This cute little wall hanging combines simple heart garlands and a little felt arrow to create a simple addition to any wall. I love the use of different colors and how it can be made big or small!
Source: Charleston Crafted
Wooden Rustic Valentine's Day Couple
This cute little rustic decoration is adorable and perfect for gifting or decorating. A little scrap wood, some paint, and a bit of twine and you have a sweet addition to your Valentine's Day decorations.
Source: Clumsy Crafter
Valentine's Day Hoop Wreath
What a cute farmhouse styled wreath! You can add any message you want to the wood slices, and use different colors of flowers if preferred. It's a lovely addition for some modern farmhouse style to any home.
Source: Lydi Out Loud
Rustic Burlap Valentine's Wreath
Combine some plain burlap, red burlap, and rustic heart ribbon to create a fluffy burlap wreath for your front door. A few wooden hearts along the front make it a great little addition to your season of love decorations!
Source: Nifty Thrifty DIYer
Valentine's Day Felt Ball Garland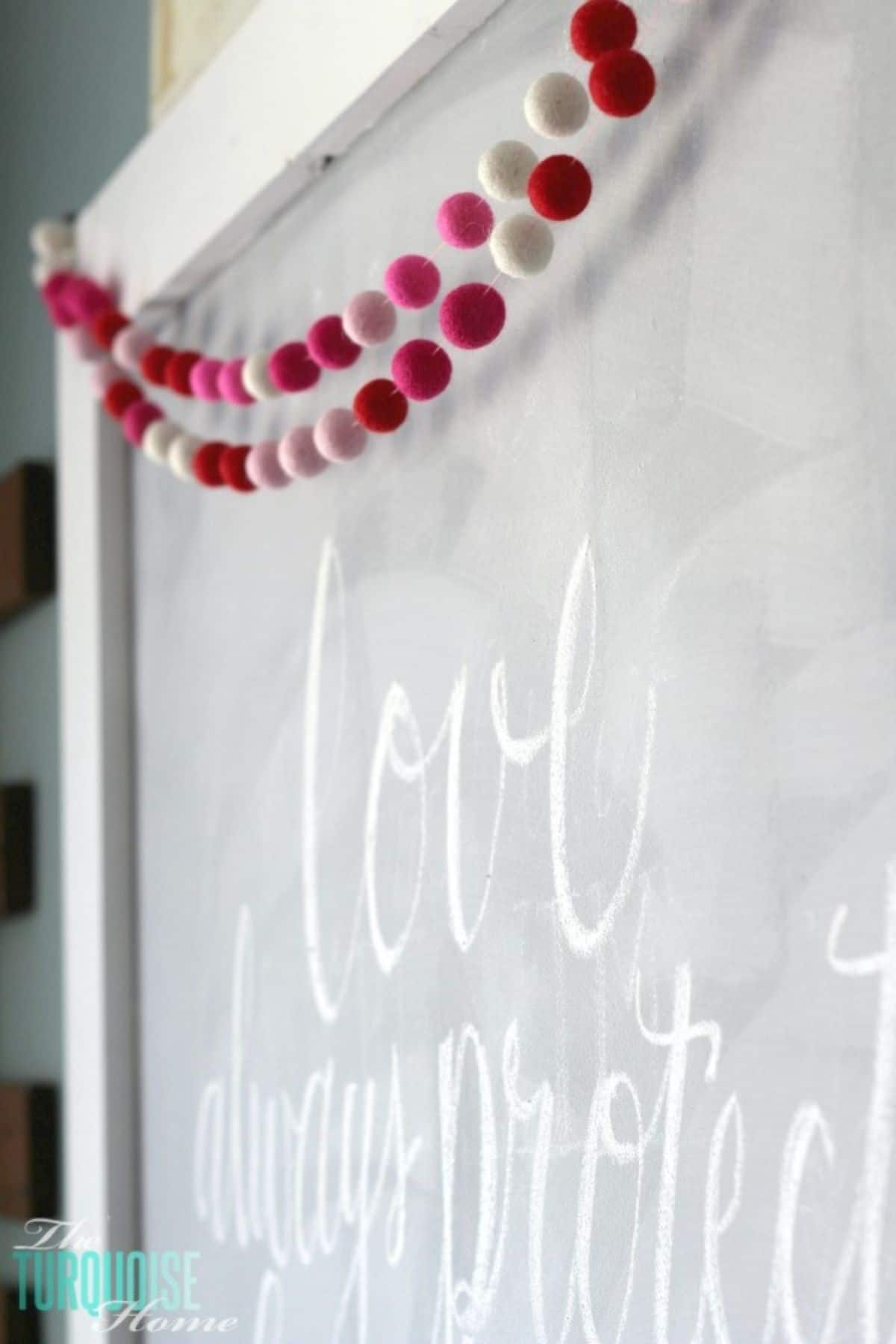 A few colorful felt balls strung onto a bright string or piece of twine creates a cute little addition to any mantle, sign, or entry. It's so cute and super fun to make. Especially kid-friendly too!
Source: The Turquoise Home
Candy Heart Valentine Bouquet
This simple idea for turning favorite candy into a little bouquet base is perfect for a last minute decoration. I love how easy this is to make and how cute it is on any table! It makes a great centerpiece for your table!
Source: Smart School House