There something inside every pet owner that just screams "Spoil him/her!" Are you eating yesterday's dry leftovers for dinner or pining over that exquisite dress that you thought was just too expensive? Well I bet ol' Fido is as happy as a clam, chewing on one of his many chew toys, getting a back rub from his co-parent, and eyeing out those cute bone-shaped treats you just bought him the other day.
Oh how we love to spoil them. Apart from all the treats and toys that you no doubt get your doggie, why not get your hands dirty and build him his very own little dog house? Everyone (even a pooch) needs a place to call their own.
Crooked Fun
There is something so whimsical and Dr. Seuss-esque about this crooked dog house… I simply must have it! Don't expect a quick build, though, it will be a challenge, but as long as you follow the tutorial carefully, you'll be feeling pretty proud when your pup falls in love with his wonky house.
DIY Instructions and Project Credit – Whitney'sWorkshop and AnaWhite
Simple Elegance

Here's another simple classic design that actually shows you what a big difference a great paint job can make! The step are easy to follow, so with some luck, you should have your doggy's house up and inhabitable after about five hours of work.
DIY Instructions and Project Credit – RemoveAndReplace
Lovely Log Cabin
I've always dreamt of having a log cabin to retreat to during my vacation time; a place to relax and unwind away from the hustle and bustle. Unfortunately, that dream is a couple of (stacks of) dollars away, so I might as well go for the next best thing and build one for my favorite fluffy friend!
DIY Instructions and Project Credit – DIYNetwork
Fit for a King
This one's a real palace, isn't it? Your lucky pooch gets to climb a ladder to his very own rooftop deck where he can catch up on some beauty sleep under the sun's rays, or perhaps keep a watchful eye on the garden. With some determination, you'll have this beauty done in a day.
DIY Instructions and Project Credit – TheHomeDepot
Modern Geometrics
Some dogs simply can not sleep in regular old dog houses; some need a modern, stylish design to match their personality. Don't let the faceted appearance scare you off, though, it's actually cheaper and easier to make than it looks. And it'll look fabulous in your house, too!
DIY Instructions and Project Credit – HomeMadeModern
Doggie Ranch
This ranch-like dwelling is made primarily from three sheets of plywood, and it's big enough for a large dog. The roof is also removable, so you won't have to crawl in there to clean, thank goodness! Line the floor with some soft, cushiony blankets and your dog will be as happy as can be in his new little home.
DIY Instructions and Project Credit – Sunset
Amazing A-Frame
For a small to medium-sized dog that usually sleeps outside, this insulated haven will be the perfect solution. The style is simplistic and it certainly does the trick, but the eye-catching extended A-frame is what really sets this doggy house apart from the rest.
DIY Instructions and Project Credit – Instructables
Canine Tree House
This ramped and stilted dog house makes me think of a kiddies' treehouse; let's hope your pup gets the same satisfaction out of it! The ramp just adds a fun element, and the elevation gives your dog a nice stage from which to scout out everything around him.
DIY Instructions and Project Credit – DIYNetwork
Indoor House
If your dog is more indoor than outdoor, and you're the type who just hates the thought of wasted space, then maybe this is under-the-stairs dog house is the perfect project for you. This is a serious stroke of genius, and I love the outside trim making it look like an actual dog house. It seems as if no one loves it more than the dog, though. Lucky fella.
DIY Instructions and Project Credit – Imgur (Reddit)
Keep it Traditional
Here's an awesome little doggy home that's a bit more traditional than the others, but with a fancy addition of a covered front porch where your dog can rest under shade while still protecting his house. If you have a free weekend and about $150 to spend, you'll dog will be moving in very soon.
DIY Instructions and Project Credit – AllAboutDogHouses
Customized House
This simplistic dog house is really great because the tutorial allows for size customization according your dog's personal size. I also love the partition in the middle – if pup has to sleep outside on a cold night, he'll be able to nuzzle in his little corner to keep warm and hide from any wind.
DIY Instructions and Project Credit – RonHazelton
Open-Air Shelter
If you live in a warm climate then you'll most likely have to adjust your dog house accordingly. You'll want some shade and covering from the sun, along with enough ventilation to avoid overheating, so I've found the perfect shelter to build for your panting pooch.
DIY Instructions and Project Credit – Instructables
Rustic Home
I really like the simplicity of this rustic, classic-looking house for your best friend. The mini corrugated iron roof is cleverly attached to a hinge, so you'll be open to lift it right open if you need to go in to clean up after your furry resident.
DIY Instructions and Project Credit – BetterHomesAndGarden
Dog Tent
Forget about traditional dog houses, why not make your four-legged friend a doggy tent house? The canvas covering provides some shade and shelter, and the open-plan design is great for warmer areas – your pup will really appreciate a cool breeze when chilling out on his porch.
DIY Instructions and Project Credit – DIYNetwork
A Tried and Tested Classic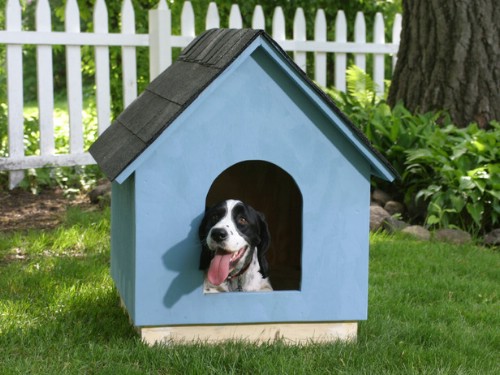 You don't necessarily have to go for something quite as elaborate as others on this list; sometimes a simple classic favourite is the best way to go. This house will also be easy on first-time builders, and it also won't be quite so hard on the wallet.
DIY Instructions and Project Credit – DIYNetwork