Make your home the envy of the block with these gigantic outdoor ornaments for the holidays! These DIY ornament decorations are totally out of this world! They're absolutely huge, and they couldn't be easier to make for yourself. We'll dive into some instructions and supplies below so you can adorn your home with these, too!
DIY Gigantic Outdoor Ornaments for the Holidays
If you're looking for some really head-turning DIY outdoor Christmas decorations this year, we've got you covered! These ornaments are a breeze to make, and they'll pop out and compliment your existing decorations. If you're anything like me, you can't wait to break out your decorations this year. Thankfully, these things are as easy to display as they are to make!
You can hang them, or place them just about anywhere outdoors. Just be sure they don't blow away! These gigantic rubber outdoor ornaments are whimsical, fun to create, and perfect for your Christmas decoration collection. And, they even look like real glass Christmas tree ornaments!
What Can I Use For the Cap of the Ball?
We'll be using a paper ramekin for this project, but you can easily use a paper soup bowl or similar product. There's a couple of reasons for this. The paper bowl looks a lot like the top of a Christmas ornament bulb. The creases and folds, as well as the cone shape, add to the ornament once it's done! As with anything though, you can make it however you'd like.
The other reason for using these paper bowls for the cap is that it's simple to pierce and add a string or ribbon. Other materials would be too heavy to adhere to the rubber ball properly and give you a much more difficult time with attaching a loop.
Can I Decorate These Crafts?
Easily! Depending on what you're going for, there are lots of options to add some decoration to this DIY craft. first and foremost, spray paint can go a long way. In this case, you're going to want to stick with spray paint since it will be the easiest way to paint these rubber balls.
Add a design, or pattern using your favorite stencils! You can easily spray paint on some pretty, festive designs with little effort or difficulty. With a craft like this, the only limit is your imagination! Create something that's perfect for your outdoor Christmas display this year.
How do I Stop These Ornaments From Blowing Away?
When you're dealing with rubber bouncy balls for craft supplies, it's bound to come up! Let's face it, these huge ornaments look best when they're still where you left them! To stop the winter storms and snow from taking them down the street, we've got a few suggestions!
The easiest thing to do is to hang them securely from any of your yard trees, or the front of your home. Sconces and exterior lights also make great spots! You can also make them a part of any of your other Christmas lawn decorations using zip-ties to make sure they're not going anywhere! Rest assured if they do blow away, they'll be easy to spot!
How Can I Personalize These Crafts?
There's a bunch of ways you can add your own personal flair to these unique and fun ornament crafts! We talked a little bit about using stencils and spray paint, but there's other options as well. Using a hot glue gun the possibilities are almost endless! Give your crafting supplies a bit of a shakeup for some awesome holiday-themed inspiration. Here are a few ideas of our own you can draw from:
Spray paint, and affix doileys to the cap of the ornament for a traditional look
Hang several from a tree in your yard with Christmas lights for an eye-catching setup
Use stencils to add holiday phrases or designs
Hot glue strips of glitter, faux gemstones, or ribbon for some extra detail
Supplies Needed
How to Make a Gigantic Outdoor Ornament
The first thing you'll want to do is spray paint your bowl
Pierce the bottom of the bowl in order to make a loop with string, and tie it together on the inside.
Apply glue all around the rim of the bowl.
Next, press the bowl onto the top of the ball. Be careful not to shift the bowl while the glue takes about a minute to set. Gently hold it in place.
After they've both dried, you should have two completed ornaments! Since they're latex rubber balls, you can use them as a part of your outdoor Christmas decorations!
More Fun Christmas Craft Ideas
Creating Christmas themed ornaments, and crafts is a great way to expand your collection without spending too much! Stay on budget, and let your creativity flourish! This is a great way to put rubber balls to use that would have otherwise found their way to the dump. Craft ideas like these are perfect for giving old pieces a new life. These are some other project ideas you can draw inspiration from!
Yield: 2
Gigantic Outdoor Ornament for the Holidays
These gigantic outdoor ornaments are like two oversized Christmas tree decorations! They're ideal for placing outdoors, or hanging up for the holidays.
Additional Time
10 minutes
Instructions
Spray paint the 'cap' (paper bowl) of the ornament silver
Add a string through a hole in the bottom of each of the bowls once they've dried.
Use the hot glue gun to apply glue to the rim of the bowl.
Press the bowl onto the top of the rubber ball before the glue dries, and hold gently in place for about a minute.
Notes
Replace the string with ribbon for a more festive loop to hang these baubles.
Crafting Tip
If you're a little worried about how well the string and paper bowl will hold up, this is a great solution! Use a wide clothes button on the inside of the paper bowl. Run the string through the hole in the bowl and the button, which will stop the string from ever ripping the bottom of the bowl.
Finished Product Gallery
Hang these decorations along with some lights for a fun and festive effect. It almost makes them look similar to traditional small glass ornaments.
Decorate these ornaments with some snowflakes to add some lovely seasonal charm!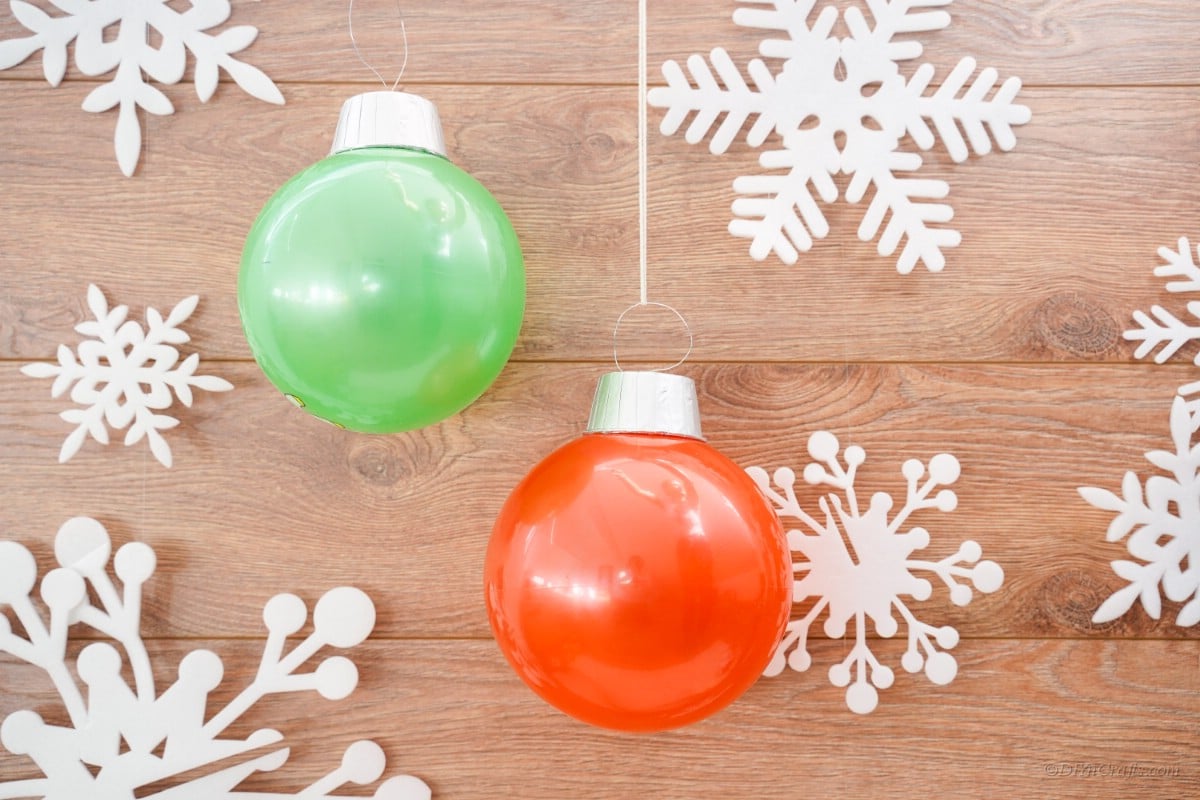 I just love that you can hang these anywhere to make an impact with some whimsical holiday cheer!