First impressions are important, and that includes the first impression of your home. This list of porch wall decor ideas is just what you need to make sure every guest entering your home has a good impression. From simple welcome signs, house numbers, and plants to intricate artwork, there are tons of ways to add beauty and style to your porch. Use these ideas on your front or back porch to create a welcoming experience for every guest.
Porch Wall Decor Ideas
Creating a true sanctuary of your home is a must for a happy and healthy life. That oasis from the outside begins with your front door and the porch or entry you use. By adding fun elements to the space that reflects your style and personality, you begin building the home of your dreams. These ideas are excellent ways to show personal style and to add a touch of beauty to a drab space.
More Decor Ideas for Your Lawn and Garden
Wood Slat Welcome Sign
Nothing is more classic on your porch than a simple wood slat sign. This welcome sign is leaning against the porch but can be hung by the door or on the wall of the porch. A great and easy to make sign that is ideal for any space or style.
Monogram Letter on Old Shutter
This decor has such a unique style and I love how it repurposed an old shutter. A large metal letter in your monogram is the ideal addition to the shutter. With coordinating colors that contrast against each other, you'll love this on your porch.
Source: Organized Clutter
American Flag Holder
On this porch, a patriotic theme is present. Along with the cute pillows on the rocking chairs, they have placed a fireman badge sign on the wall holding American flags next to a simple porch light. This is a great dual support display.
Chalkboard by Front Door
This idea is brilliant! You see the fall theme on this porch, but the chalkboard next to the front door is great for adding seasonal greetings or having guests leave a message if they miss you. It's also a great way to keep kids busy outside. Or, if a homeschooling parent, it's ideal for the outdoor class days!
Metal Monogram House Numbers
This is a great way to personalize and add a modern element to your house numbers. I love this idea for a focal point by the front door.
Source: Etsy
Reversible Holiday Porch Sign
I love this simple sign because the tutorial shows you how to make this a reversible project! This means it's great for both fall and Christmas themed decor!
Trellis with Potted Plants
A little trellis tacked onto the porch wall is a great addition that breaks up an empty space. Add a few hanging flower pots or buckets and you have a unique floral decor piece that flows with your home and is great for your favorite colorful plants.
Source: Farmhouse 5540
DIY Geometric Wall Art
This $15 creation can be hung indoors or outdoors and is a great choice for a unique modern look. I love that it is entirely homemade, and especially that it is so versatile.
Source: Mama Needs a Project
Oh Hello Sign Board
This sign is such a cute idea! Instead of the standard welcome sign, this is a more casual greeting. Add this in black background with white writing and a nice wooden border for a classic look. You can also have this in any color and font to match your preferred style.
Source: Etsy
Hanging Pallet Plant Holder
If you like the rustic appeal of pallet furniture, you might also enjoy this easy plant holder. A simple pallet hung from the ceiling of your porch is ideal for adding a few potted plants or even a bird feeder.
Source: Jenna Burger
Repurposed Shutters Framing a Picture
What a fun idea! Tack a few shutters onto the porch wall then center a favorite picture or classic print in the middle for a unique focal art piece. This is an ideal way to reuse some shutters and keep with a nice farmhouse style.
Source: Between Naps on the Porch
Dollar Tree Miniature Porch Swing
While this isn't on her actual porch, you could put it on yours. I love how she shows how to use dollar store items to create a little hanging swing or bench. Add flower pots or just cover with fun colors and it is a great addition to your porch.
Framed Porch Rules Sign
This white sign with black printing is a perfect choice for your front porch. I love that you can create your own rules, but this list is an ideal choice that appeals to and applies to nearly any family dynamic.
Source: Etsy
Hanging Mason Jar Candle Holders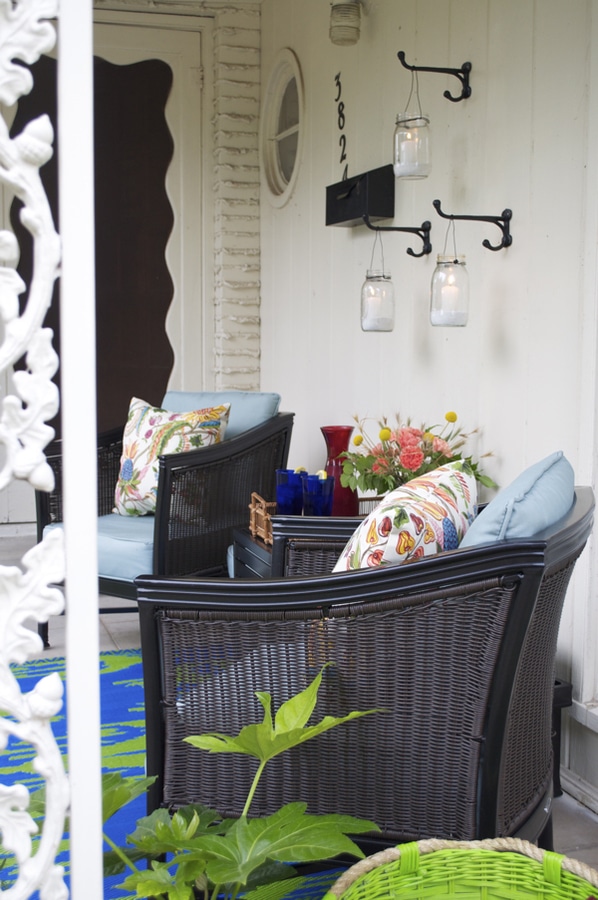 A few mason jars hung on wall hooks or sconces are ideal for holding votive candles. These offer a nice soft glow for evenings on the porch. Another choice is to add citronella candles to these for keeping bugs away on summer days!
Source: Home Depot
Round Welcome to Our Porch Hanging Sign
This simple painted wood slat sign is adorable! I love that it is so simple and the multiple fonts make the words pop against the weathered white background.
Source: Etsy
Framed Moss Letter
A simple weathered picture frame is the ideal setting for a unique moss-covered monogram letter. You could also add a flower-covered letter to this space if preferred, or even surround the frame with flowers to give it an even more unique look.
Source: Our House Now a Home
DIY Tiered Plant Hanger
This is another excellent dollar store "hack". She shows you how to turn a few simple items from your local Dollar Tree into a multi-basket shelf or storage system for indoor and outdoor use!
Sit Down and Stay Awhile Porch Signs
This set of signs is a great choice to go above your preferred seating option. A farmhouse decor styled sign with two fonts that pop against the white background makes anyone feel welcome.
Source: Etsy
Wooden Box Top Name Sign
This looks like an old wood crate top that has been stenciled with your family name and the year established. This is a great way to showcase your family name, and the rustic look goes well with any seasonal decor.
Source: Lehman Lane
Tall Welcome Sign with Multiple Fonts
This taller sign is unique with a variety of fonts and flourishes to add variety. I like the invitation to relax and stay, and of course, you can customize with your own colors.
Source: Etsy
Repurposed Cabinet Door "Frame"
This painted old cabinet door makes the ideal frame for a vintage platter with painted flowers. The colors really pop and it works perfectly for spring and summer, but can easily move into fall with ease.
Source: House of Hawthornes
Colorful Picket Fence Welcome Sign
This sign is super cute! A painted picket fence piece with a large welcome sign is always cute, but the colorful painted flowers are a perfect addition that just makes you smile.
Source: Home You
Hexagon Metal Family Name Sign
If you don't mind sharing your name on the door, this little last name sign is a great addition to any space. I love the sturdy metal frame, and the lovely scripted font still is clear to read while being elegant.
Source: Etsy
DIY Spring Picket Fence Welcome Sign
This is such a cute little DIY project! Add this to your porch by leaning against the wall or hanging with a few nails or hooks. She added spring accents, but you could easily make this for any season.
Hang a Wreath on Shutters
If your shutters are just for show, use them as part of your porch decor. I love this simple rustic fall-themed layout with a beautiful warm wreath hanging on the shutters above a comfy bench.
Source: Liz Marie Blog
No Soliciting Door Sign
Every family with small kids needs a sign for no soliciting! This is c very simple and rustic addition that looks great on any home. While farmhouse styled, it fits most decor styles easily.
Source: Etsy
Metal Wall Art Piece
This simple metal wall art piece is a great rustic addition to any space. I love how it contrasts with the colored brick and pillows on the bench. Such a beautiful piece!
Hanging Giant Dream Catcher
What a fun addition! This DIY dream catcher uses an old bicycle wheel as the base to surround with scrap fabric and ribbon. Customize to match your house color or season!
Source: DIYNetwork
Transformed Flower Pot Wall Sconce
An ordinary light cover or wall sconce just won't cut it. This is a great idea that upcycles an old flower pot into a colorful and useful wall sconce. I love how pretty this is and that you could do the same thing with any style you wanted!
Source: Etsy
Tennessee Shaped Pallet Sign
What a cute little idea! This is perfect for those who reside in Tennessee but I can see it easily being useful for other states if you have a simple state shape outline to go by!
Round Succulent Planters
This porch space and the wall have three cute little round succulent planters. Made in various sizes, they are ideal for showcasing your favorite little easy to grow plant while adding a sleek look to space.
Source: Shutterfly
Black Wooden Hanging Shelf Planter
I love this weathered look to this little planter shelf. It's ideal for an average-sized terra cotta flower pot, but you could fill this with any knick-knack or flower you wanted! Simple design makes it easy to fit in small spaces and very simple to hang with just a hook and your favorite rope or heavy-duty twine.
Source: Etsy
Chalkboard Welcome Sign with Wreath
This is a simple addition to your porch. Add a long chalkboard with a simple message then attach a seasonal wreath to the top half. It makes for an easy addition that can be customized for seasons or events in minutes.
Source: The Trending House
Macrame Hanging Herb Garden
If you are looking for a vintage style, nothing is better than macrame! These little herb gardens are easy to hang on any space and add a fun look to your porch or the outside of your home.
Source: My French Twist
Hang Quilts on Your Porch
Depending upon your porch, the weather in your region, and the season, this may be a limited time only option, but I absolutely love this tutorial. Of course, you can also take note of this particular porch of how she has a lovely quilted print on the wall. You could also do the same on yours!
Wooden House Number with Planter
This wooden house number sign is an excellent place to tuck your favorite succulents or potted plants. Rustic farmhouse style but functional, it's a perfect addition to any front porch or entryway.
Source: Etsy
Rain Gutter Planters
A few painted rain gutters, some heavy-duty rope, and your favorite colorful plants are all you need to create this simple but stylish look for your front porch!
Source: Make It Love It
Wood Mermaid Cut-Outs
This whimsical decoration is ideal for a beach house or a summer nautical theme. A few wooden cutouts of mermaids swimming are added above and between patio doors. I love the simplicity of this that also conveys a very clear message of style.
Brass Cauldron Planter
A little dragon or gargoyle holding a small planter is ideal for any porch. It adds a cute little bit of whimsy and fantasy while still being useful. So beautiful and ideal for hanging on a porch to give guests a little smile as they visit your home.
Source: Etsy