This simple rope basket tutorial is a gorgeous little addition to your home. Whether you add this to a room to store items, or you use it as a cute little bag to carry things in on the go, it's an adorable project to create. Just like the baskets sold in stores, but even better because it can be customized to what you need. Use these baskets to organize your clutter and add a special touch to each room in your house.
Rope Basket Tutorial
This step by step tutorial shows just how easy it is to create a beautiful rope basket. I love that you can use this tutorial as the base to create any sized basket you want. Simple choices like this make me love crafting. Knowing I can add my own spin to something and it still turns out beautiful is a must when choosing projects to share here. Don't put money out for expensive baskets that the boutique stores sell, when you can create you own in a few easy steps.
I've seen similar baskets for sale in boutiques and decor stores for upwards of $50 each. Knowing I can pick up a roll of rope for $5 and turn it into something this stunning just makes me happy. Plus, I know I can gift them to friends and family as the base for a gift and they will love them as much as I love mine!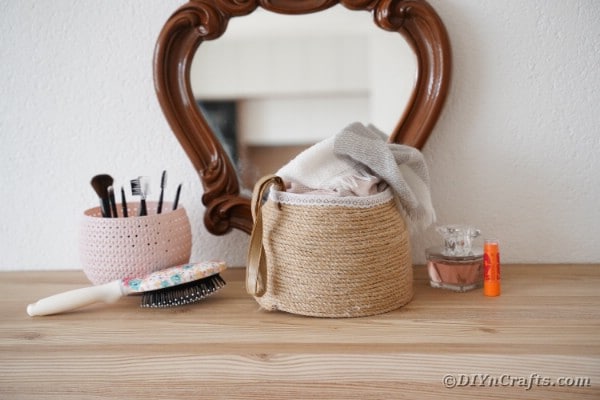 What Rope is Best for Making Baskets?
The best thing about this rope basket tutorial is that you can make these baskets with any type of rope you have. If you are making a larger basket, I would recommend using a thicker rope because it will require less rope and less time. However, if you love the look of the small coils then you can certainly use a smaller style rope.
I've used nylon rope, cotton rope, and even hemp ropes for baskets like this. The type doesn't matter as much as that it makes you happy and you like the results. My preferred style is more rustic and farmhouse, so the brown jute or rope like this works perfectly. That said, I know that many of my friends and family like brighter colors, so picking up spools of colored rope can work better.
Ways to Decorate Your Basket
I love the simplicity of a basic basket. In many stores, however, I see them decorated with different handles, embellishments, and additions that bring life to the basket. Really, the best way to know how to decorate your basket is to look at the rest of your home and style. Find things that make you happy or looks you prefer, and use those to upgrade a simple basket. Below are some additions that might work great to add life to your basket.
Make the handle out of rope or braided fabric instead of leather.
Add lace trim around the edges.
Include rustic flowers from burlap or your favorite accent fabric.
Line the interior with fabric of your choice.
Add toggles or buttons on the edges of the handles.
Fun Ways to Use a Rope Basket
I love these rope baskets. They can be used as simple decorations around the house or used to hold those odds and ends that do not have a certain place. I have also used these beautiful baskets as plant holders. Place the flower pot inside of the basket and it is perfect to display the plant. This is also a great way to give the plant as a gift. You can also make these baskets as gifts because everyone loves a simple and elegant basket for their home.
Supplies Needed
How to Make a Rope Basket
Add a dab of hot glue to the end of a rope, then begin wrapping the rope around in a circle.
Continue rolling the rope around in a circle gluing as you go. I like to add the glue around, then attach the rope as it forms a circle.
Do this until you have reached the size you want your basket to be. Mine is around 8" across.
Once you have created the base that you want, begin moving the rope upwards and securing with glue building the sides of your basket.
Continue wrapping the rope around in a circle gluing each layer together until the height you want.
If desired, you can start tapering in the top part of the basket so it is at an angle wider on the bottom.
Once the basket is the height you prefer, cut two lengths of leather cord or thick fabric to create handles.
Glue or sew the handles in place on opposite sides of the basket. Sewing is a better choice for long term stability.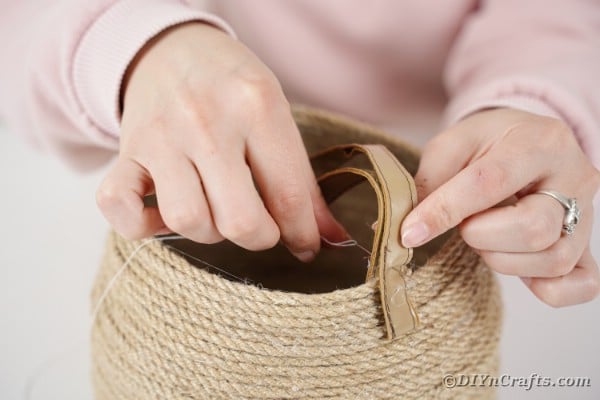 For best results, slip the fabric through the top few rows of rope so it loops around and has more stability.
Cut a length of lace ribbon and glue around the top edge of the basket.
Add any additional embellishments or flowers to the basket you prefer.
Use to store items or as a small purse on the go.
Crafting Tip

My preferred rope for making baskets is a good twisted hemp rope. I find the quality better than cotton, and that it lasts longer. You can find hand made hemp rope on Etsy or other retailers for a truly rustic look.
Yield: 1
Stunning Rustic Rope Basket Tutorial
Grab your favorite rope and glue gun to follow this easy tutorial for making your own homemade rustic rope basket!
Instructions
Start by adding glue to the end of a rope and wrapping it around itself to form a circle;
Continue rolling the rope around itself in a circle gluing as you go;
Wrap the rope around itself until you have reached the size basket base you want, I made this around 8";
When the basket is the size you want the base, you will move the rope upwards and stack on top of the base to create the sides;
Continue wrapping the rope and gluing as you go stacking it on top of itself to secure;
As you glue the rope in place, you can begin moving it smaller as you go upward to create an angled basket shape;
When you are happy with the height of the basket, add glue at the end of the rope and secure;
Now you can cut two lengths of leather cord or thick fabric for the handles;
Glue or sew the handles in place on opposite sides;
Cut a length of lace to fit around the top edge of the basket and glue in place;
Add any additional flowers or embellishments as desired and glue in place;
Use this basket for storage or as a fun unique purse.
Notes
Use different colors of rope for different baskets. You can even alternate colors of rope as you glue up the sides of the basket.
Recommended Products
As an Amazon Associate and member of other affiliate programs, I earn from qualifying purchases.
Finished Project Gallery