If you have been putting off starting a garden, it might be because you are having trouble figuring out where to start.
From digging rows to planting bulbs, it can be tough to find the motivation to plant - but these images from one of the world's most famous gardens should do the trick.
When spring arrives each year, one of the world's largest public gardens opens its doors to the public, letting millions of visitors take in its beauty. Keukenhof is home to more than 7 million flower bulbs over 79 acres and is located in South Holland.
Here, there are more than 80 varieties of Holland's trademark tulips on display (more reason than ever to start researching the best kinds of blooms for your garden!). But tulips aren't all you'll see here - the gardens are also home to narcissus, hyacinth, and other kinds of flowers, too, all brought to the gardens by more than 100 royal suppliers.
Keukenhof isn't just a gardener's paradise - it's also an oasis for nature photographers. Hopefully, the eye candy in this article will inspire you to create your own photo-worthy landscape.
30 Most Beautiful Images from Holland's Keukenhof Garden
1. Dutch Windmill at Keukenhof
This scene is straight out of a storybook with an idyllic Dutch windmill in the background. White tulips aren't all you'll find at Keukenhof - the grounds are home to tulips in just about every pastel shade you can imagine.
2. Create Gorgeous Borders Like These
This picture-perfect border is easy to recreate in your own garden. One simple tip? Create your edging by digging a line with a shovel before you plant. That way, the wavy silhouette will look purposeful instead of chaotic.
3. Multiple Colors of Same Flower Species
You don't have to have your own windmill turning gently in the background to make a serious landscaping statement. Just incorporate flowers of the same species but in different colors - you'll make a lasting impact that takes very little work to care for, particularly if you opt for perennials that will come back every year, like these tulips.
4. Hardscaping in Keukenhof Gardens
Don't forget the non-plant features of your garden, too. Hardscaping is a great way to maximize your space and make your garden a bit more "user-friendly." Keukenhof is home to all kinds of "flower alleys" and seating areas, giving visitors plenty of opportunities to sit down and "smell the roses" - or should we say, tulips?
5. Beautiful Stone Walkways
A stone walkway provides the perfect pathway through an idyllic garden, as pictured here. If you want to recreate this in your own landscaping, just make sure you put down landscaping fabric beneath the rocks so weeds don't pop up in the crevices.
6. Tulips and Landscaping Trees at Keukenhof
Don't forget about the impact shrubs and trees can make in your landscaping. These trees offer just the right amount of shade without overshadowing the tulips below.
7. Plant in Blocks for Convenience and Beauty
Block style planting is the way to go for a clear, organized garden layout. Easier to care for, too - which is essential when a garden has as many flowers as Keukenhof does.
8. Tulips Growing at Keukenhof
Don't restrict yourself to one kind of flower - although Keukenhof is known for its tulips, there are plenty of other flowers, like crocuses, planted here, too.
9. Waterworks and Keukenhof Fountains
If you're feeling adventurous, why not give waterworks a try in your landscaping? The key is to prevent water features from becoming breeding grounds for pests like mosquitoes - which you can easily do by keeping the water moving via a fountain.
10. Traditional Dutch Windmills and Houses
Is there anything more beautiful than a flower garden as the sun is going down?
11. Mulched Garden at Keukenhof
As you can see in this picture of Keukenhof, mulch is the key to keeping a flower garden organized, healthy and contained.
12. Simple Monochromatic Tulip Planting
Monochromatic doesn't have to be boring - as you can see in this picture of bright red tulips in full bloom at Keukenhof.
13. Backyard Planting at Keukenhof
Form meets function in this section of the Keukenhof Gardens. Who said the view out your back door had to be bland?
14. Clog Planters
You aren't limited to planting in the ground - not even at Keukenhof. The gardens are home to plenty of unique landscaping features and plantings, like these clever clog planters.
15. Storm Coming in at Keukenhof
It looks like a storm is rolling in, but the flowers don't mind.
16. Aerial Shot of Keukenhof Gardens
If you're still starved for inspiration, check out this aerial footage of Keukenhof. Talk about coordinated!
17. Yellow Tulips at Keukenhof
Yellow is the traditional tulip color, but you don't have to stick to tradition in your own garden plantings. Feel free to experiment with various shades to find the right options to set off the rest of your decor.
18. Spring Blooms at Dutch Gardens
Pretty pathways and white blooming trees line this section of Keukenhof in the Netherlands.
19. Blue Muscari and Grape Hyacinth in Keukenhof Gardens
Blue Muscari and grape hyacinths accentuate one of the many tulip gardens at Keukenhof in Lisse.
20. Scenic Cottage at Keukenhof
This quaint cottage and wishing well provide the perfect pastoral feel to the Keukenhof landscape.
21. Busy, Not Crowded Planting
A busy planting looks anything but crowded when you choose plants of the same species. Instead of disorganized chaos, you'll have explosive beauty to behold each spring.
22. Springtime Colors at Keukenhof
Springtime comes full force with this beautiful and color-coordinated planting in Keukenhof.
23. Tulips, Trees, and More in Bloom
The tulips aren't the only thing in bloom at Keukenhof. The trees are lovely to behold once they start pushing out blossoms, too.
24. Pink Tulips in Bloom at Keukenhof
Move aside, roses - tulips are the new flower of springtime romance.
25. Purple Lilac Hyacinth Flowers
As long as you live in the right growing zone, a hyacinth is easy to cultivate a plant that will come back year after year with minimal upkeep.
26. Beautiful Edging and Flowers in Bloom
We're in love with the edging in this beautiful section of the Keukenhof Gardens in full springtime bloom.
27.Planting in a Greenhouse at Keukenhof
Take the beauty indoors by planting in a greenhouse, as talented growers did here in Keukenhof.
28. Unique Art Garden Installation
Old meets new in this unique art garden installation at Keukenhof.
29. Pink Blooms at Keukenhof
Pretty in pink at Keukenhof? We think so!
30. Motivational Wisdom at Keukenhof
Gallery of Netherland's Most Beautiful Flower Gardens.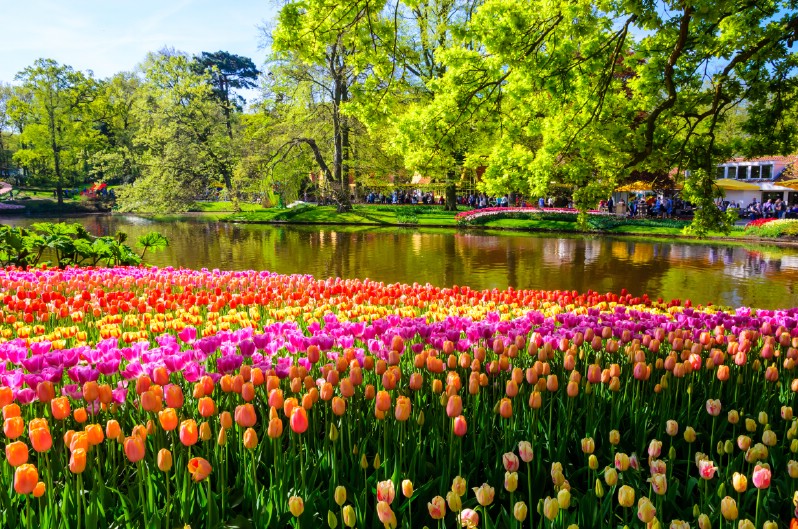 And if you're still looking for reasons to get planting? Just consider this motivational wisdom that can be found in the Keukenhof Gardens and you'll want to get started immediately. Whether you create a tiny garden in your backyard or plant a perennial flower garden you'll find joy and happiness in the process.
Keukenhof's history dates back centuries. In fact, the garden (whose name translates roughly to "kitchen garden," was started prior to the mid-17th century. The tradition of showcasing springtime blooms started in 1949.
But you don't have to have that kind of legacy to create a garden of everlasting beauty. All you need is a few simple gardening tools and a little bit of inspiration to create your own backyard eye candy.